Built in tribute to a man who enjoys the finer aspects of existence, this Quattrini LC-T5 is all about living the life of, well, Reilly.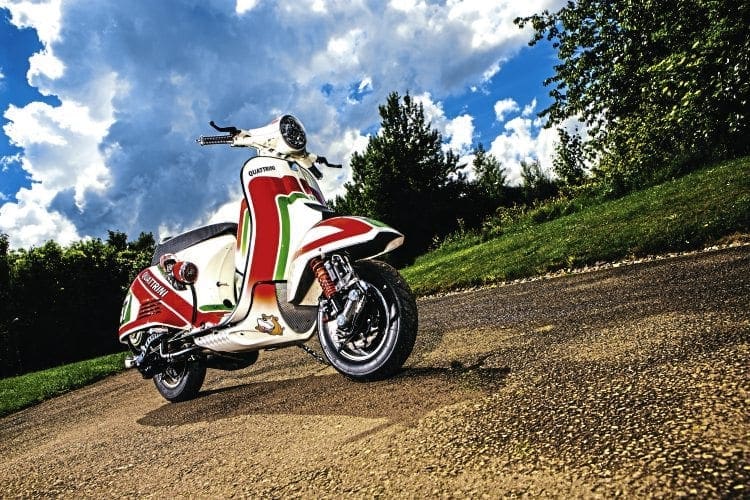 Owner, builder and rider of This Is The Life', Francis 'Frankie' Fountain, gave his trick T5 street racer its distinctive name as a tribute to the life of his father-in-law Phil Reilly. "We spend a lot of time together, drinking, playing bowls and all sorts. He's a proper gentleman. I don't think he's ever sworn in his life. Since I started working on This Is The Life, every time we've got together he's enquired after it, asking is it finished yet.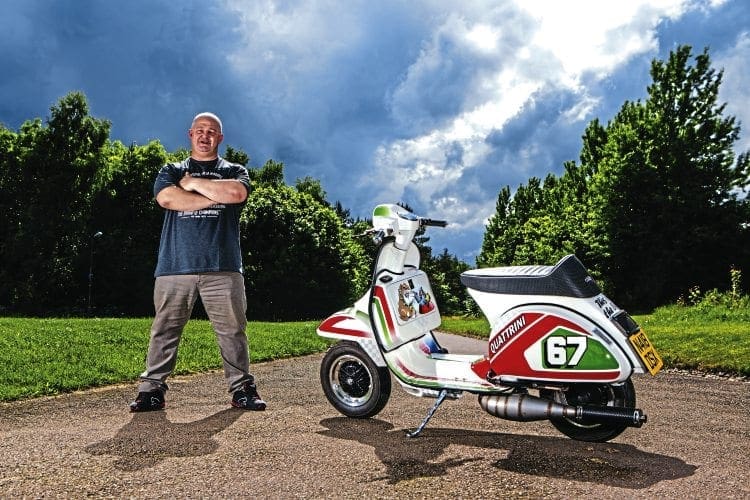 "One of his most used comments, which typically would occur when he was sat, chilling at a barbecue, with a beer in his hand is this is the life'. I was trying to think of a name for my Vespa street racer, Phil uttered his catchphrase, and I thought, that'll do nicely, my scooter is a tribute to Phil Reilly's life."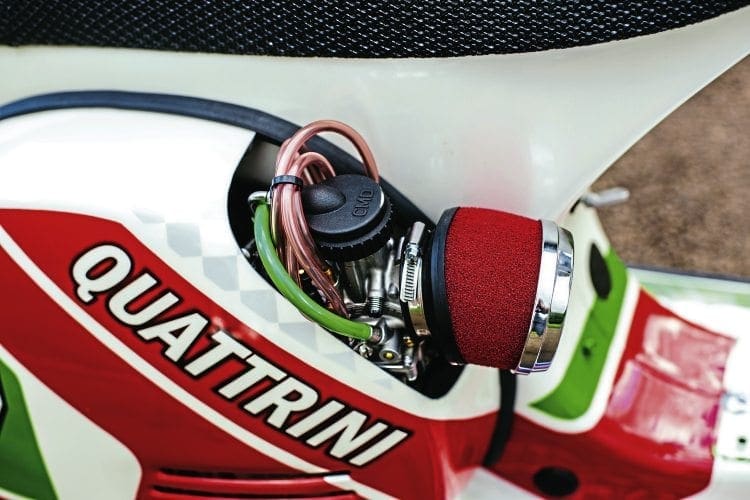 Frank has, for as far back as he can remember, always wanted to build a Vespa street racer. He's been into scooters since the 80s, a serious number of years on small wheels and a few stories to tell as well! Wanting to do something and actually putting those desires into practice can be miles apart for most people. Just over two and a half years back, Frank began putting the ideas he had into practice. It's only been in the past few years that Frank has had the time to invest in building the scooter he's always wanted. With a bit of aiding and abetting in the technical and mechanical departments from Chiselspeed's main man Martin Cook. Starting with a 15 Classic Vespa as a base machine, the scooter has been transformed into This Is The Life.
Worldwide enlightenment
In silhouette, This Is The Life appears smooth, sleek and streamlined, exactly how a Vespa street racer should look. Although not obvious initially, especially if only a cursory glance is thrown, even the lights and indicators are all a bit special. Frank spent some time, as well as just shy of a four figure sum, obtaining them from various sources in America. He's especially pleased with the front headlight.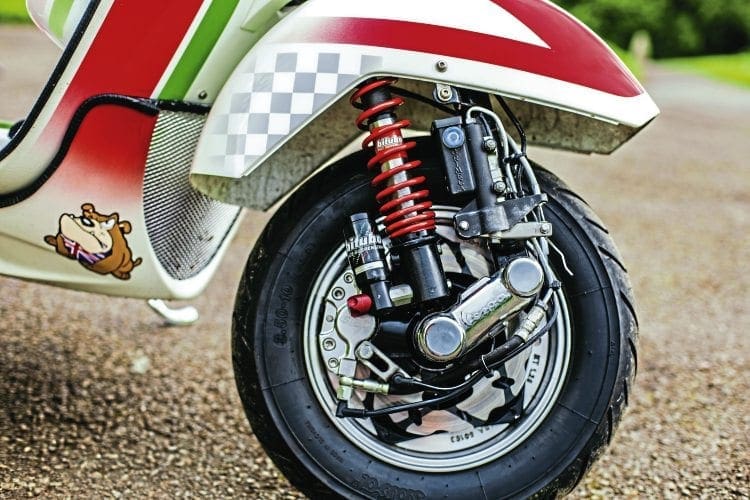 "It's a one-off adapter LED headlight; the light it puts out is unbelievable, when leaning into corners while riding at speed it makes a serious amount of difference. It should do too, as it cost me just under £700. I've had quite a few guys who've seen it ask about the headlight. Rear light and indicators sitting flush in the frame and panels are bespoke items sourced from America too. Front indicators are quite subtle, located in the ends of the handlebars, I think they came from somewhere in Canada."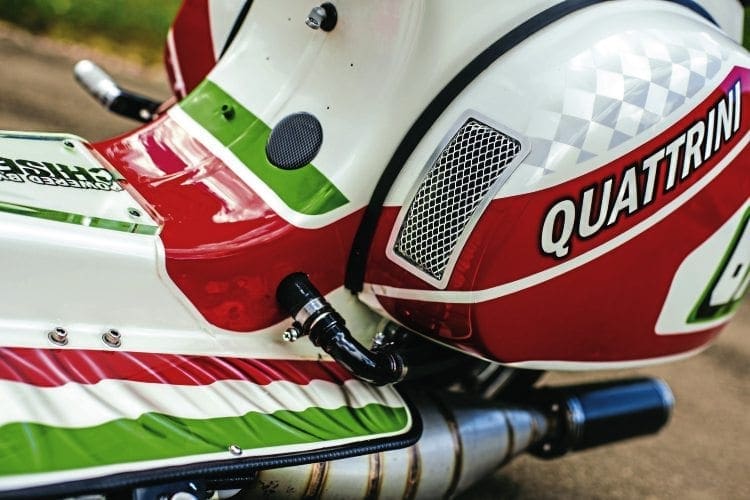 The artwork adorning the bodywork and panels is all the handiwork of Bob Faulkner in Arbroath. It's in the main in the classic street racer style, as in combining bold colour designs that scream that this scooter is quick, along with some suitable 'racing' numbers.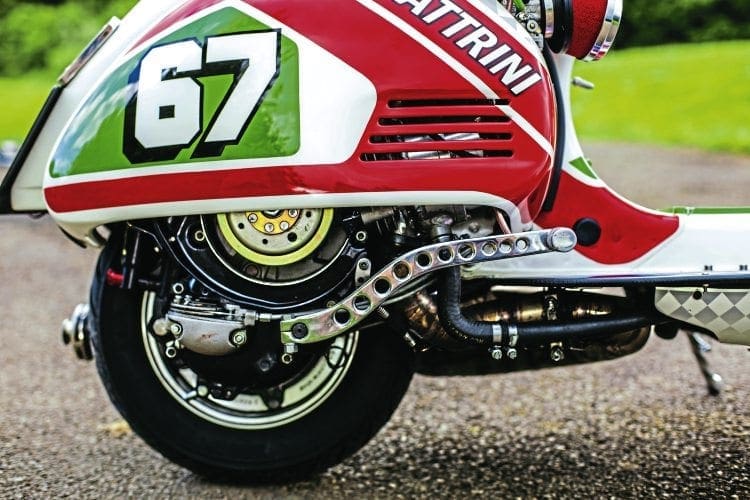 However, as with many details on This Is The Life, there's a cartoon bulldog depicted on both the toolbox door and the spoiler. Obviously different from the rest of the livery, what is the significance of this bit of airbrush work? "It's a caricature, based on Spike, the bulldog on the Tom and Jerry cartoons. My bulldog is called Vespa, all my mates have got Lammys, the mural on the toolbox door, with Vespa the Bulldog eating Lammys from a bowl, is a cheeky wee reference to my street racer Vespa eating Lammys for breakfast. Intended and taken, by my mates, as a cheeky bit of fun."
Then and Now
Having been actively involved in the scooter scene since the 80s, which decade is Frank's favourite? "I'd say now, as everyone is so friendly. There's no tribalism compared to previous decades. For most of my time on the scene I've been a Scottish scooter skin'; in the past there were times when there used to be trouble. These days the perception is much more of a 'we're all the same' (on two wheels) perspective."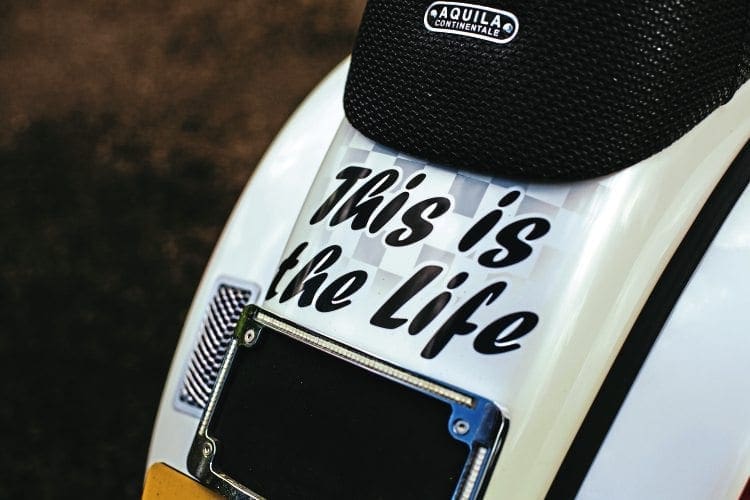 Are there any anecdotes or experiences from your time on the scene you'd care to share? "Stuart 'Mad-dog' Mckenzie is a good friend of mine. Some years ago he sold me an SX. It'd start up, then kept dying, it just wouldn't run. I phoned him up to come and get it and take it back off me. Two or three days later I called him to find out if he'd found out what the matter was. Of course, he had, it was the woodruff key. He wouldn't sell it back to me though!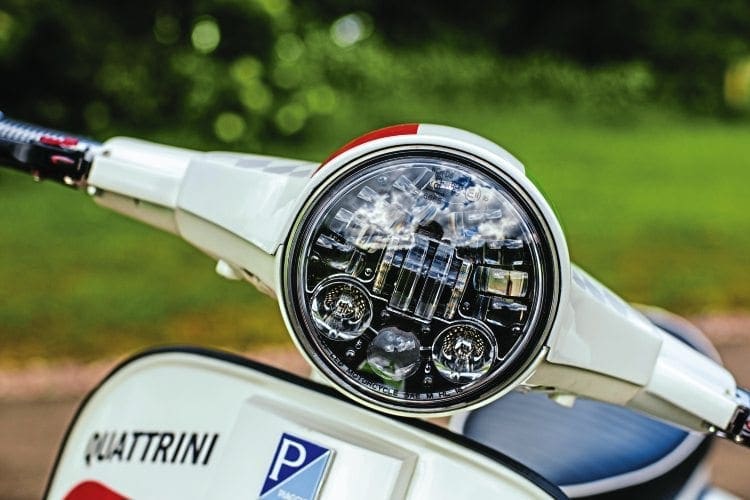 "Another time I bought another SX in bits, with, I was told, a seized top end. After stripping the engine I found it wasn't seized, the piston rings were the wrong size. It was a skelly Lammy. I rebuilt it and got it running; shortly after I was made an offer for it that was too good to refuse. It doesn't bear thinking about the scooters I've had and let go over the years, given the £10k plus that SX200 Lambrettas command these days." While we're on the subject of scooters, This Is The Life aside, does Frank currently own any others? "I have an Li which is going to be a bit special, with an absolute beast of an engine. I'm keeping it more or less top secret for now, though I will say it's going to be another collaboration with Martin Cook. Once I get the nod from him work on, and here's a(nother) hint: Tears From The Heart, will get started,"
Blowing hot and cold
Frank's Vespa street racer certainly looks the part, the liquid-cooled engine ensures it delivers the sort of power and performance in keeping with its appearance. Chiselspeed's Martin Cook gives his overview of the engine below. Does This Is The Life meet the aspirations and expectations prior to work commencing? Also is there anything Frank is considering changing? "I'd say that I'm delighted with my Vespa street racer. It picked up Best Vespa at Kelso first time, it's going to be on the cover of Stuart Owen's forthcoming book about street racer scooters.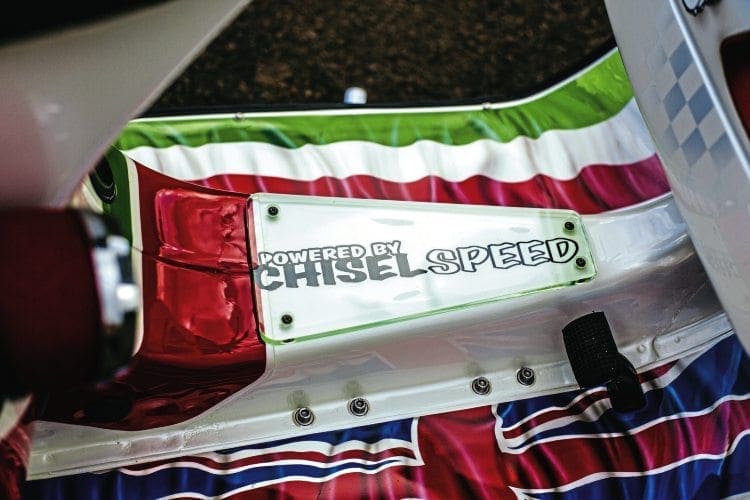 "Martin (Cook) built all the hard stuff, the Quattrini puts out crazy power, unbelievable torque, it leaves most bikes standing. Location of the carb, which has to sit transverse took a bit of sorting out. It's back with Martin currently having a super heavy duty crankshaft fitted, as I blew the original crank apart. The aim is to have it ready for Bridlington. Apart from the necessary stronger crankshaft, the only possible change I can envisage would be maybe fitting a rear disc brake."
MAN & MACHINE
Name: Francis Fountain
Job: Heavy plant operator.
How and when did you become first interested in scooters: 1980s had my first go on a Vesap 90, that was me hooked. Loved them ever since.
What was your first scooter: Lambretta SX200 cut down.
What is your favourite scooter model: Lambretta SX200 cut down.
What is your favourite style of customer scooter: Street racer.
First rally or event: Dunbar 80s.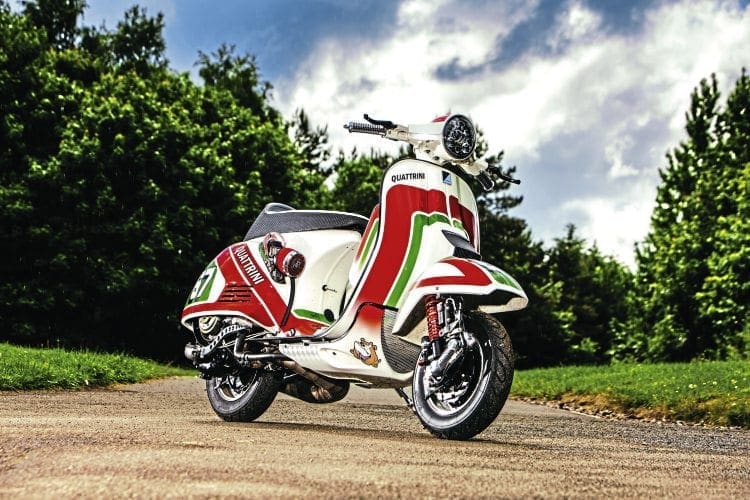 Favourite and worst rally/event: Kelso has to be my favourite, no worst, all good.
What is the funniest experience with a scooter: Me and my wee brother Jimmy had a puncture on his Vespa 90 and we thought we could sort it by filling the back tyre with his mum's washing. Needless to say the police were involved as his mum reported the washing stolen and we were grounded for a long time.
What's the furthest you've ever ridden on a scooter: Aviemore from West Lothian.
What do you like about rallies/events: Having a catch up with everyone and admiring all the scooters.
What's your favourite Scootering magazine feature: Tech corner.
If you had to recommend one scooter part or item of riding kit what would it be: Better lighting; it's good to be seen.
Name of scooter & reason: This Is The Life, as a tribute to my father-in-law Phil Reilly.
Scooter model: Vespa T5 classic.
Inspiration for project: Always wanted to build a Vespa street racer but never had the time till now.
Time to build & by who: Two years, six months.
Any specialised parts or frame mods? What & by whom: One-off adaptor LED headlight, indicators and back light, custom made barrel (water cooled by Martin Cook at Chiselspeed) all lighting bought from America, custom made radiators, custom made exhaust billet two-piece to suit.
Engine spec: Quattrini M200 water cooled. Crank: 57m with Yamaha rod. Carb: 35mm Keihin airstriker. Exhaust: One-off. Clutch: Billet Cosa 10 spring. Gearbox: Pinasco close ratio cluster. Porting & dyno: Martin @ Chiselspeed.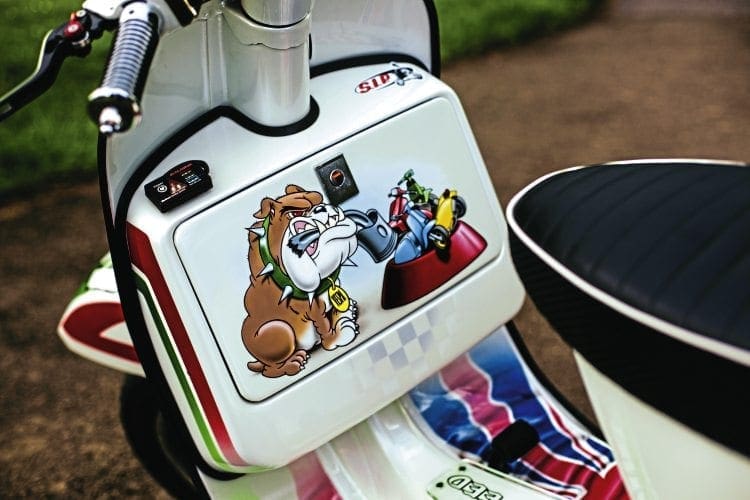 Describe engine performance, power delivery and scooter handling: It pulls smoothly right through the power band in every gear, handling is good.
Is the scooter reliable: Yes.
Paintwork & murals done by: Bob Faulkner from Arbroath.
What was the hardest part of the project: Getting all the ideas and a mental picture of how it would look.
Advice or tech tips for anyone starting a project: Do a dry build first with all your bits and pieces.
Is there anything still to add to the scoot: Maybe a rear disc brake.
Is there anyone you wish to thank: Martin Cook and his team at Chiselspeed, Bob Faulkner airbrushing and his team.
MARTIN COOK ON THIS IS THE LIFE
This Is The Life is powered by a Chiselspeed built and tuned motor that is, without question, a bit trick. Martin Cook the man who built it, gives a brief overview of what makes this engine so special. "I've got it back to replace the blown crank. It appears that it put out more power than expected, just a bit too much grunt for the crank to take, Frank's choice was to use a Quattrini M200 top end, which is intended to convert small frame Vespas to 200cc, the barrel is made and intended to work with Quattrini casings.
"It has a bespoke Chiselspeed water jacket head. If it had been down to me I'd have mounted the radiator on the front, it was a pain trying to not scratch the paint when connecting up the cooling system. The original modified P200 crank with a long stroke Yamaha con rod turned out to not be man enough. A modified T5 crank with stronger webs and a long stroke rod should be capable of dealing with the power.
"It's fitted with a Pinassco close ratio gear cluster, which gives a good power spread throughout the rev ranges. Garb and exhaust are a 35mm Neihin air striker and a one off DS Engineering system, which has been modified and works well. At Chiselspeed we've been too busy making Lambretta exhaust systems; though this winter the plan is to start making Chiselspeed exhausts for Vespas. Frank's motor is running a Variotronic ignition; there's a modified Malossi digital temperature gauge and pump set up to suit. Tuning and porting has all been done at Chiselspeed, the readouts, show the good grunt the engine puts out."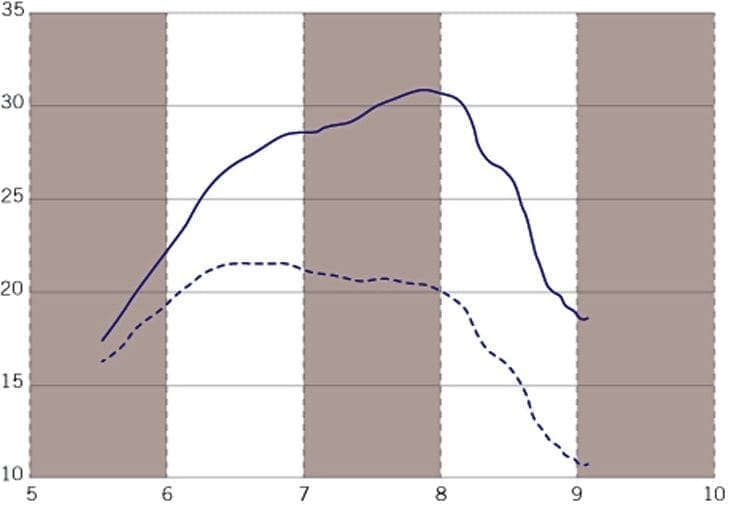 Words: Sarge
Photographs: Gary Chapman
Chiselspeed photos: Stan

Enjoy more Scootering reading in the monthly magazine. Click here to subscribe.