Ian Morley's latest full blown custom creation combines superb artwork from Dave Dickinson at DDK with a Performance Tuning booted Targa Twin engine, along with many power and performance upgrades. All the right ingredients for a top quality street racer scooter.
Psst, Scott's come home early
The first thought that occurred to me was, why is Ian's scooter themed around a type of chocolate confectionary? I've seen many custom scooters over the years, some with some rather off the wall themes. Initially, I have to admit at first look, 'WTF?' came to mind! Following a chat with Ian, the whys and wherefores of his M&M's theme then made perfect sense.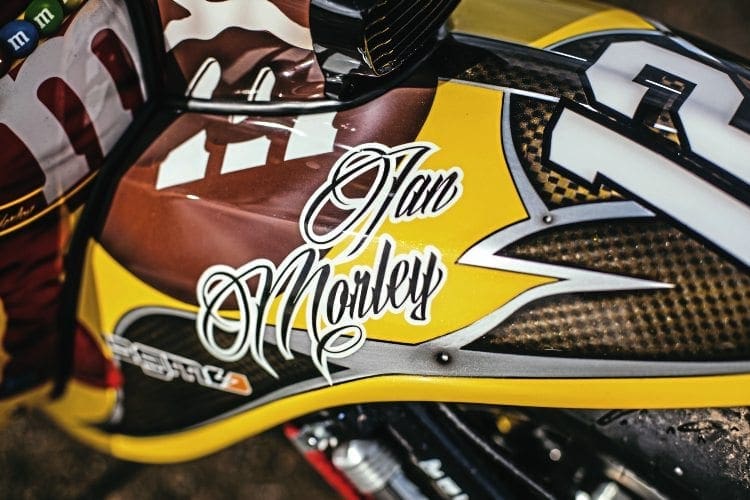 Here in the UK, the current television advertising campaign for M&M's, with the talking chocolates, is probably the only experience most have of the M&M's characters adorning this Lambretta. Across the Atlantic, American NASCAR racing is where the Mars-owned brand, and the characters, are very well known. For the uninitiated NASCAR is an abbreviation of National Association for Stock Car Auto Racing. From 1990 to the present, M&M's have been involved with NASCAR racing.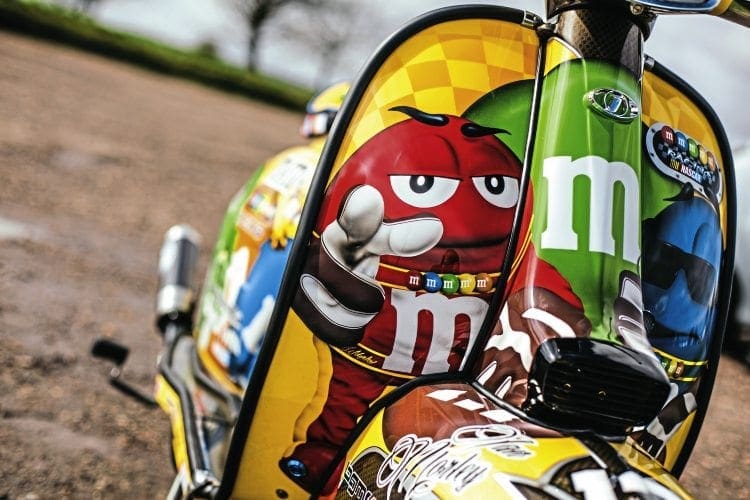 Initially they were a team sponsor, through becoming the official chocolate snack of NASCAR racing, to their car driver Kyle Busch having notched up well over 100 race wins. NASCAR racing is second only to NFL as the most watched sport on television in America. The small number of adverts screened over here, with their humorous scenarios and slightly adult undertones, allude to the M&M's target audience being over 18s.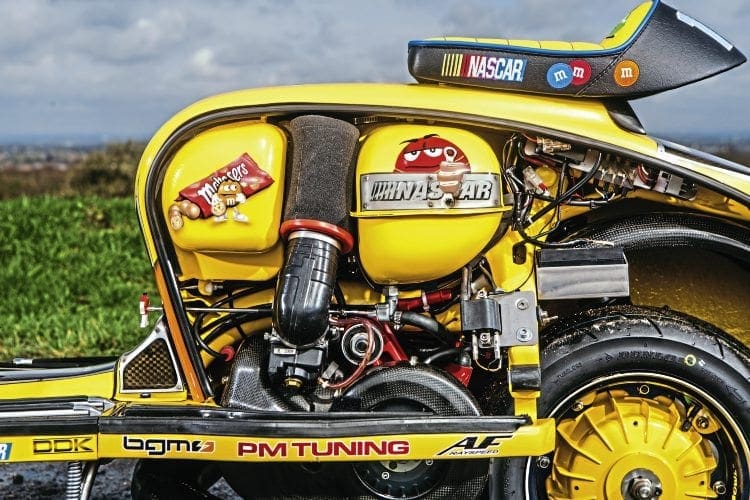 In America, as well as being heavily involved with NASCAR racing, the brand is on the ball with a plethora of advertisements linking in with the launch of blockbuster movies and annually that US institution the American Football NFL Superbowl.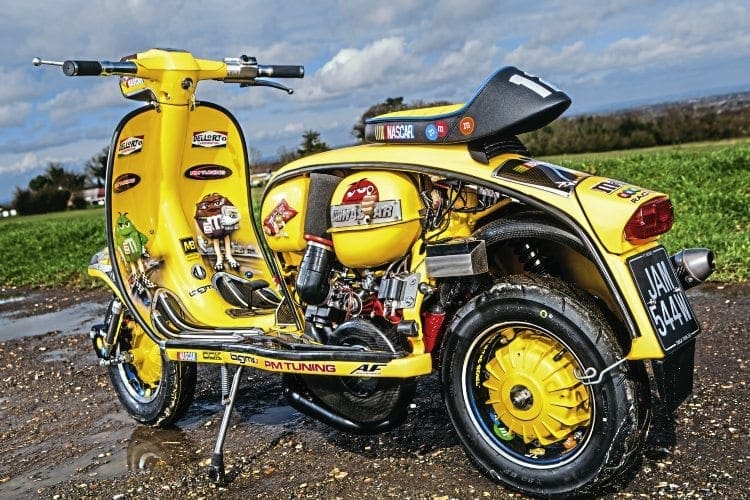 Get in the bowl
M&M's is the latest custom creation conceived, owned and ridden by Ian, the most recent in what is growing into an impressive collection. Although reluctant to put a figure on how much in hard cash has been lavished on creating M&M's in his spec sheet replies, Ian did reveal a rough figure of the total he has spent on all his custom scooters to date: "I really shouldn't have been thinking about it, in all honesty, I wish I hadn't now either, it made my eyes water. For some reason it popped into my mind, totting how much I've spent in total over time on all my custom scooters, the figure is the region of £100,000…! I do like to have a good paint job and always have had pretty trick engines too. I enjoy the reaction watching people looking at my scooters." His inspiration for a theme for what would become his M&M's street racer came to him in a contemporary eureka-type moment while on a visit to America a year or so ago.
"I was over in the States on holiday," he says. "While I was there I took in a NASCAR meeting and the M&M's car was absolutely amazing. I was taken by the way it looked — so much so, that I decided there and then it would be the theme for my next Lambretta street racer project. I took as many pictures as I could of it while I was there. It was certainly different-looking, and I thought it would look really different adapted for a street racer scooter — a fun-looking bike with a serious edge.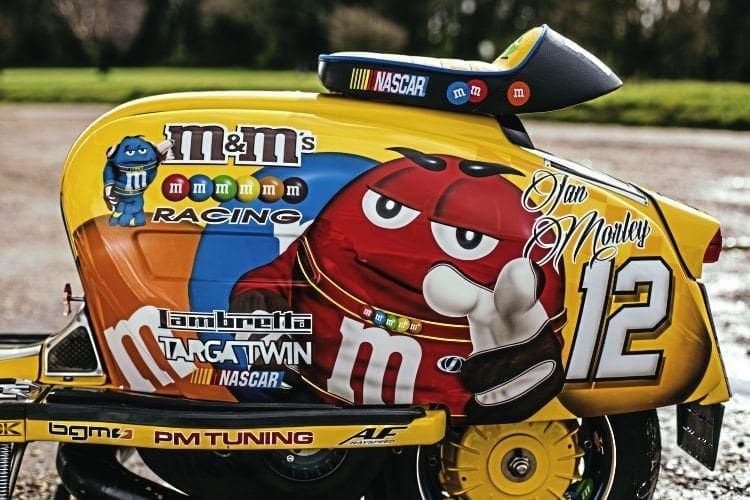 "I took the scooter and my ideas for the designs, along with a few sketches of what I had in mind to Dave Dickinson. I think he thought it was a bit mad at first, then we got talking about it. He'd been to NASCAR racing a few months after I had, so he already had a bit of an idea of what I had in mind. I had a few extra ideas when Dave had started the paintwork, which he ran with. I've got to say a special thanks to Claire, his missus, she did all the masking up, which must have taken ages."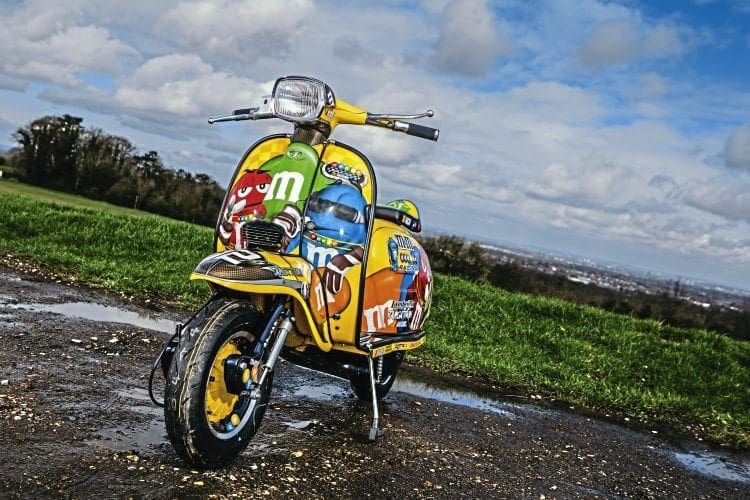 I think he's going to eat Gary!
As with all of his scooters, Ian enlisted the services of Charley Edmonds at Performance Tuning for the uprated running gear and the tuned motor. The Targa Twin in M&M's was Tino Sacchi's display engine until Ian managed to acquire it. "Charley was going out to Italy and while he was out there he was calling in on Tino Sacchi. It made sense for him to collect the engine and bring it back with him. I have the talented Mr Edmonds work his magic on all my scooter engines, including the setting up, as well as various upgrades on their respective running gear too.
"When I decide on a scooter project I want everything to be the best, and as far as I'm concerned Performance Tuning are the best. It was a no-brainer to have Mr Edmonds carry out all the necessary on M&M's. He's taken the Targa Twin out to 260cc and there are many other improvements to the engine and running gear. I don't like anti-dive front end set-ups, I prefer the front end to dive so I can feel what it's doing. The front end on M&M's is the one developed by Frank Sanderson, it's exactly the way I like it to be. All the upgrades, extras and tuning goodies complement the visual impact of the scooter as well as being functional. It's been shit weather so I've not gone mad with M&M's so far. I can't wait for riding conditions to improve so I can start clocking up the miles. I'm looking forward to the reaction M&M's will have when people see it." With striking artwork and an abundance of trick items this scoter is an absolute certainty to attract attention and reaction. To sum up Ian's M&M street racer in a word, there's only one that applies – sweet.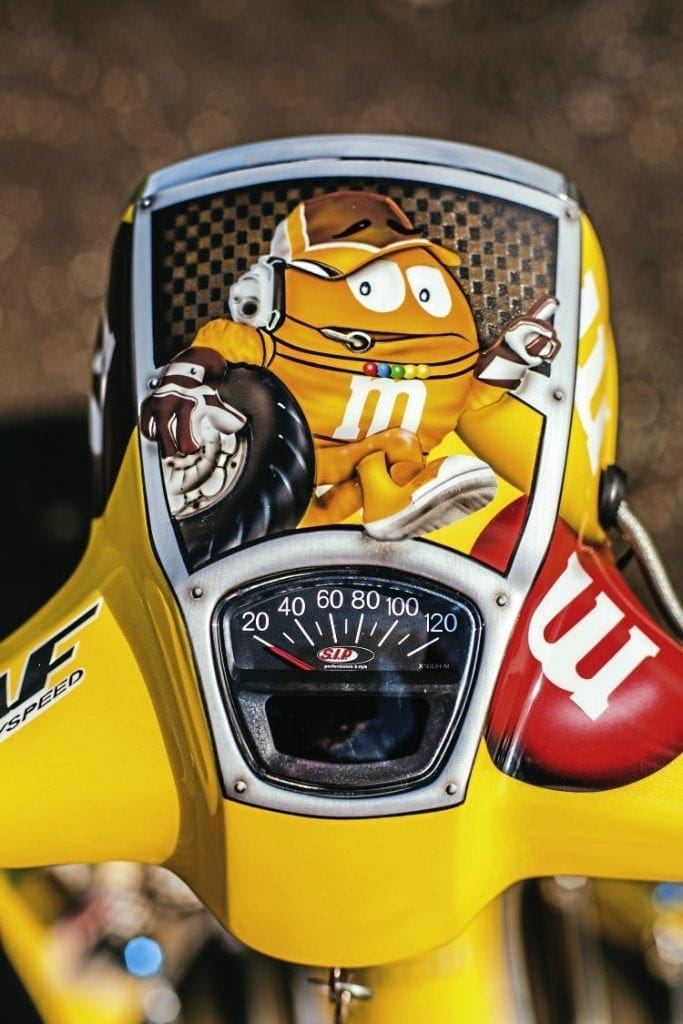 SCOOTER DETAILS
Owner's name: Ian Morley
Job: Scaffold company owner.
What was your first scooter: Vespa 90 at 15 years old, rode around until old enough to get a 50 special.
Funniest experience with a scooter: Going back to 'visit' school to see my mates after I'd left, I was doing a wheelie down the road in front of everyone and the scooter flipped over! I really hurt myself, but had to style it out. It was painful, very painful!
What do you like about rallies/ events: I like everything, just get involved.
What do you dislike about rallies/events: Nothing.
What's your favourite Scootering Magazine feature: I like custom scooters and I find features on parts and clothing really good.
If you had to recommend one scooter part or item of riding kit what would it be: A good bash hat (crash helmet).
What's the most useless part you've ever bought for one of your scooters: Many back in the day, usually from eBay shopping!
What would you like to see developed for scooters: All have been done now.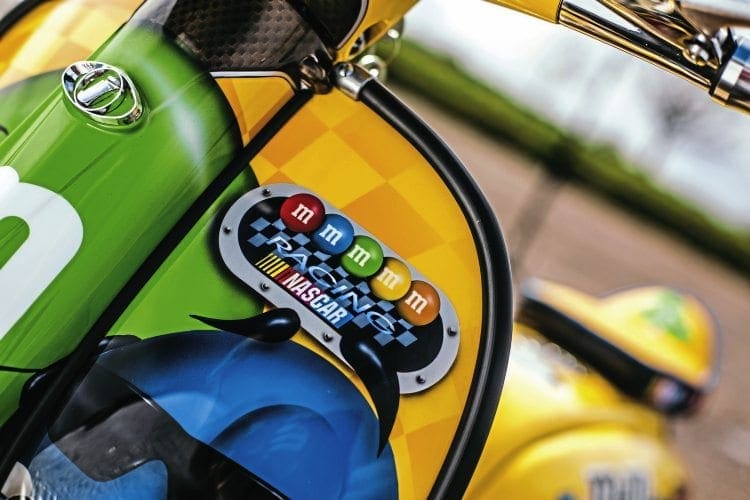 Name of scooter: M&M's
Scooter model: GP 260cc Twin Targa.
How much did it cost: £1200 in 1990.
Inspiration for project: Watching NASCAR racing.
Time to build: It took around one year from the bodywork being dropped off — Bridlington 2014 until Bridlington 2015. Ciro Affronti did the base chassis build up from CA Fabrications, Kettering. Performance Tuning did all the running gear parts, motor and final build parts.
Are there are any specialised parts: Performance Tuning works rear suspension, eccentric chassis cones, outboard four-piston caliper disc brake conversion.
Engine spec: Targa Twin (ex-Tino Sacchi display engine).
Spec: Blueprinted spec engine, overbored cylinders, modified ports, cylinder head, 260cc.
Ignition: Variotronic with Performance Tuning works ignition mapper box.
Carb: Dellorto 28mm carbs and manifolds, dual boost intake variable bottles.
Exhaust: Modified Tino Jolly Moto version
Clutch: 6-plate.
Gearbox: Performance Tuning works four-speed works road race gearbox.
Porting work by: Charley at Performance Tuning,
Dyno done by: Peformance Tuning — step tested true rear wheel horsepower,
Paintwork & murals/who did them/any stories: Dave Dickenson Kustoms.
Do you have any advice or tech tips for anyone starting a project: Be patient.
Your favourite deafer: Performance Tuning Dave Dickenson.
CHARLEY EDMONDS OF PERFORMANCE TUNING ON M&M'S TARGA TWIN ENGINE
The Targa Twin engine was developed by Tina Sacchi using the Innocenti SX twin prototype as a starting point. Since being developed and going into production, Targa Twin engines have been available as complete units, Cambridge Lambretta being the appointed agents in the UK.
Performance Tuning's Charley Edmonds has been involved in an advisory capacity as well as being hands-on with Targa Twin engines since their arrival. In addition to his work on Targa Twin engines, Charley is responsible for the Super Monza Lambretta engine. While there is a tie up between Cambridge Lambretta and Performance Tuning, it's far from a monogamous relationship, as Charley's Performance Tuning is very much an independent entity. In ease anyone has any doubts, the spelling of Charley using an 'ey' as opposed to 'ie' is the preference of the man himself.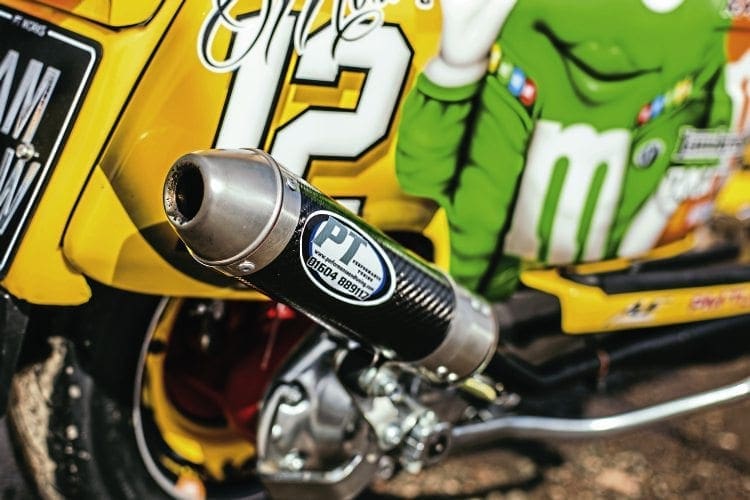 Charley gives an insight to some of the work he's carried out on Ian Morley's M&M's street racer: "It's been taken out to 260cc, though there's a 281cc Targa Twin I'm working on, which is currently under development. I offer a choice of two different versions of a UK made four-speed gearbox that I've developed specially for the Targa Twin. There's two options for every gear on both sets. One of my gearboxes has been fitted to Ian's engine.
"One of my adjustable Performance Tuning rear suspensions is on there, it jacks the back end up, improving ground clearance. It has a modified Tino Jolly Moto exhaust with an improved two-into-one manifold and a modified tail can. There's twin Dellorto 28mm earbs and inlet manifolds with dual variable boost bottles. I set it up on my Step Dyno; it gives a true reading of rear wheel output identical as what the output would be riding on the road. It's the only Step Dyno in the UK, there are only two others in mainland Europe."
DAVE DICKINSON OF DDK ON M&M'S
Dave Dickinson is an absolute master with an airbrush. Via his DDK business in East Yorkshire, he has created countless stunning examples of artwork on many show stopping custom scooters. Many of these are well known and well renowned, though not all of them. Some of his scooter customers have had the work done to their own specifications and have kept the end result more or less to themselves. His DDK website has a complete visual history of pretty much all his varied work on scooters, motorcycles and any other form of canvas such as cars and vans. It's well worth a visit to peruse the prolific and contrastingly different styles of artwork that he has produced, including some very trick stuff.
Dave's talents were enlisted by Ian to create the artwork on his M&M's themed street racer. Was this one of the strangest, weirdest themes Dave had been asked to do?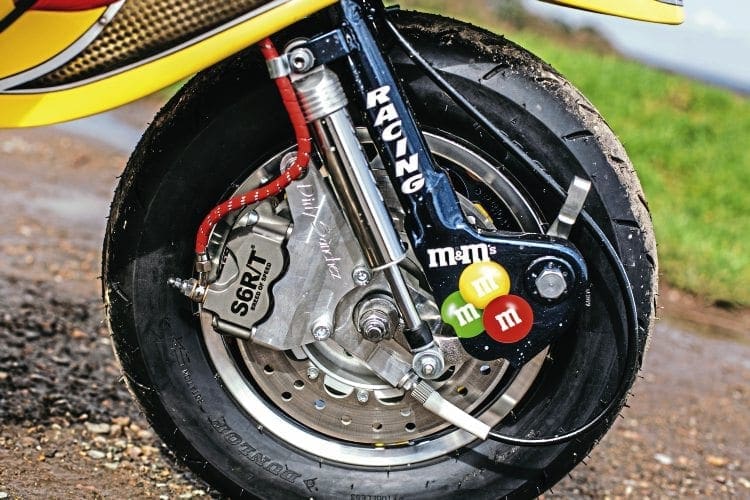 "No, far from the weirdest, though it was one at the hardest and most time consuming. I can usually complete even the most intricate and involved ones in six months but M&M's took eight months. It wasn't so much the actual paintwork that took the time, it was all the masking needed, which in the main was done by my wife Claire. I'd say it's about a 50/50 split generally between the actual artwork and the preparation and masking up, obviously depending on what the customer wants.
"The paintwork on M&M's did take quite a bit of working out, especially as what Ian wanted to start off with to how it evolved involved a few changes along the way. It started off with a few sketches, which would have been dead simple to achieve, then once it was ongoing, ideas were added and added. What was a bit strange was I'd not long got back from a break in America, during which I'd taken in NASCAR racing. Ian had been over about six month before, some of the pictures he'd taken of the M&M's car were very similar to pictures I'd taken of it too.
"Looking back, having seen first-hand for myself where Ian had got his inspiration from, when he wanted to add to what he wanted, I had a good idea what he meant. NASCAR is huge in America, M&M's is one of the iconic sponsors and brands synonymous with it. The artwork on M&M's is quite trick in places, brushed alloy effect, and carbon too, which gives a real street racer feel. There's even a reference to Scootering on M&M's: inside the legshields is a brown female M&M's character with Scootering under her arm!
Words: Sarge
Photography: Gary Chapman
This article was taken from the June 2016 edition of Scootering, back issues available here: www.classicmagazines.co.uk/issue/SCO/year/2016

Enjoy more Scootering reading in the monthly magazine. Click here to subscribe.