Incorporating a bordering on obsessive, passion as your main source of income equates to having a dream job.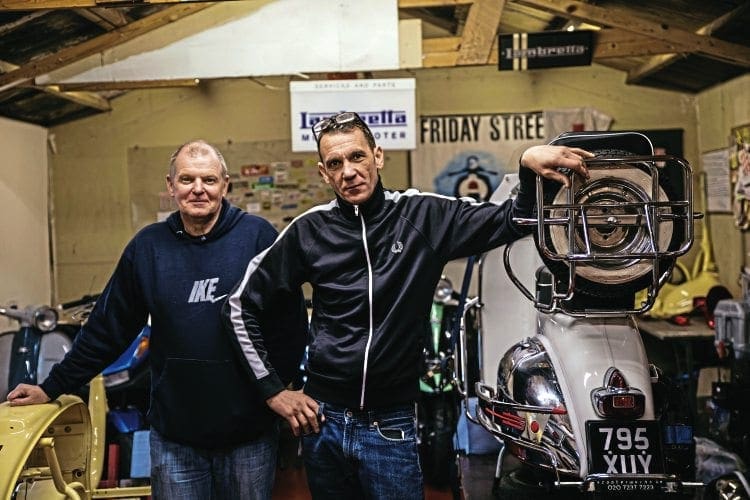 Well known scooterist, rally regular, DJ and builder, rider and owner of show winning custom scooters, Mick Gauntlett certainly has his dream job. For the past 15 years or so he's been at the helm of Surrey Scooter Services. As with many similar small businesses during that time span there have been ups and downs, as you would expect. Having been very active on the scooter scene since the early 80s, way before Surrey Scooter Services started life, Mick built a reputation for creating show stopping custom scooters.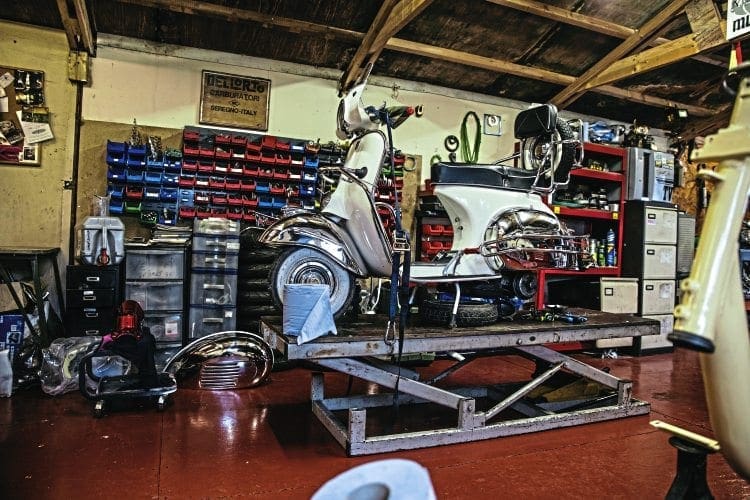 Many with a long-term appreciation of customised machines will recall full blown Lambretta Shock. Which went through four incarnations under Mick's ownership. Starting off with a main colour of red, it's the second incarnation in yellow, with iconic albeit slightly shocking (in keeping with the name and theme of the scooter), side panel murals by Paul Karslake, that is arguably the best remembered. Subsequent transformations were a different shade of yellow, with the final change to the main colour of burnt orange. The latter version of Shock, along with Mick astride her, was front cover scooter on Scootering's September 1996 issue. Another of Mick's own custom Lambrettas ended up having the name Steve bestowed upon it when it was a Scootering feature machine.
Moving on up
Surrey Scooter Services started off operating from a workshop/lockup premises inside the M25 in South London in the early Noughties. Business was booming, larger premises in Redhill were acquired and all was good for some years. As well as offering servicing, repairs, MOT preparation as well as bespoke one-off custom work and engine tuning, Surrey Scooter Services additionally had general spares and accessories including cables, spark plugs, gasket sets as stock items. On top of which there was always a choice of both restored and unrestored classic scooters available. Under the organisation of Surrey Scooter Services was Surrey parts fair and custom show. During those peak years among the many custom scooters created for customers there was notably the Ferrari themed street racer Vespa and Lucky 13 full bodied Lammy custom.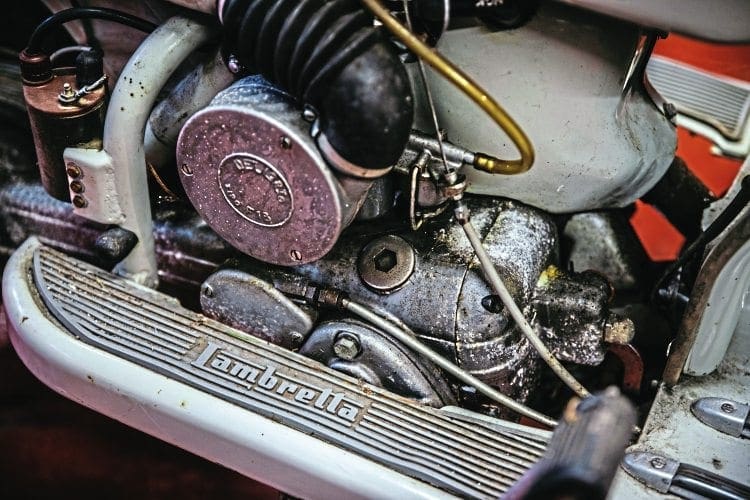 Feeling the pinch
With the UK coalition government at the time introducing measures of austerity, the imposition and implications bit hard, deep and painfully — including pay cuts or at the very least pay freezes. The intent of austerity cuts was to combat a massive economic slump experienced in most Western countries. Belts were tightened financially and disposable income to spend on interests and leisure activities shrank in many households in favour of covering necessities. Apparently, we were all in it together, though those at the top of the financial food chain were barely affected, while contrastingly the rest of the population bore the brunt of years of cuts to services and no increase to earnings. Cuts, cuts and more cuts inevitably have an impact.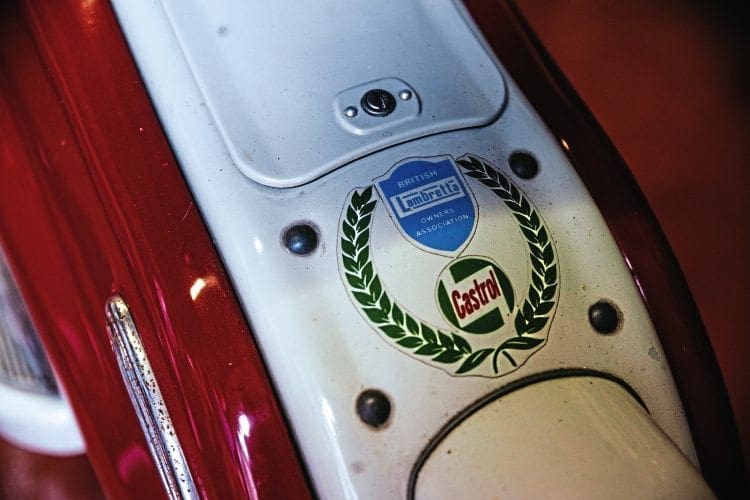 During the years of austerity, Mick's then business partner Dave decided to move south while Mick opted to continue with Surrey Scooter Services, although he did need to make a few hard decisions to ensure the business survived.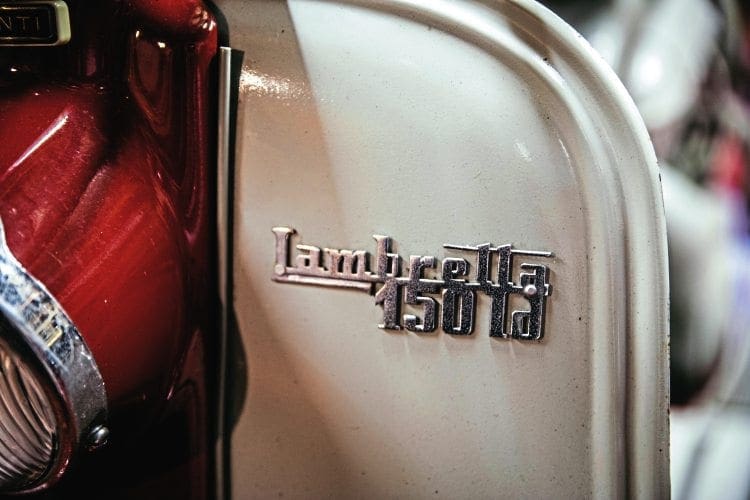 He said: "Like many small businesses it was no different for Surrey Scooter Services. We were owed money and because of what was owed taking considerably longer than expected to be cleared, the knock-on effect was Surrey Scooter Services ended up running up huge debts. The first decision was to downsize, moving back to the premises where Surrey Scooter Services started. Clearing the debts run up took quite a bit of time, a lot of hard work and much-appreciated understanding, patience and goodwill from those to whom money was owed, and it caused a few unplanned hold-ups to several customers' custom scooter builds. I'm happy to say that period is behind Surrey Scooters now.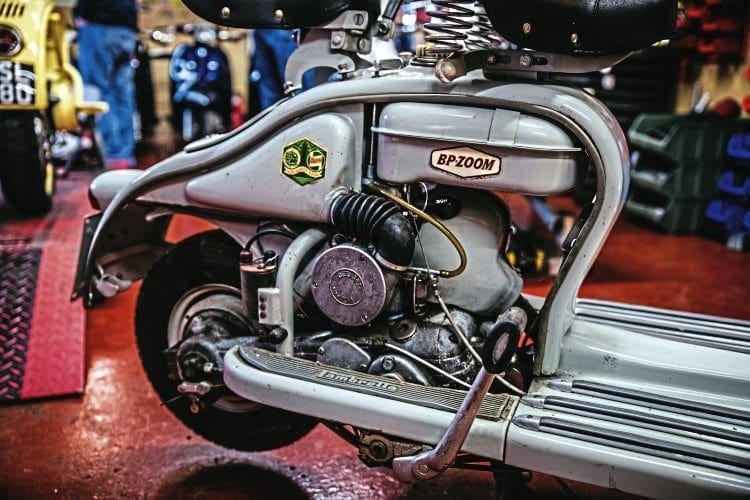 "Another decision was to not tie up finances by carrying a lot of spares in stock. It's early days yet, but that decision I took to ensure Surrey Scooter Services continued seems to have been the right one to make. I'm the busiest I've ever been, Tim is coming in to work here full time when he retires from London Underground in a few weeks' time."
Back to where it began
Visiting Surrey Scooter Services reveals a well-equipped workshop with a number of scooters undergoing all manner of work. Finishing touches are being carried out on Tim Lake's PPI Project Street Sleeper GP, which has a Targa Twin 275 engine fitted. Another customer's scooter, a street racer TV with a Mugello top end kit fitted has been in for a service. There's a custom Vega with a 140 engine in metallic blue and chrome. A row of second-hand classic Lambrettas and the occasional Vespas in various condition, are outside either awaiting attention or waiting for buyers. Inside the spacious workshop are a number of machines in various stages of work in progress. Among which is a Series 1 Lambretta frame-breather frame housing a Dragster auto engine; towards the door sits a complete albeit showing signs of use and ravages of age LD 150. On closer inspection, sat on the speedo facia is a sticker reading 'Howard Karslake scale models'. This particular LD was Jo Woods' (nee Karslake) 21st birthday present from her Dad, the late Mike Karslake, it was prepared for her 21st by Mike with help from his son, Jo's brother Paul. "We've had Jo's LD for a few years now, basically to give it a bit of a tidy up, refurbish and general service, with no real rush to get it done. It should be ready to go back to Paul in a couple of months. With Tim coming to work here full time in a few weeks we should be able to turn some work around a lot quicker."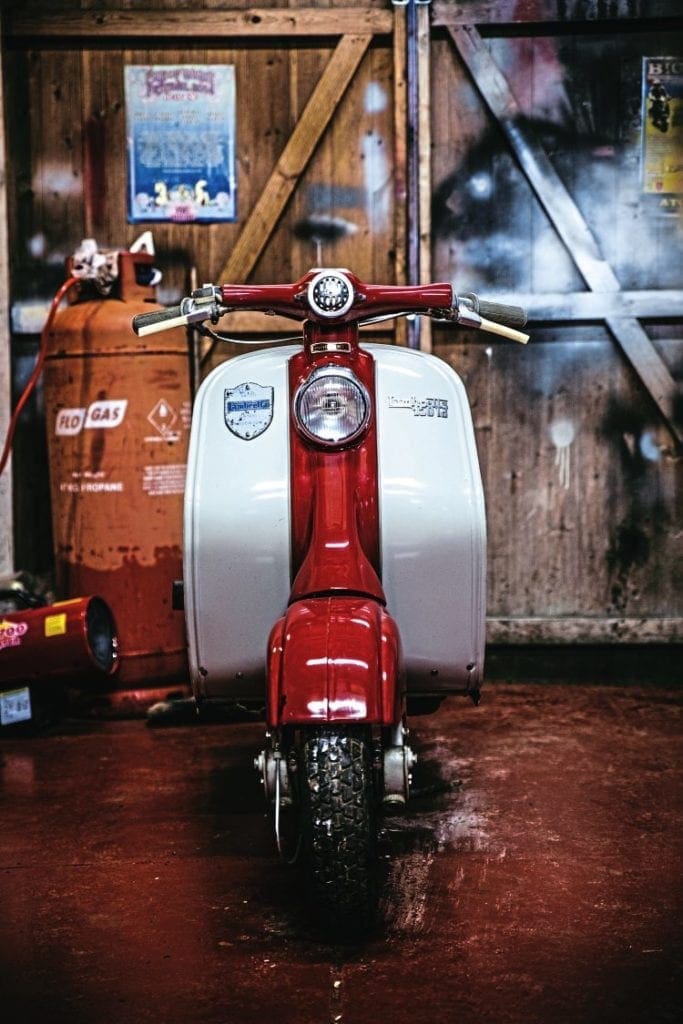 Onwards and upwards
Surrey Scooter Services offers servicing, rebuilds and MOTs, which are the bread and butter of the business, also engine tuning, custom building from entire machines to one-off parts. There's a social media page on Facebook, which is updated regularly.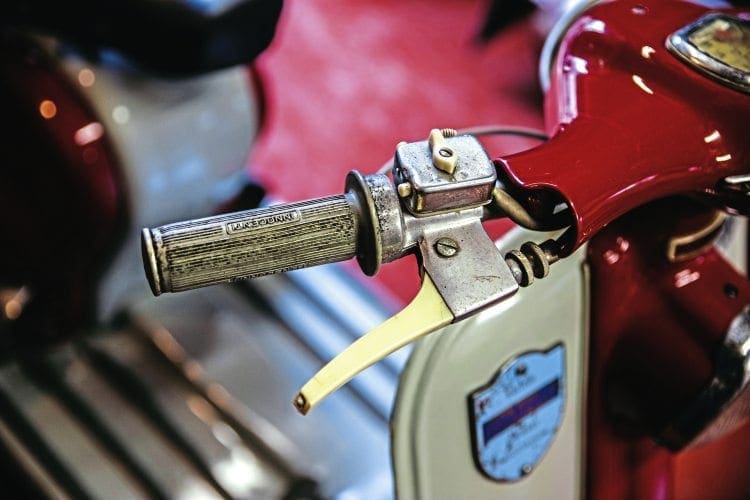 What are Surrey Scooter Services main attributes? "I'm very good at spending other people's money, I make my living servicing and working on scooters, I love looking at and working on both Lambrettas and Vespas. I see what I do very much as a privilege, I never take it for granted that people will come back to me to have work done, by taking time to get everything right, I'd like to think customers are happy with the quality of work we provide. When it comes to building a custom scooter for a customer, I like to get to know them, and what they want. Custom scooters I've built are built exactly like it is my own scooter. If I didn't want to ride it myself when working on a custom project myself I wouldn't take on the job to build it. Every time I finish a custom scooter for a customer when it leaves the workshop, I sulk like a kid for a few days!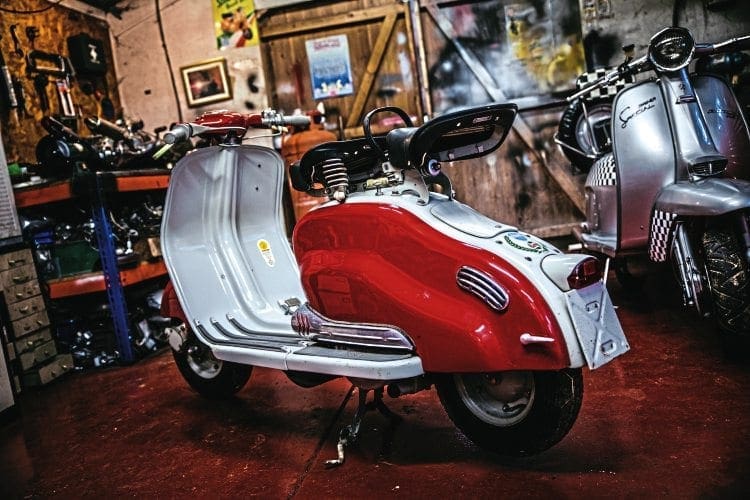 "Ones that have been finished in the recent past include The Bentley And Breitling Clockface one and the Everlast Heavyweight Champion Boxing themed one, both have won trophies. Although I won't ever diss other dealers or their work, I'd be more than comfortable putting any Surrey Scooter Services built custom up against any other, anywhere."
Looking forward
Right at the back of Surrey Scooter Services workshop sits a part built scooter, which Mick has covered with a dust sheet. What does the near future hold for Surrey Scooter Services? "Literally under wraps, and staying there, for the time being, is what will probably be the last scooter I'm going to build for myself. It will be a custom Lambretta, with a hip-hop sort of theme. That's all I'm giving away about it for now. Until it's ready it's more or less going to stay out of sight. I made enquiries as to the current whereabouts of Shock, which since tracking it down, I've done a deal and bought it back. I'll be redoing Shock with hopefully Paul (Karslake) doing the murals as part of that project. I've decided as I've got Shock back, Steve will be getting a tidy up and update too.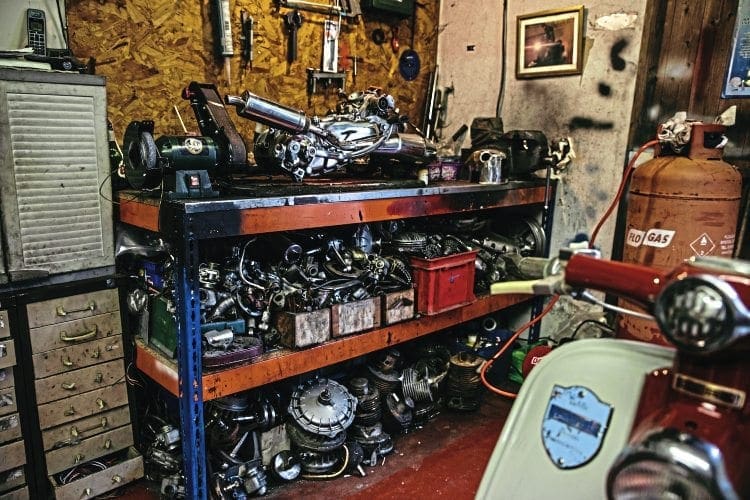 "As far as customers' scooters go, there's a genuine Italian Golden Special Lambretta coming in very soon for a complete nut and bolt restoration. Jo Woods' LD will be finished in a month or two, and then will go back to Paul — two birds with one stone, I'll be able to have a good chat with him about Shock when I take his sister's LD back to him. Dragster-engined S1 Street racer should be finished soonish as well. From a purely personal perspective, there's nothing better than looking at people's scooters that I've built. Downsizing a few years back was necessary, it also was probably one of the best decisions I've made. I'm truly privileged to be doing a job that I love."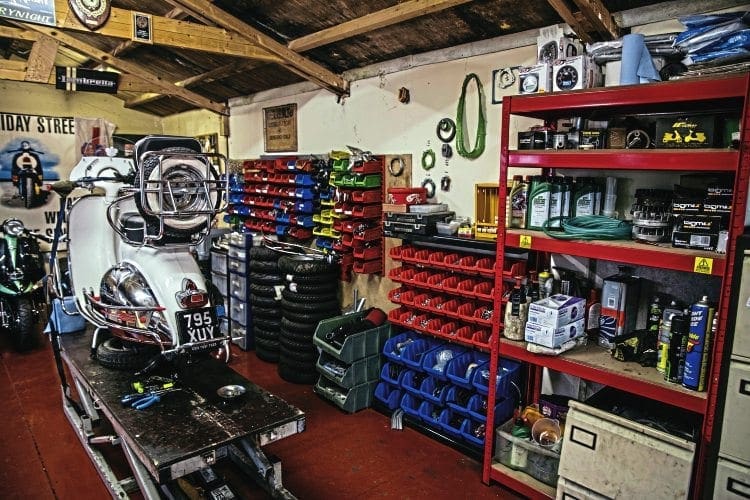 Surrey Scooter Services can be contacted on 01737 845440 and are closed on Mondays.
Words: Sarge
Photographs: Gary Chapman

Enjoy more Scootering reading in the monthly magazine. Click here to subscribe.