Alan Hatcher fell in love with scooters during 1964, but the beach involved was in Mauritius, not Brighton.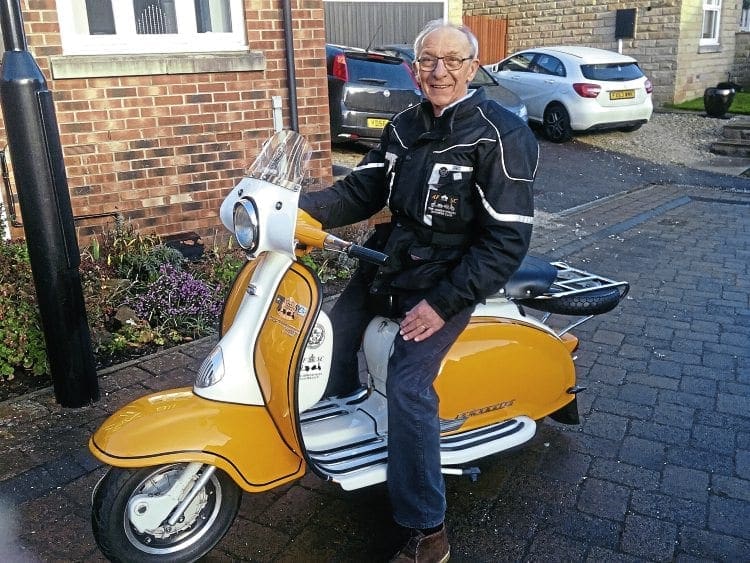 Smiling brightly, Alan told me: "I joined the Royal Navy in 1964. My first posting was to Mauritius. I was there from November 1964 to May 1966, too young and naive to appreciate the benefits of being in a tropical location, but there were two or three RN Vespa scooters, one of which was located at the receiver station where I worked. Needless to say, every now and again I'd take the opportunity to have a little 'ride out'!
"Once back in the UK I needed transport and at the back end of 1967 I bought an Li 125 from our local vicar for the princely sum of £25, but not having a licence I had to push it home. By the time I got there both the tyres were flat! After passing my test my girlfriend and I would be out on the scooter whenever I could get leave but in April 1968 the ship I was serving on deployed for a one year foreign assignment and the Li 125 was consigned to the back garden at my parents' house. When I returned to the UK I got married and was then posted to Oslo, at which point I reluctantly sold the scooter."
As we all know it's hard to shake off the scooter bug and in July 2006 Alan succumbed to temptation, eventually buying this beautiful Li from Armandos in Sheffield.
"The scooter was in poor condition" explained Alan, "but the panels were in good nick and following some persuasion by Armandos the engine turned over. I did as much as I could but soon found myself out of my depth. Everything was boxed up and shipped down to Jason Frost at Absolutely Scooters for a complete rebuild as a standard Li 150. Living in Sheffield with its two football teams I didn't think it a good idea to paint it in the standard red or blue and white colours as someone would take offence!"
Although he's a member of Steel City SC, Alan currently rides with the Killamarsh Nomads and is a regular at Absolutely Scooters' Saturday Club open house. However, it's his Armed Forces Scooter Club membership of which he's most proud. "I joined the AFSC in 2008 and it feels like I'm part of a military family again. I'd recommend membership to any ex-service personnel."
The Li's yellow and white scheme has a warm summery feel to it that's entirely appropriate given where Alan learned to ride, It's just a shame that when he brought his love of scooters back from Mauritius he didn't bring the weather with him!
Article continues below...
Advert
MAN & MACHINE
Owner: Alan Hatcher
Home Town: Sheffield.
Club: AFSC, Steel City Scooter Club, Killamarsh Nomads.
Scooter: 1961 Lambretta Li 150 Series 2.
Build by: Jason at Absolutely Scooters.
Paint by: Jason at Absolutely Scooters.
Best bit of kit I have bought: Mugello 186 kits. Bombproof.
Words & Photographs: Stan
Article continues below...
Advert

Enjoy more Scootering reading in the monthly magazine. Click here to subscribe.