Milan, 1980s. A slender man sits in the waiting room outside the office of Innocenti's chief executive. An hour later he's sent away: the boss won't see him. Weeks later, he's back and this time it's three hours before he's told to leave. But he won't give in. He's driven by one desire: to create the definitive historical and cultural reference point for Lambretta parts and restorations. This is the story of Vittorio Tessera.
I finally reach Casa Lambretta after crossing northern Italy from east to west and find the stained glass main door guarded by a pair of racing Lambrettas. Their noses point protectively towards the entrance as though they are bodyguards.
On the left, under the spreading branches of a tree, there's a Ford Model T glinting in the sunlight.
"You're lucky," says Vittorio as he greets me, "after so many years I have finally been able to find a dedicated space for my office." We step into the hangar-like building together and proceed past rows of shelves filled with carefully arranged spare parts, each item coded with letters and numbers.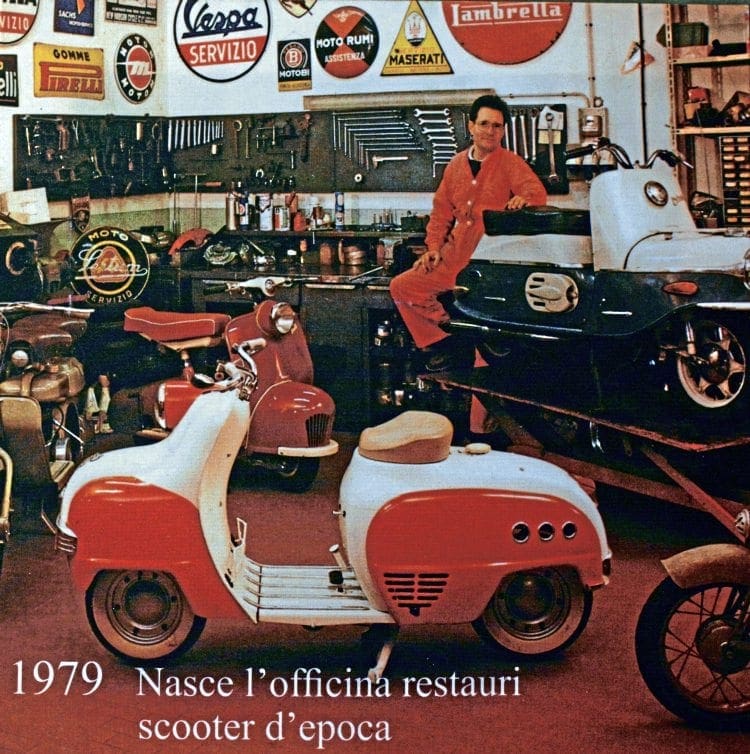 A little further on we pass the workshop entrance and through the open door I catch a glimpse of the engineers, oblivious to my presence, intent on their painstaking work of maintenance and repair.
Bewitching notes of music from eras long passed, the sounds of the 30s and 40s, make their presence known as we advance into the heart of this temple of the scooter – the museum that Vittorio has personally built and the pivotal point between the past and present of the Innocenti Lambretta.
The dream
"I was the first in Italy to do this kind of work," says Vittorio, taking a seat. "When I opened the shop in 1979, I was the only one and the collectible Vespa/Lambretta world did not exist. In the early years there was a market at Imola where I had a stall called 'Amici del vecchio scooter' – the first vintage scooter club in Italy, of which I am founder.
"Back then, if someone wanted information about Lambretta there was nothing but silence and perplexed faces along the market. The attitude was, 'A Lambretta? What are you going to do with that? Crush it?' In those days Lambretta was the scooter everyone mocked.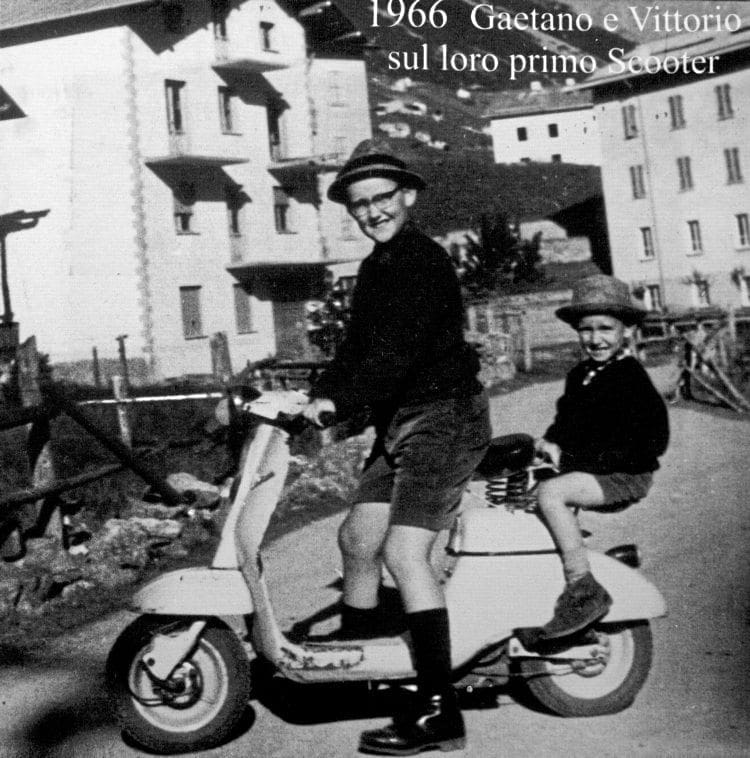 "Even today, now that I am the national commissioner of the Automotclub Historic Italian, I cannot forget how difficult and laborious the vintage scooter world was. When I founded the club I wanted to bring in and welcome other brands – if we had tried to hold a Lambretta-only rally we would have had three or four scooters in attendance at most."
Vittorio smiles, offering me a coffee. "I want to be clear," he says, "I am not a scooter racist. I like them all: Vespa, ISO, Lambretta, Moto Guzzi, Gilera. They are all beautiful pieces of history from which you can learn a lot. However, after a few years I had to make a choice for organisational reasons. And since this region is where the Lambretta scooter was born, it was a call to my homeland.
"Everything is born to the merits of the passion. It was sheer luck that subsequently Lambretta and Vespa have exceeded other brands such as Guzzi and Gilera and other large competitors in terms of the passion they inspire and the following they have.
"My dream was to only do Lambrettas and I could not even imagine that years later, by the opening of my workshop, I would have been able to manage three workers who perform only restorations. At the time everything seemed impossible. What truly brought me to this point is my great passion for history and for the documentation. Grant me a modicum of pride in saying that here, Casa Lambretta, is where it all started."
Leaning back, entirely at his ease, Vittorio removes some specks of dust from the desk of his new office.
"Over the years I have followed, tracked down and interviewed Innocenti's engineers, general workers, and the family themselves, looking for photographs, important documents and evidence."
The Innocenti family
"There was an Alfa Romeo plant in Arese to which Innocenti was transferred. I went to visit it several times — persistence helped me a lot, no doubt about that. Sometimes however, just like for photographers, patience and stubbornness pays off when you least expect it, and when that happens it is like a lottery jackpot.
"I always remember with great fondness my first visits to the Innocenti family: they made me sit in the waiting room, waiting to meet Mr Belli the CEO for one, two, three hours before rescheduling to the next day, then the next — all this for several months."
The young Vittorio would not be put off, however. "When the Innocenti factory was dismembered, the mechanical section was separated from the car production one (as happened at, for example, British Leyland) and the whole photography archive was transferred into the metallurgic sector, including all the Lambretta documentation, where it was largely abandoned.
"I received a tip from a dear friend who told me that the photographs had been placed there, without any particular care, so I rushed to the factory immediately to find out whether they could be recovered or at least better preserved. When I arrived I was greeted with suspicion, perhaps they believed I was an industrial spy.
"I finally entered the office and the manager behind the desk said to me sharply, 'What do you want?' I told him, 'I would like to retrieve the photos, for historical reasons, I'm a fan. "What? Who told you that we have photographs of any kind here?' Well, I'm screwed, I thought to myself. So I said the name of my contact and the boss had him immediately called into the office.
"I had the cold sweats at the idea that a simple request of mine could result in a dear friend losing his job. When my contact came into that office he was the personification of fear, ears low like a dog. The plant manager gave him a good old-fashioned earful, then he blurted out harshly, 'Well, these photos, are they there or not? I want to know!'
"We had aroused the interest of the manager and this made us breathe a sigh of relief. As soon as he discovered that in a forgotten hangar-corner there were entire collections of glass sheets with all the Lambretta photographs and design drawings he finally opened up a bit with me and — luck of the brave — I was given them for free."
Thinking about Vittorio's trials and his stoic endurance throughout, I can't help but compare his efforts to the steady but relentless erosion of a glacier.
A nice surprise is that this material is now available to all at the museum with free entrance. Vittorio continues: "History owns these photos and documents now, no matter who gathered it all into one place. Luckily, my relationship with the Innocenti family changed when they understood that my interest was purely cultural and historical, and now we have become friends."
The most important find
"One of the pieces that the Innocenti family sold me makes me shudder even today, every time I see it — the twin-cylinder Lambretta Grand Prix. I thought that it no longer existed, that it had been scrapped. For reasons that remain unclear, just after the logistical split, Innocenti set aside a small space to collect historical and technical material from its businesses.
"The only person who might have been able to shed some light on why and how this happened was Luigi Innocenti. Unfortunately, he died in 1995. But it just so happened that one day an electrician, while carrying out his regular duties, noticed some Lambrettas set aside in a corner — and told me what he had seen.
"It wasn't just scooters though — there was pile of stuff: documents, drawings, boxes and boxes of bills, and mountains of tickets which documented deliveries, testing and production output. I went, therefore, to the family to inquire about this material. When, after the subsequent long wait Mr Belli arrived, he drew from his pocket a sheet of paper and asked me to help him understand something.
"He had no idea what was hiding in that corner. He had previously entrusted an accountant to compile an inventory of those square metres and the result was on that sheet of paper. With all the precision of a disinterested outsider, the accountant had written: "1 bike red, 2 bikes white, 5 boxes with documents etc. etc."
Vittorio's face lights up as he recalls the conversation: "I asked Mr Belli if he had any photos and he said he had nothing. He was in possession only of the general stock photographs. The company no longer had any real interest in the scooters — its attention had been focused primarily on the sale of the facilities.
"So it was that I saw for the first time, abandoned, leaning against a wall under two finger-widths of powdery grey dust, the Lambretta twin-cylinder. I could not believe my eyes."
In 2016, the memory of this moment still animates Vittorio. He shines with sheer enthusiasm: "It was an incredible finding. Who knows what would have happened if I arrived a year or two later? I believe that the family was ready to scrap everything, because one of the last times I visited the place to get the latest machines, there was already a truck there with an hydraulic claw; pieces of motorcycle history they would have ended up getting crushed like refrigerators. Fortunately, it's now accessible to all."
Vintage culture evolves
"Everything changed in later years when people began to understand the importance of vintage bikes," says Vittorio. "I am mainly a restorer — it's work that runs in parallel to the search for historical facts. I opened Casa Lambretta in 1996 to help people with spare parts and restorations; I was the first to produce a spare parts catalogue of historical motorcycles and to fix a price list for particular items.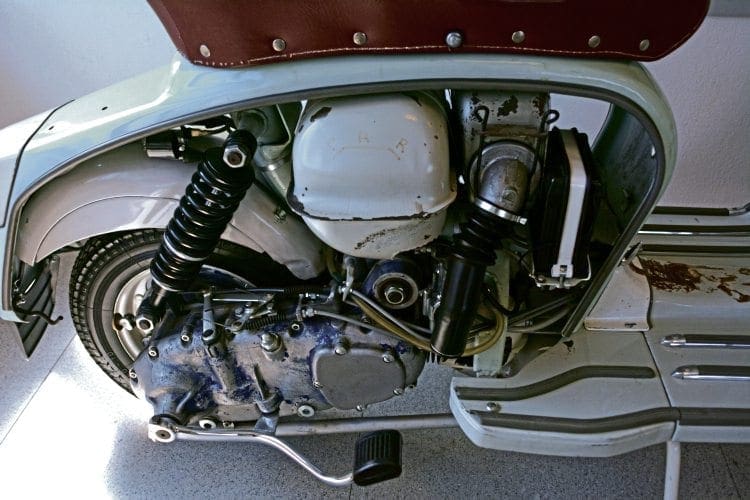 "At the time, everything was as you might expect to find it in a street fair in Morocco — people went to the market and started yelling out prices, with everyone looking to get the best discount. It was a revolution. Even today I'm amazed that I was the first in my field to create a list like that. In all other countries, the list price is what you pay — you can't just haggle a discount like you could here. In the same vein there is a question of transparency.
"You don't want to run the risk of putting off young restorers by charging them 30 times the going rate for something, just because you know they'll pay. With the price list in hand, I slowly started to produce the spare parts and create a national and international distribution network. We do try to make all the space parts in Italy and when that's not possible we make a point of stating that in the catalogue so people know what they're getting."
The passion of Vittorio is informed by his training as a mechanical engineer: "This helps a lot — I can speak the same language as the manufacturers and it allows me to keep a tight rein on exactly what we're making. I have subsequently begun to study tuning. I was doubtful and sceptical at first; I could not see how my passion as a historian would be compatible with that of the technical journey but I was wrong.
"It was a surprise to see how many young people have such a passion for this branch of the market; they have given me a lot of energy that I have channelled into this new adventure — our own racing team. I have two conditions however: the Lambrettas they run must come from a single whole piece — no cuts — and no water-cooled engines.
"Once we had completed the first calculations, I realized how vast and complex this world is and I've entrusted the entire racing department to Dean Orton of Lambretta Rimini. It was not possible for me to follow everything. However, it remains a pleasure for me to see how much passion the team put into the creation of new techniques and research in search of the best performance. Now that we were the first in Europe who knows how many new adventures we will have while trying to stay on the crest of the wave, especially in the British championship."
A new idea
Vittorio has one more thought to share as we conclude our get-together – something truly ambitious. He says: "On the back of the success of the racing Lambretta, with due credit to our riders Luca Fruschini and Luca Zani, I would like to build replicas and then build a new type of scooter using the best technology available on the market. It will be a road-going version of the racers. When we made the racing models, we took a pair of Lambrettas and stripped away everything until only the forks and the frame were left. Then we assembled all the rest from new parts.
"One day my son Andrea and I were looking at a magazine called Al Volante and reading about the Pagani supercar. I thought — why not start production of a Pagani-inspired Lambretta, a sort of super scooter? I hope I can find a way of doing this that keeps it within the rules of type approval for Italy. As you can see, no sooner has one dream been realized than the next one is knocking the door, pointing to another adventure."
Words & Photographs: Christian Giarrizzo
Extra images: Vittorio Tessera

Enjoy more Scootering reading in the monthly magazine. Click here to subscribe.