Scooter theft, the scourge of the scootering community. Whether your scooter is a brand new GTS or a classic Lambretta, they are equally likely to be the object of unwanted attention from opportunist thieves and career criminals alike. Simon Wells investigates…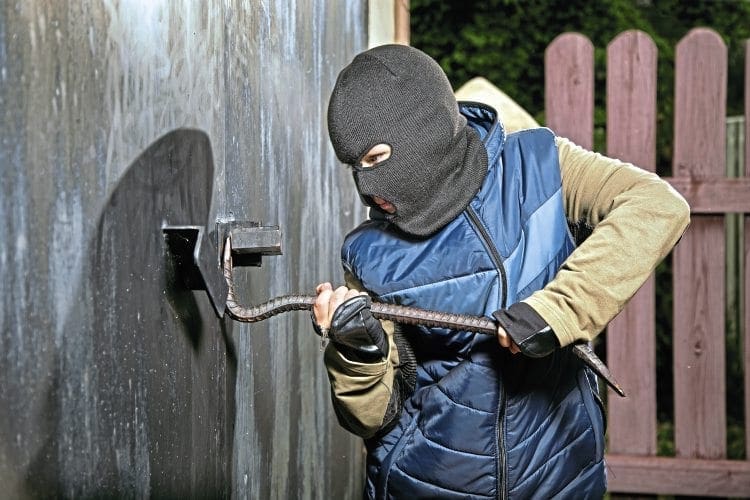 Gone in 60 seconds…
It was meant to be nothing more than an afternoon out on their scooter for Paul and Kim Farmer. The couple from East Grinstead, West Sussex, had purchased their Vespa 'twist n' go' GTS 300 in 2013 and had enjoyed many rides out on the vehicle. Living just 30 miles away from the south coast, weekends were opportune to catch the sea breeze and meet up with friends and other enthusiasts.
With numerous unhindered trips under their belts, there was nothing to suggest that Sunday, July 24, would be different to any other day.
"It was pretty spontaneous," recalls Paul to Scootering. "We got up and as it was a sunny day we just decided to ride down to Brighton. We have a few friends down there and so we thought, 'let's just go and do it.'"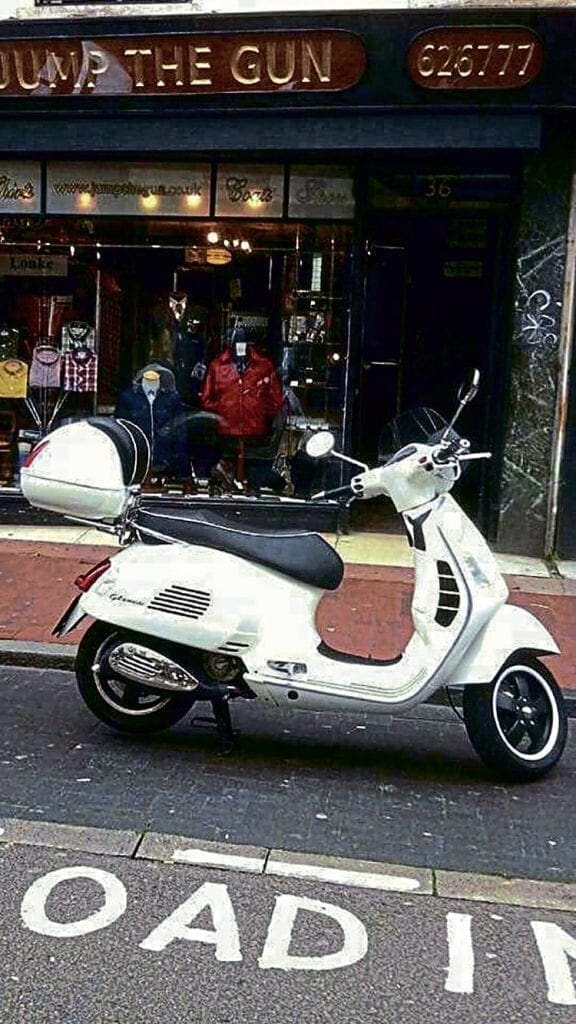 Arriving on Brighton seafront they parked their vehicle at the dedicated bay for bikes and scooters on Madeira Drive. However, nothing prepared them for the events that were to ensue.
Paul Farmer: "We locked the scooter up and went off and had a drink in one of the bars nearby. We then walked into town for food. An hour and a half later, back at Madeira Drive, the scooter had gone. We knew exactly where it was parked, as the bike alongside it was still there. Initially, we were thinking someone might have moved it. We asked a parking attendant who was walking past if it had been towed away because it might have been parked illegally, but obviously it wasn't. It was at that point that we phoned the police."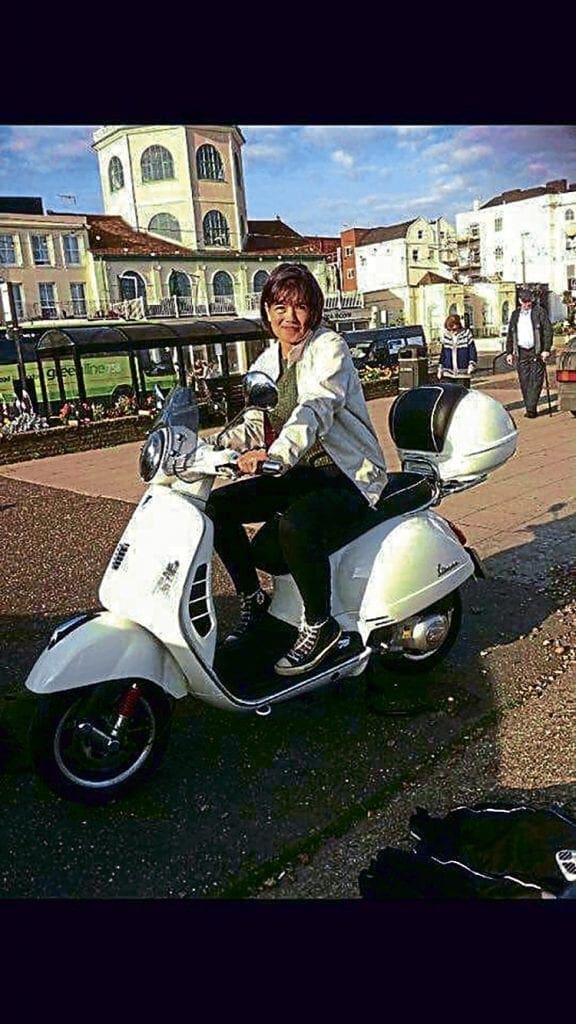 Arriving some 45 minutes later, the police informed Paul and Kim that the scooter had been seen as it was being stolen and that the observer had called 999 as the theft had taken place. According to the report, the thief had broken through the scooter's steering lock with a screwdriver, disabled the immobiliser, and then driven the scooter away in a matter of minutes. Despite no CCTV covering the spot, the police weren't in any hurry to check any other cameras around the town to track the vehicle's passage out of Brighton.
With the heavens opening in tandem to their upset, Paul and Kim had to endure a sorry and miserable trip home on public transport. With coats, helmets and others possessions locked into the bike, the loss was more than just financial.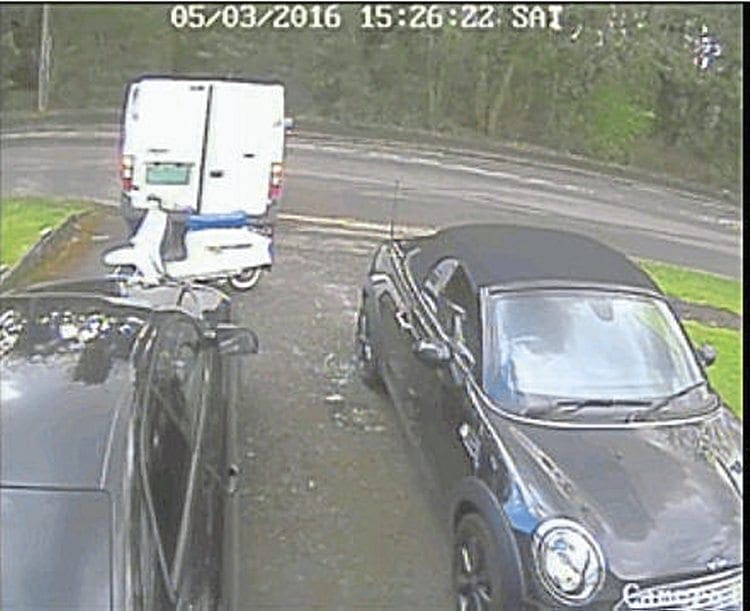 Nonetheless, dark events gathered in the wake of the theft. A few days after the loss of their scooter, Paul received a speeding ticket, dated moments after it was being driven away from the crime scene. Two weeks later, another ticket rolled in from north London. Adding further insult to injury, while the witness to the theft in Brighton had noted the number plate of the thieves' motorbike, it wasn't until three weeks later that police paid a call on a Surrey address given by the DVLA, only then to find out it was ascribed to a vacant building. As if this wasn't enough, two months later the couple received a phone call from the police saying the scooter – still carrying the original plates – had failed to stop following a traffic incident.
In additional to the unfolding upset, the insurance process was hugely impersonal. Having to provide copious pieces of evidence to support the theft and their ownership of the scooter, the couple felt they were being treated as suspects more than victims.
"It's not a nice process," reports Kim Farmer, "because you are being investigated as to whether you are committing fraud at the end of the day. You feel that you're the criminal, not the people who stole the scooter."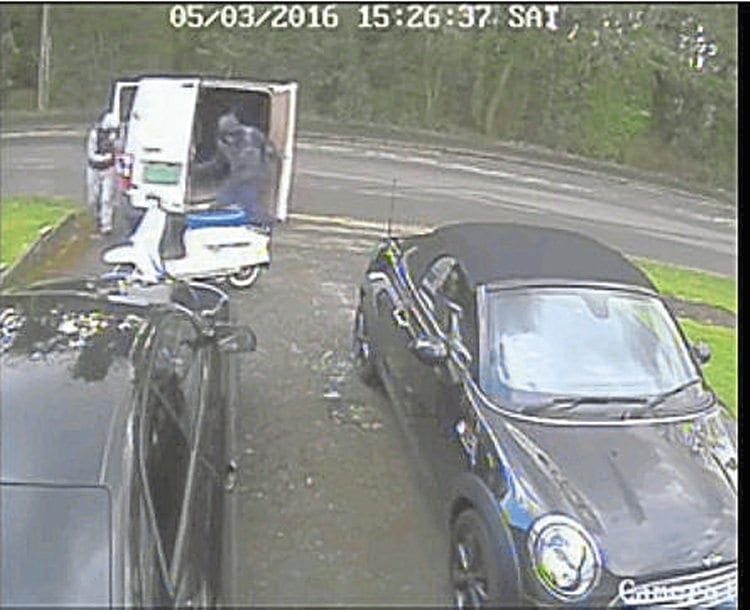 Ultimately, Paul and Kim's insurance coughed up a proportion of the tab for their stolen vehicle and they are now owners of a 2015 Super Sport. Nonetheless, mindful of their previous experience, they tell me that they'll never let the vehicle out of their sight ever again.
Sadly, Paul and Kim's experience is not unique and as anyone with an ear close to the community will tell you, scooter theft is increasing sharply. While the machinery's relative portability has always been of interest to opportunist thieves, it's the soaring value of the vehicles that has given a large degree of anxiety to anyone owning a scooter.
Social media
With social media relaying disturbing images of thieves in action via CCTV cameras, it shows how easy it can be to remove a scooter, and as has been witnessed, the thefts are often committed with an audacity verging on brazen. While newer vehicles are often re-employed for nefarious purposes by unscrupulous criminals, others – especially vintage or idiosyncratic examples – will rarely survive in their original form. With parts often exceeding the sum total of a complete vehicle, breaking up a scooter and selling it online piecemeal is clearly a far safer option for the criminal.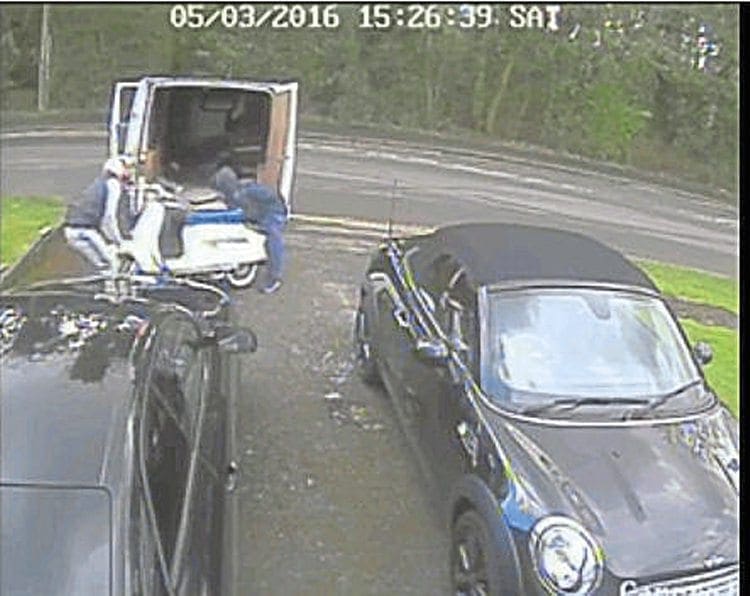 A true scootering legend, 82-year-old Marshall 'Chuck' Swonnell was another enthusiast who fell foul of opportunist thieves. Marshall's travels on his 1961 Series 2 TV175 Lambretta read like a world atlas and the theft of his cherished vehicle was clearly a vile act on the
octogenarian. Having padlocked and covered his Lambretta on the drive outside his house in Carshalton, Surrey, his dismay was visible on discovering that it had been stolen. With a host of rallies on his calendar for the summer around Europe, his plans were cruelly short-circuited.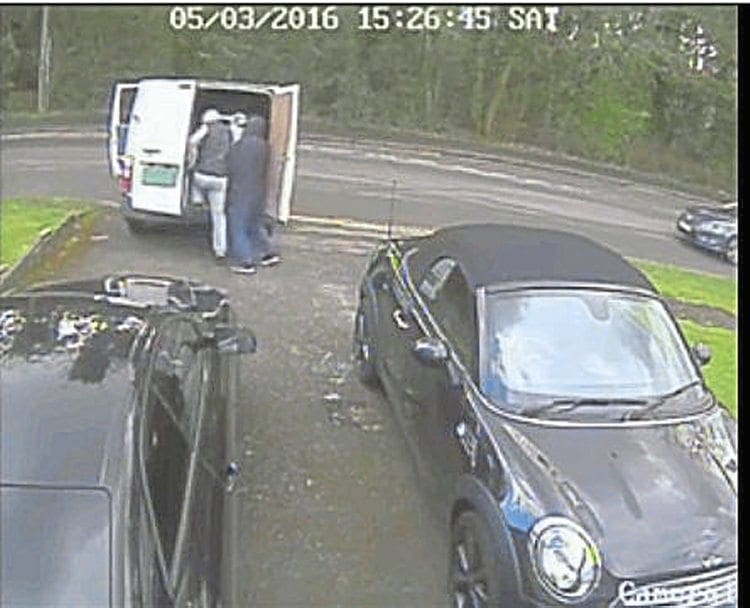 "I panicked when I saw that it had gone," reports Marshall to Scootering. "I was completely devastated. It would have meant I wouldn't be able to attend the Lambretta meet-up in June."
News of the theft ignited the scooter network. Utilising social media, a campaign was launched to recover Marshall's vehicle. Eyes and ears were primed for anything turning up – especially online and news came in swiftly. When the thief attempted to sell the front part of the scooter, someone recognised the iconic frontage of Marshall's vehicle from a photo. With the community in determined and resolute mode, an online campaign was established. A tip-off led to the scooter – albeit in bits – being recovered in an alleyway in Penge, south London. Friends stepped in and the scooter was restored to its original state, allowing Marshall to resume his travels. Marshall says: "If it wasn't for the modern technology, I doubt I would have seen it again. I am very grateful for all the help I have received."
Security
The speedy action undertaken to recover Marshall's scooter displayed the tightness and good nature of the community. Nonetheless, the increase in thefts is prompting many to devote more thought to their own vehicles' security.
"The best advice we can give is to chain your scooter to a lamppost and park it somewhere where it's busy," says Trevor Peat, manager of Cambridge Lambretta. "We sell a big thick heavy chain for around £25. They've obviously can't get it over the lamppost, so they'd need a cordless angle grinder — but they won't do that with a load of people around. It just means that someone has to go to considerable effort to remove it. The other way is to put a little lightweight cover over it. It might seem obvious, but it's a case of 'what you can't see won't hurt.' It'll just make people think it's just too much hassle for them."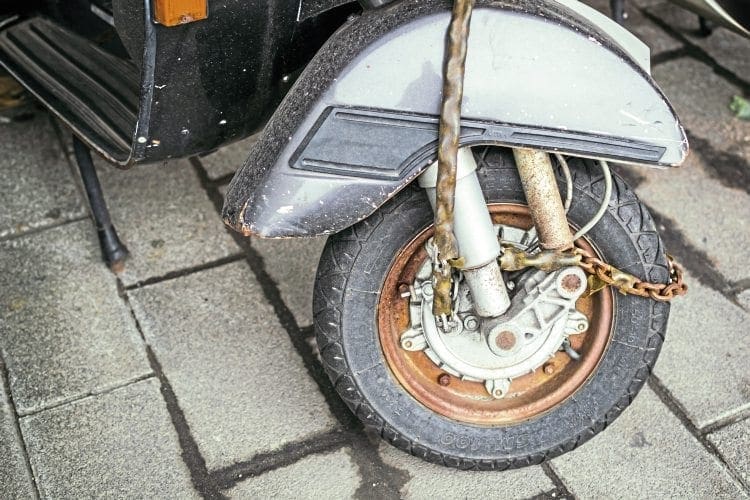 "It's become fairly frequent that we hear about scooter theft," says Michael Greensmith, the Lambretta Club's Southern Area Representative. "The problem is when your scooter is on its own, it's a risk. If you're going to have a scooter of any description, if you leave it out on the road you've got to have an anchorage point to secure it to. None of us would drive into London and leave it parked up for any period of time.
"Actually, it's very rare we leave them when we're not around. It'll just get picked up and thrown into a van. Nine times out of 10 it'll be broken down and sold in parts because all of the parts are interchangeable. They know they can sell them quite easily that way.
"People have got to take matters into their own hands when it comes to securing their scooter, especially because the police don't appear to be prioritising scooter theft," says Robin Quartermain, president of the Vespa Club of Great Britain. "When people insure their scooters, it's important to get an agreed value with the insurance company, because if your scooter does gets nicked you've got the peace of mind that you're going to get a reasonable amount of money back to help buy a replacement."
Beyond the more hands-on ways of protecting one's treasured vehicle, digital technology may well prove the greatest deterrent in stalling the opportunist thief. While advanced GPS recovery systems can be cost prohibitive, TrackR is one digital device that can provide a small added degree of security at a reasonable price. Discreet and light, they can be secreted into the scooter with little fuss. Linked to your phone via Bluetooth, it can send immediate alerts if the vehicle is moved outside of a pre-set zone.
"The obvious benefit of the TrackR devices is separation alert," says Peter Doal of TrackR UK. "If you are sitting outside a coffee shop and your app is running with the Bluetooth active and someone moves your scooter, then you will receive a separation alert on your phone which normally activates between 30ft and 100ft."
With the police clearly setting their priorities beyond scooter theft, it's painfully apparent that the individual, and ultimately the scooter community, will have to take full responsibility for the security of their vehicles. This adds cost and takes time but the extra effort is worth it if it means you can avoid the heartache that comes with the loss of a scooter.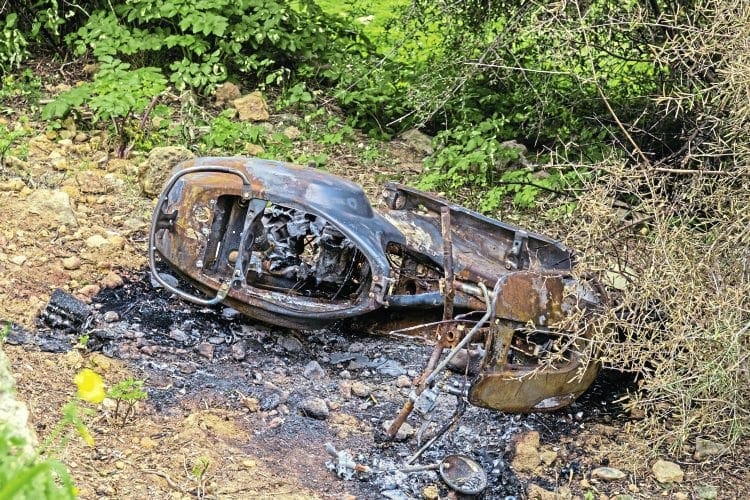 Words: Simon Wells
Thanks to World Video Hub for their help in this article: https://www.youtube.com/ watch?v=VfbtesGkyug

Enjoy more Scootering reading in the monthly magazine. Click here to subscribe.