Already the owner of two very well-known scooters, Phil wanted to build something he could call his own. Starting with a pallet of rusty bits, this beautiful Lambretta is the end result
In 1963 Innocenti bowed to pressure from Peter Agg, then director of the UK's Lambretta importer and Concessionaire, and others to build a larger capacity version of their flagship Lambretta TV175cc model for the power hungry UK market. It had the same body styling as its predecessor, and apart from a small chrome badge below the Lambretta script on the front legshields, and a revised plastic badge in the rear alloy grill below the dual seat (both displaying TV200) it would take a pretty good 'anorak' to decipher the difference at any reasonable distance.
The main change was the upgraded power unit; this had been the main bone of contention for Innocenti not building a bigger capacity/higher performance machine before. They felt the extra capacity would lead to an unacceptable increase in vibration which could lead to premature failure of engine parts and stress fractures in the steel body parts — not that this would bother today's 'speed freak' scooterboy! Rather than simply re-engineering the mounting face for a new cylinder they chose to cast a completely new engine block, with increased metal around the barrel stud area.
Slightly different in profile to the preceding 150/175 models, it was only used on the GT and very early SX 200 models — the later engines sharing the same profile shape as the smaller capacity blocks but with the larger gasket face of the 200 models. Taking a gamble with the barrels port timing and high ratio gearbox, Innocenti hoped to build a more relaxed high performance touring nature into the scooter rather than a rev hungry race machine which is exactly what the tuners of the day were so eager for. Quoted power figures for the GT were a useful 10.75hp at 5700rpm, two 'horses' more than the 175TV and with 400 more rpm.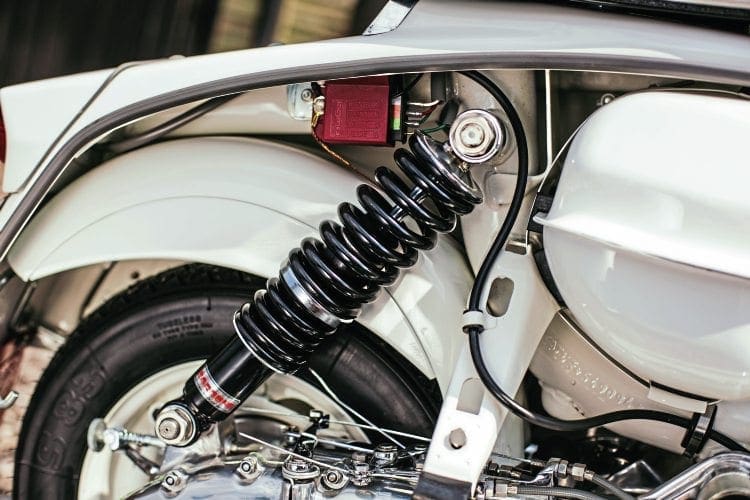 Throughout the production run of roughly 15,000 GTs between 1963 and 1965 there were surprisingly few alterations, most of which were contemporary with production line continuity rather than being model specific. The Li style panels gave way to those fitted to the Special range of series IIIs, forks changed from the S2 wired style cable tidy to the pressed steel item, the elongated return below the rear number plate was trimmed back and late models even lost their chrome ring between the headset and horncast.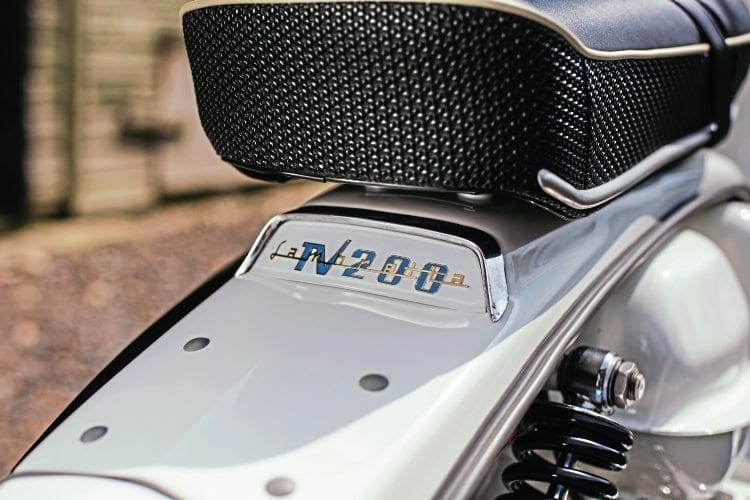 So after that history lesson we come to the beautiful restoration you see here. Owned by Phil Jeffries, it was acquired in April 2015 as a pallet of parts for £4500! Phil loves high end rebuilds, so much so he already owns several 'classics' including the S2 TV175 Shadows And Reflections and the 'Golden' SX200 Fred Perry once belonging to a certain gold medal Olympian sir! Both of these were already 'built' when he got them though and he always wanted to design his own restoration from the ground up. So with the basic pallet of rusty parts he hatched an idea to build a clean period looking machine using the best parts and professionals he could find.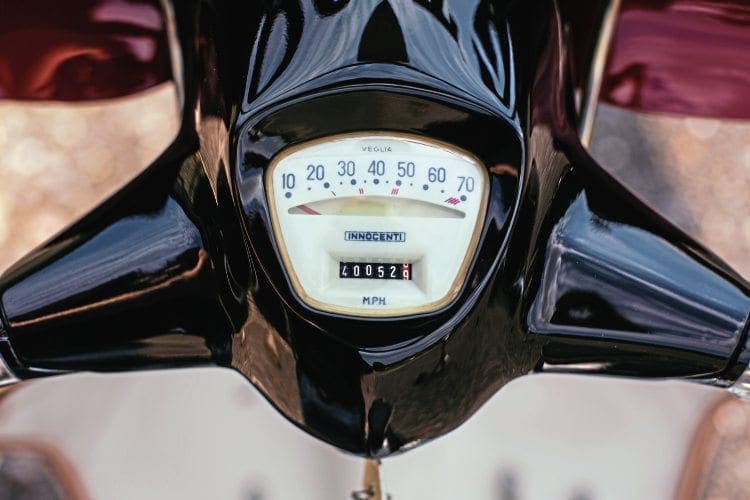 Now although he wanted to keep the look very 60s and in line with the Grand Tourer ideal, he decided to bring the engine right up to date. First the bodywork was despatched to Clint at Classic Perfections in Barnham, West Sussex; to get the look he wanted. They decided on an Old English white base with tasteful black/gold detailing and period features — I must say it is very nice and understated! The engine then went to Pro Design in Littlehampton for Roger to carry out his magic! A race/road ported BGM RT 230 kit was used with 60mm crank Jap con rod, 30mm Dellorto carb, BGM inlet manifold, BGM exhaust, AF six-plate clutch and TV200 gearing. Probably a little over the top but the GT/TV was always a bit of a wolf in sheep's clothing! He had already used Disco Dez at Gran Sport for previous work on his machines so decided he was the man to bring his dream together. It took around a year and near on £10k to finish. Since completion it has been fully set up by Roger on his dyno and gives a very useable 18bhp. Phil is very happy with the final package and it has already picked up not only Best Lambretta but also Best in Show at its first outing last month!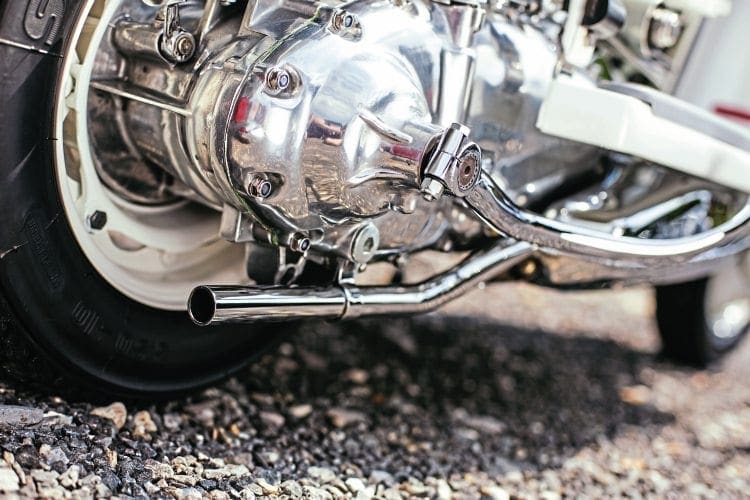 Word & Photographs: Dave O.

SCOOTER DETAILS
Owner's name: Phil Humphries
Job: Motor dealer.
Scooter club & town: El Duo SC & LCGB.
First rally or event: Brighton '82 on the train, we slept (read stayed awake) on Brighton beach that night aged 16.
Favourite and worst rally/event: Favourite rally — IOW, worst rally — Torquay 1983.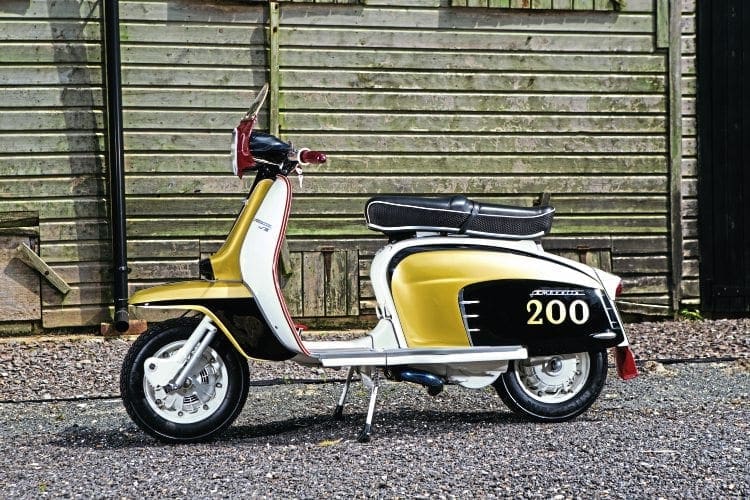 Furthest you've ever ridden on a scooter: Weymouth.
What do you like about rallies/events: Meeting up with like-minded scooter enthusiasts.
Favourite Scootering magazine feature: Custom classics, Spirit of '63 — always wanted that scooter ever since I saw it.
Your favourite custom/featured scooter of all time: Shadows And Reflections.
Name of scooter: Still Alive from '65.
Scooter model: TV 200
Engine: Pro Design RT230
Top speed & cruising speed: Top 80+ and cruising 60.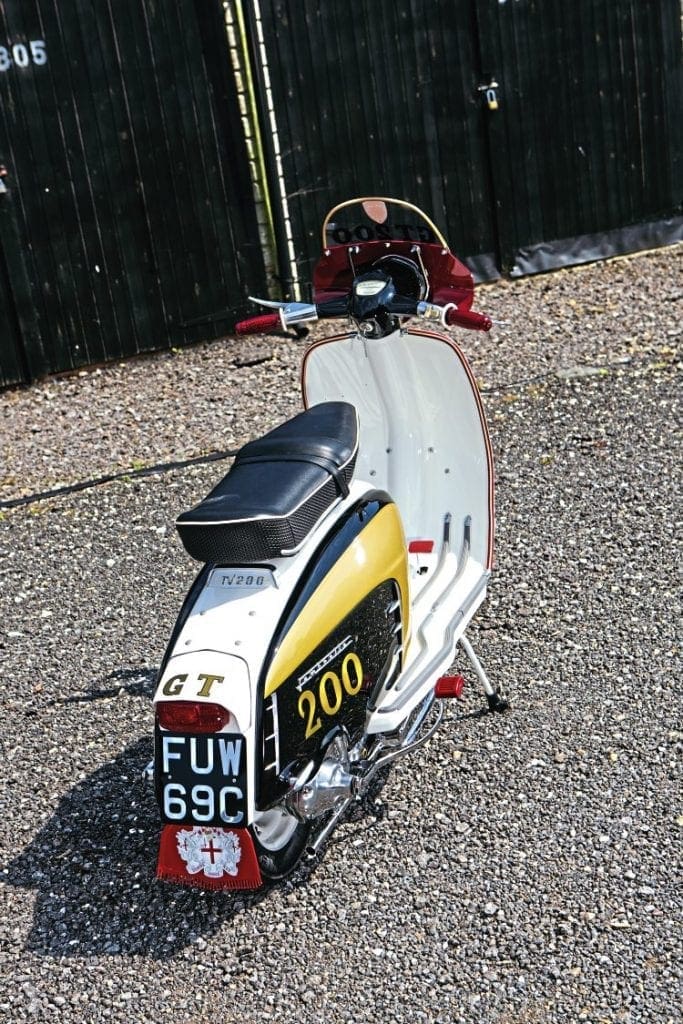 Is the scooter reliable: So far.
Paintwork: Classic Perfections Barnham — top job.
Chrome: All polishing and chroming done by London Chroming.
Is there anyone you wish to thank: Thank you to Sean Jefferies for knowing everything, to my agent Daren the Mod Taylor, Disco Dez for his patience, Clint, Roger and finally my wife for letting me have my toys.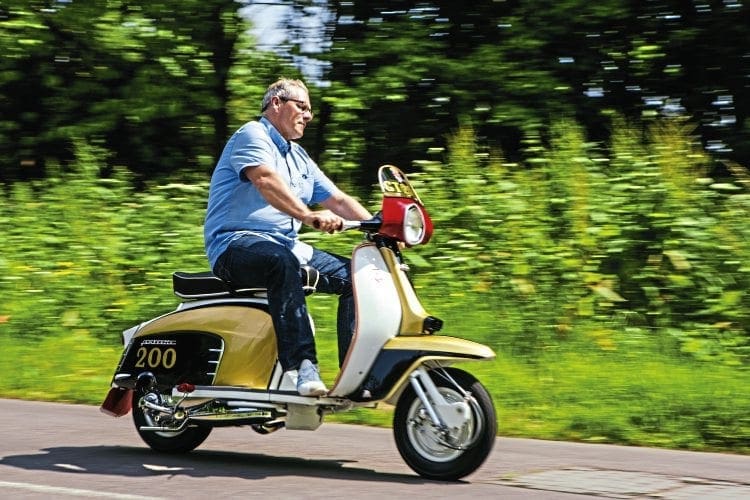 This article was taken from the October 2016 edition of Scootering, back issues available here: www.classicmagazines.co.uk/issue/SCO/year/2016

Enjoy more Scootering reading in the monthly magazine. Click here to subscribe.