Slowly my eyes adjusted to the gloom and I realised this was the scooter equivalent of the closing scene from Raiders of the Lost Ark…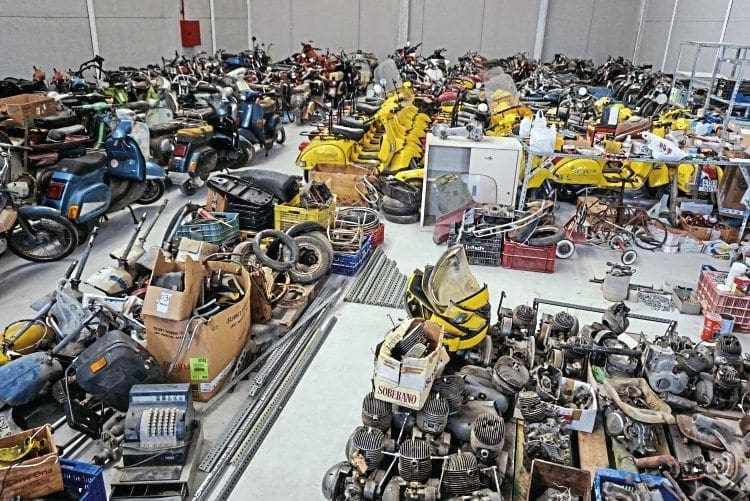 Collections are assembled for many reasons such as public display or investment but the most interesting are those brought together for personal enjoyment. Israel and Charo, the owners of Recambios Motos Clásicas, are supplying spares for classic scooters with an emphasis on machines produced in Spain. Their passion for both Vespa and Lambretta is boundless and has taken the couple across the country in search of rare survivors.
The main part of their collection comprises 76 machines and is laid out in an orderly fashion at their company HQ, away from public view. Astounded as I was by that collection, it was the journey to a nearby industrial unit where the remainder of the collection is held that really caught my breath. When asked how many machines were stored there, Israel paused before answering: "Honestly? One, maybe two hundred. I've lost count."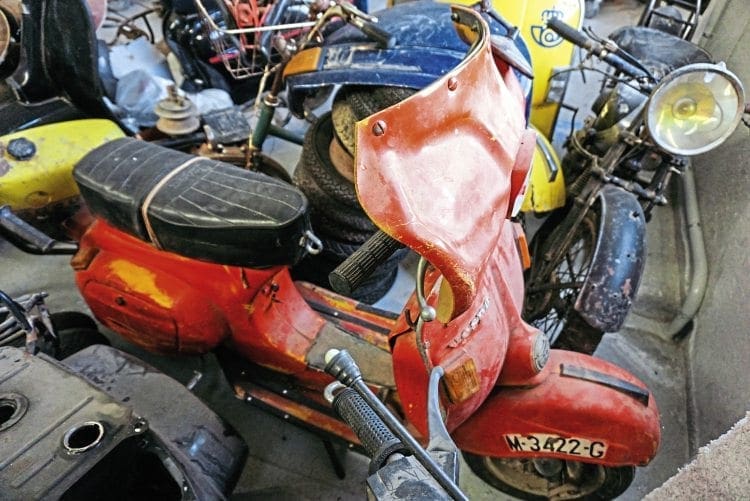 There are several themes to the collection which started as a quest to find early registrations from the Alicante district. This led to the acquisition of both motorcycles and scooters before Israel decided to concentrate on locally produced Motovespa and Lambretta scooters. "The aim is to obtain an example of each type produced in Spain," explained Israel. "Each is conserved as found; it's only if another example comes along, or it's too badly corroded to display, will I restore it."
Israel may have lost count of the machines in his care but he knows each of their histories without the need for records. Where and when each one of them was produced, where he bought them and any special features come to mind instantly. This isn't the collection of a hoarder, it's one of a connoisseur.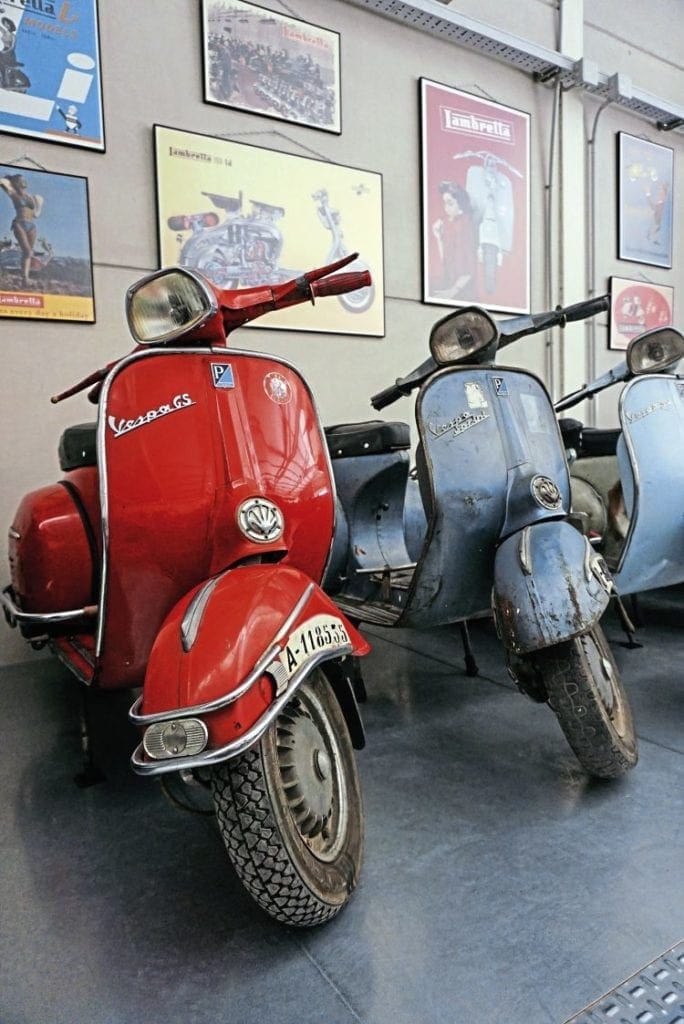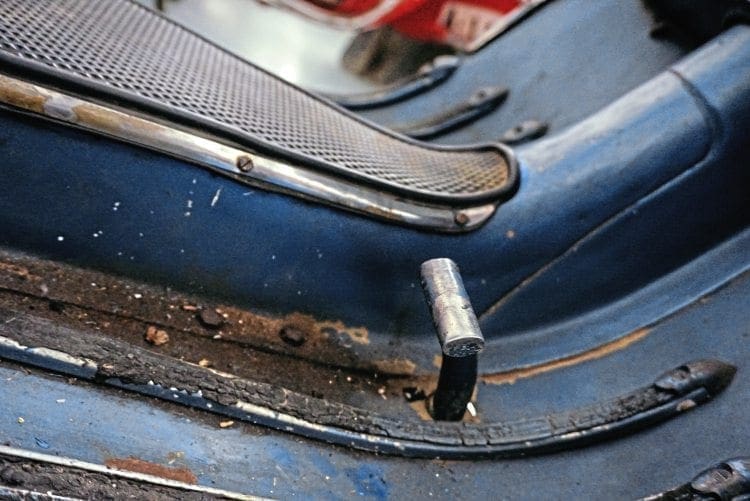 With exclusive access to this rarely seen selection of classic machines it's difficult deciding where to start so I'll begin with a small selection of his favourite Vespas. Next month we'll take a look at his hoard of Lambrettas.
BLOCKADE BUSTING BASSOS
During the years of Franco's Facist Government, Spain operated policies that effectively banned the import of goods which could be produced locally and as a result both Piaggio and Innocenti established Spanish factories. Although Motovespa opened its Madrid premises in 1952, it would be some time before production reached capacity. Faced with high public demand and intense competition from the Lambretta factory in Eibar, Motovespa needed to get its hands on machines quickly.
The solution was to very quietly import machines produced at the Italian factory and stamp them with Spanish frame numbers. These two machines are from that period and are among the oldest surviving Vespas in Spain.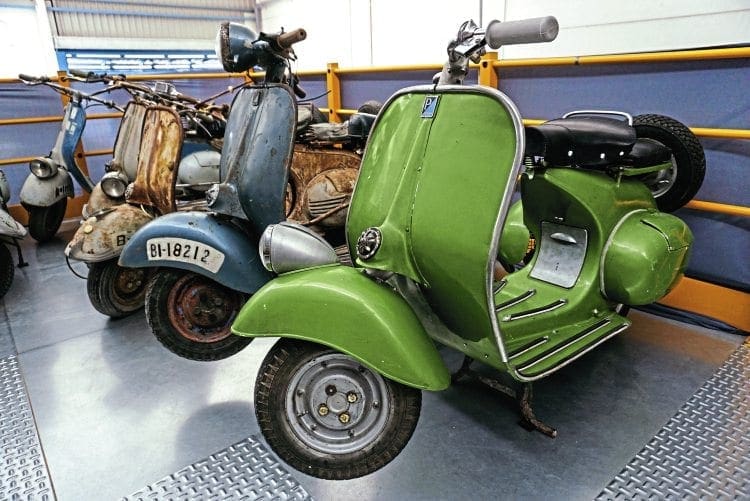 The pale green machine has obviously been repainted but is unusual for having a horncast which has been stamped in aluminium. Its neighbor, BI-18212 is an original faro basso with aluminium side panels that was tidily converted to a handlebar light many years ago.
THREE WHEELS ON MY WAGON
In the days before electric mobility scooters several Spanish manufacturers adapted Vespa frames into tricycles. Typically these used the engine as a direct drive to the rear left wheel and an adapted front end to provide controls. Israel has two examples in his collection, a single seater that possibly dates from the 1960s and two-seater based on a Plurimatic engine small frame. The latter is interesting as its owner was an amputee fitted with what was then known as a 'peg leg'. A hook being mounted to the leg shield for comfortable stowage while riding!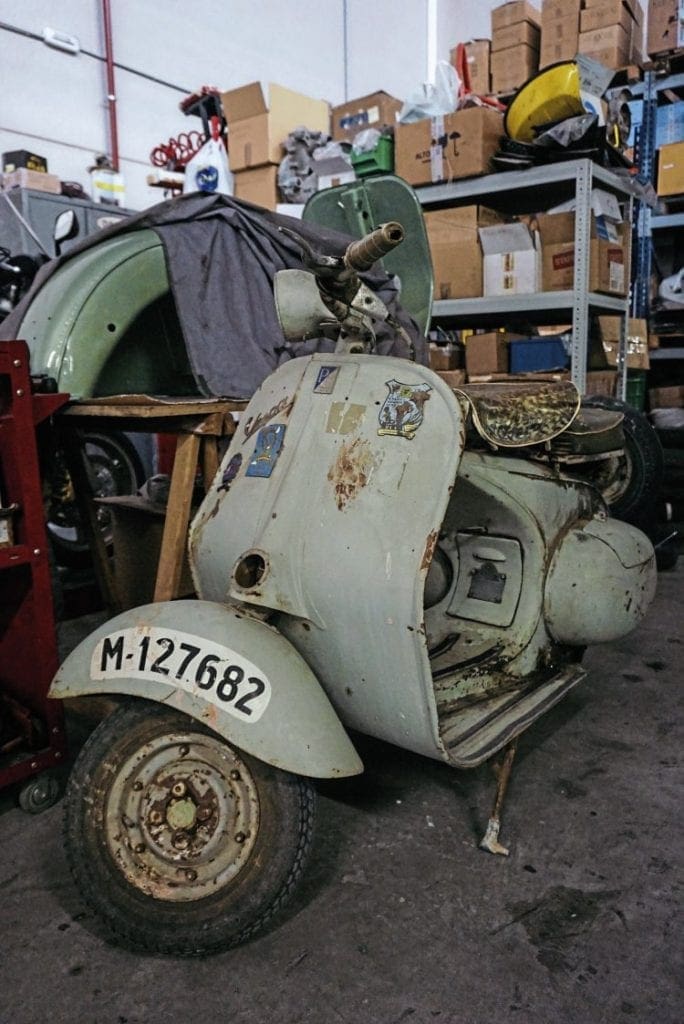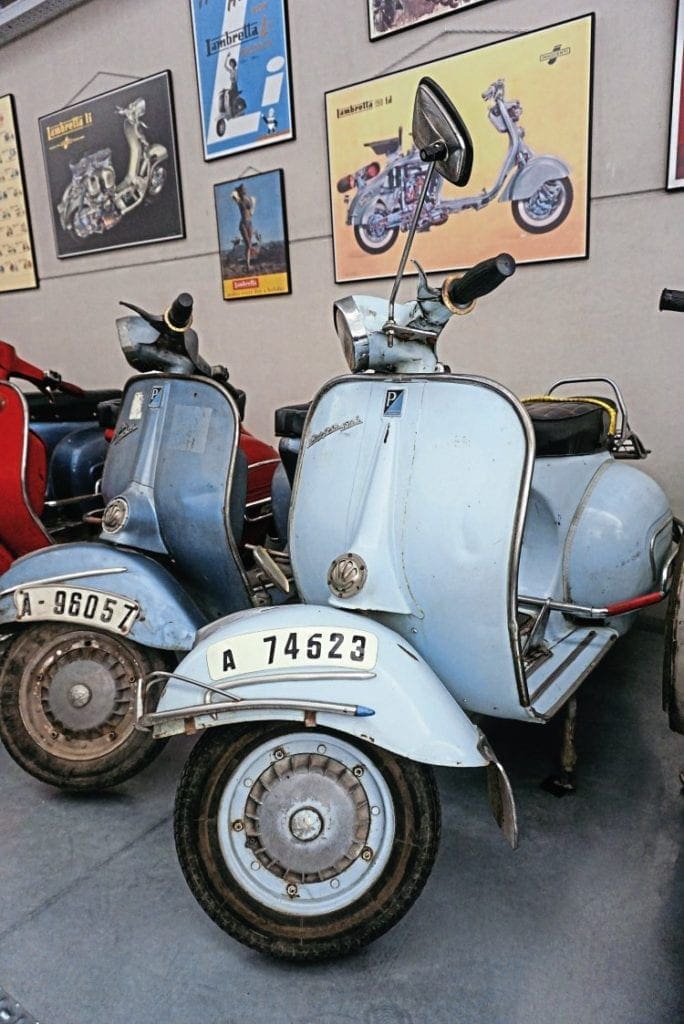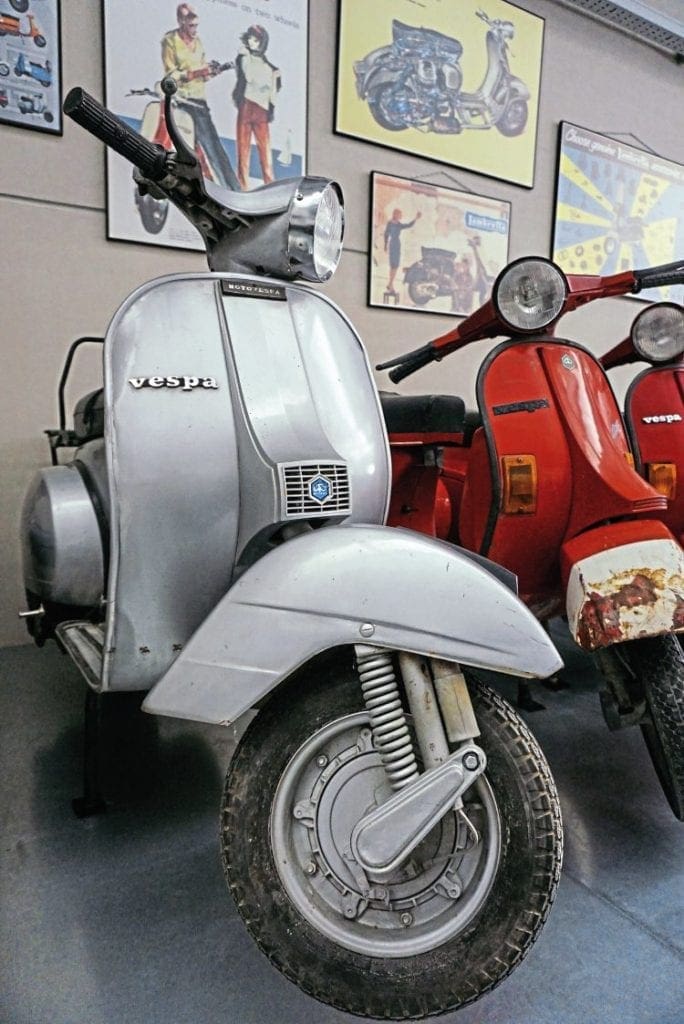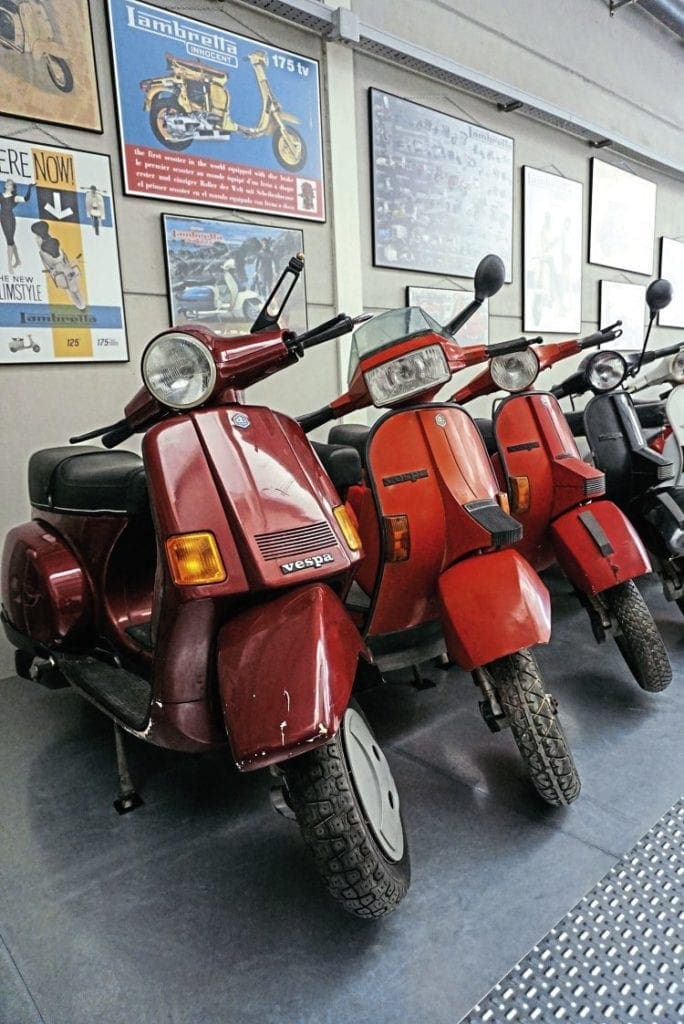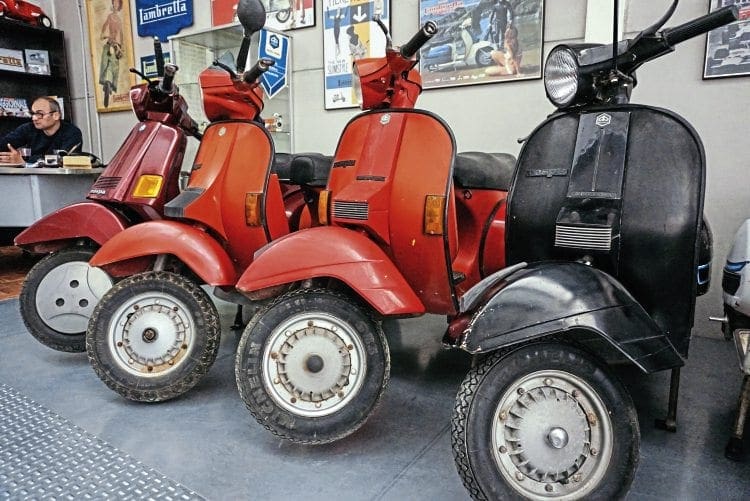 SMALL-FRAME SURPRISES
Motovespa was a strong producer of the small-frame range and Israel's collection includes several examples unique to the local market. The Primavera has enduring popularity throughout Europe and this silver example from 1979 is in factory fresh finish, being almost unused from new and featuring the '50 Special' headset as standard. This is one of Israel's favourite machines and can be seen in regular use at events in Alicante.
Also unique to the Spanish market was a 75cc small-frame produced by Motovespa as the 'Junior' to take advantage of a change in regulations allowing 16-year-olds to ride machines of that capacity.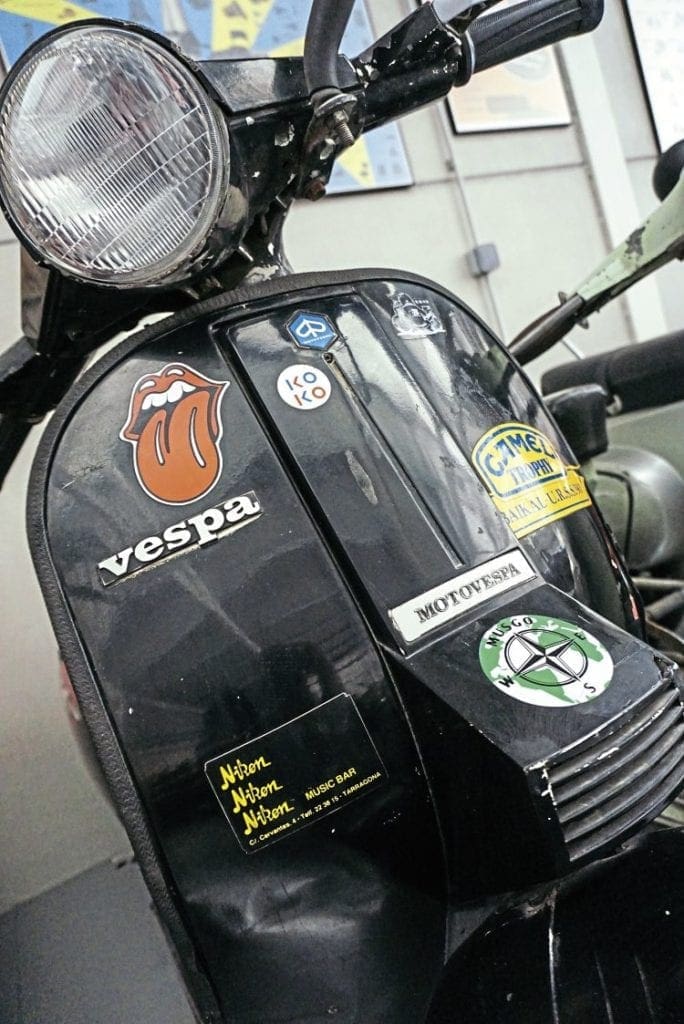 Another favourite in the small frame selection is a 1980 non indicator PK that spent its life on the Costa Dorada. This is a time-capsule of nostalgia for Israel as it's covered in 80's disco stickers.
Not to be left out is Charo's personal favourite, a 125 Plurimatic. Something of an underdog the Plurimatic/Automatica range was the first mass produced automatic Vespa. Having poured time and money into its development the lack of commercial success must have been a massive disappointment to Piaggio. In common with most autos it's a divisive machine. Charo is desperate for it to be restored but Israel seems to be 'too busy!"
Words & Photographs: Stan

Enjoy more Scootering reading in the monthly magazine. Click here to subscribe.