Imagine the scenario, you're a 15-year-old Mod, you find not one but two Series 2 Lammies on a farm. You pay £25 for the two, then swap one of them for a backrest. Many years later you strike a deal to buy back the Series 2 of the same person you did the swap with, and have to shell out £2000 to clinch the deal. And the scooter remained untouched for the entire time!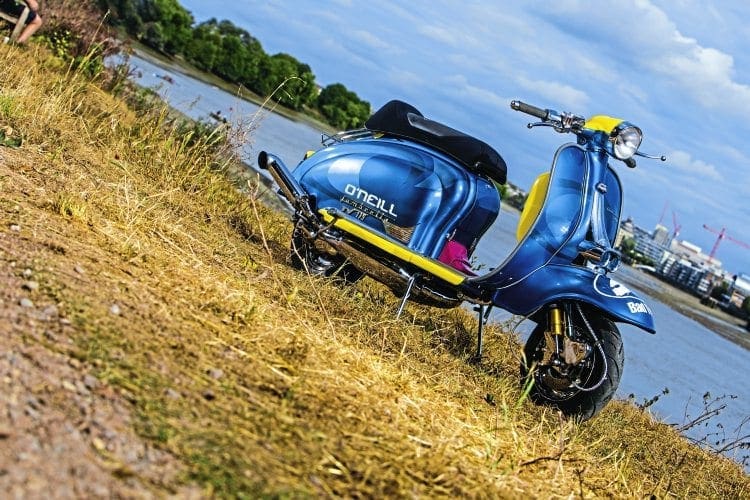 Except this isn't an imaginary scenario, it's a synopsis of what actually happened to Trey (TJ) Mason over a number of years. "I was 15 years old and I found a couple of old, tatty scooters in the village I grew up in at a place that cleaned agricultural equipment," he said.
"One was a Li150 Series 2, the other a TV175 Series 2. I asked the farmer if he wanted to sell them and we agreed a price of £25 for the pair. I wheeled them home one at a time, and although I knew less than nothing about scooters at that time, I was feeling rather pleased with myself.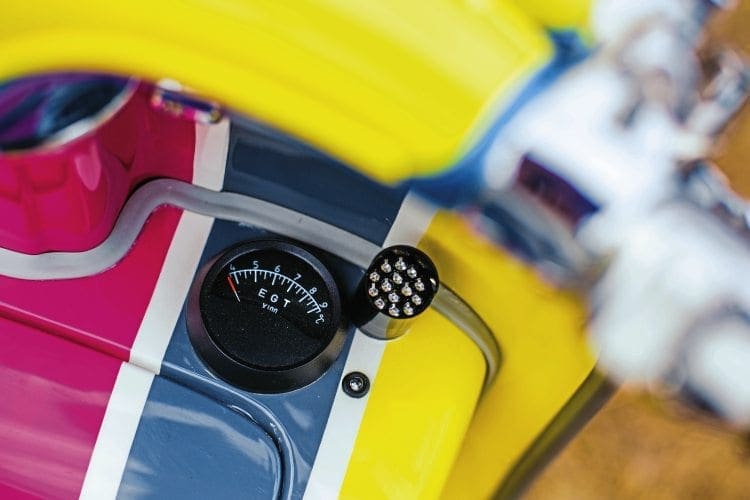 "My bubble was well and truly burst when my dad came home. To say he went mad would be an understatement, his words went something along the lines of… 'you're absolutely not going to be one of those beatnik Mods' and he gave me two weeks to get rid of the scooters. I spent the next week or so riding round all the local farms asking if there was a corner of a barn or something similar where I could keep them.
"Eventually a local farmer put me in touch with a woman who had a couple of disused chicken sheds. She let me keep them both in a corner of one of them. I set about restoring the Li150 S2, and ratting the TV around rough ground. The TV was in a bit of a sorry state, and among other problems with it at that time, the kick-start shaft had gone. Not that I knew much about anything mechanical, let alone how to put things right.
"Both scooters were on J plates (1971) and had tax discs for 1974, they'd come onto mainland England from Guernsey in '71, which explains the J plates, and had laid there unused from 74 till 1981 when I bought them. I got the Li150 rebuilt and rode it to my first rally, Isle of Wight 1982, which was my birthday weekend. Later on in 1982 I got in touch with Howard Chambers, he told me the TV175 was a spine frame and that he'd be interested in taking it off my hands.
"I asked what he'd give me for it, he first said I'm coming to collect it for free, he then relented and 'generously' swapped it for a back rack. This was an essential for a young aspiring rally-going Mod in 1982, even though the back rack was a bit tatty! Forward to 2000, I got back in touch with Howard Chambers to see if he still had the TV. He did, though it was at the back of one of his garages. It then took a further six years to actually get the scooter back, with calls every three months or so.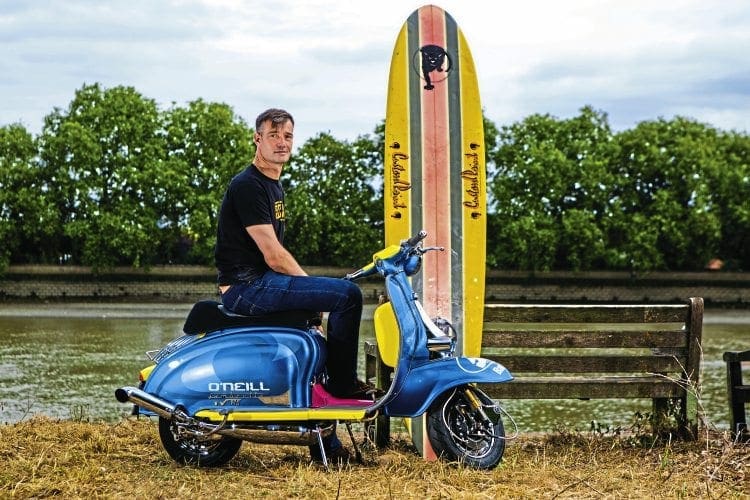 "Eventually a deal was done, the TV was exactly how it was when he collected it in 1981, and it even had the same mud on the tyres. It cost me £2000 to buy it back, though Howard did provide some good condition panel work and fittings as well as the scooter included in the price."
Next on TJ's list was to transform the TV into a 50s California-inspired custom scooter. Well, it is a 1959 machine. "It took eight years to complete the project, though, after reading a feature on Charlie Edmonds at that time proposed Super Monza engine in Scootering in 2008, it took him five years before the engine was ready, I think mine was the fourth one he built.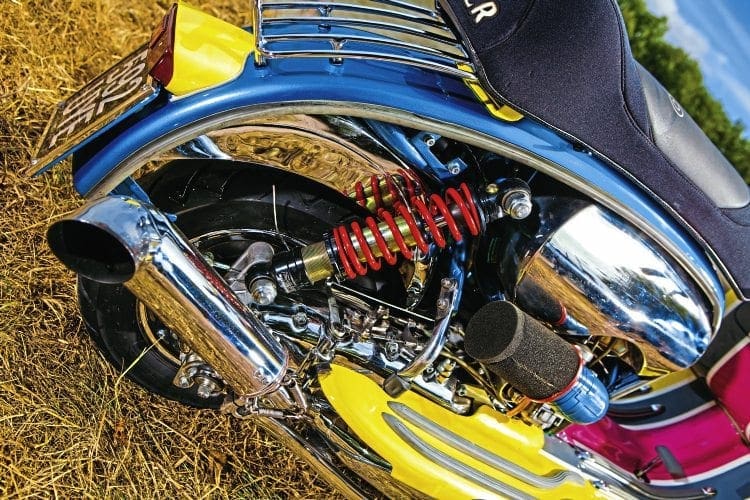 "Surfing is another passion of mine and with its 50s lines the TV S2 was ideal for creating a 'Cali Caddi' look. I wanted a scooter that was practical to ride as well as a work of art to look at. The electric blue on the outside of the scooter represents the sea, while the inside of the legshields is the same colour combination as my 50s surfboard. In fact the surfboard and (inside) legshields are exactly the same width, with an identically matching pattern.
"Both the build and artwork was via Absolutely Scooters in Sheffield, with Jason Frost and Tony Brady sharing the honours respectively. The O'Neill surf graphic on the panels is a nod to Jack O'Neill who came up with the very first wetsuit. Originally my idea for the seat was for it to be yellow vinyl covered, Frosty talked me out of it, instead convincing me to use (O'Neill) wetsuit fabric. I'm glad he did, the way it's turned out, looking like it's a wet suit folded up around the seat, is perfect for Soul Surfer."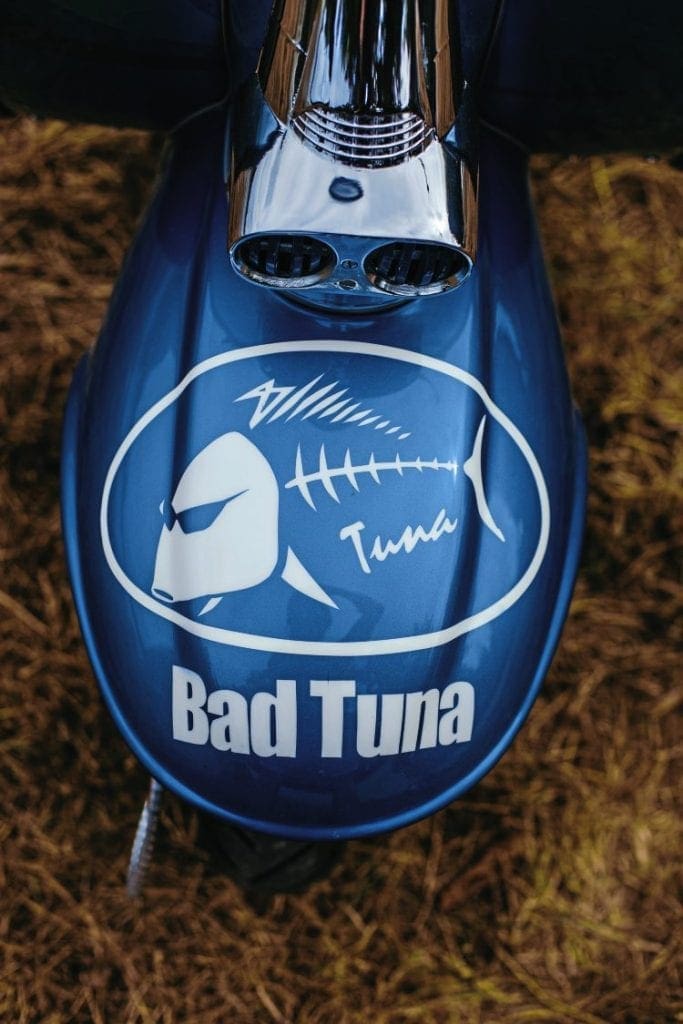 Good things, so the old adage goes, come to those who wait. Those old sayings have been around forever for a reason, in the main they tend to be applicable here. TJ patiently waited for five years for the Super Monza engine to be developed, and then finally it was ready to use. "As I've said, I think my engine was the fourth one Charlie did. I'd only clocked up about 30 miles before heading off to Venlo 2014 and back, a 700 mile round trip. My riding companion was Matt Thompson on his TS1240, most of the journey was at 70+mph. Venlo was the only time I've entered Soul Surfer in a custom show, it's very much a ridden not hidden custom, and I won best Lambretta.
"I didn't encounter any problems riding to and from Venlo, apart from fuel consumption was a lot higher than expected. So much so, that I replaced the 12 litre tank with a 17 litre one. I've ridden to Woolacombe twice, Hayling and Camber, and this year's Euro-Lambretta in Gielswind, I rode back from there to London, flat out did the journey in under 13 hours. It was atrocious, nightmare riding conditions, it was raining so hard car windscreen wipers couldn't cope. Cars were aquaplaning on the road. It was inevitable there was likely to be an accident and there was, a pile up of cars!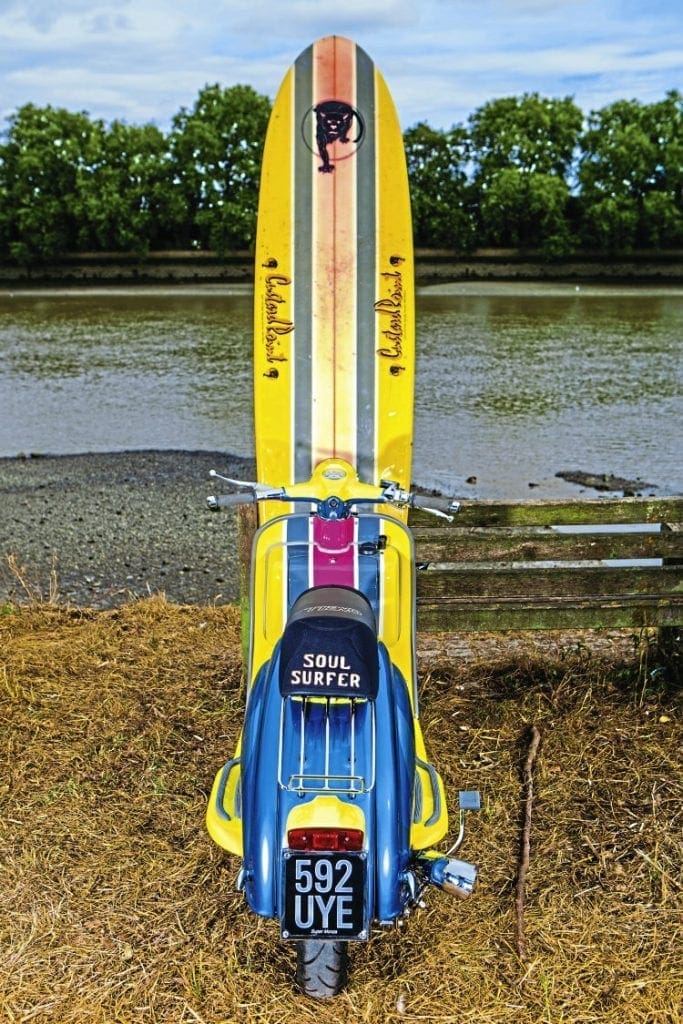 "Being an ex-soldier with first aid training, I pulled over to see if I could help. Only problem with the scooter on that journey was the exhaust bracket snapped/cracked off. It's been rectified since. I've been something of an unofficial test driver for Charlie Edmonds, flagging up any problems with the Super Monza engine as soon as they occur. Soul Surfer isn't that comfortable in slow moving traffic, usually when I set off for anywhere from London it's the first 10 miles that are the worst. I like to ride it hard, there's very few scooter engines that can do 600 miles in one hit, only stopping to fill up and then go again, and its 'only' a 225 with a 30 mil carb." Elsewhere in this feature Charlie Edmonds gives his overview on his Super Monza engines, including TJs.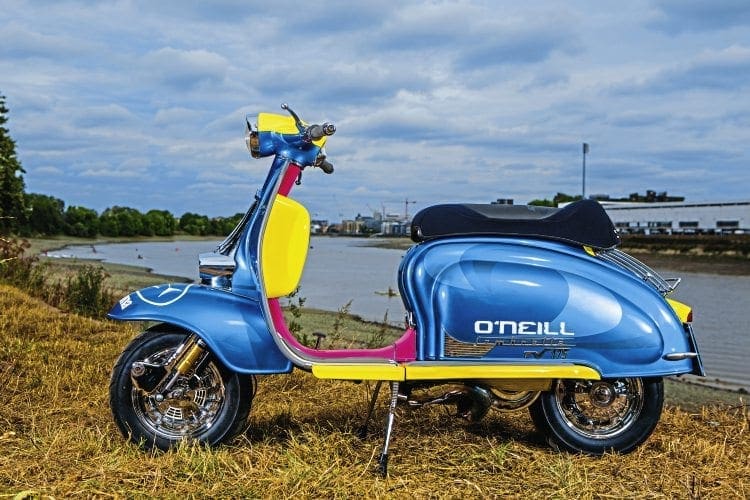 Soul Surfer isn't the first of TJ's scooters to feature in Scootering, another of his, 00 Soul was in around eight years ago. Also, as a promotional film for Baracuta (who make the genuine G4 Harrington jackets), along with several mates they were filmed riding from London to Woolacombe, catching a bit of surf time, before finishing off the day in style dancing to Northern Soul "that was a proper scooter boy day out, the promo film is still up on YouTube too". Naming his Series 2 custom was relatively easy for TJ, Soul Surfer combines all three of his main interests, Northern Soul, surfing, and of course scooters.
SCOOTER DETAILS
Owner's Name: Trev (TJ) Mason
Scooter club and town: London Lambretta Club, Winchester Arrows.
How and when did you first become interested in scooters: As a 14-year-old Mod in 1979.
Favourite scooter model: GP200.
Favourite style of custom scooter: Street racer.
First rally or event: IOW 1982.
How did you get there:  On the Li150 I restored.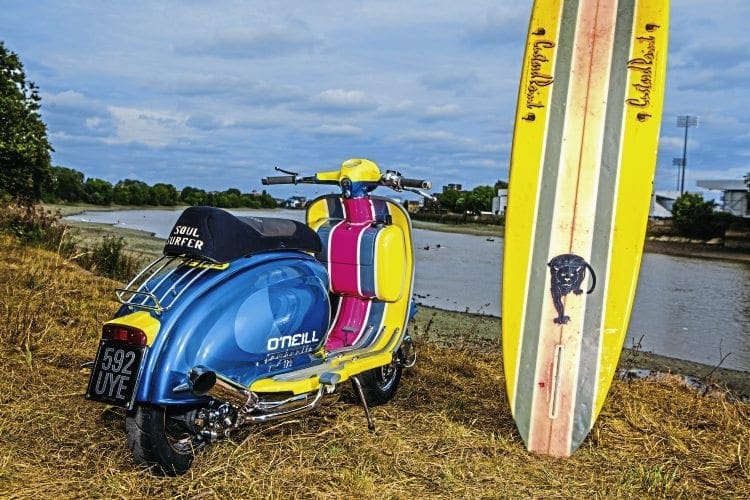 Favourite and worst rally/event: IOW as the first one I attended, I like the ferry over and a good ride around the isleand.
Funniest experience with a scooter: As a 17-year-old Mod I just got my Li150 resprayed, all suited and booted with my wraparounds on, I saw a couple of birds clocking me in slow moving traffic. I thought I was as cool as, then I went into the car in front. I am on the ground, front end of the scooter stoved in and the girls could not stop laughing. I wished the ground would have opened up.
Furthest ridden on a scooter: EuroLambretta 2007 and 2016 – both 1200 miles round trip.
What do you dislike about rallies/events: Tribute bands, I never watch them.
Favourite Scootering magazine feature: Anything technical or regarding new parts/development.
Favourite custom scooter of all time: The Exile.
Name of scooter: Soul Surfer, because I love Northern Soul and I am a keen surfer.
Model: 1959 TV175 Series 2 spine frame.
Date purchased and cost: £12.50 in 1981, £2000 in 2006.
Inspiration for project: The Series 2 has the California wave on the panels, so I put my interest in surfing to combine it with the original Lambretta design.
Built by: Bodywork and build Jason Frost, custom paint Tony Brady, both of Absolutely Scooters Sheffield. Engine by Charlie Edmonds of Performance Tuning.
Are there any specialised parts: Hot rod end can built by Charlie Edmonds.
Engine kit: Super Monza 225.
Crank: 58mm Race.
Carb: 30mm Delorto.
Exhaust: Super Monza.
Gearbox: CamLam Race.
Porting & dyno work done by: Charlie.
Top and cruising speed: 90mph top, and cruises at a GPS 75mph.
Is the scooter reliable: Very.
Who did the chrome: London Chroming now called Capital Chrome – expensive but solid.
Hardest part of the project: Getting the scooter back from Howard.
Do you have any advice or tech tips for anyone staring a project: Patience and listen to others' advice – I had lots of good ideas from Jason and Tony.
Your favourite dealer: Charlie Edmonds Performance Tuning, Jerry Sanders, Absolutely Scooters, Beedspeed.
Is there anyone you wish to thank: Not really. My missus spends more of my money than I do, so need to suck up to her in this section like all the other custom write-ups!
EVOLUTION OF SUPER MONZA – AN INTERVIEW WITH CHARLIE EDMONDS
Back in the January 2008 edition of Scootering, there was an interview and feature on Charlie Edmonds, which, at the time was as his three-way collaboration with Tino Sacchi via Cambridge Lambretta Workshop was at its earliest stages. In October 2016 Scootering had a dealer spotlight feature on Cambridge Lambretta, in which Trev Peat talks about Charlie's input into what Cam Lam offers its customers. As well as many other services offered through Charlie's Performance Tuning in Northants, the Super Monza (and to a lesser degree its 'little sister' the Super Imola) is relevant to this particular feature.
Charlie has been a BSSO class and overall championship winning racer, as well via his Performance Tuning set up in Northampton, one of the top scooter and motorcycle tuners around. In addition his engine and exhaust development work in a number of different areas has reached almost legendary status. We caught up with Charlie for a chat about how the Super Monza has evolved, and also a few specifics about the Super Monza in TJ's Soul Surfer.
How did the Super Monza transfer from an idea to reality?
The brief at the time was we wanted to produce a kit that would pull through all the gears, built to sit at speed on motorways. From the start point it was a slow process initially, working round other projects I was on with.
We know high revving engines tend not to last, a low revving engine that pulls in every gear isn't for everyone, but judging by the number of enquiries before I'd even started working on it, there was enough of a demand to spend some time developing it.
Once I started development work properly on the Super Monza I had a prototype year, during which there were a couple of tweaks made to the castings at manufacturing stage. In 2011 we took two scooters to Spain for a six-hour enduro race. I knew beforehand both engines would be okay, even though an endure race was quite a brutal test. We put together two teams of three riders, the yellow one, with BSSO riders of myself, James Campen and Phil Bevis won the race outright, and were the first placed Lambretta.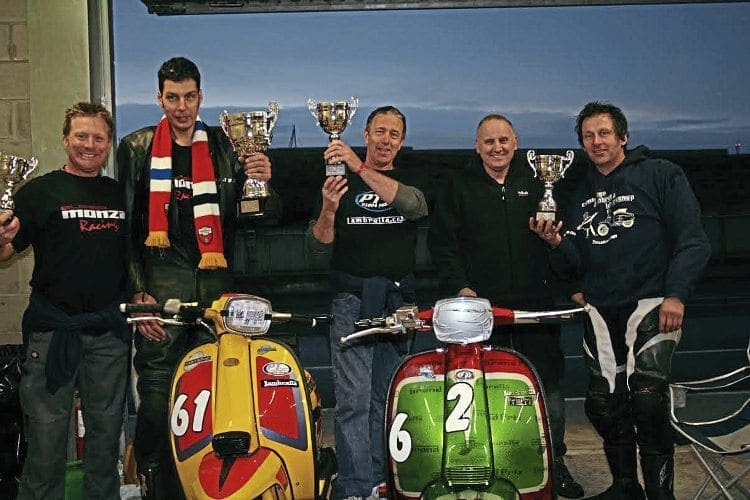 The red one, piloted by Trevor Peat, James Winter and Tony Beeton, was the second placed Lambretta. Most of the other Lambrettas broke down, requiring repairs or complete engine changes. The test bikes were as a base production kit checked to tolerances and using 30mm cad), and running on pump super unleaded bought in Spain at a BP garage — so all results were comparable to real world riding. The track was about 4km long and three riders per bike each doing two stints. There are now a few racing using Super Monza; one was done for sprinting. Initially that had a few handling problems and turbulences issues, which were ironed out at Sidewell. It went on to set a sprint record at Elvington.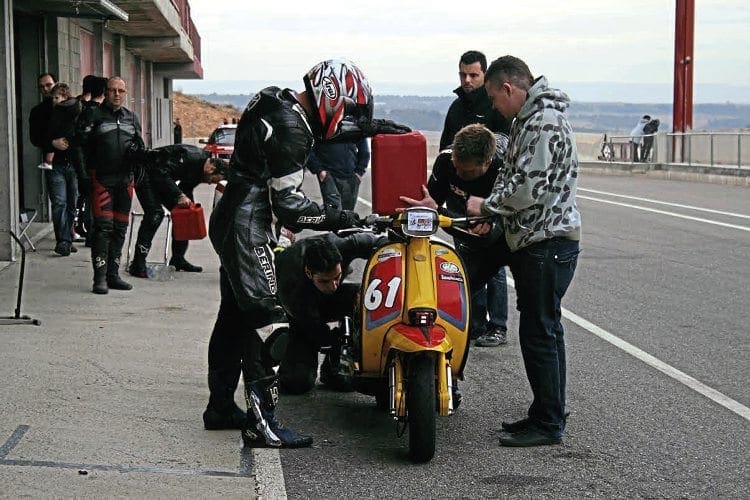 The whole design and development behind the kit was done by me based on years of tuning other scooter cylinders and evaluating and tuning racing motorcycle cylinders to combine as many improvements as possible for reliability within the constraints of a stock crankcase and also to make the cylinder produce more power for racing without the huge amount of tuning work required with all other kits on the market at the time. And to produce an under stressed high torque production kit with big mid-range pulling power to pull tall gearing without high rpm.
Tell us about TJ's Super Monza
TJ's Super Monza was one of the earliest ones I did. He had his name down pretty much from the off. He was always badgering me about it, even when I was racing at the time. I'd call TJ's Super Monza a production blueprint. It has matched casings, with a 58mm stroke crank and blueprinted cylinder. It runs a 30mm carburettor, one of my pipes which TJ asked to be chromed, although I don't like doing that due to nitrogen embrittlement issues which can arise.
Also a one-off silencer, which again was asked for by TJ. After checking back through my records, TJ's was actually the eleventh Super Monza I've done. One minor issue that came up via TJ clocking up the miles on his Super Monza was the exhaust bracket cracking.
Although it didn't drop down, and was probably as much to do with the chrome plating, that issue has been rectified with a secondary stiffener. The power curve supplied is done on my factory pro dyno, a true rear wheel step test in fourth gear.
Tell us about your step test dyno
Dyno step testing is something new to scootering but not to motorcycle engine manufacturers or engine development tuners. It is a recognised standard of setting engines as close as possible to what happens in the real world, just ask someone with a dealer level inertia acceleration dyno how they tune mid-range and part throttle and some don't answer because you cannot tune midrange or part throttle without a constant loading. Hence many engines blow up in mid-range cruise where a lot of road motors live.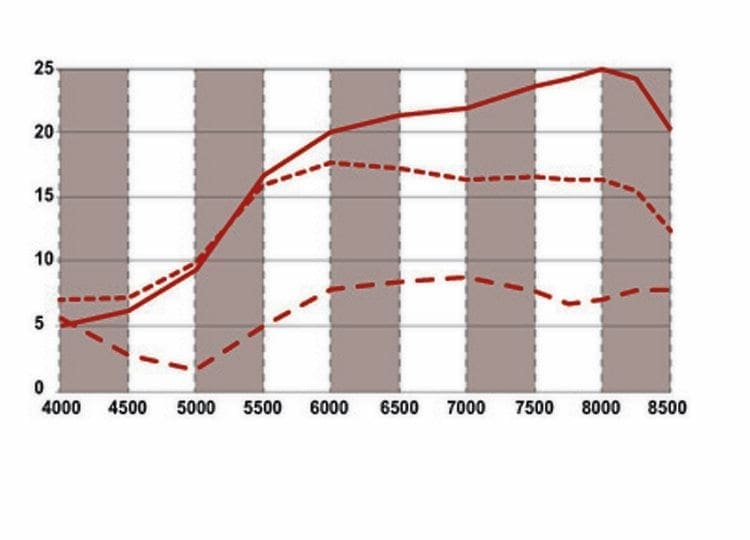 Acceleration tests are useful but not the way to tune to real conditions, see factory pro website pages for info on real world power figures and no added power added to the true real wheel step test horsepower. Tuning with 5 gas high speed analyser in loaded step tests will allow real world tuning and to be able to see real ignition effects from hydrocarbons and nox levels, and fuelling from co % which doesn't vary much with ignition compared to tuning with an 02 sensor that varies a lot with ignition timing adjustments. You can tune around an air fuel ratio 02 sensor all day long with my analyser. My step test dyno is the only one of its kind in the LIK.
Finally, what's coming next with Super Monza?
I've still got a waiting list for Super Monzas which I'm working through. There's something new and slightly different coming, involving a barrel that bolts on externally. At present I've not yet seen the finished barrel. Tino (Sacchi) also has a couple of Super Imola barrels which will soon be at the development stage. I've not as yet had any involvement, though that will be happening soon, firstly to work out my pipes. The Super Imola will be a smaller bore size which should equate to it being revvier. For more information visit www.performanceandtuning.com
Words: Sarge
Photographs: Gary Chapman

Enjoy more Scootering reading in the monthly magazine. Click here to subscribe.