Andrew Lee (aka 'Snooty') is well known on the scooter scene and is also the proud owner of this beautiful Lambretta Series 2.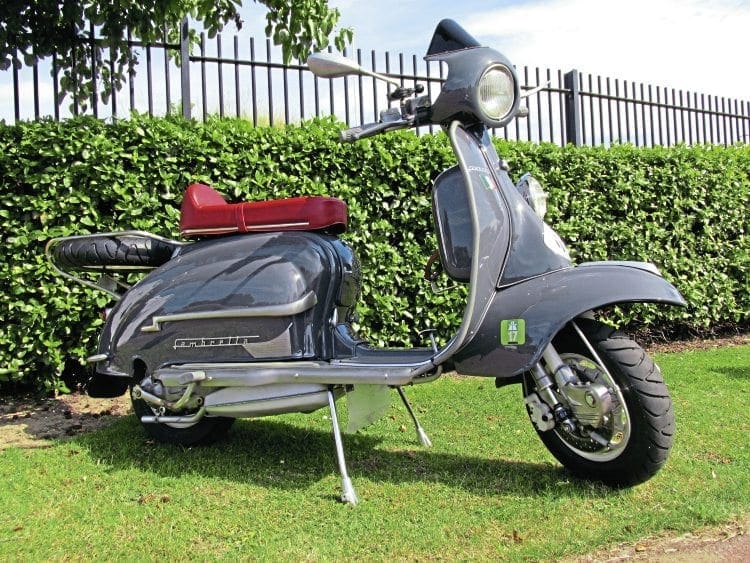 Andrew's interest in scooters started, like most, when he was at school and the influence of seeing older lads on scooters. With his passion ignited, Andrew saved up to buy a Vespa PK50. It was always Andrew's goal to own a Lambretta S2, and he's certainly produced a stunning example. The scooter was originally purchased as a box of bits in 2007 and built up from there. The sleek grey paintwork was chosen by Andrew and applied by Mansfield Monsters Club member 'Curly', who's also Andrew's cousin! The lines are clean and the colour is perfect to give an unadulterated essence of Italian.
The style of the scooter is 'vintage classic'. During the build Andrew searched for a flyscreen, which would complement the look. The flyscreen he chose is ideal and gives a sporting lift to the 1962 model. I asked Andrew about the other additions and he said: "I chose the light and Italian sticker to give it that minimal/continental feel." He succeeded; its understated look oozes class.
The badges are all original and support the authenticity of Andrew's attention to detail. Andrew chose to rub the badges down and seal them with lacquer to keep the vintage look and classic lines.
Andrew still plans to swap the single seat to a slightly modified standard item, which will give a more comfortable riding position. He also plans to add a foot switch to operate the front light. The speedo is a SiP item and the front upgraded disc brake doesn't look out of place. The legshield tool box provides some useful storages space to support the continental rides which Andrew regularly completes.
is the scooter reliable enough? Andrew said: "Well I haven't had the panels off yet. Last year I went to the Eurolam in Germany. This year I did the Eurolam in Italy and during that trip I also visited the old factory in Milan, which was on my bucket list."
How does it run? "The engine rides sweet, it's got nice torque and pull really well giving out about 16bhp and has a top speed of a respectable 75mph." With a clear objective in mind Andrew's produced the scooter he always wanted and one that he can be proud of.
Article continues below...
Advert
MAN & MACHINE
Name: Andrew Lee
Scooter club & town: Mansfield Monsters.
First rally or event: Skegness early 90s – camping at the stadium and living on tin beans and sausage rolls.
How did you get there: Travelled on back of Iggy. He asked me to get off and check his back light about a mile from the stadium, and then buggered off – ended up getting picked up in a car (cheers mate).
Your favourite custom/featured scooter of all time: Your Confusion My Illusion, War of the Worlds, Exile, Lower Class, Sweet as a Nut and Kroozer.
Scooter model: 1960 Lambretta S2.
Engine spec: RT225 – Non Reed valve. Crank: 60mm – 110 Robbo-speed. Carb: 28 Del. Exhaust: BGM. Clutch: AF 6-plate. Gearbox: GP200. Dyno done by: SMH Motorcycles & Dyno Sutton in Ashford – thanks to Mitch Betts for that added bit extra.
Is the scooter reliable: 100%.
Is there anyone you wish to thank: Thanks to all club members of the Monsters. Curly for the paint. Rob Miller (Simply Retro) for the engine build (top job). Shane for the dyno. Big Kev – always finding a Chinese takeaway.
Words & Photographs: Stu Smith
Article continues below...
Advert

Enjoy more Scootering reading in the monthly magazine. Click here to subscribe.