In the early 70s street styles began to evolve and change. Trousers, for instance, began to feature a more generous cut. New brands became favoured, among them were Skinners jeans. Scootering caught up with Shaun Rusling for a chat about the iconic brand, scooters, soul music and clothes.
Suedeheads, scooterboys and northern soulies predominantly, but not definitively, in the North and Midlands of England, favoured the wider and more parallel cut of Skinners jeans. Dark blue as well as white denim were a popular choice. Archive images of suedeheads, scooterboys, soulies and bootboys on football terraces taken during the early part of that decade confirm just how popular Skinners jeans were.
While Skinners were relatively easy to obtain in the North and Midlands, in southern parts of England they were less easily available. As the decade rolled on, styles became more flamboyant, baggies up to 40in wide began to replace parallels. Moving forward into more current times, original Skinners jeans have proved to be elusive. Even with modern technology to help scour the world, the best detectives have been thwarted. Enter Shaun Rusling, a scooterist with a taste for soul music and 70s clothes,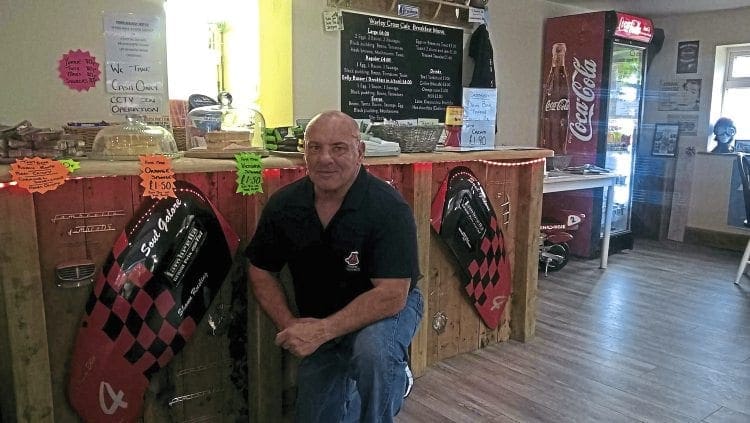 After exhausting all possible avenues to track down original Skinners jeans, he approached the situation from a different direction. Firstly he managed to track down the original patterns for Skinners jeans, and had a first run of 100 pairs of the unisex parallels in dark blue denim made. They sold out in weeks.
Scooters and scooter clubs
"I've always had scooters since I was old enough," says Shaun. "When I was 16 my first ride was a Puch three-speed moped with an Ancilloti backrest! I grew up during the skinhead, suedehead and northern soul era. First scooter I owned was a Jet 200, next was a GP 200 around 1977. I was riding with Beverly Scooter Club at that time. Next scooter I owned was a Taffy five-speed, which would have been around 1980, when I was a member of Anlaby Harriers scooter club.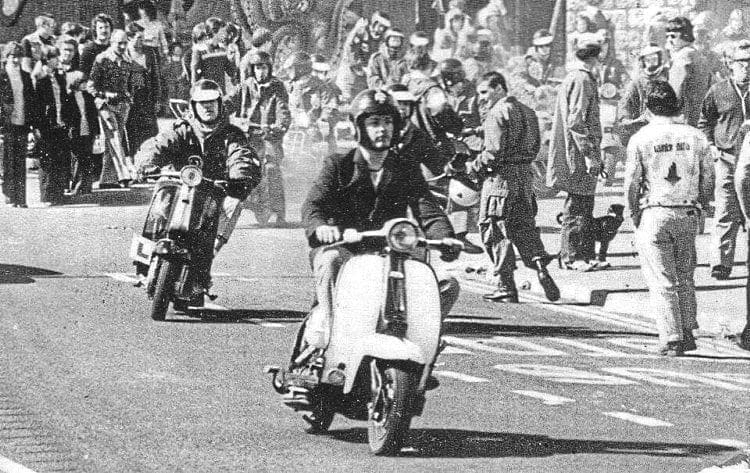 "My Taffspeed 'died' after I smashed it up during an encounter with a ditch! A mate of mine bought an AF Rayspeed GP — it was one of the last that came from AF in Watford. He'd only had it for about six weeks when he got an 18 month ban, harsh in those days, so his mum made him sell it. When AF Rayspeed moved up to Scarborough a few of us went over on the second day Ray Kemp was there.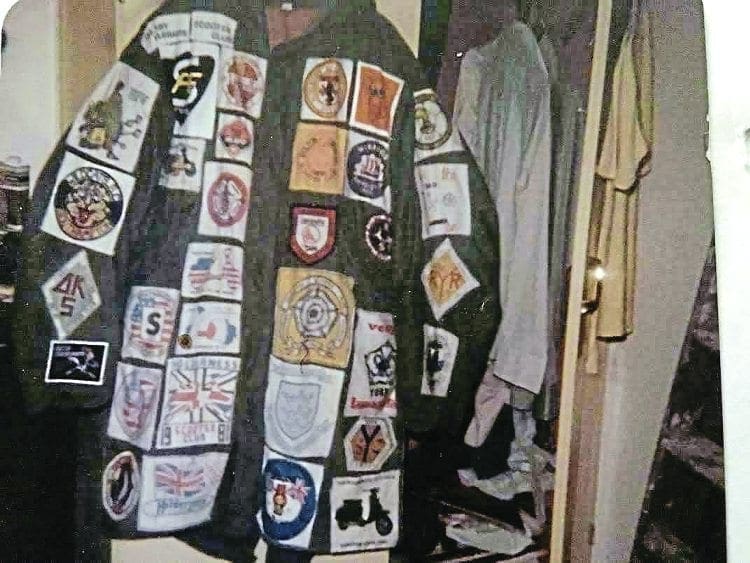 "They were still unpacking, but they welcomed us with coffee even so. In 1982 my next scooter was a candy-apple purple and silver Taffspeed 240, top scooter that was. It was road tested in Motorcycle Mechanics magazine up against a Honda Superdream. Next scooter was a custom Lammy, with a picture of a nude woman in a 'nice' position painted on the headset. After that the next was in 1995, AF TS1 225, followed in 1997 by another TS1 225, which I had for some years.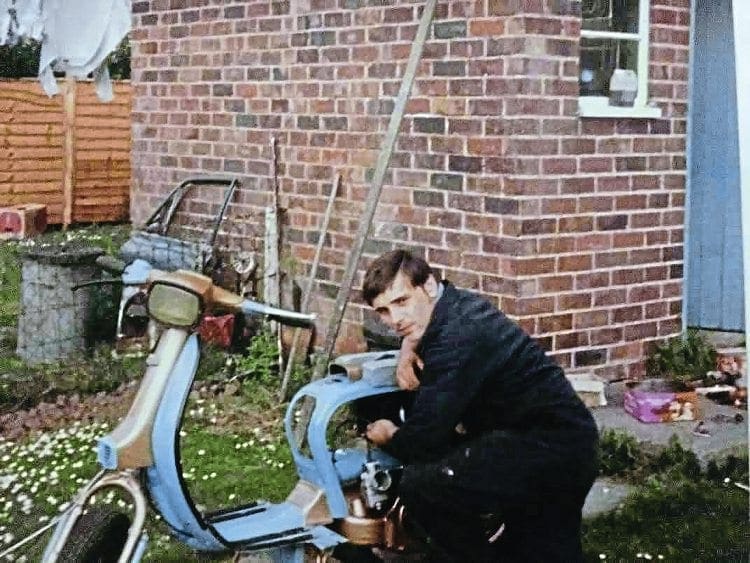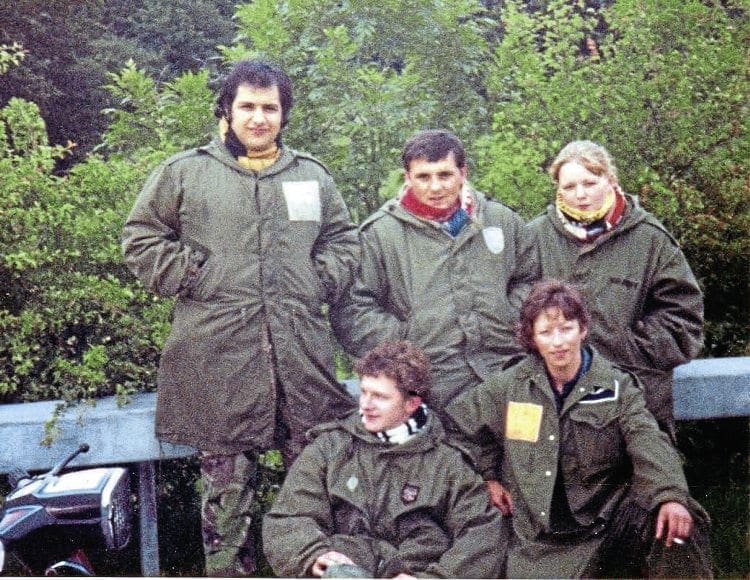 "During the time I owned that one, it was converted to a TS1252, resprayed by KB Paintshop red and black check. It became 'Soul Galore' and was a feature scooter in Scootering May 2007. Eventually I sold it to Craig Ellis in DMR Scooter Club. It's changed hands since I sold it to Craig, but when travelling back from Bridlington one day, we stopped at a café and as I walked in… there were the side panels off 'Soul Galore' on display on the wall! It was really bizarre.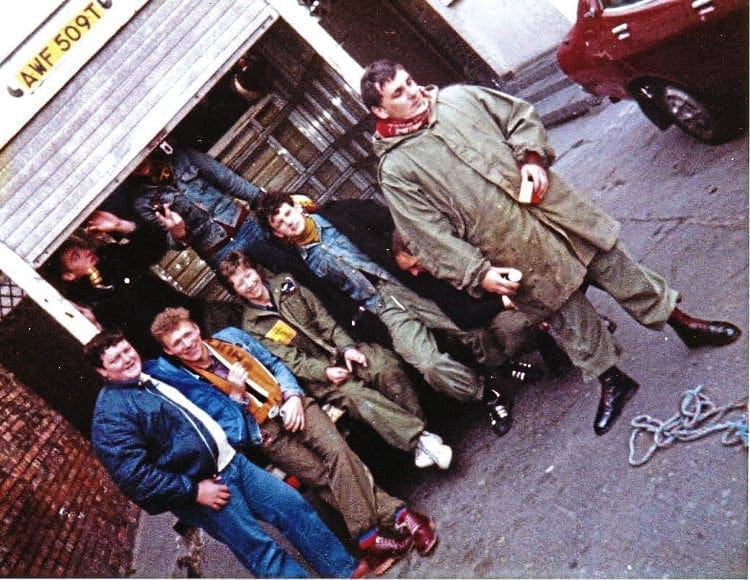 "The cafe owner had wanted to meet me for a while, a few of his customers knew me, too. My next Lammy after Soul Galore was an AF RB 225, which brings us up to the scooter I've got now, which is a black, silver and gold AF RB 250 in a 1966 Pacemaker frame. I can remember there were always scooters parked up outside Wigan Casino, usually round the side. A few of us rode to the rally in Blackpool, and then called in to a casino all-nighter on the way back in 1980.
Wigan Casino and working for Spencers
"I met a girl at Wigan Casino, Linda Worth (RIP), from Halifax who I started seeing. So I moved from Hull to Halifax and needed to find work, then I was tipped off about a job at Spencers factory, Sowerby Bridge, which I took. It was kind of natural for me as I had, and still do have, a liking for clothes. Spencers had not long been taking adverts out in Blues & Soul for soul bags, as in trousers, not holdalls!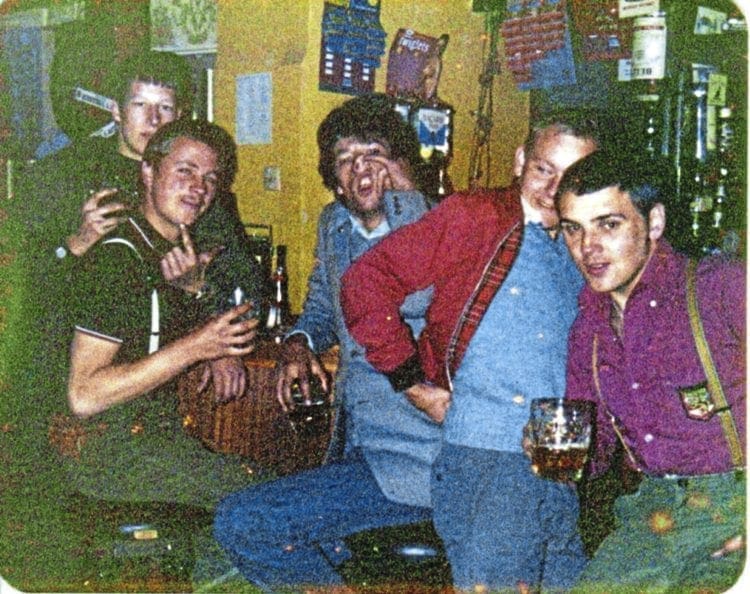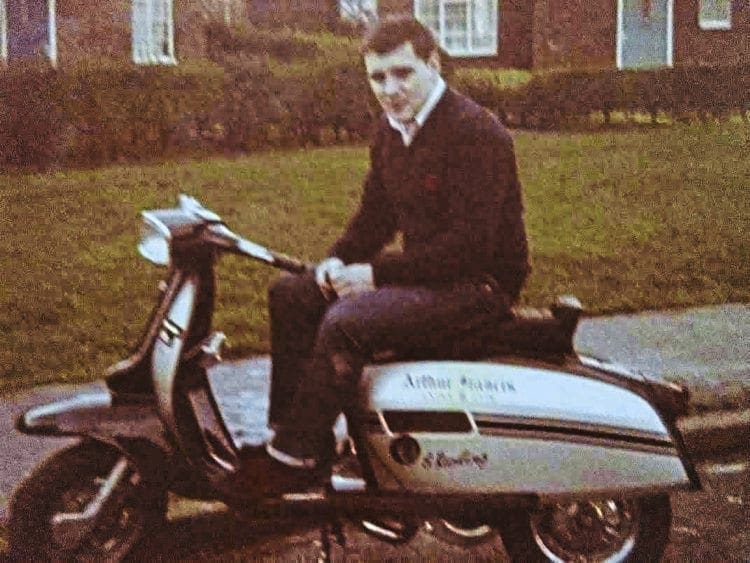 "Up on the balcony at the Casino were several stalls selling pressings and badges. I thought instead of buying from the Blues & Soul advert, if there was a Spencers stall people could buy them directly there and then. I took Alan Oldfield, owner of Spencers factory along to the next Casino all-nighter, he and his business partner, both middle aged men were on the balcony looking down at the dancefloor; both were mesmerised.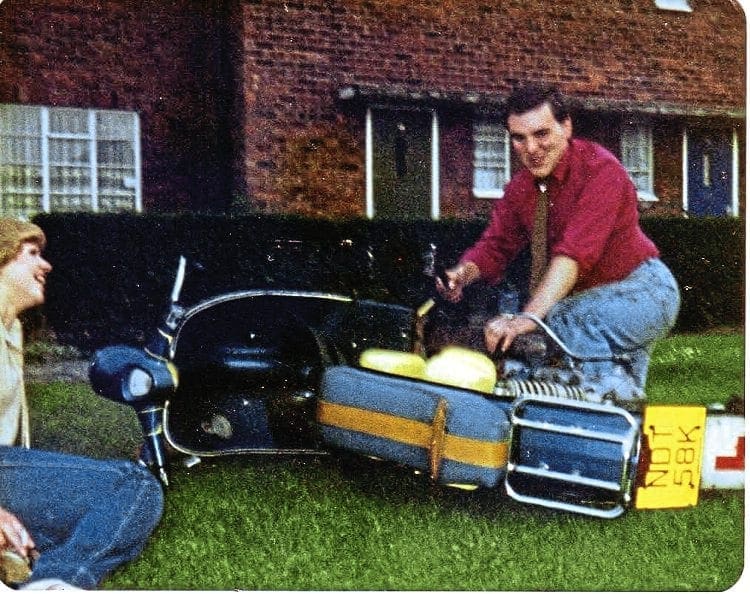 "A meeting with Mike Walker was arranged, and an agreement made for a Spencers stall on the balcony. After a short time, a room was made available for a few Spencers' seamstresses to work in during the all-nighter. They were quite old ladies too but seemed to enjoy working there. Then people could order made-to-measure Spencers, with lots of variations like extra pockets, crown or castle pocket flaps and other extras at the start of the night, and collect them before the all-nighter ended.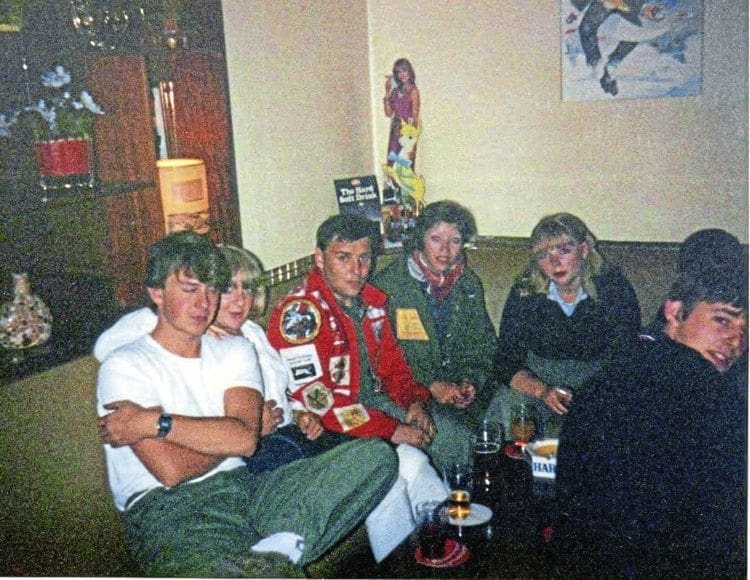 "I remember one time a Scottish lad had a bit of a go about Spencers having a stall. I put him in his place, pointing out that there was a stall for badges, and patches, and a stall for pressings, all of which were advertised in Blues & Soul and Echoes, same as Spencers! The bonus of being involved with the Spencers stall at Wigan Casino was I never had to pay, or to queue up outside after it started. Spencers factory is still operating, Alan's daughter is in charge now. It's a much smaller and more select operation these days. My partner Vicky and I share a love of northern soul music it's something that stays with you always.
Skinners
"I remember in '72 when I was a young skin/suedehead I sprayed a pair of Dr Martens boots gold. They looked the business, at the time, but along with my Skinners… I had to throw them out of my bedroom window before I went out! I'd retrieve them and put them on after I'd gone out the door. If I was wearing them as I went out I'd be told "you're not going out looking like that!"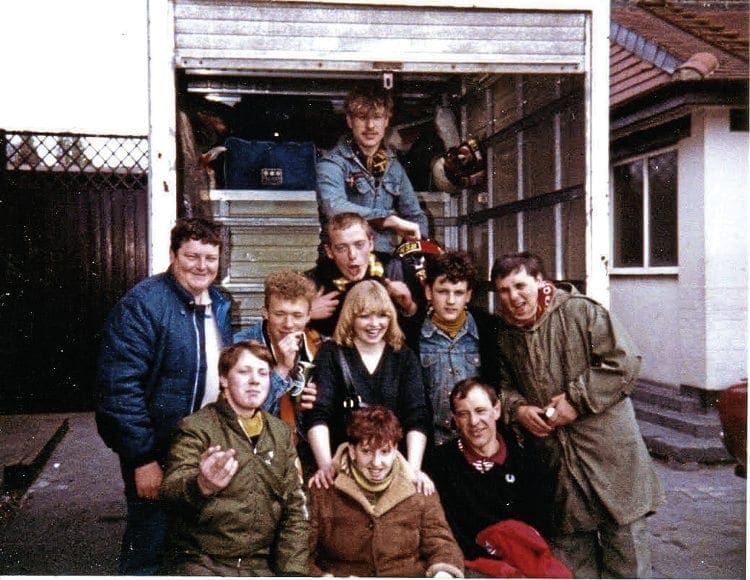 "I had Sta-Prest, Tonics, Ben Shermans and Fred Perrys. I really liked the parallel cut of Skinners, 20in parallels weren't too wide, and for me some of the bags that followed later were excessive, especially at 40in! I kept wearing my Skinners to the Casino; they eventually started to fall apart. I repaired and rescued them by turning them into patchwork denim. Alan (Oldfield) saw them, and soon after there were patchwork denim Spencers available. Much wider than my patchwork Skinners though. Over time fashions changed and moved on. I got the urge to get another pair of Skinners, hunted everywhere I could for them, but couldn't find any.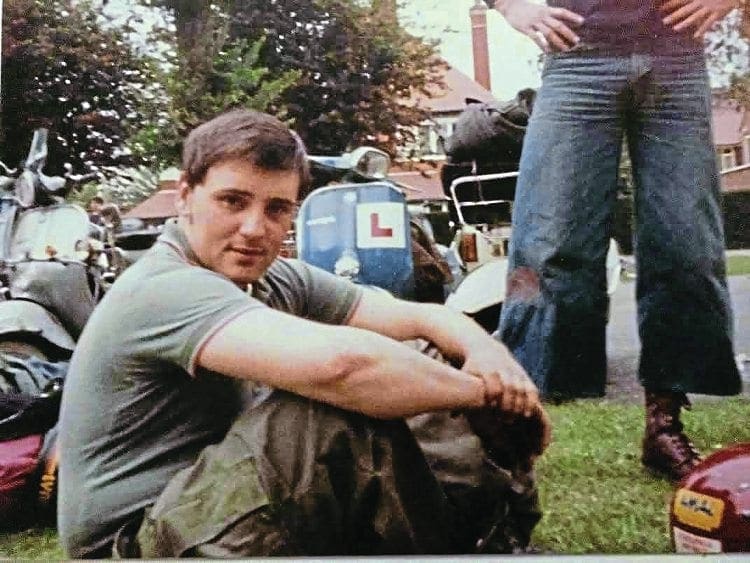 "I did manage to source the original Skinners patterns from the 70s, so set about having some made. Unlike back in the 70s, there's no viable company in the UK where I could get them made. The only change I made to the Skinners I've had made from the original 70s ones, is back then they were made from 14 ounce denim, which is quite heavy material. I've had them made from 12 ounce denim which is the right weight of material.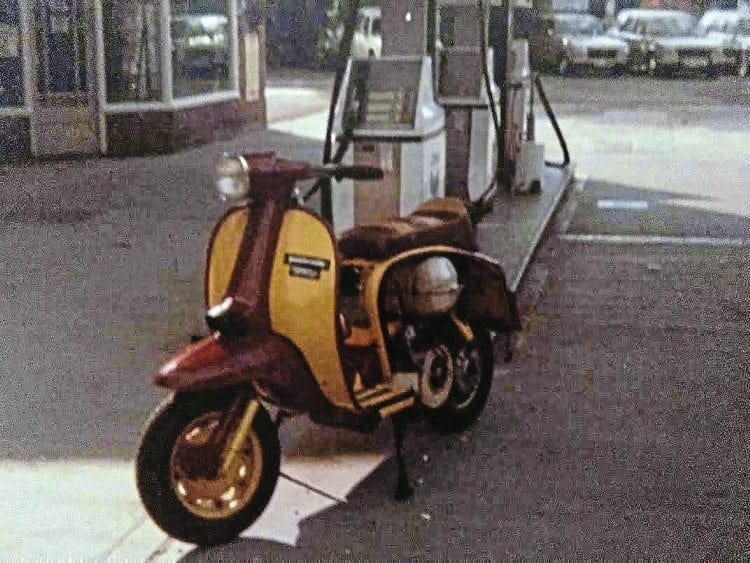 "I expected them to sell well, but I've been surprised just how fast they sold. As well as to the UK, there's Skinners gone to Spain, America, Australia and Belgium so far. I've ordered another 100 batch of dark blue denim Skinners, and plan to have white Skinners early in the new year, I'm also investigating the viability of having jackets made. We've now got a Facebook page dedicated to Skinners if anyone wants to find out more, search the site for 'Original Skinners jeans'."
Words: Sarge
Photographs: Sarge & Shaun Rusling, with thanks to Glynis Elgey and Sue Bell for help with archive images.

Enjoy more Scootering reading in the monthly magazine. Click here to subscribe.