Older readers may be experiencing a touch of deja vu while viewing Shadows And Reflections. Rightly so, as the iconic Series 2 Lambretta was first featured in Scootering magazine over 12 years ago, back in edition 218. Since then the scooter has been continually tweaked and developed, along with a knight's steed, we thought it was worth a second look.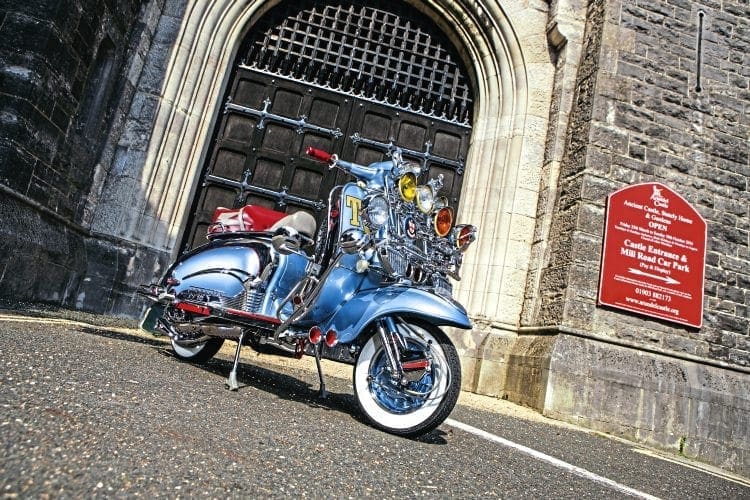 I'll Keep On Holding On
Named after a track recorded by 60s mod band The Action, Shadows And Reflections was eventually the perfect companion to Spirit of '63. The latter, conceived and built by Disco Des at Gran Sport, set a new standard for Mod-inspired 60s style street scooters. Shadows And Reflections, was originally built in 2002, however, due to a few minor Issues wouldn't run quite right, so Disco Des was enlisted. There wasn't a huge amount of difference in the first and second incarnations of Shadows AndIf4;r–7,4*:f Reflections. A few tweaks to the running gear, as well as the paintwork being reworked and voila, Shadows And Reflections became elevated to the status of an iconic scooter, arguably on a par with, or even redefining yet again the levels of quality set by Spirit of '63. Believe it or not, the original owner started the project that became Shadows And Reflections with a seat! Not just any seat of course, a then-rare, now impossibly rare Corbelo, the ultimate 60s aftermarket saddle. To complement and accompany that particular goody an array of hard to find genuine accessories such as Ulma, Ray Dot, Vigano, Catalux and Super Fabio items were methodically sourced. Combining the extras with the blue over chrome paintwork, Shadows And Reflections was one of the top scooters of 2004.

Something Has Hit Me
It certainly had a major impact on Phil Humphrie back then: "It was in Scootering in 2004 and looked good in there, at the Isle of Wight rally that year actually seeing Shadows And Reflections it was like — wow! Spirit of '63, built at Gran Sport took the classic 60s Mod scooter look to a new level, then Shadows And Reflections took it even further. The whole scooter sums up the 60s, the colours, the light blue metallic overlay, the right amount of accessories, it epitomised the style of scooter that would have been around in the summer of 1964. Some people, when going for a Mod style scooter can end up overdoing it by chucking too many extras on their scooter, at the time, in 2004, Shadows And Reflection looked absolutely perfect. I remember at the time thinking how much I'd like to own that scooter, or one very much like it, never for one moment even hoping that my desire then would eventually become a reality."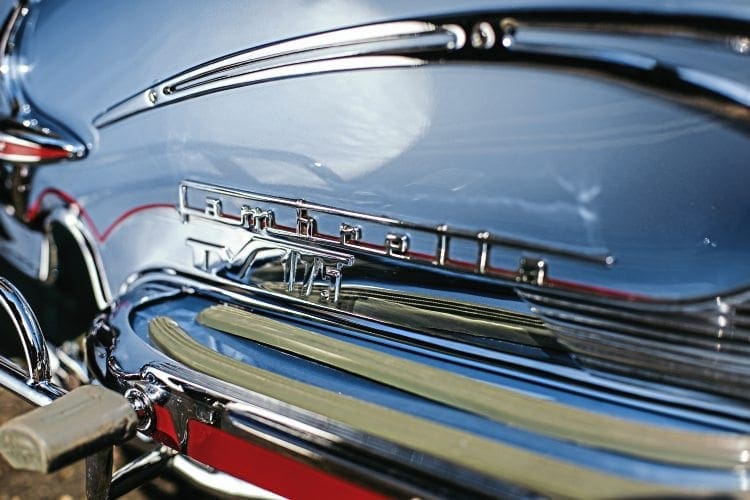 Baby You've Got It
Moving forward in time from 2004 some nine years to 2013, Shadows And Reflections came up for sale. Phil got wind of the impending sale, got in quick, sealed the deal and became the new owner. While it was still more or less the same scooter that had a profound effect on him, he felt he needed to change a few minor details and add a few more rare accessories to stamp his ownership on Shadows And Reflections. It was very much a balancing act to do that without drastically altering the scooter's appearance. Comparing a front-on image from the Scootering feature from 2004 with how Shadows And Reflections is today, the differences, albeit subtle, are noticeably different.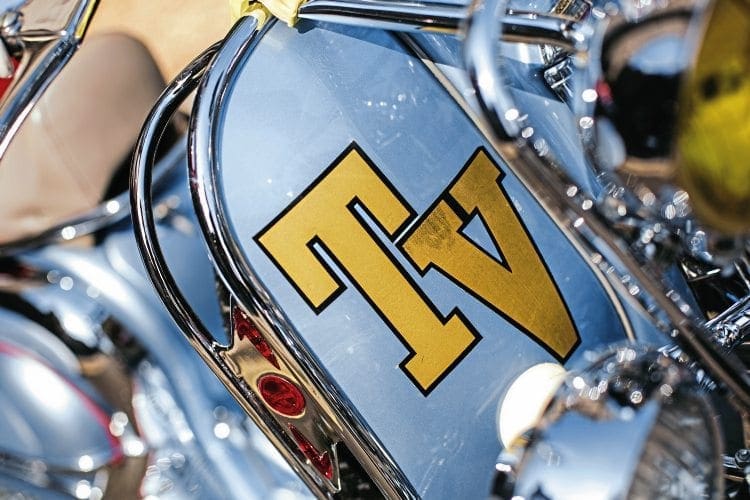 Yet they are still not too over the top, nor has Phil strayed far away from the 2004 incarnation. A few more pairs of lights, along with some clamshell and half-moon extras, situated in absolutely the right places enhance the aesthetics perfectly. Given the amount of genuine rare accessories adorning the scooter, at today's astronomical prices, they on their own could pay for a small island somewhere. Along with a pristine 60s style custom Series 2 in top condition mechanically, who knows what the asking price would be in the unlikely event of Phil deciding to move it on.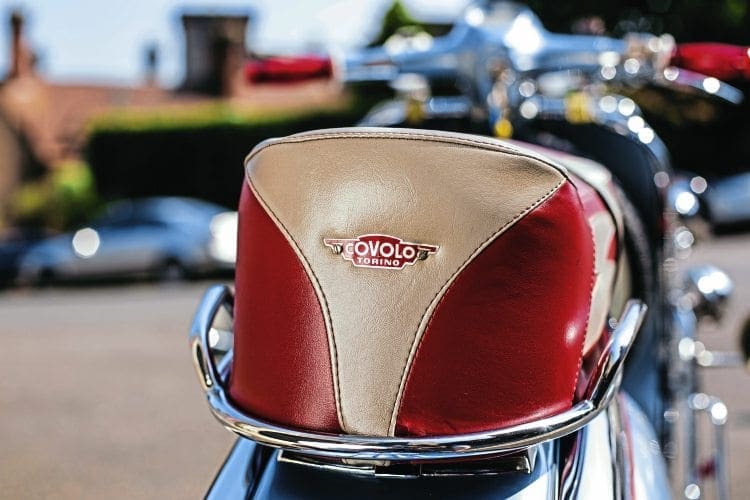 Shadows And Reflections is unquestionably one of the best scooters of the early Noughties, and with a few tweaks bestowed upon her, remains a truly outstanding scooter over 12 years later.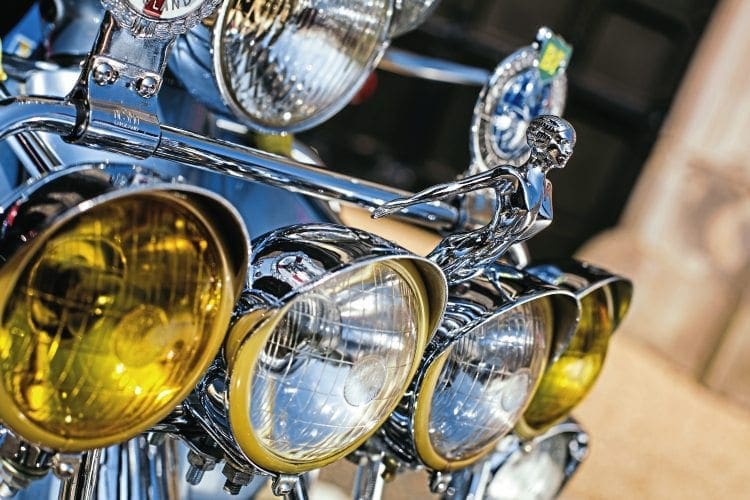 SCOOTER DETAILS
Owner's name: Phil Humphrie
Club member: LCGB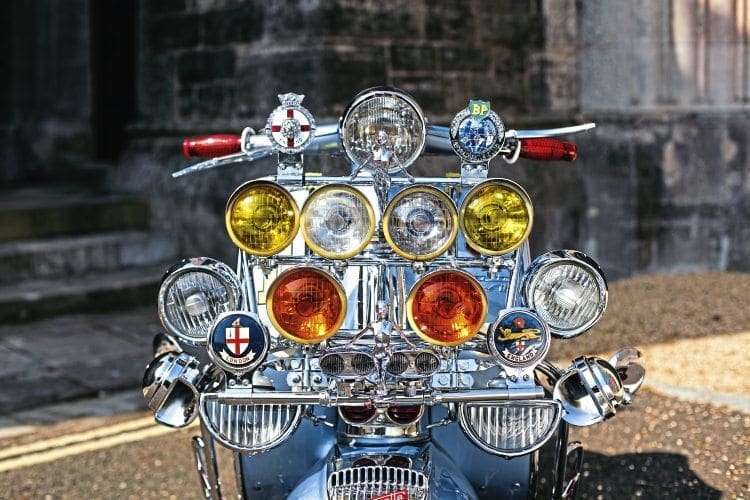 First scooter: Vespa 50 Special
Favourite scooter model: Lambretta TV200 & SX200.
Favourite style of custom scooter: Mod, no doubt.
First rally or event: Brighton 1982.
Any stories from that event: That first rally was life changing — never slept a wink, up all night and couldn't wait for the next one.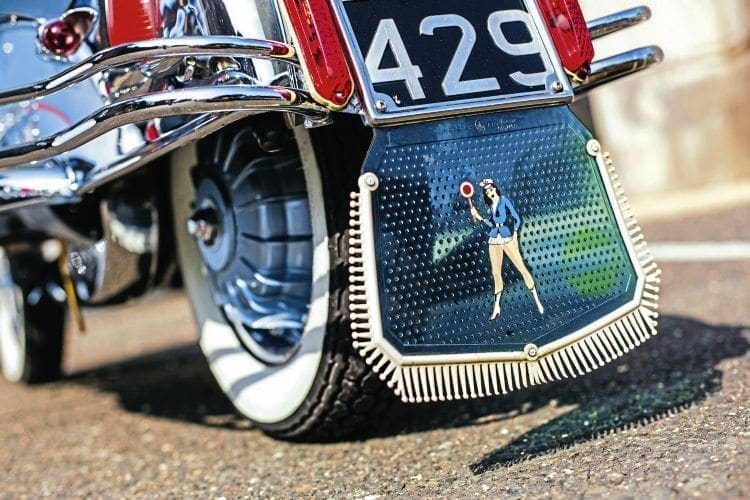 Favourite and worst rally: Isle of Wight.
Your favourite custom/featured scooter of all time: Spirit of '63.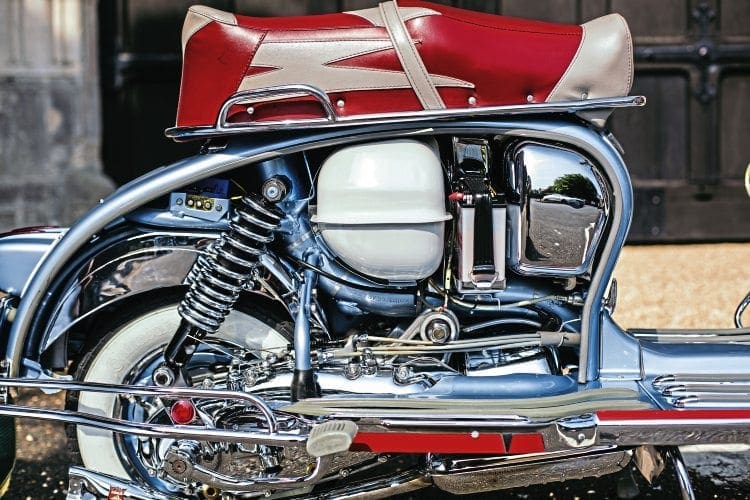 Name of scooter: Shadows And Reflections Scooter model: TV175
Date purchased: March 2013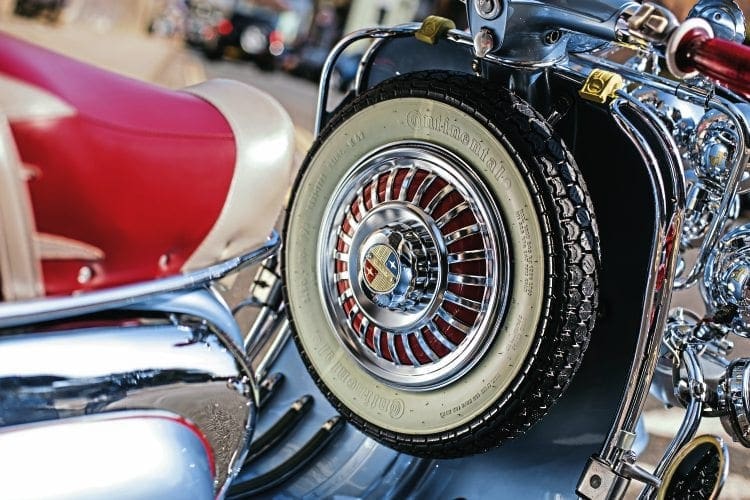 Top speed & cruising speed: Very slow!
Is the scooter reliable: Yes, very. See? Chrome does get you home!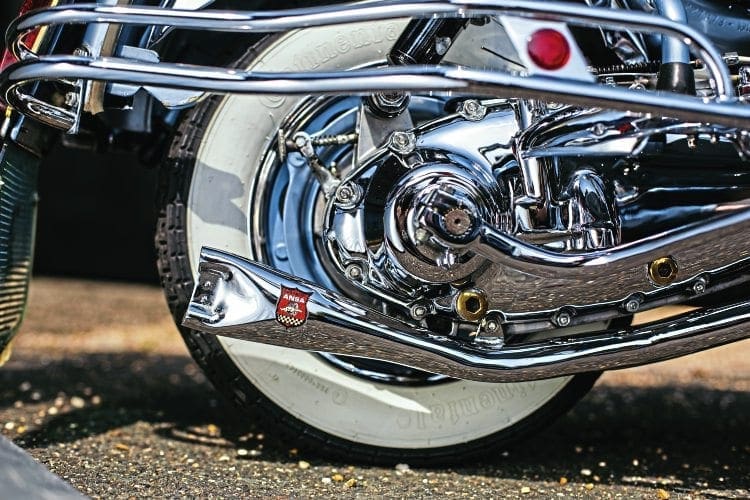 ONCE A KNIGHT'S STEED
Over recent years, via a good mutual friend, Matt, Phil has sourced and sold several Lambrettas to none other than Sir Bradley Wiggins: "Although I've not met him (Sir Bradley), I've sold him a TV Series 2 and a Series 3 TV175 Lambretta at different times." As a show of appreciation for his prowess and glorious achievements, Tour de France win and Olympic Gold medal in 2012, one of Sir Bradley Wiggins' sponsors, Fred Perry, commissioned (who else?) Gran Sport to carry out the work for a classic Lambretta SX 200 to be customised. A tidy looking machine it was too, and that's without considering what achievements the scooter was created to mark. With its off white and (Olympic) gold livery, along with the Fred Perry laurel wreath and other logos, Fred Perry Olympic Gold certainly looks superb, Instead of chrome badging, all the badging on that scooter, in keeping with its name, was gold coloured.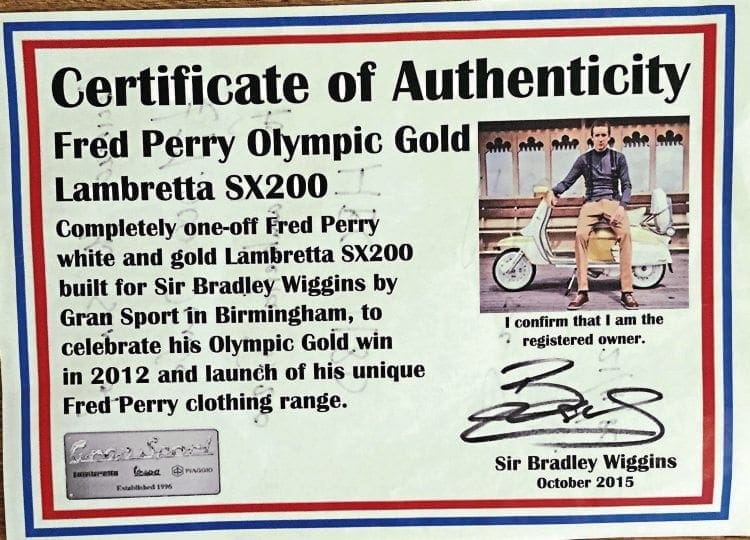 Scootering (November 2013) had an exclusive interview with Sir Bradley when he was presented with the scooter at the Fred Perry flagship outlet in Covent Garden. Three years ago, Sir Bradley revealed he had a collection of 10 scooters.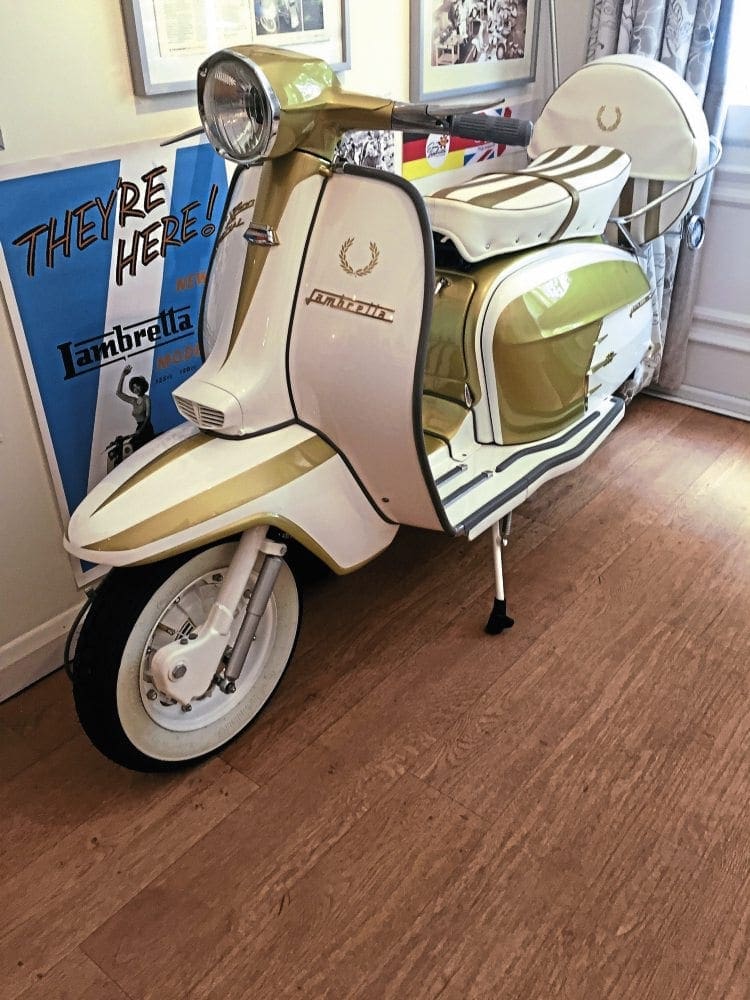 Phil recalls remarking to mutual friend Matt that if, for whatever reason, Sir Bradley was looking to sell Fred Perry Olympic Gold that he'd be interested. It transpired that indeed selling the scooter was under consideration. Like with Shadows And Reflections, a deal was done, the result being Phil taking ownership of what was previously a knight of the realm's steed. "Built by Gran Sport, the quality of the scooter is guaranteed and it's a lovely looking scooter in its own right. The bonus is that in the 'previous owner' section on the log book, it states both Fred Perry UK and (Sir) Bradley Wiggins. Now that is something really special." Sarge
Words: Sarge
Photography: Gary Chapman
This article was taken from the October 2016 edition of Scootering, back issues available here: www.classicmagazines.co.uk/issue/SCO/year/2016

Enjoy more Scootering reading in the monthly magazine. Click here to subscribe.