There are many perks of working at Scootering magazine but for Stan, test riding Casa's 265 Scuderia may be the best so far…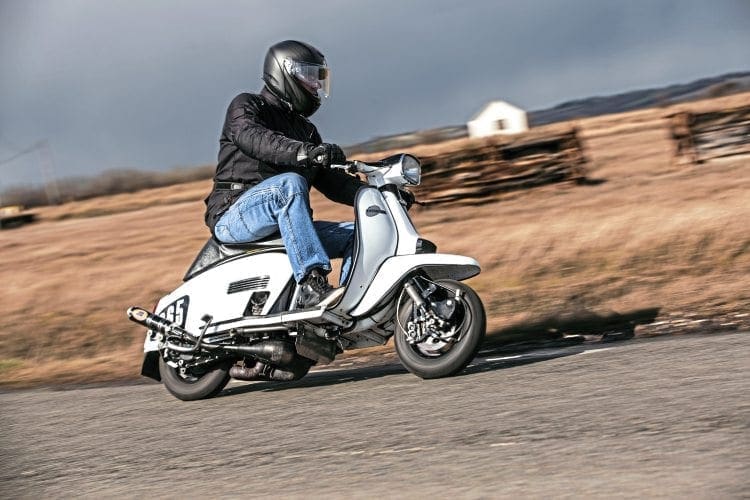 Space age
Open any car magazine and I guarantee that it'll feature a 'supercar'. It doesn't matter that they're prohibitively expensive and excessively fast… readers just can't get enough of them. Until recently there weren't many scooters worthy of the title 'super' but CAD engineering and 3D printing changed all that. Kits now deliver power that was unimaginable 10 or 15 years ago, but unfortunately many standard components simply can't cope with that. It's possible to upgrade parts but solving one problem often exposes another further down the drivetrain. Casa Performance approached this problem by throwing away Innocenti's blueprints and designing an engine from scratch. The result is their 265 SSR, the world's most powerful production engine for a Lambretta.
Real world?
We can all agree on one thing: at €8500 the 'Plug and Play' SSR isn't cheap and cost may be one reason that Batch 3 of the ready built 'Plug and Play' Scuderias will be last to be delivered in this format. In fairness to Casa, buyers got a lot for their money. The package includes a ready-to-use engine inclusive of bothcowlings, Dell'Orto carb, Protti exhaust, Octopus rear hub, seven-plate PowerMaster clutch, 'CasaCover' side-casing and a Cyclone five-speed gearbox. The SSR 265 is almost identical to the 250 variant but the 68mm crank adds an additional 15cc generating slightly more power and greater torque. Once Batch 3 deliveries have been completed components will still be available to purchase individually, enabling riders to specify a build that meets their personal requirements. I'll admit to being skeptical about these 'super scooters'. Cost aside, how many riders are capable of releasing the engine's full potential? I've said as much in a previous article, and that may explain how I found myself just outside Southend sitting astride JB Tuning's 265 SSR demonstrator.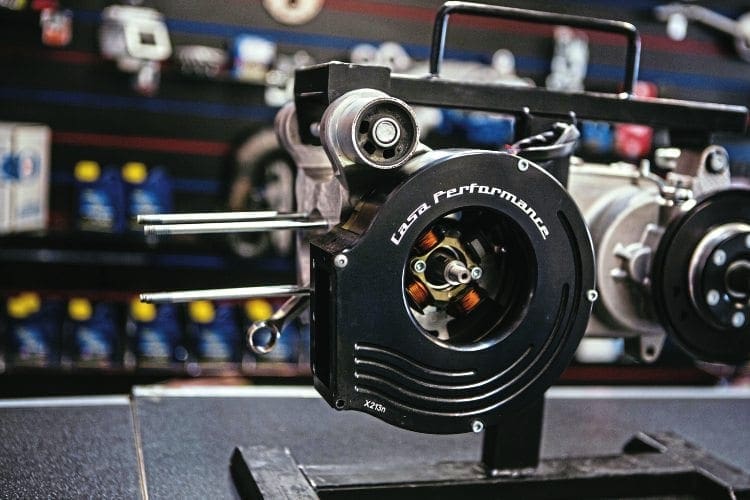 Launch pad
JB Tuning is Casa's official UK importer and as John Balcombe walked me around the demonstrator I was struck by its standard appearance. Casa recommends cutting the panel to accommodate the 39mm Dell'Orto, but John assured me this can be avoided by adjusting the carb settings. The SSR has roughly the same power curve as my race bike," explained Mike Bonett, a previous BSSO champion and John Balcombe's assistant at JB Tuning. It peaks at 11,000rpm so don't worry about thrashing it!"
Countdown
I was a tad nervous when John handed me the keys; this was the most powerful two-wheeler I'd ever ridden. Even my 'motorcycle years' were spent on 500cc singles that generated little more than 42bhp. I was also expecting nightmare compression when kick starting but surprisingly it required little more force than my Casa185 to turn over. Casa's PowerMaster clutch is also a revelation. It's specially designed to reduce the shock transmitted to the gearbox under heavy load and the number of springs fitted can vary between 12 and four depending on power output. The demonstrator's seven-plate clutch had 10 springs fitted but was so smooth that it could easily be drawn in using two fingers.
Blast off
The best way I can describe what it felt like to ride the SSR is like taking off in an airliner. The pilot opens the throttle, passengers are forced back into their seats and lots of things start happening simultaneously. After a while the airliner levels out, everything calms down and the in-flight entertainment starts. That's the SSR. Mike wasn't exaggerating, the SSR needs plenty of throttle to get away. I was too nervous of ending up in a ditch to make more than a spluttering start but once under way both revs and speed built rapidly. Gears are closely spaced, with first and second being eaten up in a few yards.
The SIP speedo indicated 59mph as I pulled an involuntary wheelie into third and suddenly the SSR found its mojo. Frenetic activity turned into smooth, rapid acceleration, throttle response was instant and there seemed to be no upper rev limit. When a normal engine would be screaming for mercy the SSR's was demanding to be worked harder. The BGM suspension was well set up and however hard it was thrown into corners the demonstrator held its line. Gear selection was crisp and accelerating consistently produced what can only be described as 'grin-force', front end lifting as the forces of acceleration pushed me hard in the chest.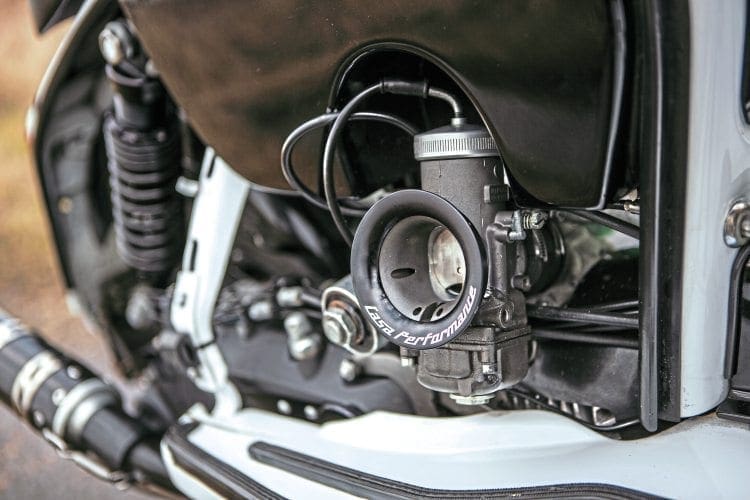 It's obvious that the SSR isn't for pottering along the seafront, but for the serious sporting rider its performance is hard to beat. As I turned off the ignition there was one unanswered question – would I buy one?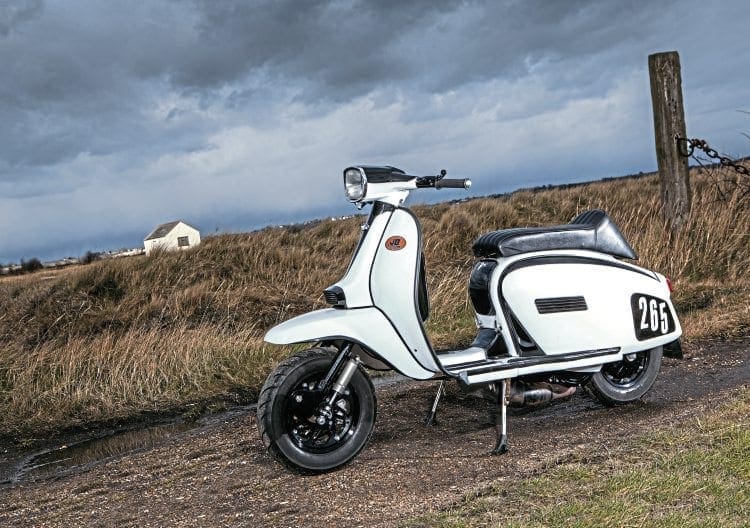 Touchdown
Exciting as it is to ride, the SSR's a little too lively for my taste but I'm looking forward to the long awaited touring version, the SST. The possibility of a broader power-band, albeit with slightly reduced bhp, will make it a serious contender for the title of 'ultimate tourer' but there's still the matter of cost. Yes, the Scuderia's expensive but if I decided to go down the large capacity route that'd mean a new engine case, drive train, gearbox, top end, exhaust and carb.
Add those together, factor in the cost of a rebuild and suddenly the price difference between a marriage of components and the bespoke Scuderia isn't so stark. It's easy to dismiss the Scuderia as a gimmick, a plaything for 'cheque book riders' but just as F1 design trickles down to the family car, elements of the Scuderia can be retrofitted to a standard casing. Good examples are the cooling system, and clutch.
If you're still not convinced, consider this — the SSR's 265ccs produce a claimed 47bhp, or 177.35bhp per litre, placing it in the same bracket as McLaren's £200,000 720S. Forget superscooter, the Scuderia might be the world's first hyperscooter!
SPECIFICATIONS
Scooter: 1980 Lambretta (SIL) GP200.
Name: JB Tuning demonstrator.
Paint: Brewster Motors, Billericay.
Suspension: BGM.
Engine type: Scuderia 265.
Casing: Large Block 'Casa Case' with CasaCover and Casa Cowl.
Crank: Casa Performance 68mm.
Carb: Dell'Orto VHSA 39mm.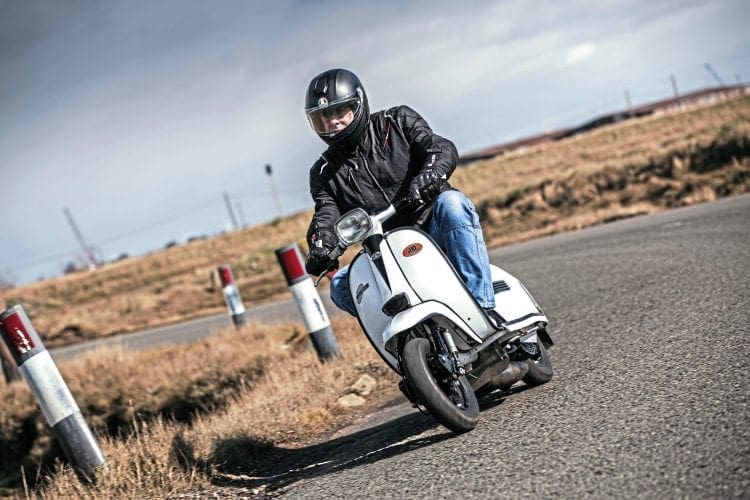 Clutch: 10-spring, 7-plate PowerMaster.
Exhaust: 47mm Protti.
Gear box: Cyclone five-speed gearbox, 18/47 sprockets, Octopus lay shaft.
Ignition: Castronic with Hi-Flow fan.
Power: Claimed 47bhp (at rear wheel).
Words: Stan
Photographs: Gary Chapman

Enjoy more Scootering reading in the monthly magazine. Click here to subscribe.