Various Artists The Glory Boy Radio Showcase (Vol 1: Detour)
The first of what is set to be an on-going series, the Glory Boy Radio Showcase provides a platform for new and relatively new bands, appearing via the many factors of the current Mod scene.
Glory Boy Radio DJ Alan May has selected 23 tracks for this inaugural collection. Defining what constitutes Mod music, or, for that matter, new Mod music, can be subjective to say the least! There's no absolute answer to that hypothetical, often debated question. There are some interesting, captivating and impressive tracks on offer here, for a variety of reasons my particular favourites after a couple of play throughs are: Robbie Allen and The Kite Collectors — 'Glory Days', Superminx 70 — 'What Would You Change', King Mojo — 'Gloria Swanson', The Lemontops – 'She's The One' and French Boutique — 'Meuix Comme Ca!' Compilation albums are a decent way to check out new acts and this Detour records release ticks all the boxes on that score. There is also a bonus being with sleeve notes from Brett 'Buddy' Ascott — this CD has a stamp of approval from Mod royalty. Sarge
Odds and Sods Photographs by Paul Hallam
ISBN978-0955084096
Since Richard Barnes' iconic book Mods! that was pretty much the bible for the 1979 revivalists, there hasn't been anything that has similarly captured an era. Until now.
Paul Hallam, DJ, promoter, man about town, and, recently made a listed Londoner, with Robert Elms on BBC London in 2015, discovered the Mod scene in 1980. He found an old Olympus Trip camera at his parents' house in Staines and then, over the following five years, he shot over 1000 images.
These images recorded many elements of the early 1980s Mod scene in and around London on monochrome film. From inside the clubs, on the streets, the clothes and the people the atmosphere, the essence and the excitement of that era are revisited, with the cream of his many photographs reproduced in Odds And Sods.
Accompanying text comes via a biography of Paul Hallam, an insightful retrospective look back at the early Eighties London Mod scene by Greg (Eddie) Fay, including a few humorous inclusions such as the ritualistic burning of a Rupert the Bear effigy because checked trousers had run their course and were then considered passé! Plus there's a short conversation on the subject of the early Eighties Mod scene with Mick Ferrante, giving his slant on how things were.
Set to be rightly revered up alongside Richard Barnes' book on the Sixties Mod era, Odds and Sods provides an excellent window back in time to the Mod scene of the 1980s. Sarge
Skins Oxblood, Sweat And Beers (Ian Phillips)
ISBN978-1910705209
In this obvious labour of love, Ian Phillips gives a comprehensive overview of the history of the Skinhead movement, from its roots to the current day, taking in all the strands that make up the scene and pulling them neatly together to compile a historic document that tries to explain how it came to be, along with 'how it was' to be a part of that world.
With forewords from Neville Staple, Roddy 'Radiation' Byers, Nick 'King Hammond' Welsh and Monty Neysmith giving an authoritative stamp of approval, it's a healthy overview of possibly the most misunderstood subculture of all.
Although not the most lavishly illustrated of books, the author has chosen photographs that illustrate the world of the Skinhead fairly accurately, with many period photos used to solid effect. It tells an honest tale of obsession with looking sharp, occasional violence and, above all else, camaraderie. At times you feel there are some rose-tinted glasses employed, but it is possible to be too brutally honest about a subject, There is possibly too much re-enforcement of the 'Skinheads aren't racist' line. There is one comment on this subject that slips through almost unnoticed, to the effect that 'your attitudes reflected times'. I'm pretty sure that's a more accurate view on the subject.
Scooter Skins get a look in too, although this is one area that could have benefitted from a little more research. The second half of the book is a collection of tales from the viewpoint of a wide range of individuals involved at various times, from well-known names like Paul Willo, the Reverend Dave Ireland and Dave 'Toast' Rumsey through to those who were just boots on the ground, all having a tale to tell. I couldn't help but feel that these would have been better presented had they been appropriately used throughout the rest of the book. This small niggle aside, this is a worthwhile addition to any collection of books on the Skinhead scene, or of youth subculture as a whole. Nik
The Electric Stars The Only Lover Left Alive/Loaded With Regrets: Detour
Manchester's Electric Stars follow-up their critically acclaimed album Sonic Candy Soul and chart hit single Belfast Boy with a brand two double-sider. Well, it's technically a double A side, but CDs only have the one side don't they? 'The Only Lover Left Alive' is a full-on, take no prisoners barrage of hard edged psychedelia, beefed up with an unrelenting air strike of raw rock 'n' roll. Contrastingly, Loaded With Regret sees the boys in a more melancholy, emotive mood, with just a faint hint to John Lennon — 'Jealous Guy'. This single could, maybe should, have been titled Two Sides of The Electric Stars, as that is exactly what it delivers! At least one of these tracks is a taster for the forthcoming album 'Velvet Elvis'. As the Stars themselves say — beautiful music for beautiful people! Sarge
They Danced All Night (Gethro Jones)
ISBN978-1523393183
Anyone who grew up during the very early Seventies, especially in working class towns and cities, will find a lot of similar experiences and parallels with their own formative years that empathise with Gethro Jones' recollections of that time. Other aspects of his life, conversely, will be (thankfully) less familiar with most.
They Danced All Night is a very personal account containing many different elements that combined to make Gethro the person he became. In the first few chapters of his story his experiences of surviving in an orphanage are quite harrowing. Eventually, being placed in foster care, even then his foster mother didn't give him an easy ride, criticising and belittling almost everything he did. Into his teens in Wolverhampton, Gethro is accepted on an apprenticeship as a welder. Wolverhampton was a tough place like many working class areas at the time. In 1970 he was hanging round with a small group of mates aligned to the skinhead/suedehead fashions of the time, and, of course everything that went with it. Reggae and club-soul formed the soundtrack to football confrontations, territorial incidents with other local crews, as well as similar escapades. It was during that period he first encountered the first love of his life, Kim. Throughout the book his love and affection for her weaves in and out the many chapters as a constant. The fashions of the time are well documented, his first piece of genuine independence was Gladys (MK1) a 1964 Li150 Lambretta. Amusing anecdotes on his first attempts to ride a scooter will strike a chord with many.
Early 1972 heralded a life-forming encounter during a night out with Kim and his mates at Withenhall Baths. A local older lad, with long hair and sporting a vest, was dancing flamboyantly to uptempo soul music. Striking up a conversation the door was opened to a whole underground scene, which was still a fledgling uprising, but would become the Northern Soul scene. From frequenting local clubs in and around Wolverhampton, including the Catacombs, Gethro slowly earned his spurs on the dancefloor.
Travelling up to his first all-nighter, the short-lived VaVa in Bolton, Gethro developed a passion for the music. He also innovated and pioneered encompassing acrobatic moves into his own dancing style that would see him rise to become one of, if not the best, dancers at Wigan Casino. Both his approach to dancing and the fashion of the early Seventies' rare soul scene saw him stamp his own unique slant on them. He ran packed coaches to Wigan Casino when Northern Soul was the biggest underground happening in the UK. Many of his memories are recounted with uncomplicated honesty.
Gethro's life story, up until 1974, is compelling reading. I couldn't put the book down, consuming it in one marathon session. A very minor criticism is that there are several names spelt wrong. That said, the captivating content, capturing the very essence of those times, overrides the handful of typos. Without giving too much away, towards the end of They Danced All Night is the story and actual reason behind what caused the Casino management to open what would become an integral part of the legend of the Station Road venue, Mr M's, an annex to the main room, that over time would evolve into a venue within a venue, with its own identity. The atmosphere, expectation and aspirations of Wigan Casino's first anniversary dance competition are relayed to perfection. The book concludes at the moment Northern Soul stepped out of the underground into the glaze of national publicity, when 'Wigan's Chosen Few', consisting some of the best dancers at the time, Gethro included, showed their moves on BBC's Top of the Pops.
They Danced All Night, available exclusively via Amazon, or through good bookshops, is a personal story, a dual love story, (Kim and dancing), plus an insightful snapshot of British youth subculture in the early 1970s. Sarge
Sonic Boom Six The F Bomb (Cherry Red)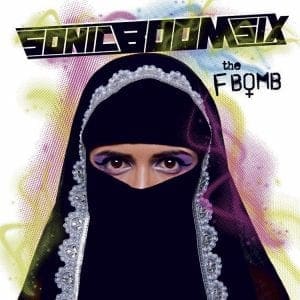 One of the biggest names in the deepest part of the Ska underground have finally resurfaced after spending around three long years recording the album that could ultimately see them break through the barrier into the mainstream.
Behind the challenging cover of lead singer Leila choosing to wear an Eastern veil and Western make-up, the band have constructed an album that challenges preconceptions and stereotypes in a way that few other bands could manage. Attacking misogyny, racism, gender stereotyping and much more, this is — above all else — an intelligent and thought provoking album.
It's not just that though. For those who just want to listen to the music, there is a real treat in store, When the band were raising the funds to record this album, they were promising a return to their 2-Tone influenced roots, and they've done a bang on job in the process.
In much the same way as The Specials took then-current genres and mixed them in with the traditional sound of Jamaica, SB6 have taken that Coventry originated sound and added lots of newer musical references into the mix, but they have kept the skank going, and the dancefloor rocking.
Drum and Bass, Grime, Rock, Punk and even Disco elements all compliment the constant offbeat rhythm which permeates the album, a complex idea to attempt, but if anyone could pull it off, it would be this band. And, as usual, they have.
Their usual playfulness is on show, with the cleverly punning titles 'Drop The Bass (And Pick It Up)' explaining in one well thought-out title where they come from, before the song digs in deeper, using the old 'Guns Of Navarone' brass riffs to emphasises their point.
On a similar note, fans of the early Eighties Ska scene will have fun playing 'spot the reference', with a stolen lyric here, a loved riff there, and a familiar rhythm underpinning something that's totally different, twisting old friends in a similar way to Dammers and Co with the groundbreaking 'Gangsters' way back in 1979.
Ten years ago they coined the term 'Genre-Terrorism' in the title of one of their earlier albums. 'The F-Bomb' takes this idea to its ultimate level. Or is it? Only time will tell, but this album is going to take a hell of a lot of beating by the only real competition they have — themselves.
As a bonus, the release also includes a live recording of a gig at Norwich's much-loved Owl Sanctuary, bringing back fond memories to those who have been lucky enough to see them live, and to go some way to explaining the experience to those who are yet to catch them. Nik
Idle Talk Reaction (Paisley Archive)
The debut CD-EP from Brighton-based trio Idle Talk is a limited edition release.
Formed last year, Idle Talk have already notched up plumb support slots with both From The Jam and Secret Affair in their short but meteoric career so far.Mixing equal measures of indie guitar music, with elements of Mod and a sprinkling of psychedelia, the trio's four-track EP gives an insight into what they're about and where they're heading. The opening track 'Inner Demons', with its dark undertones and bleak aura, is contrasted by powerful but restrained guitar riffs.
'Make Your Mark' has a brighter, lighter feel with its stop-start back beat. 'A Different Beat' and the haunting 'Soldier On' complete the picture. Andy Croft (Moons/Paul Weller) was responsible for the mixing on Idle Talk's promising inaugural release. Sarge
This article was taken from the May 2016 edition of Scootering, back issues available here: www.classicmagazines.co.uk/issue/SCO/year/2016

Enjoy more Scootering reading in the monthly magazine. Click here to subscribe.