Birth of Soul Special Detroit Edition (Kent)
The obsessives at Kent Records have gathered some of the finest early soul recordings, covering the period when R&B, doo-wop and gospel were all drawn together to create the all-encompassing sound that became known as soul. The previous set looked at the early Chicago scene, and this collection brings the city most thought of as the birthplace of soul under the magnifying glass. Although some tracks are more obscure, the same can't be said for many of the artists themselves. JJ Barnes, Barbara Lewis, Betty Layette, Melvin Davis and Tony Clarke are all respected names, along with lesser known performers and acts who weren't all they seemed to be — The Falcons weren't exactly the group that spawned Wilson Pickett, Eddie Floyd and Joe Stubbs (the story is told in the excellent accompanying 28-page booklet) and the Del-Phis gained fame as the Vandellas on the city's most famous label Motown, whose acts are sadly omitted from this CD, presumably for contractual reasons. That aside, it's an excellent overview of one of soul music's most important cities and continues Kent's mission to tell the tale of black America in the Sixties.
Nik                             
1,
Deep Six Brand New Day/Goodbye Yesterday (Heavy Soul)
The cover artwork is the handiwork of The Jetset's own Paul Bevoir and the lead track, 'Brand New Day', is reminiscent of The Jetset at their peak. The Deep Six line-up is something of an Eighties mod scene supergroup with former members of Makin' Time and The Threads, and also more recent mod-inclined outfit Upper Fifth featuring. It's a slice of contagiously infectious, uplifting, summery sunshine British guitar pop, with irresistible sing-along lyrics. It is a potential underground soundtrack too and if the long-range forecasts are correct we are in for a scorching summer season in the UK. The B-side — okay, being a CD it's the accompanying track then – 'Goodbye Yesterday' has a similar feel to 'Brand New Day', with added vocal harmonies and captivating guitar chords punctuating the vocals, and an equal nod to the early Sixties plus a hint of Merseybeat too. It is available mail order from www.heavy-soul-records.shopbuilderpro.com
Sarge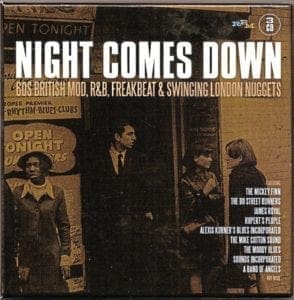 Night Comes Down Various Artists (RPM)
Back in the early Eighties I'd have killed for a compilation like this. An overarching view of the discotheques of the Sixties during the height of the swinging London scene, Night Comes Down covers the whole range of British releases that could have been heard in the 'happening' clubs of the day, many of which still continue to be mod club favourites to this day, despite their rarity.
A heady mixture of home-grown R&B, soul, mod, freakbeat and early psychedelia, it encompasses the lesser known elements of the club sounds of those days. Organised roughly by sub-genre, this trip through the beat undergrowth of that wonderful period of British music shows the sheer variety of music that hit the dance floor during this period. There are a handful of recognisable names, from a non-ska Laurel Aitken track, through to Heinz, Twinkle and Twiggy, but the vast majority are acts that never made it out of the underground — too many to list, but all worth inclusion. Personal favourites on this beautifully presented three-disc clamshell box set include The Outer Limits, A Band Of Angels, The Gnomes Of Zurich and, of course, 'Blow Up' by The In Crowd, an all-time classic if there was one, but I'm sure you'll find your own quickly enough. I don't feel that there is a bad tune anywhere on the compilation, an achievement when you consider that it is 87 tracks long, and is doing for the mod scene what labels like Kent have done for Northern, and Trojan for Jamaican music, in bringing releases that would never turn up on the open market to the ears of the discerning fan.
Nik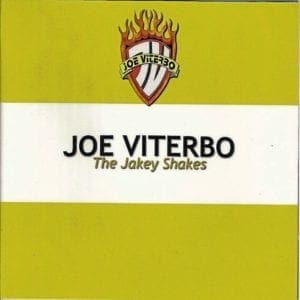 Joe Viterbo The Jakey Shakes (NHC)
Scottish punk's answer to Frankie Boyle continue their good humoured swearing tour of life north of Hadrian's Wall. Not your standard three-chord thrash, although they jokingly reference this, and with occasional trips into the ska world, this is a good introduction to their catalogue.
Nik
The Tinmen Stereotypes EP (All Systems Go)
The debut EP from highly recommended up and coming Welsh indie/mod combo. Elements of early Jam butt up against Madchester, giving an interesting and addictive sound. A band to keep an eye one, this EP (at seven tracks, it's more of a mini-album) gives a taste of things to come.
Nik
Sweden's mod popsters The Men's fifth studio album 'Sunburst' heralds a change in direction musically, although changes were already imminent from the song-writing trio Kohler, Framby and Kilenstam. The retirement of their drummer just prior to recording 'Sunburst', left The Men as a three-piece, accelerating that process. 'Sunburst' definitely is a departure away from their previous loud and proud, full-on, take no prisoners approach. It displays much more of their abilities and diversity. Opening track 'The Rest is Yet To Come', is delivered with understated cool, while their trademark raw energy strains at the leash as an undercurrent. Drawing on influences and inspirations from five decades of rhythm 'n' blues-infused guitar pop, adding their own spin to proceedings, The Men have ventured into new dimensions with Sunburst, but they are not too far away from what they are best known for. Tracks such as 'Come Alive', 'Love Hurts So Good', 'Unmaking Your Mind' and the album title track all lead on neatly from The Men's last studio album (This Way) from four years ago. Contrastingly, the aforementioned opener, along with the likes of 'Just A Few Million Miles To Go', 'Brother' and 'K Dreams', see The Men explore newer musical territories.
Sarge
The Crowman Ladies And Gentlemen… The Crowband (FAB 10)
The Crowman is an alter ego of Mark Le Gallez, whose musical CV includes The Risk, Sacred Hearts, Speakeasy and The Jenerators (among others). The Crowman is one of his musical projects, which has a steampunk leaning, with a mix of music hall and traditional British folk undercurrents. 'Ladies And Gentlemen… The Crowband' is his third full album as The Crowman. If you like your music serious and deeply meaningful, then stop reading now, as some of the tracks and lyrics are beyond amusing — they're literally laugh out loud funny. For instance, 'Captain Brown's Strange Adventures' (although it is advisable not to listen to it after eating!), 'Give Me Booze', `Pimbo' and 'Lilly Langtry' all firmly fall into that particular category. 'Better Day', 'World Keeps Turning' and 'Saved My Life', for example, are more traditional songs in structure with a traditional edge to them. This is one for the musically adventurous and with a sense of humour too. The Crowman certainly puts the fun back into music! For more details visit www.facebook.com/mark.lecrowman
Sarge
Various The New Untouchables present Le Beat Bespoke 7 (Detour)
Number seven in the New Untouchables Le Beat Bespoke series delivers 20 scorching cuts, all tried and tested on the dance floors, direct from Dr Roberts' DJ playbox. An intoxicating mix of Sixties mod, psych', garage and freakbeat numbers all on one handy CD. Typically, most of this collection was initially tried out at New Untouchables' long-running Mousetrap club nights, if approval is gained via dance floor reaction they then become part of Dr Robert's DJ sets here there and everywhere he plays. Track listing has been sequenced so the tracks flow seamlessly like they would in one of Dr Robert's sets. Rare tracks from the UK, USA and mainland Europe interspersed with previously unissued tracks and those previously never featured on compilations, contribute to yet another Le Beat Bespoke collection that really is all killers and no fillers. Particular standouts for me after a few playthroughs are former Nightcrawlers singer Chuck Conlon on the second of his two solo releases for Miami-based Martin Records in 1967, 'Won't You Say Yes To Me Girl', Sixties garage with a soulful leaning, 'Doubtful' from Frankie St John and The Penetrations, until recently unissued stormer from Texas in the mid-Sixties, The Cords' Too Late To Kiss You Now' and the obscure, unissued soulful garage stormer 'Set Your Mind Free', out of Ohio courtesy of the aptly monikered Obsession Of Sound. They merely scratch the surface of what's contained on this awesome CD album. Mail order from www.newuntouchables.com
Sarge
Various Manchester North Of England (Cherry Red)
From the Lesser Free Trade Hall to The Hacienda, from the start of the punk explosion to the biggest names of the Britpop boom, Manchester was one of the most important cities on the British underground music scene for around 15 glorious years. During this period the city spawned genres, took existing established sounds and added its own peculiar northern twist, and lent its name to the movement that revitalised the pop world. Cherry Red has taken this backdrop and compiled a 143-track, seven-disc set that covers pretty close to a complete cross-section of the music that came out of the thriving mix of scenes that made it such a vital and lively musical breeding ground at this time.
Kicking off with The Buzzcocks and ending with Oasis, it takes in post-punk, reggae, punk poetry, acid house, janglepop and a whole range of other styles on its tour of the truly independent labels that emerged during the glory years between 1977 and 1993. A remarkable musical history that belongs in the collection of anyone interested in how the underground scene grew and thrived in the days before bland uniformity took command.
Nik

Enjoy more Scootering reading in the monthly magazine. Click here to subscribe.