Craig Brackenridge Rave On Scooterboy (Old Dog)
Set in 1988, the fictional hero of Craig 'Bracko' Brackenridge's latest offering, scooterboy Terry Dean stumbles across, almost by accident, a new underground scene right at its inception. Terry, like many scooterists in the real world at that time, is intrigued, drawn to and seduced by rave music and its surrounding culture. Along with workmate Steve, who for once was one step ahead of Terry, they embark on an initially profitable venture together, cashing in by getting in on the ground floor of the unstoppable rise of rave. Of course it's at odds with what the majority of his club-mates in Enfield Beast SC are into. Loyalties, relationships and friendships are tested up to and beyond breaking point. All the prerequisite elements of sex, drugs and fighting, along with members of sub culture interacting authentically, plus a large helping of music and scooters combine superbly. Throw in a few conflicts of interest involving the leading characters, and voila, another excellent cult fiction novel penned by Bracko. The main plot, and a multitude of subplots are delivered in a manner that many who were involved in both the scooter scene and rise of rave music will both empathise and identify with. Looks like Old Dog books have a winner on their hands with Rave On Scooterboy.
Sarge
Various Artists 61 Classics from The Cramps' Crazy Collection (Righteous)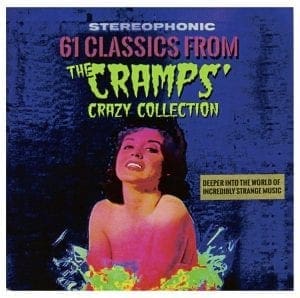 Eclectic, varied, wild and obscure. Four adjectives which only just start to cover the range of material showcased in the second collection of material from the archive of Lux Interior and Poison Ivy of The Cramps. From rockabilly and proto-psychobilly, via R&D and doo-wop, taking in comedy records and the truly indescribable en route, this is a wide ranging selection of material, albeit one with a common thread — that of a dark humour and slightly twisted view of life. There are some absolutely cracking tracks hidden away on here — The Storey Sisters and Gene Summers are, for me, worth the entry fee alone, and they are only two of many great tracks to be found here. It's not all good material in the traditional sense — Homer Denison Jr's Chickie Run and Paralysed from The Legendary Stardust Cowboy (once deservedly voted the worst record in the world) show two extremes of bad — but somehow even they become listenable in the company of such a bizarre compilation. And that's the key to this album. It's not a mainstream release meant to please the masses, it's most definitely one for the adventurous listener and collector, and one that I see me digging out on a regular basis.
Nik
Dave Rimmer The Rare Soul Bible Volume 2 (Soulful Kinda Music)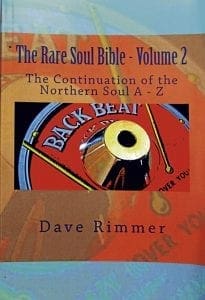 It's only taken Dave Rimmer a mere 14 years to produce the second volume to his inaugural rare soul bible! Author Dave is an internationally renowned DJ and collector, and he ran the soul-zine Soulful Kinda Music, which is now operating as a website. The 'Volume 2' tag is a huge clue that this book follows on from Volume 1, being similarly packed with rare soul label listings, it also throws a spotlight on many rare soul artist acts and individuals. There are black and white images of the aforementioned as well. Packed with information and helpfully cross-referencing every known release by certain soul stars. It features superb and essential information for collectors, connoisseurs and even those with a taste for rare soul 45s. On top of that, there are interesting, slightly tongue in cheek as well as ethically correct features with subjects such as So You Want To Run An Allnighter?, Don't Become A DJ!, and Northern Soul? It's A UK Thing Isn't It? Thoroughly researched, packed with essential information, it's a must for anyone with a liking for rare soul music. Of course it is a companion to Rare Soul Bible Volume 1, which was long out of print. However, Volume 1 has been reprinted, (reissued?), so if you missed out first time round the chance is there to grab both Volumes 1 and 2 of the Rare Soul Bible, For all mail order details contact Dave via [email protected]
Sarge
Kilburn And The High Roads Handsome – Expanded Edition (Cherry Red Records)
Long before breaking through with The Blockheads, Ian Dury was the frontman of the legendary Kilburn And The High Roads, one of the leading acts in the then popular 'pub rock' scene. Although a complete failure if judged by record sales, the band were a massive influence on acts which followed, from The Sex Pistols (Johnny Lydon taking both the aggressive stage persona and razor blade earring from Mr Dury) to Madness (whose tales of London and slightly 'wonky' early sound can both be traced back to the High Roads) and more.
Despite only recording one album (although it was recorded and released twice under different titles and for competing labels!) and a pair of singles, none of which bothered the chart compilers, their legacy is one that can't be ignored.
The first, and 'official' version of the album is the one that's the basis of this expanded edition. Disc one is essentially a reissue of this release (on Dawn/Pye Records) but expanded to include both singles and a handful of previously unreleased studio recordings. Imagine a raucous night in a London pub and you're halfway there…
Disc two is the interesting one though. Recorded 'in session' for Capital Radio in 1974, it captures much more of their live sound, a ramshackle and chaotic act, with gleeful pre-punk mock amateurism shining through a good time rock and roll sound — the very definition of pub rock, and a poignant epitaph to the musical genius that was the late Ian Dury.
Nik
Various 20 Shades Of Psycho (Sleeping Dog)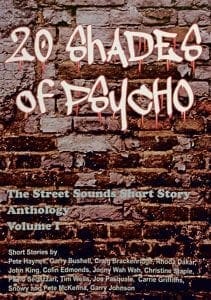 This collection of cult fiction short stories is literally a cult fiction take on the good old fashioned compilation album. There are other elements from the world of music included in the makeup of this one too. Street Sounds newspaper, which provides much needed coverage for a variety of alternative, non-mainstream, but nonetheless significant music from different sub genres, has given many of its regular writers the mandate to provide a short story. Contributors include Gary Bushell, Craig 'Bracko' Brackenridge, Rhoda Dakar, John King, Tim Wells, Paolo Sedazzari, Snowy and Pete McKenna, who all are known to a lesser or greater degree on the scooter scene. Like a compilation album, some of the content is excellent, some good, some a surprise and one or two don't quite cut it. It's a lucky dip with the subject matter of the stories. If your attention span is similar to that of a goldfish, but you do enjoy a bit of a read, this collection of short stories would be ideal. As a taster for the type of work some of the contributors provide in their full length novels, again it is a good read. Even if only some of the short stories appeal, it showcases the writers' styles. You get stories involving Mods, skinheads, suedeheads, soulies, punks, psychobillies and even (Victorian era) steam punks. Plus a couple of short thrillers too.
Sarge
Various artists Trembling Earth (F&J Records)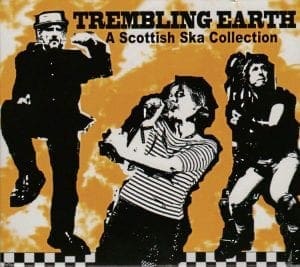 Scotland has long had a strong ska tradition, with many bands emerging from the northern nation in the years since the 2-Tone era. Trembling Earth brings the best of the (more-or-less) current crop together in a stomping collection of 33 tracks from 16 bands, giving a double album that rarely hits a misbeat. From well-known acts such as The Amphetameanies, Bombskare and Capone and the Bullets, through up and coming bands Esperanza and Big Fat Panda to relative unknowns The Cherry Reds and the wonderfully named Victorian Trout Conspiracy, a wide variety of takes on the offbeat are present. The highlights generally come from the name acts, although Teddy Cut A Dash from Urang Matang and Sea Bass Kids' Ginger Stare are both worth a special mention here as examples of how you don't have to be a name band to put out good music. As expected with Scottish ska, there's a huge dollop of good humour and tale telling through the songs, all built around a variety of ska styles from the 2-Tone of the 'Meanies through a more modern sound from Root System, to indie/ska hybrid Bis, to the gloriously obscenity-loaded Joe Viterbo, whose I F***** Telt You could only have been recorded by a Scot. For me, this is one of the best 'themed' compilations I've heard in a long, long time — perhaps since the days of the Do the Dog compilations — and is pretty much an essential purchase to my mind.
Nik
This article was taken from the October 2016 edition of Scootering, back issues available here: www.classicmagazines.co.uk/issue/SCO/year/2016

Enjoy more Scootering reading in the monthly magazine. Click here to subscribe.