Urang Matang Lighting the Fuse (self-released – urangmatang.com)
Urang Matang are a band that I've had a huge amount of time for, and this release continues to emphasise why I think they're such a great band.
Continually evolving their sound, this album has a very strong 2-Tone vibe about it, without actually making the mistake a lot of bands make, of trying to copy the sound. That said, they also venture regularly, and comfortably, into reggae territory without managing to sound either unconvincing or patronizing. Make no mistake, this is a band who know exactly what they're doing.
Throwing all this into an 11 track album can't be easy, especially when they're all their own creations, but they manage it with aplomb.
If I was to try to define what it is that they do, I'd say that they draw down on all their varied interests, take the bits that they love the most, and create something new from it, something bigger than the parts.
Head to their website, grab a copy, and while you're there treat yourself to some of their other releases. And tell them we sent you!
Nik
Roger Marriott East Of Acton (Old Dog)
Spoofing the title of the James Dean film East of Eden is Roger Marriott's cult fiction novel. Set in working class West London during 1981, Ray Martin has evolved into a sharp dressed young Mod, following a brief dalliance as a punk. Which itself was out of necessity to avoid being mocked by schoolmates on a wear your own clothes day! We follow Ray's exploits, at times on his LI125 Lammy, christened Lilly, through countless typical rites of passage happenings. His home life isn't ideal, it's barely adequate, though like countless other teens of the period, Ray is a survivor. Unpredictable and bruising conflicts with his mum's boyfriend, which intersperse and even interfere with his own life, crank his survival instincts almost to breaking point. East of Acton races along at a hi-octane pace, with an unexpected twist at the conclusion.
Sarge
Although normally associated with reggae artists, dub isn't the exclusive property of this area. Jah Wobble has been using the principles involved since first coming to prominence with his bass work as a member of Public Image Ltd in the early Eighties.
This is essentially a 'primer' of his dub work, an introduction to the wide range of range of music that he's been involved with recording and producing in that style.
With a huge range of styles incorporated into the album, with tracks based around Egyptian rhythms, traditional English folk music, Chinese, jazz, disco, drum and bass and much more, the essentials of dub — an impression of 'space', along with the assorted mixing tricks of reverb, delay, and others, along with the lack of use of the mid-range — are all at work here, and in the hands of this expert work incredibly and surprisingly well, often giving a new slant on styles of music I'd not normally give shelf space to.
The double album set contains over 30 tracks from the last 20 years, with the bonus of a pair of previously unreleased tracks be his band Invaders Of The Heart, and is a welcome introduction to the work of this often overlooked musical innovator.
Nik
Dodgy What Are We Fighting For? (Cherry Red Records)
If you're familiar with Dodgy's recent work, then this album will need no introduction. The breezy, summery sound that accompanied their days running parallel to the Britpop scene has been largely replaced by one that draws strongly on Sixties rock, with The Who and The Eagles, along with gentle Beach Boys harmonies showing throughout the album.
Take some big guitar and drum sounds, throw in some gentle picked guitar, add the occasional Stone Roses-style bass line and selection of dramatic keyboard chords and you've got the recipe for What Are We Fighting For? The band have grown up as a tight musical unit, the lack of personnel changes giving a solidarity that they can play from and draw down into a cohesive sound that is uniquely theirs, but which is also familiar.
Not the normal Scootering fare, granted, but a very worthwhile purchase from a band that have stuck to their guns and done their own thing rather than cash in on their sadly brief day in the sun.
Nik
Jim Iron and John Steel Glory Boys (Caffeine Nights Publishing)  
Summer of 1979 and the Mod revival is beginning to explode; the fictional book Glory Boys covers a 10 day period in August of that year. Chris Davis, mirroring the Jimmy Cooper character in Quadrophenia, is working in the post room of a many storied office block. He works to fund his lifestyle as a Mod revivalist in East London, albeit in a job that invades his own time, due to bullying managers who have been promoted to the level of their incompetence.
It's a necessary evil he tolerates to pay for his scooter, clothes, records and partying. Secret Affair's debut single hits the shops, a band Chris and his close mates have followed for several months. One of his mates, Dave, has an unhealthy liking for violence, and aspires to be fully accepted by the older Glory Boys and West Ham ICF football hooligans. Over the helter-skelter 10 days of the story, there are encounters with other local youth culture tribes, both at night and even during the day when moonlighting selling dodgy gear door to door.
Clubbing, gigging and getting together with 2-tone girl Charlotte at a Squire gig early on. Sex, drugs and violence set to a Mod revival and original Mod soundtrack, Glory Boys culminates in a Bank Holiday Monday scooter excursion to the seaside (Southend), for the day, with a plan to head over to Canvey Island for an all-Mod revival line gig. Incidents in Southend, however take several surprising turns, prior to the Canvey gig where it seemed the UK Mod revival united as one. Glory Boys is fictional, yet captures the spirit, excitement and essence of the dawning of the Mod revival era as a national entity, from its East London roots.
Sarge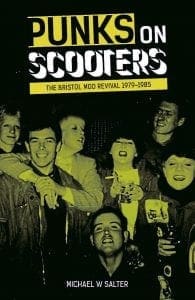 Michael W Salter Punks on Scooters — The Bristol Mod Revival 1979-1985 (Tangent Books)
The mod revival of the late Seventies wasn't all about London, although you'd be hard pressed to find evidence of this a lot of the time. Despite this, out in the provinces the same processes that drove the capital's change from punk to Mod were happening. Documenting the Bristol scene, Michael W Salter has written a vivid and well-remembered account of that era, and of its gentle change into the scooterboy world of the mid-80s.
Michael is of the same generation as a lot of us on the scooter scene, being too young to be a 'proper' punk, but being in just the right place at the right time to get on the start of the fledgling Mod revival scene.
Documenting his, and his friends', conversion, the meetings and fights, his introduction to scooters and weekends away, this story is a hugely familiar one to myself and, I suspect, many others of you out there.
It's a tale that's told with a great deal of self-deprecating humour, of 'characters' and oddballs, and tales that sound unlikely until you stop and think 'Oh, hang on… remember something like that happening'!
The author has a great skill in documenting those formative years without making the story any more about him than it needs to be, and his typically Mod-like attention to detail shows that he was truly engrossed in it at the time, before drifting away once the scooterboy world opened its arms to other fashions, ones that had previously at best had no connection to scooters or, at worst, open hostility.
The book is rounded out with several appendixes from other notables of the local scene of the day, and a good nod to the legendary Bristol band Colonel Kilgore's Vietnamese Formation Surf Team rounds the book off.
At around 150 pages it's just the right length for an account of this size, and is detailed enough that you can place yourself there.
One thing that I didn't realise until I'd finished it, is that there are no illustrations apart from the front cover. I think that speaks volumes for the eloquence of the writing that they're not missed. For a great trip down Memory Lane to the birth of today's scooter scene, this book flicked all the right switches for me.
Nik

Enjoy more Scootering reading in the monthly magazine. Click here to subscribe.