Deep Six Full Fathom Four EP (Heavy Soul)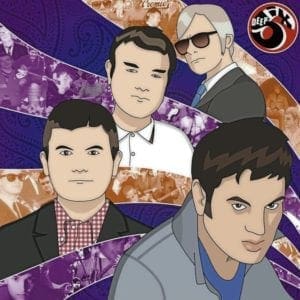 Not so new 'kids' on the block, Deep Six (new band but not 'kids'), are a bit of a Mod scene supergroup to those in the know, with Paul Hooper Keely, ex-The Threads, along with former members of The Upper Fifth and Making Time. Debut EP Full Fathom Four was released to more or less coincide with the August bank holiday weekend scooter rallies. Somehow this review got lost in cyberworld, ooops!
There are four brand new tracks mixing classic British guitar pop with a touch of revival style power-chords. Opener No I Haven't A Clue is infectious, with cascading jangly riffs and choppy stop-start chords. Heading for a Fall is dark and frantic, contrasting with the gentler more whimsical Don't Worry About Me. Last but not least is Tuesday Man, which out of the four strong tracks has the most instant appeal, with its unrelenting backbeat.
Full Fathom Four EP has been available now for a few months and in the interim Deep Six have been gigging hard as well as working on their forthcoming 'as yet untitled' debut album. Order the EP from www.heavy-soul-records.shopbuilderpro.com
Sarge
Theatre Of Hate Westworld 3 CD Deluxe Edition (Cherry Red)
Released in 1982, in the earliest days of the burgeoning Goth scene, Theatre Of Hate's singular album was eagerly adopted by this new cult. Almost cinematic in its expanse, and driven along by bass and drums, with the guitar, sax and occasional piano lurking in the background and adding depth to the sound, there hadn't been a lot like it previously.
Dark and menacing at times, its minimalism draws the listener into the album. True enough, there are one or two tracks on the main CD that feel either under-developed or filler, but that doesn't distract from the overall feel. This being a three disc set, there are obscurities and odd versions galore across the CDs, a handful of period single mixes rounding out disc one, while the second (BBC Sessions And Rarities) opens with the Top Of The Pops version of the album title track, complete with the John Peel introduction and programme theme.
The final disc — Live In Vienna 1982 — is full of unknown material. Sadly the sound quality isn't brilliant in places, but it does give chance to catch the chaos that was Theatre Of Hate in their prime, and the album becomes much more interesting for this reason alone.
Nik
Samuel S Parkes Lock & Key/ Let Me Go (Brutus)   
Yorkshire outfit Samuel S Parkes' inaugural double A-sider release for Brutus records is a bit good! The two tracks, which were recorded at Abbey Road Studios, show two sides of Samuel S Parkes. Lock & Key is delivered with raw emotion, passion and intensity, while Let Me Go is an absolutely storming, up-tempo offering that combines stomping northern soul beats with psychedelic pop organ riffs.
Samuel S Parkes are currently creating one hell of a buzz with those in the know. Treat yourself by grabbing this great double sider. There may be time to catch them live in Wakefield supporting Motown legend Martha Reeves December 17.
Sarge
Strictly Rockers Ska'd For Life (Strictly Rockers)
This one is something of an oddity, but in a good way. An album out of time, a sampler that isn't really a sampler, and only released on a slab of good, old fashioned, heavyweight vinyl. As the title suggests, it's a new ska compilation, one that draws heavily on the Sixties sound, but with more than a little of later styles thrown in for balance. Ten artists are named as vocalists, but you get the feeling that the album is really more about the band that seems to consistently back them all. Tight as a gnats, they have a sound that bounds out of the speakers with a confident authority.
One other aspect of note about this album — it features the legendary trombonist Rico Rodriguez in one of his final recordings, with his fine horn blowing showing none of the effects of age or illness that his later live performances sadly showed, and would be a worthwhile acquisition for this reason alone. If you're looking for a copy of this, then head to strictlyrockersrecords.co.uk and let them you know we sent you!
Nik

Enjoy more Scootering reading in the monthly magazine. Click here to subscribe.