Reissue round-up
With the current glut of scooter-friendly reissues hitting the market at the moment, we've compiled some of the better releases together in a single column to separate classic reissues from new releases. Infamous punk label Captain Oi! has been busy over the last few months, pushing out a steady stream of box sets showcasing material from the early years of punk. First up are stalwarts Peter And The Test Tube Babies. This Early Years compilation covers the band at arguably their best, with the legendary Pissed and Proud the obvious highlight of the set, although some of the lesser known material is scattered across the other four discs is well worth revisiting.
The Toy Dolls have been subject to a five-disc compilation featuring their first four albums and a collection of rarities from their early years. Similarly, The Angelic Upstarts set contains their first five albums – including Teenage Warning and the classic 2,000,000 Voices – each with a few bonus tracks. 999 are featured with a four disc set comprising their first three albums and the almost obligatory collection of single mixes and flip sides, compilation only tracks, and the Biggest Prize In Sport mini album and comes highly recommended. Rounding out their current releases is another box set, this time featuring the Angelic Upstarts' earliest releases. Each comes in a clamshell type box and features reproductions of the original sleeves.
Skinhead reggae has had something of a resurgence with the new version of the classic Dr Bird label. Bob & Marcia's get a double release with Young, Gifted and Black being joined by Pied Piper in a reissue of their two Trojan LP releases, while Lee 'Scratch' Perry and The Upsetters present another twin release with Return of Django and Eastwood Rides Again. Both are popular early examples of the eccentric producer and performer at his creative peak, with many tracks being dancefloor favourites to this day. There are a couple of extended single album releases too. Dave & Ansell Collins' brilliant Double Barrel gets an extra 13 tracks, while Harry J Allstars' Liquidator gets a mere dozen, including the (almost) instrumental version of Young, Gifted and Black.
Nik
Various Burning Britain (Cherry Red)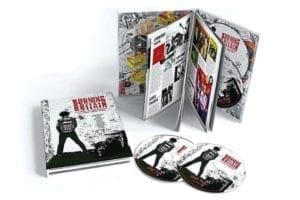 Following on from last year's critically acclaimed box set Action Time Vision, Cherry Red continue their documentation of the independent UK punk scene, this time focusing on the so-called 'UK82' era that covered the early part of the decade. This was when punk developed into the sound that has forever been associated with it in many people's minds. Fast and furious, with riffs more important than classical tune structure, this was punk rock as we remember it. An era when established first wave bands such as The Damned, Cockney Rejects and The Adicts were joined by bolshy newcomers GBH, Anti-Nowhere League and Conflict, and which spawned the early Oi! scene, giving publicity to The Business, 4 Skins and Peter & The Test Tube Babies. Needless to say, all are represented on this mammoth 114 track, four-disc set, along with many bands that show how vibrant the British punk world was at this time. Although light on previously unreleased material, it's a compilation that looks beyond the bigger songs by most of the acts, occasionally showing another side to a well-known band, one that perhaps falls more directly into the UK82 category than their better known, more mainstream work. Presented on four discs in a book form case, with notes about every band included, from UK Subs to Screaming Dead, it's a great and in-depth look at a very important part of the British music world of the era that I suspect many of you reading this will remember with affection.
Nik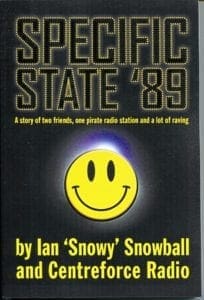 Ian 'Snowy' Snowball and Centreforce Radio Specific State "89 (New Haven Publishing)
Prolific novelist Snowy had the idea to pen a stage production, which he concluded around two years ago. The intention was it would be no ordinary stage show; it would include a DJ laying down a soundtrack transporting the audience back to the Acid House era of 1989. The experience would be enhanced by laser and strobe lights plus an abundance of dry ice. Screens at the back of the stage would project footage of raves from that time period. A minimal number of actors would punctuate the time-travelling tale of hedonistic excesses. Its title was simply Rave. Discovering that a stage production, especially one such as he had in mind, was far from as straightforward as it might seem, Snowy reverted to what he is already renowned for to get this story across.
Which is where his latest tome Specific State '89 came from. It has two parts, the first fictional, albeit based on and drawn from many of his own first-hand experiences from that period. Set in London it traces the exploits of two friends, Patch and Tat as they discover and immerse themselves in the ever-growing underground rave scene. Chapters are in a chronological month by month overview of that scene as it grew over the year, taking in many of the biggest rave events of 1989. The duo even head to the North West to sample a northern take on the rave scene via a visit to Manchester's Hacienda club at its peak. Their mutual love of House music leads them to set up a pirate radio station, very much inspired by real-life pirate radio Centreforce. Part two is factual, including interviews with DJs, producers and promoters from 1989. There's even a 100-tune playlist from Patch and Tat's fictional Eclipse pirate radio — a retrospective look at what was hotter than hot in 1989.
Sarge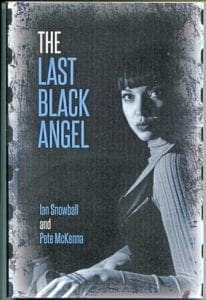 Ian 'Snowy' Snowball and Pete McKenna The Last Black Angel (New Haven Publishing)
Set predominantly in New York, The Last Black Angel is a novel that swings seamlessly from 1965 to 1977 time and time again. Based on the exploits of ex Londoner Suzi and her streetwise American friend Patti, who first meet in 1965 as Suzi arrives in Greenwich Village New York's bohemian area. Patti takes something of a shine to Suzi which results in firstly Suzi being taken under Patti's wing, secondly Suzi being accepted by and subsequently joining a female group of friends collectively known at the time as The Chelsea Girls. Nothing, of course, to do with the English, West London football team or the English chain of boutiques of the same name.
Their name came from where they often hung out together, the slightly seedy, albeit hip and cool Chelsea Hotel in New York. Collectively the Chelsea Girls had another name bestowed on them, by one of the band members of Fallen Spears, The Black Angels. Scene-sters with groupie-esque tendencies and a taste for enjoying life to the maximum would be a reasonable overview of The Chelsea Girls/The Black Angels. The parts of this book set in 1977 recall the New York art-punk scene of that era, including the legendary live music venue CBGB. Jacket notes by former sticksman of The Jam, Rick Buckler, confirm that Snowy and Pete accurately capture the sense, spirit and even the smells of New York's underground art-punk scene circa 1977. Retrospective short dips back to 1965 help paint the picture of what's going down, and even at times why, in the fast-moving, at times slightly grubby fictional novel. If cult fiction set during a specific time or period appeals, The Last Black Angel is going to be another absolute must read.
Sarge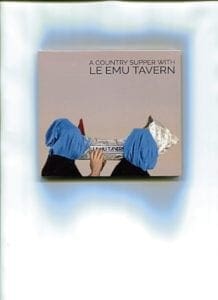 Le Emu Tavern A Country Supper With (Aktion Pact)
Every so often a lo-fi do-it-yourself nugget of pop, in the real sense, not the Cowell & Co misappropriation, arises, bringing with it a cheerfully uplifting aura. Liverpool-based Le Emu Tavern, with their brand new CD album, A Country Supper With remind us that music doesn't always have to be taken too seriously, and that an integral part, often forgotten, is that music can and should be fun, with a capital F. A number of tracks within the dozen on offer come with cleverly worked lyrics that have hard-hitting observations woven throughout — albeit delivered in a pseudo almost cheerful manner, irrespective of subject matter. Good Dogs Never Die, Not Every Astronaut Comes Home and Money My Mum Hasn't Got being just three examples.
Ste Fleming, writer and singer of those among others on this album, in another musical life, fronted cult DIY disco-punk outfit Holy Roman Empire, during which time his clever approach to lyrics won many accolades. Le Emu Tavern have so far released a trio of singles, while A Country Supper With is the band's second long player, stripped down simple good old pop music with a lo-fi leaning, that nods vaguely in deference towards Carter USM, Abdoujaparov and similar non-industry backed outfits.
If you visit Le Emu Tavern's Bandcamp site (address below), there are several tracks that can be accessed for free, in a sort of try before you buy offering. A Country Supper With Le Emu Tavern won't change your life, but it's highly likely to put a huge grin on your face and perhaps have an uplifting effect on your day. Proper pop music that actually comes with social and political observations delivered subliminally with a back to basics smile. More details from https://leemutavern.bandcamp.com/
Sarge

Enjoy more Scootering reading in the monthly magazine. Click here to subscribe.