Major Lance Ain't No Soul (In These Old Shoes) – The Complete OKeh Recordings 1963-67 (RPM)
One of the greatest names of the Northern Soul scene, Major Lance's records have long been a fixed item on many a scooterists DJ's playlist. Although recording for many labels across his career, his best work was recorded at Chicago's famed OKeh label. Um Um Um Um Um Um Um, Um, Ain't No Soul (In These Old Shoes), Monkey Time, It's The Best and Investigate will be familiar to most readers, along with others, and are included in this two CD set.
Although not blessed with the greatest of voices, his phrasing and timing were impeccable, to the extent that they masked the weakness in his range and tone, giving us a selection of songs that are still remembered with great affection. Throughout his time at the label, Lance had a constant supply of material thanks to his work with his friend Curtis Mayfield, whose group The Impressions appear as backing singers on some recordings. This compilation brings together all the recordings he made from 1963 to 1967 for OKeh, comprising albums, a handful of B-sides, and some recently discovered material, giving 53 tracks – an essential addition to any classic soul collection.
Nik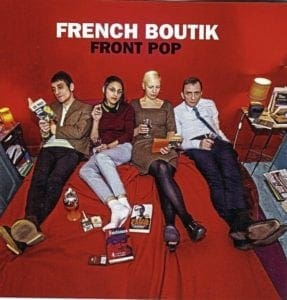 French Boutik Front Pop (Detour)
With a trio of acclaimed EPs already under their collective belts already released over the past couple of years, plus seemingly constant Mod weekender appearances both sides of the channel, it's slightly surprising that Front Pop is the French Mod-popsters' debut studio album. After all it seems they've been around for some time. Gabriela's glacial, gossamer, breathless vocal deliveries, underpinned by drummer Zelda's vocal harmonies, driven by Serge's unconventional, maverick-like crunching power chords, alongside Jean-Marc's bass, occasionally punctuated with swirling organ riffs combine to perfection. There are 11 tracks in all, nine in French Boutik's native language, the remaining brace in English. Cool 60s inspired power pop for the 21st century, with a garnish of French chic. Contact www.detourrecords.co.uk for more details.
Sarge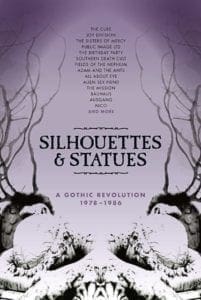 Various artists Silhouettes & Statues – A Gothic Revolution 1978-1986 (Cherry Red)
Often mocked for its obsession with vampires and death, and abused for its sometimes pretentious lyrics, the Goth music scene was about much more than that. This five-disc retrospective shows that it wasn't all black clothes, over the top hairstyles and unremitting gloom. Angular guitar work and minimalist drum patterns, along with stylised vocals gave a whole new direction for the disaffected youth of the post-punk era. Taking in most of the early acts associated with the music, the 80+ tracks in this expensive looking set are a wide ranging cross section of bands from this offshoot of punk rock, showing its progression from a straight spin off of the original punk scene into something more and with its own identity.
As is usual, the well-known – Joy Division, The Sisters Of Mercy, Jesus and Mary Chain, The Cure, Bauhaus and Southern Death Cult – are joined by bands perhaps less known to all but the serious collector, such as Brigandage, Tones On Tail and Sad Lovers And Giants, but all have earned their place here by dint of ability and notable recording rather novelty or by being in the right place at the right time. Although there is much more to the Goth music scene than any box set could hope to cover, this is an excellent introduction for the curious, and a bringing together of some of the best for the long-time fan.
Nik                 
Various artists The Glory Boy Mod Radio Showcase Vol.2 (Detour)
Released in plenty of time to be a stocking filler is Volume 2 of Glory Boys Mod Radio showcase. Compiled by Alan May you get 23 tracks in all, providing something of a handy overview of what's hot on the Mod scene, alongside a handful of not so recent classic tracks. All profits from sales of this collection are split between Bulldog Rescue and Rehoming Charity and 6TR. All bands, acts and artists featured have donated their tracks free of charge. The inclusion of Shelter by Cow featuring Paul Weller ensures Weller collectors and completists will be snagging a copy.
As will all compilations not everything included will appeal to all. If your taste in music embraces Mod, power pop, classic British guitar pop and 60s retro sounds, this will have quite an attraction as all those genres are included. With The Scene, The Moment, Three Jenerators, Reaction and The Circles alongside the likes of Deep 6, Button Up and Dogtooth there's some seriously good tunage on one disc. www.detourrecords.co.uk for mail order and other details.
Sarge

Enjoy more Scootering reading in the monthly magazine. Click here to subscribe.