The Moment Know It All EP (Infenzo)
Following on from last year's new album (The Only Truth Is Music), their first output in 25 years, The Moment, who are Adrian Holder, Robert Moore and Brett 'Buddy' Ascott, are back with a brand new four track EP. Overlords of the mid-80s Mod underground The Moment were known for their uncompromising power pop anthems. Know It All, alongside accompanying tracks Nobody Knows Yet, Benefit Cheat and You're Gonna Make Me Love You, are very much in a similar vein, the old adage if it ain't broke don't fix it applies! Four new tracks all of which are power pop par excellence. Nobody Knows Yet just shades it for me as the standout track.
Sarge
Various artists Dread Operator from On-U Sound Archive (Hot Milk)
In the early Eighties, the Manchester based reggae label On-U became known for its wide ranging approach to dub. Not content with taking reggae back to its basics, they absorbed punk and industrial sounds into the studio and stripped it back to bass and treble essentials. Four CDs make up this collection, each showing a different aspect of the label. First up, Leaps & Bounds by the Players And Singers collective is a fairly straightforward affair, featuring contributions from notables Mikey Dread, Prince Far I and Bim Sherman over sounds supplied by established and famed reggae musicians.
Secondly is the Creation/New Age Steppers album Threat To Creation. If reggae had come from Manchester, then this is what you'd get. Dark, moody and menacing in places, it's not the most joyous album in the reggae world. Creation Rebel reappears for the third album Lows and Highs. Straightforward reggae, this is a pleasant reprieve before the stunningly weird Wild Party Sounds. Everything goes in the mix here — reggae, punk, post punk, industrial and much more — and is given the Adrian Sherwood dub treatment. Although not an easy album to listen to immediately, it's the one which gives the most reward over repeated listens.
Nik
The Q The Nation's Recreation (Paisley Archive)
Arriving via Detour Records' Takin' A Detour Volume 3 compilation, The Q have gone from strength to strength, The Nation's Recreation being their fourth studio album since 2008. You'll find that it contains 11 scorching new tracks that are uplifting power pop in character with a rock leaning.
Of course there are elements of 60s style melody as well as hints of socially aware lyrics in there too. Chill Pill, Couldn't Get Much Better along with Communication Breakdown are album tracks that each possess an instant appeal.
Sarge
The Dogs Still Believe In My Generation (Weekender)
At the turn of the millennium The Dogs were THE band , tipped by many to be the next big thing. Their debut album Turn Against This Land (Island 2004), enhanced that perspective. Changes at their label sadly saw a change in fortunes for the band. London/Berlin independent label Weekender signed The Dogs, Island's loss being their gain. Paul Weller collaborated on The Dogs second album Tales From Under The Table, this was followed by acclaimed performances at a number of festivals in 2007. Also during 2007 The Dogs recorded this Live album at the Weekender Club in Austria. It's arguably one of the best live albums ever!
Issues with the label and a fight with a tour manager bought The Dogs' career to a premature end. Ten years on, Weekender have issued The Dogs' live album to mark their 10th birthday. Superbly packaged (12in and 10in coloured vinyl making a target roundel, plus a bonus CD), you get transported back to a cellar club in Austria, and are left wondering what might have been but for several unfortunate twists of fate!
Sarge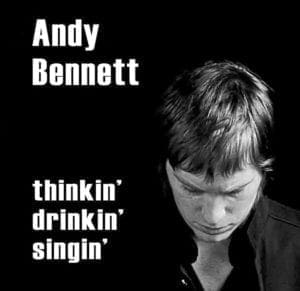 Andy Bennett Thinkin' Drinkin' Singin' (Swan Music)
Singer/guitarist Andy Bennett has spent some 12 years working with Ocean Colour Scene. This, his first solo album, gives a musical insight into what Andy Bennett is about. All 10 tracks have been written by Andy; on five of them he played all the instruments too.
Listened to in its entirety Thinkin' Drinkin' Singin' has something of a Beatles-seque leaning, it's one of those albums that seems to get better and better with each subsequent listen. At the time of this review I Can't Pretend and Old Pair Of Jeans are favourites, though that is likely to change in the near future. A top class debut solo album with a multitude of quality songs delivered in style.
Sarge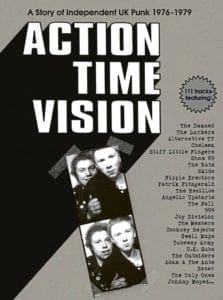 Various artists Action Time Vision (Cherry Red Records)
The subtitle 'A Story of Independent UK Punk 1976-1979′ lets you know exactly what to expect from this lavishly presented four-disc box-set. The absence of The Clash and The Pistols (presumably due to them both going straight to major label success) isn't noticed on this excellent collection which takes in all other the big names of the day (The Damned, 999, SLF, Angelic Upstarts, UK Subs and their ilk) and mixes it with the — and let's be honest here — bands that only their family members recall (Woody And The Splinters, Bears and many more) and acts that at first surprise by their inclusion — Tubeway Army, Adam & The Ants, The Skids, to give a few examples — until you remember that these are the early cuts of bands who would later become household names and Top Of The Pops regulars.
The one hundred and eleven bands included cover pretty much all aspects of the punk scene of the time, recalling that it wasn't all "this is a chord, this is another, this is a third, now form a band" type material of the sort loved by the sideburns and sniffin' glue crowd. Amped up Chuck Berry wannabes rub shoulders with the truly clueless, where mundane life stories are treated with the same respect as police brutality, and songs of hope and despair are shown equal respect. Brief histories of each band on show are included in the 64-page book which accompanies the set, along with an introduction/overview by Kris Needs, then editor of Zigzag magazine.
In short, this is the best, and the most complete, UK punk compilation I have ever seen. It goes beyond just being music to listen to, and becomes more of an important historical document, a look back at the days when enthusiasm was often more important that talent, and there were no taboos and no rules about what you could and couldn't sing about.
Nik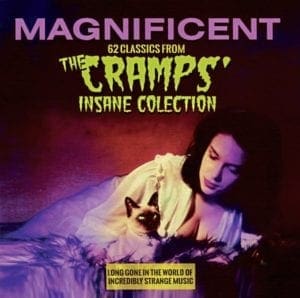 Various artists Magnificent: 62 Classics From The Cramps' Insane Collection (Righteous)
Righteous Records' continuation of their dig through the collections of The Cramps' Lex and Ivy continues to throw up a mix of obscure rockabilly gems, bizarre novelty records and much, much more. Never ones to travel the highways of the easy to find chart releases, these two CDs contain some magnificent country rock n' roll records that, like their Northern Soul counterparts, were much better than their sales would suggest. Many seemed to be deliberately 'quirky', but managed to get it right regardless.
The novelty records aren't entirely as obscure this time though, with tracks such as Sheb Wooley's Purple People Eater being reasonably well known in this country, and Dicky Doo & The Don'ts Nee Nee Na Na Na Na getting covered by a well-known ska band as their debut, getting an addition to the end as they did. All this just skates over the surface though. Buried away are strange songs that pay homage to B-movies, tell tales of the early teenage scene, and shed a new light on the supposedly homely sounds of those early days of mass produced recordings. Occasionally you have to wonder if they've hit the moonshine a little too hard, but even then it's entertaining.
Nik                             
The Z People Of The Mirror World (Detour Records)
With hints and nods of deference to the likes of Judy Driscoll, Serge Gainsbourg, Small Faces and even a touch of Slade, The Z serve up their debut album wearing their influences on their sleeves. Favourable comparisons to Sweden's Blue Pills also follow The Z around. Late 60s inspired psychedelia with a contemporary twist, from start to finish on this top class album, topped off with Italian girl singer Zoot's compelling vocals. If swirling psyche is what floats your boat, The Z's debut is a must have
Sarge

Enjoy more Scootering reading in the monthly magazine. Click here to subscribe.