Various Modernism (Kent)
Taking the original 60s Modernists} taste for obscure American black music as their starting point, those Kent records compilation compilers have come up with a 24 track collection. Hypothetically, the featured tracks would pack dancefloors in Mod clubs during any era. Embracing early rhythm and blues, jazz, Latin, upbeat, quirky blues and early soul sides, Modernism certainly aims to provide something to appeal to all tastes. Albeit a genuine eclectic mash up of styles, all the tracks have proven dancefloor appeal. The formula, a proven winning one too, for Kent compilations is previously unissued gems, lesser known nuggets and a handful of evergreens. Needless to say all those boxes are ticked on Modernism. Seeing light of day for the first time is The Turn Arounds' When One Of Them Won't, their Soul Walk/Telephone Is Ringing a current spin in cutting edge soul venues currently. US garage outfit The Ambertones, with the raw and raucous Clap Your Hands from 1965 along with King Carl's Everybody's Feelin' Good from the same year are prime examples of the diversity of this CD. Timeless 60s club soul standard Beg Me from Chuck Jackson flies the soul flag, as does side one time Yate all-nighter coverup (Del-Larks — The Dance), which is The M&M's And The Peanuts — The Phillie, plus the floor-shaking ponder Do It by Pat Powdrill. Yet another top quality Kent release
Sarge
Faintest Idea Increasing The Minimum Rage (TNS)
Kings Lynn's finest continue their run of hard-hitting releases with this, their fourth album, and it's exactly what you'd expect from this punk-fuelled ska band.
If you've got their previous material — and you really should have — then you'll know what to expect from this. Bouncy skapunk fuelled by a powerful brass section which riffs its way through the album and a powerful rhythm section with vocalist Dani growling and snarling over the top, in many ways an angrier version of The Specials' Terry Hall, preaching about the state of the UK in much the same manner as their predecessors did in the late Seventies, but with a stronger punk edge to their sound.
As such, it's almost a continuation of their last album, the equally punning The Voice Of Treason from four years ago, their agit-pop lyrics still fighting to raise awareness of the corruption of the system and the issues that surround the everyday existence of our lives.
It's not preachy though, the emphasis is entirely around good time dance tunes, and this is what lifts this band above the common herd of many other bands in this ilk. They've not forgotten their street punk background, the growling and prowling guitars make sure of this, but it's lightened by upbeat rhythms and brass that make you want to skank. Certainly there are a couple of moments of 'Okay, where is this going?,' none so much as on the intro to Corporation which meanders for a moment before erupting into one of the many highlights of the album. They've managed to achieve that balance of lyrical smartness that few of their contemporaries possess, and are well deserving of the suggestion that they are the inheritors of Random Hand's crown while they're in absence.
In short, this is a punk fuelled, brass laden, dance floor filling monster of an album that really should be on your shopping list this summer if any of that appeals to you.
Nik
Smalltown Glory The Tenement Commandments part 1 (Birth)
Founder member of The Alarm, Eddie MacDonald, has returned to the world of music with brand new band Small Town Glory. First result of which is the five-track EP, The Tenement Commandments part 1, which showcases what Small Town Glory are all about. Influences include The Who, The Beatles, The Byrds, Paul Weller and, of course, The Alarm, all of which shine through at various points. Lead track Small Town Glory comes complete with instant appeal, so much so the hook line will earworm into your subconscious. Evoking memories of 60s west coast America, especially The Byrds, is Can't Stop The Waterfall, while High, High, High has even more of a jangly guitar aura. Every Day is a well crafted classic guitar British pop number, with more than a nod to The Byrds, last but not least Fly Way, closes with an acoustic summer evening ditty.
Sarge  
Alien Sex Fiend Classic Albums vol 2 (Cherry Red)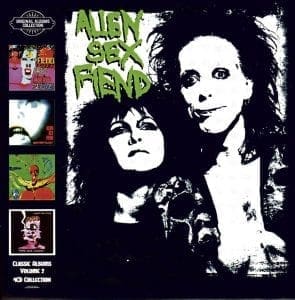 Cherry Red Records continue their re-releases of Alien Sex Fiend's early albums with this second box set, appropriately collecting the fifth, sixth, seventh and — you guessed it – eight albums from this prolific group.
Collecting Here Cum Germs, Curse, Another Planet and Open Head Surgery from the period 1987-1992 they chart the progression of the electronic punk/industrial/goth pioneers as they experimented their way through cheap and DIY electronic musical instruments, creating an oft-aped but never copied sound.
Analogue drum machines are used heavily throughout, giving a sound that brings to mind both New Order and early dance music, though much further off the centre field than either. Samples were notoriously created by the not so simple method of cutting and splicing old fashioned cassette tapes to give the required sound. As they've commented in the past — at that time you had the choice of either buying a sampler or a flat. They cost about the same…
The creativity and drive of Nik and Mrs Fiend paid off though, and this set of albums catches them at their most creative and varied, as their sudden explosion into the American subculture showed. Never easy to pigeonhole — apparent influences would include The Cramps, Kraftwerk, Magazine and assorted psychedelic bands — they slotted comfortably into the underground punk scene, and drew on the London version of the goth scene without ever really being a part of it, never really finding a scene of their own.
Issued in miniature replicas of the original covers, and with an eight page booklet, the discs themselves are filled out with over 20 rarities, remixes and tracks that only appeared on singles.
Nik
Emptifish 6.57 The Best of Emptifish (Detour)
Renowned for tireless detective work, Dizzy and The Detour records crew spend countless hours tracking down semi-forgotten bands, who in reality deserved much more than fate dealt them. One of the many bands who owe a degree of thanks to Detour, are Portsmouth's Emptifish. During the mid-80s Emptifish, rose to a degree of prominence and even more so to national notoriety. Musically they were an 80s garage punk band, a brace of singles plus a compilation album appearance being their entire output of releases. They played at the Klubfoot at The Claredon Hotel at the height of the psychobilly uprising. Also among Emptifish's following were members of Pompy football hooligan 6.57 crew, many of their live shows resulted in near riots, eventually the band were banned from playing anywhere in their home town. This 'best of album, is the album Emptifish never released at the peak of their popularity. Now, 30 years on or thereabouts, Detour bring a deluxe vinyl, CD, download code and booklet package, containing just about anything and everything related to Emptifish. A retrospective release showing that not only did Emptifish look the part, their sound, could and indeed should have made a bigger impact back in the 80s. But for the fickle hand of fate who knows where the career of Emptifish would have taken them?
Sarge             
The Excitements Breaking The Rule (Penniman Records)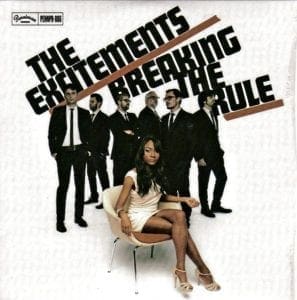 Digging deep into the roots of the Memphis sound, The Excitements have created a remarkable release which captures the spirit and sound of the glory days of the early Sixties southern soul as exemplified by Stax records.
Throughout the album there are hints of Steve Cropper's guitar, while Donald 'Duck' Dunn styled bass supplies the underlying groove, all giving a very familiar feel to their material. That's not to suggest that they've copied these artists, far from it as they comfortably fit their own licks, riffs and rhythms to the songs, rather than slavishly aping those of the legends.
There's a feel of the recording style of the studios of East McLemore Avenue from that era too, with a strong feeling of 'all in the booth together' going on.
The aforementioned guitar and bass underpin the sound over driving drums, the simple two-piece brass adds joyful fills, as do the keyboards, while singer Koko Jean Davis rips through the vocals in a style very reminiscent of Sugar Pie DeSanto or Tina Turner in her formative years — sexy and sassy, giving the song everything, and then some more.
It's a glorious call to the dancefloor, an obvious love letter to a musical style that the band would seem to adore, and which (at least to these ears) they have it absolutely nailed on.
If the soundtrack to The Blues Brothers gets the feet tapping and the shoulders moving, then add this album to the top of your shopping list.
Nik
This article was taken from the September 2016 edition of Scootering, back issues available here: www.classicmagazines.co.uk/issue/SCO/year/2016

Enjoy more Scootering reading in the monthly magazine. Click here to subscribe.