The Undertones The Undertones and The Undertones – Hypnotised (both Salvo Records)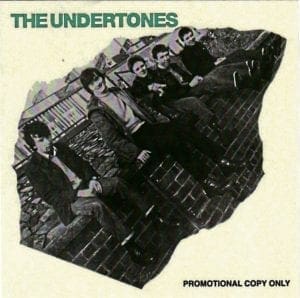 For some reason, The Undertones are only remembered on the scooter scene for their debut single. On this showing, I think it's fair to say that we're really doing the band an injustice.
Their first album is a triumph of early pop-punk, their lyrical interest centering on teenage romance, relationships and general growing pains, all carefully crafted into 14 brief, and to the point, guitar led songs — the original release coming in at less than 30 minutes running time. The album is fleshed out here by the welcome addition of Teenage Kicks, making for a remarkable debut album, one that regularly features in 'best ever' and 'albums to hear before you die' type lists.
The second album, Hypnotised, sees a move towards the then popular New Wave sound, a lighter and more poppy sound heralding the band's intent to follow fashion rather than a particular genre in future releases, but is none the worse for it. Tracks such as the slightly self-mocking More Songs About Chocolate And Girls and the truly great My Perfect Cousin tell their own musical tale of the bands change of direction — be fair, who couldn't relate to having a 'Kevin' in the family? Again, this is an album which has stood the test of time remarkably well, and also tends to be a fixture in 'classic' lists and the like.
Both albums are being re-released on heavyweight vinyl, and in replicas of the original sleeves, to commemorate the bands 40th anniversary, and a Kevin Shields remix of the single Get Over You on red vinyl will also be available.
Nik
Searching For Soul Reg Stickings (Reggie World Publishing)
First published in 2008, Searching For Soul has been updated and now has a new publisher. The update consists of a number of short chapters covering the past seven years in Reg Stickings' continuing quest. If you missed out first time round, Searching For Soul is now available again in both paperback and hardback formats. Little Reg, as he's best known, takes us on his personal voyage of discovery initially on the Northern Soul scene, and later the then-fledgling jazz-funk scene. Local and localish clubs and venues frequented, initially in the 70s, are integral parts of the Searching For Soul journey. Little Reg was and indeed still is based in the home counties, not too far from where I'm based, and he frequented many of the same venues, clubs and happenings as I did in my formative years.
Family, friendships, camaraderie and the many other aspects of various sub scenes under the soul music umbrella, along with first hand recollections, archive photos, and much more are included. Searching For Soul is a great read, and contains many elements that some Scootering readers will empathise with. It's a story that embraces records and soul music, ever changing fashions, football, travel, hardships and so much more. Visit www.searchingforsoul.info or find it in any good bookshop.
Sarge  
Various Mods, Power Pop and Scooter Boys 1979-1987: Bristol Boys Make More Noise (Bristol Archive Records)
Back in the Eighties there were a whole host of bands who, although now largely forgotten, tried to join in the whole Mod revival/ska/new wave trend that was sweeping the nation at the time.
Some areas were a true breeding ground for these bands who, although time has forgotten them, produced some wonderful sounds.
Bristol was one such area, and this compilation brings together some of the best from that era. Granted, it's not all diamonds, there are a handful of bands in there who just seem to be filler, but when there is a gem, you can't help wondering why they're not better known.
Gross Club's Second Chance is one such track. Get past the strange introduction and suddenly a great, Sixties-loaded, Mod revival track emerges. The Rimshots pre-date the American ska revival with their take on 2-Tone with I Was Wrong and The Untouchables (not the American band!) have a wonderful stab at the Thames Delta Blues of Dr Feelgood.
This just skims over the material in here though. There are many more tracks that I could rave about — the slightly later Cass Carnaby Five contribution for example — but needless to say, this is an album worth tracking down for those interested in the early days of music associated with the scooter scene.
Nik

Enjoy more Scootering reading in the monthly magazine. Click here to subscribe.