Like many scooterists I have two families. One I live with; the other I meet with to ride fast, consume succulent food and drink, and soak up the scenery. This is our Greek adventure…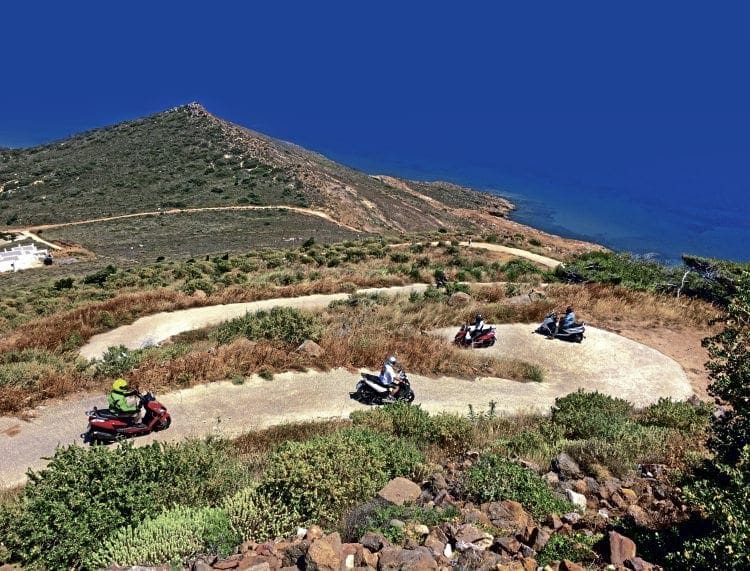 Last year I met up with Vespa Club del Mediterraneo in Tuscany, where we coaxed our rented scooters over twisty roads and coastal canyons for two weeks. This year, the club selected three Greek Islands as its playground. The limit on riders allowed this year was 25 though with cancellations we had a total of 21 riders. I made sure to apply early so I could get my scoot'n ass to Greece. Over 14 days, we got to know three of the less-travelled islands: Pares. Naxos and Milos, where the archaeology was remarkable, and the roads ranged from tame to terrifying. Though riding was foremost, experiencing the culture, villages, and gastronomy was like riding at top speed.
PAROS
After meeting the other riders in Athens we set sail on a high-speed ferry to the Cycladic island of Pares where we picked up our first batch of very used scooters. Paros is a good 'starter island' filled with gentle roads. We stayed in the small fishing village of Naoussa, which has a small sandy beach, and were happily surprised to discover the town comes alive at night. People hang out on the bridge at the old port, explore the 14th century fortified remains, and sit drinking at small tables overlooking the water.
The mornings began with high-octane caffeine and a full tank of petrol.
Though we were a large group in total, we generally divided into smaller contingents of friends and travel buddies. There was no set tour. Everyone was free to chart their course and select their pace. Lucky for us there were always a few in the group who had done their research and steered us to a particularly choice mountain village, restaurant or beach. But stumbling into a cool town or rockin' road was also part of the adventure.
We found that auto drivers on these mellow islands tend to be aggressive, even passing on a blind curve. People pull out in front of you for no apparent reason. The tourists' minds are on the scenery, not the road, so give them plenty of room also. Speed limits — you may find an occasional sign — are universally ignored. Most locals riding a mote shun protective gear too; they'll blow by at high speeds wearing flip-flops and no helmet.
These island roads are often narrow, with hundreds of curves, many with no guardrails. Some are unpaved. I found it best to use the map on my phone to fill in the details missing from the paper map supplied by the rental shop. On the other hand, it's hard to get lost on any of the islands. One rental agency lady warned us, as she pointed to the map, not to go on the roads that were coloured grey. Eyes wide open and curious, we took a leap of faith and found even these dirt paths could be carefully navigated.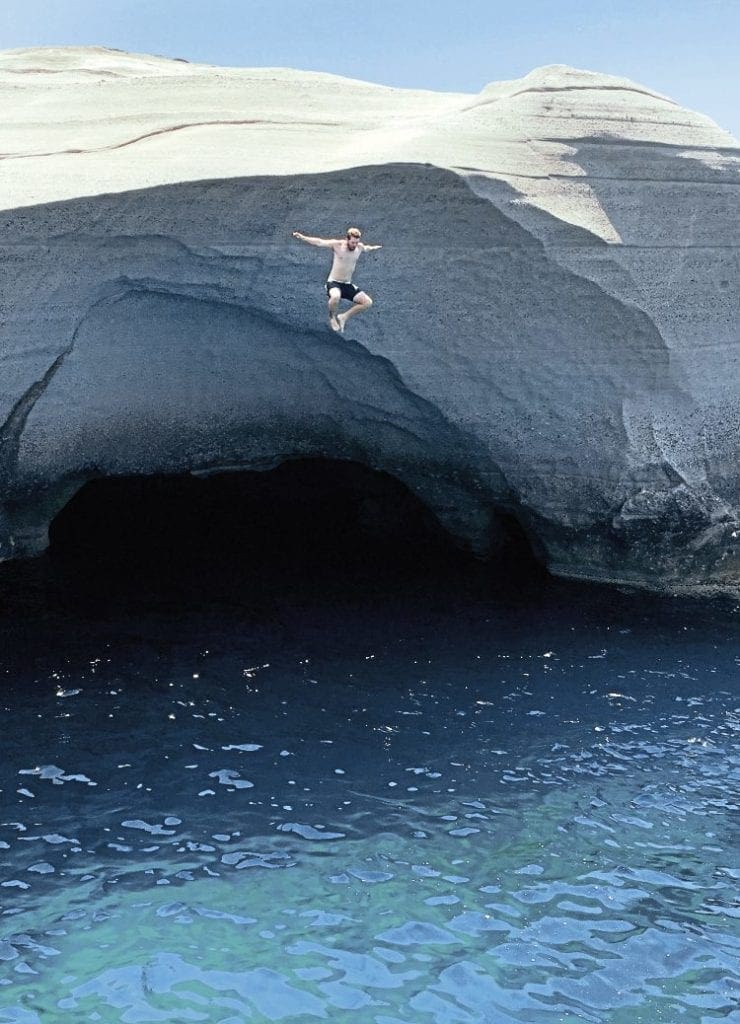 We took a sweet ride to the charming village of Lefkes, located in the middle of Paros, an area covered with olive and pine trees, whitewashed houses, and churches dating to the 15th century. It's the island's highest village, picturesquely overlooking a lush valley. From the heights we spotted windsurfers; the close spacing of the islands generates a wind tunnel for them, with occasional gusts reaching us above. Lefkes is on a Byzantine trail where one can trek to the next village via a 1000-year-old walkway. We scooted to the next hamlet of Prodromos, whose stucco homes were decorated with brightly coloured bougainvillea, the ubiquitous flowers of the islands.
The most challenging, killer route on the island of Paros is near Marpissa. It's an unpaved, rock strewn, slippery road that narrows into a goat path as it climbs. This was wet-your-pants scary. I'm not sure I ever took a breath as I extended my legs to minimize any unplanned falls. We dubbed this path 'grinder'. It led up to St Antonio's Monastery, a 500-year-old edifice. With less than 3/4km left, some riders were just too fearful to continue to the top. Those of us who made it were rewarded with 360° views of the island and the Aegean Sea. Afterwards, in dire need of a pub, we ended up by the water in Naoussa, a perfect place with seaward views.
ANTIPAROS
A few days in, we took our rented scooters to the nearby island of Antiparos.
It's a quiet slip of land with narrow streets, a relaxed atmosphere, and a few high end stores to satisfy the rich and famous. Actor Tom Hanks is among the celebrities who own a home here. Not to be missed is the partially rocky ride to the centre of the island on the edge of the mountain of Ai Yiannis to see the Cave of Antiparos. One says a prayer upon entering hoping to return to the mouth of this massive cave which is shaped into an 18th century church. It's four hundred steps to descend into the cavern so it takes stamina to climb the three flights of stairs back out. Starved and thirsty from the workout, we rode the gravel road out to an old-school fish taverna Captain Pipinos for fresh seafood and bottles of Mythos and Fix, two of the most popular Greek beers.
NAXOS

Naxos is a large island, dramatically rugged with jutting mountains and stunning scenery. Getting around is certainly not for beginners, in fact you need endurance; the twisties here are legendary. Those roads left me physically exhausted yet exhilarated — they became my muse. Each morning I'd wake up supercharged for more of this high calibre riding. My technique was to remain aware of everything around me, including the herds of goats that graze the shoulders at twilight, along with the occasional donkey. I was forewarned about these beasts, and the slippery dollops they leave behind.
The entire island seems to be filled with ancient rock walls dotted with red poppies and other brilliant wildflowers. We stayed in the chill town of Apollonas. More marble quarries, more fishing, and delicious traditional food. I struggled to wrap my head around the fact that this island was settled in 3000 BC. Yet we scooted past wind farms on our way to the mountaintop village of Apeiranthos to sample one restaurant in particular, only to find it was closed for repairs. Anthony Bourdain the TV chef came here, and as foodies we felt obliged to follow. Two days later we rolled back in town to find the Taverna Lefteris had finally opened. We peeled off our riding gear and sat outside under a shady walnut tree. This family restaurant uses recipes that date back centuries. The food was worth the wait: roast lamb with lemon, dolmades in cream sauce, and cheese saganaki. The flavours were intense.
Everyone was crazy for this food. On our ride to the tree-lined village of Filoti we flew by wild fig trees and ancient olive trees the circumference of giant redwoods. A few turns later we had to slow for tractors and donkeys. Another curvaceous outing was to the secluded bay of Lionas, which we found deserted. Two women welcomed us from their balconies, waving us in to their competing restaurants, hoping we'd choose theirs for lunch. We decided to split up and make both owners happy.
Don't miss the ride to the charming town of Eggares where there is an olive oil museum, and swimmers will appreciate the beach in Panermos. Parts of the island don't have gas stations so fill up when you can, which is almost never on a Sunday when stations are closed. Have cash.
MILOS
Volcanic Milos is the most dramatic of the islands we visited. Conditions range from rough country roads to polished stone villages with narrow streets. We got lost one day in search of a turn-off that was hidden by hanging laundry as we dodged villagers sitting on their stoops. Ride past the catacombs up to the Plaka for lunch or to watch the sun plunge into the gulf of Milos, some 220m down below.
Milos offers alluring aquamarine water, white beaches, coastline-hugging villages, and sun-bleached ancient ruins. Not to be missed is Sarakiniko; dive from the rocks, swim into the caves, and feel the intense sun. It's also worth riding here when the moon is full to see the white rocks glow.
Taking a partial day-off from the scoots we chartered a sailboat to take us to Kleftiko and Tsigrado on the other side of the island. We had enough people in our group to make this a private cruise. The pirates loved the coastline's coves to hide their ships from pursuers. We dove from the boat into the transparent water and explored the coastal formations. Plathiena is another secluded cove to ride to; you can walk out in the shallow emerald water.
With the death of our club's founder and chief trip planner, it's reasonable to wonder whether the Vespa Club del Mediteranneo will survive. Fortunately, two of its long-standing members, Roland Henry and Warren McEuen, are planning next year's venture to the mountains of Spain. If you're tempted, submit your name early as it's sure to sell out.
Words & Photographs: Penni Gladstone [email protected]
Additional images: Don Murray & Bill Leuthold

Enjoy more Scootering reading in the monthly magazine. Click here to subscribe.