For those of us scootering back when it wasn't sacrilege to cut-up a perfectly good full frame the cutdown can be a thing of beauty…
You often find these cutdown machines have evolved as a result of accident or age related damage. I remember stunners with exotic names like Tangerine Dream, Mirage and TV21 which exposed their engines and discarded bodywork. In fact my first experience of this genre was when on one of our regular 50cc coastal adventures we were quickly passed by a green metalflake cutdown — I later found this was scooter racer Jon Howe! The scooter you see here is a perfect example of the cutdown — neat, light and powerful! Now owned by Neil Castle it was originally built by Will Maskell. Starting off with a distressed Li150 frame it was 'cleaned-up' with a hacksaw and grinder. Along with the basic tube, the frame loop and legshields were thinned down as much as possible. If you look closely though this was done very accurately and gives lovely smooth lines. The front loop has been curved around the c. tube, the rear squared off including the panels.
This gives the opportunity of using the number plate as a mudguard and then fitting two 'cat eye' style clear rear lights. Other tubing and brackets were used to give a base for foot-pegs, relocate the brake pedal and give a firm anchor for the side-stand. At the front the horncasting has been extended to match the exposed fork legs, and then a RGV style front mudguard fitted. Once happy with all the frame mods It was given a bright Kawasaki green covering with ripped flowing chequered flag detailing by 'Re-Born to be Wild' in Cheltenham. Engine-wise it wouldn't be a real cutdown without a fairly potent motor. When Neil first got it, all the pieces (Rapido JBW ported 225 barrel, AF head, 60mm RB 25 crank, 30mm Dellorto, PM pipe) were in place, but it wasn't running just right.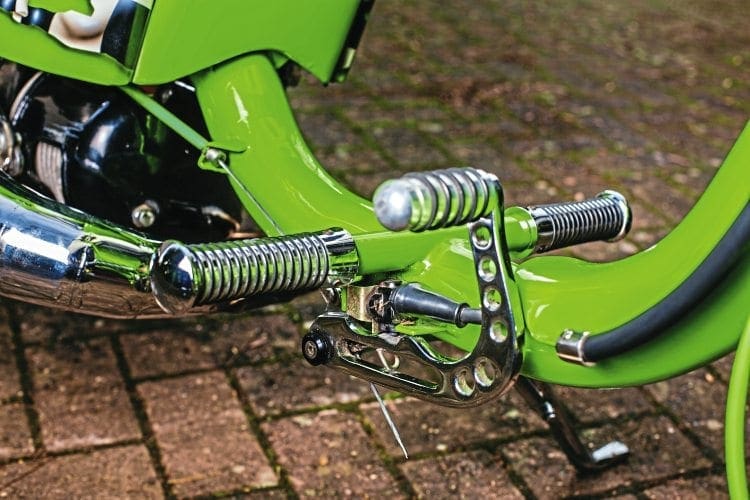 Since being in his ownership though it has been through Jerome's hands and dyno'd at Readspeed, so is running sweet! To cope with the extra horses, brakes and suspension have also been 'beefed up' with a converted R1 shock and external disc brake. To add to the looks department it has had various billet and chrome pieces added as well as a one off matching seat. So there you have it a very rideable and striking machine. Still a favourite with the scooterboy out there, long live the cutdown!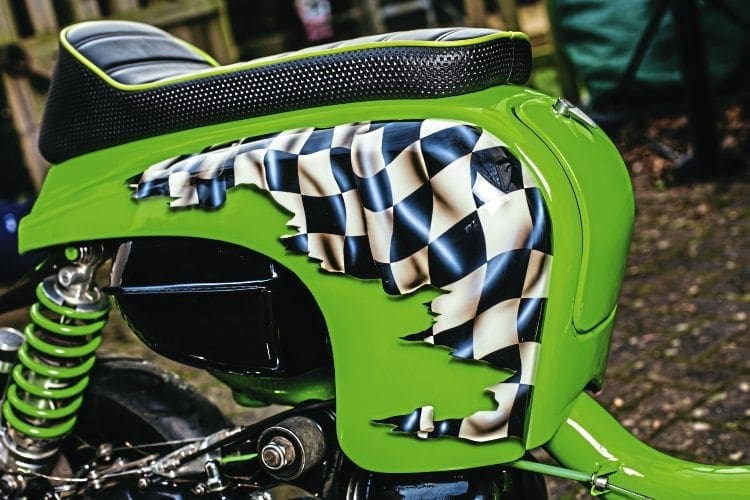 MAN & MACHINE
Name: Neil Castle
Job: Retired six years ago.
Scooter club & town: Cheltenham Blue Diamonds SC.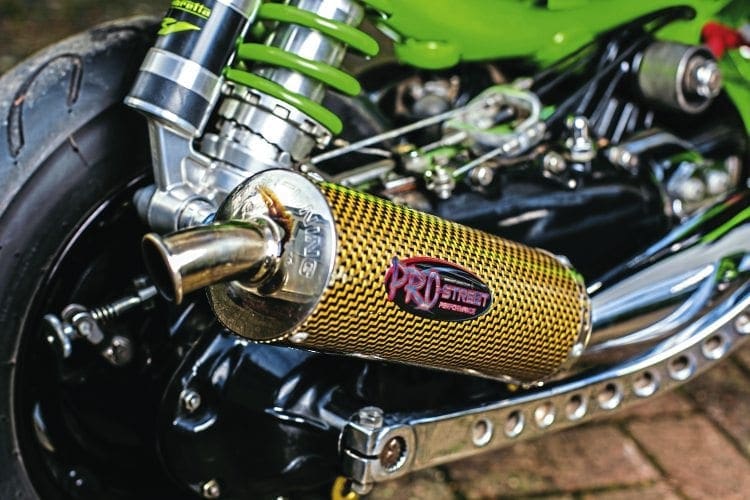 How and when did you first become interested in scooters: From birth, my dad had a Vespa GS!
What was your first scooter: Primavera small-frame.
What is your favourite scooter model: Any Vespa before 'P'range. Probably Vepsa GS.
What is your favourite style of custom scooter: Whatever I am working on or building at the time.
First rally or event: Isle of Wight, 1982 on my Primi.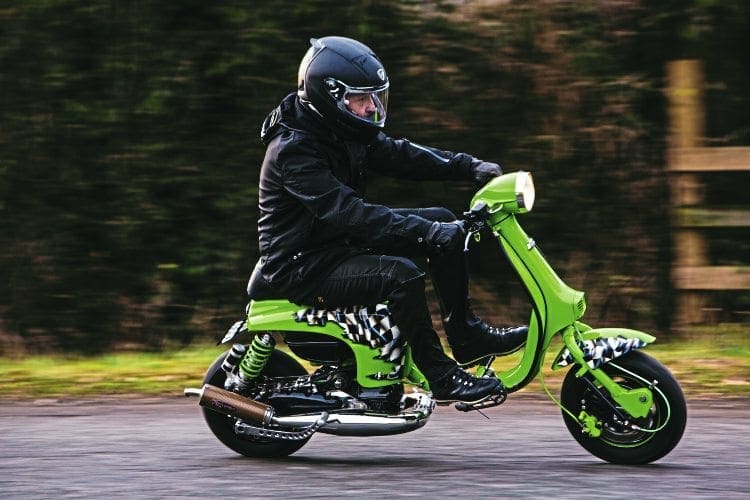 Favourite and worst rally/event: Always enjoy Woolacombe. No worst rally, stayed on some shitty campsites over the years though!
What's the furthest you've ever ridden on a scooter: Northern rallies, 200 miles plus.
What do you like about rallies/events: The social side!
What do you dislike about rallies/events: Twats in cars!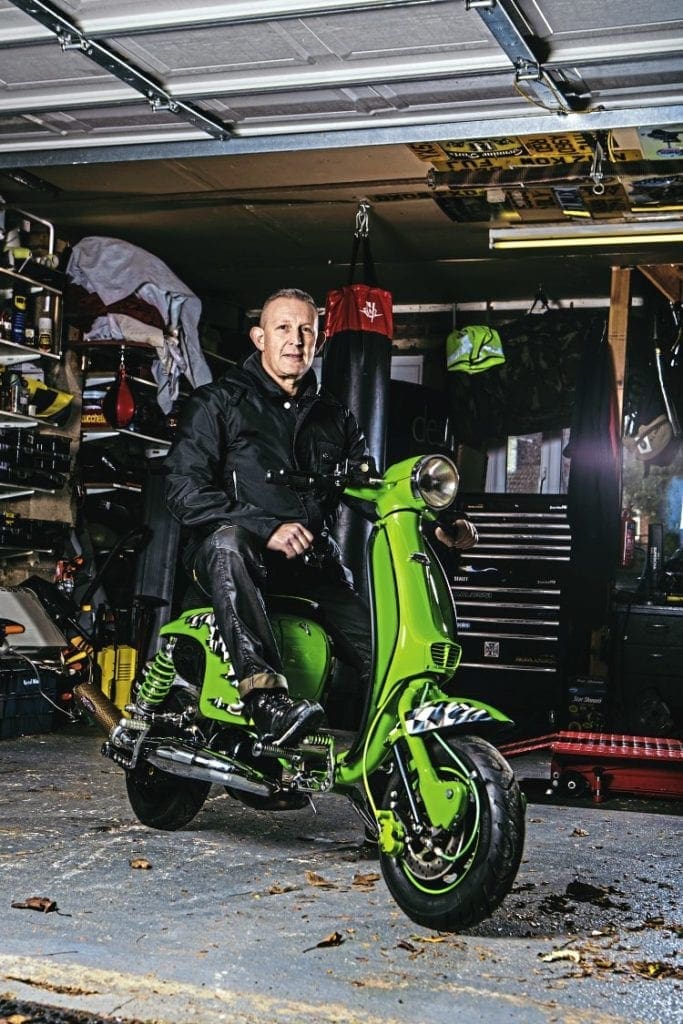 What's your favourite Scootering magazine feature: Custom features.
Favourite custom/featured scooter of all time: Like Pride & Poverty Lammy, also the Lammy with coffin sidecar; think it was called the Undertaker. Not a lot beats a standard GS though!
If you had to recommend one scooter part of item of riding kit, what would it be: Headphones and iPod, all my bikes are noisy!
What's the most useless part you've ever bought for one of your scooters: A HD mirror for my Vespa, couldn't see a thing. Kell for building what is now a pretty quick, rally going bike.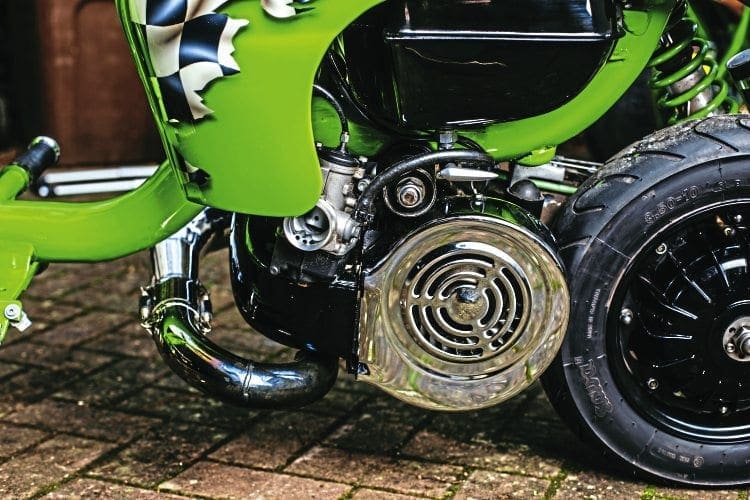 Scooter model: 1966 Lambretta Li 150 Cutdown.
Date purchased: June 2014. I bought this "as is" apart from minor things like bigger tank setup and dyno. It went through a few hands after Will, before it came to me.
Inspiration for project: To be fair this was totally Will's baby! All design work is down to him.
Time to build and by who: Built by Will Maskell (Cheltenham).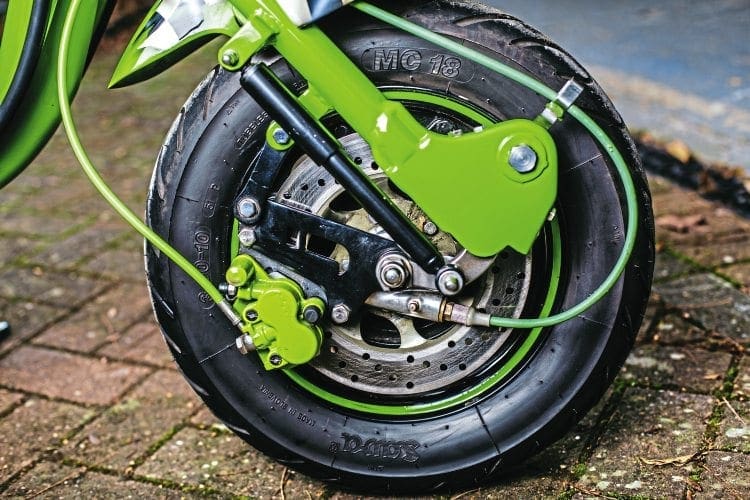 Any frame modifications: From the documents I have nearly all work carried out by JBW Restorations.
Engine spec: Rapido 225, RB crank, 30mm Dellorto, PM pipe.
Top speed and cruising speed: Cruises at about 80mph.
Is the scooter reliable: It is now it has been set up properly on Readspeed's dyno.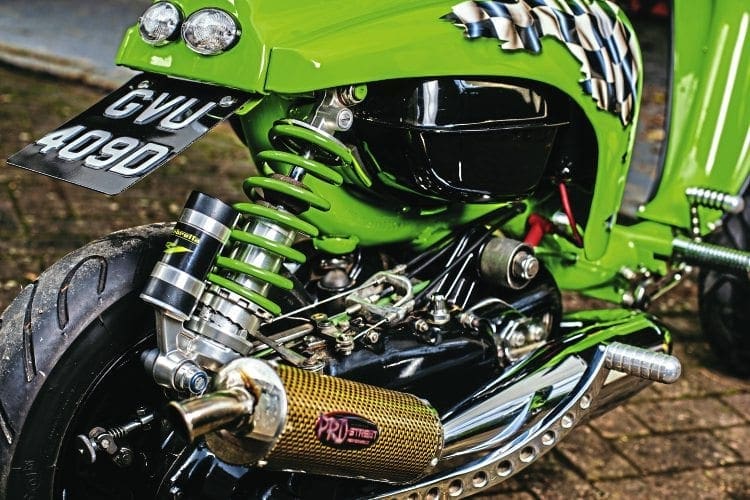 Paintwork and murals done by: Re-born to be Wild, Cheltenham.
Is there anything still to add to the scoot: A spare wheel possibly.
Is there anyone you wish to thank: Will Mass.
Words: Dave O
Photographs: Gary Chapman

Enjoy more Scootering reading in the monthly magazine. Click here to subscribe.