He didn't build it, but when Martin Pope saw this beautiful custom Vespa up for sale, he couldn't resist buying it. Is owning a second-hand custom scooter a crime?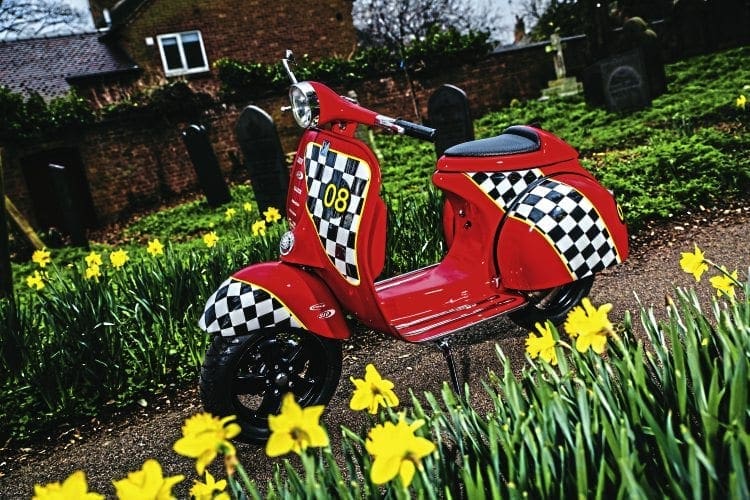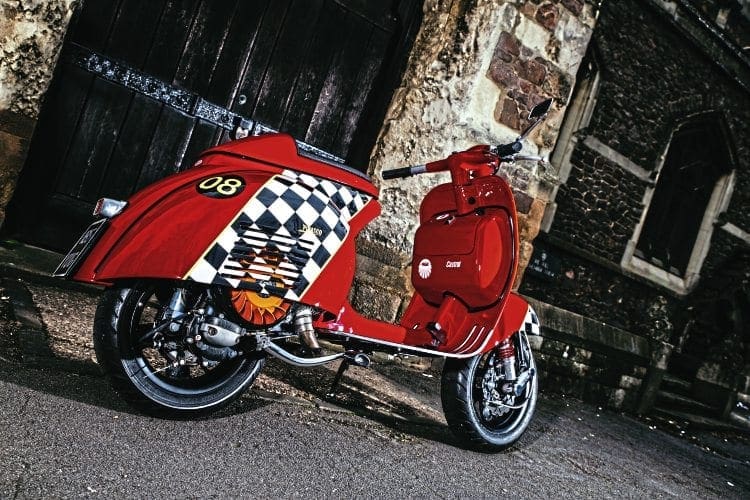 Ownership stigma
Second-hand custom scooters are never really seen as the property of subsequent owners, being always associated with the original owner/builder, until they have serious amounts of further modification to the original custom. But what about when the scooter is an unknown, or not seen in the scootering press? It's been known for great scooters to be built but then rarely see the light of day. This is one such example, but it's thanks to new owner Martin Pope that it's now getting the attention it deserves.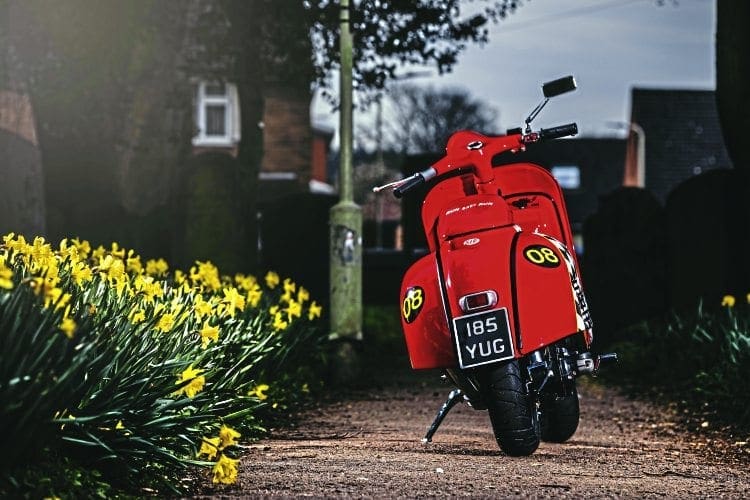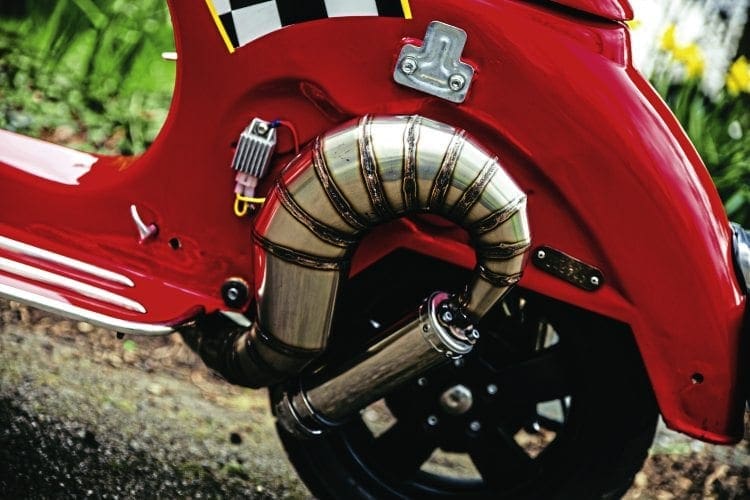 Spec
The base model for this deliciously sporty custom, is a 1961 Vespa VBB, and it is running on 12in GTS wheels, courtesy of German scooter maestros SIP. The paint was done by 'Galfer', a name that I wasn't immediately familiar with, but who are responsible for the tidy disc brakes on those big'ole wheels. So far so good. The Koso digital speedo embedded in the handlebars looks tidy too, Martin reports that it's not the largest he's ever seen! If you look at the sidepanel, you'll see 'Pinasco' named, alluding to the 225cc top end, using Maz 60mm 'long-stroke' crank. Speaking of the top end, Martin also says that the scooter has so much compression that it isn't doing his ageing knee any favours whatsoever, kicking back when it fancies. The power is kept in check by a Cosa clutch, acceleration enhanced by a T5 fifth gear… as well as looking very sporty too.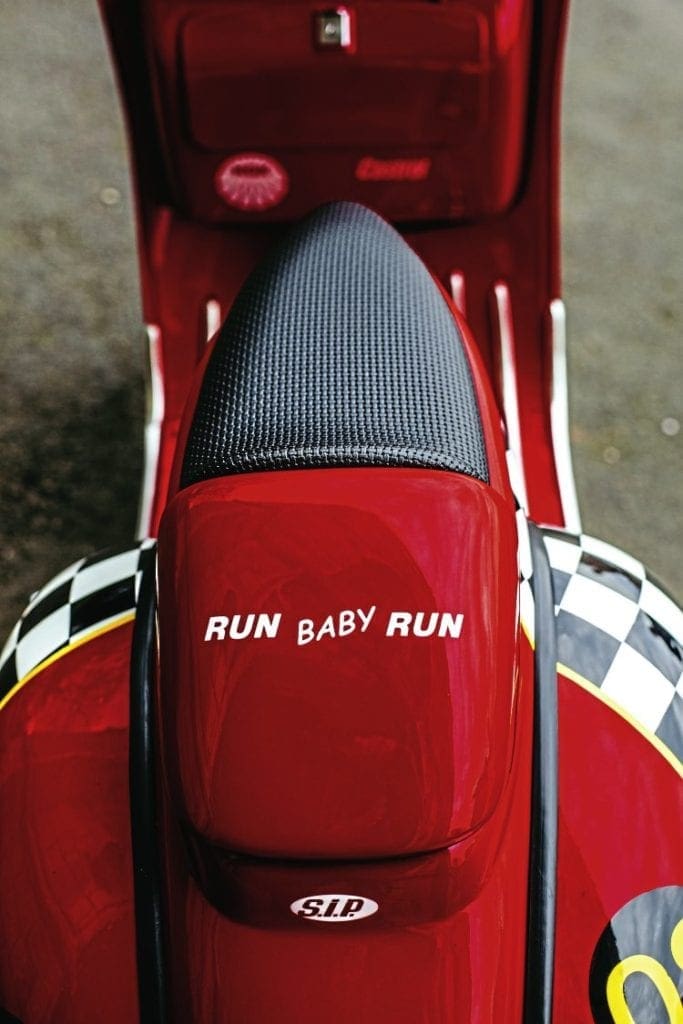 Aesthetics
Visually, the scooter is painted in a style that is both classic and contemporary. The red paint screams Italian racing heritage. Although I've not got the proof of it, I'd place a small wager that it's the classic Ferrari red. The checks that run across them strike me as doubly significant. The lines suggest a waving finish flag while the yellow addition is perhaps a gentle nod towards the black, grey and yellow of the Andreas Pinasco racer. Or maybe I'm just reading too much into it! But either way, the work is flawless and beautifully laid out. Strangely, although the racing graphics suit the machine perfectly, the best view of the scooter is from the back, where the bulbous panelwork suits the bright paint colour perfectly, the minimalist original styled SIEM rear light leaving the tail completely uncluttered other than for the subtle SIP logo, and the name on the back of their racing seat, 'Run, Baby, Run'. A sentiment presumably uttered by the owner when it's kicked back at him for the third time…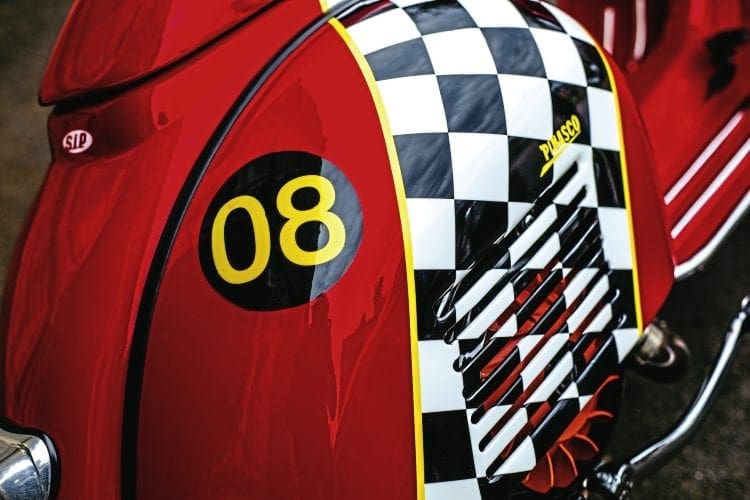 MAN & MACHINE
Name: Martin Pope
Job: Driver.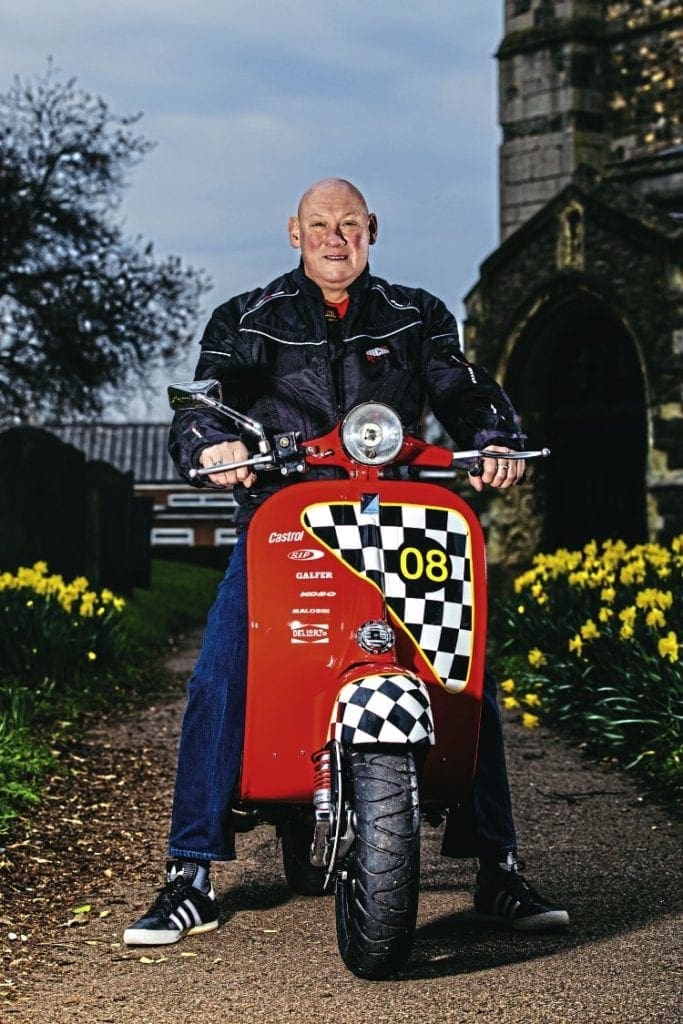 Home town: Syston, Leicester
When did you first become interested in scooters: In the 70s.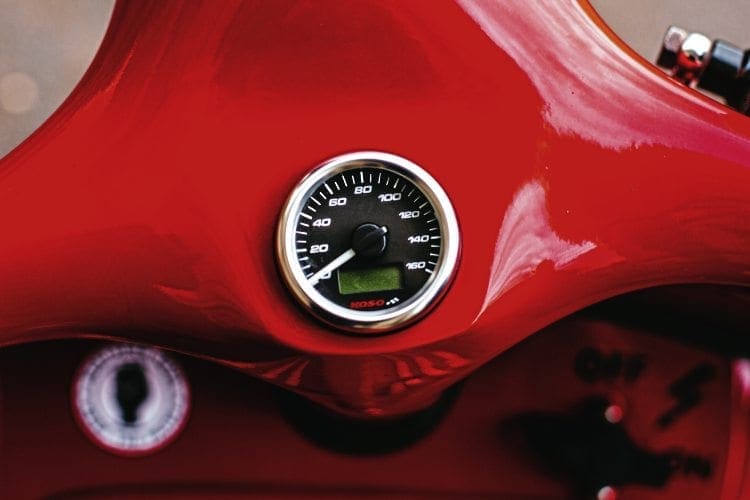 First scooter: Vespa SS180.
Favourite scooter model: SX200.
Favourite Scootering magazine feature: Dave Oakley's Nostalgic Custom Corner.
Your favourite custom/featured scooter of all time: Worlds Apart.
Scooter spec: Model: 1961 Vespa VBB. Cylinder kit: 215 Pinasco. Crank: 60mm Mazzucchelli. Carb: 25mm to match kit. Exhaust: SIP Curly expansion. Clutch: Corsa. Gearbox: T5 4th Gear. Wheels: GTS. Tyres: Schwalbe. Suspension: SIP.
Describe engine performance, power delivery and scooter handling: Holds the road like glue, pulls like a train, stops on a penny and is reliable.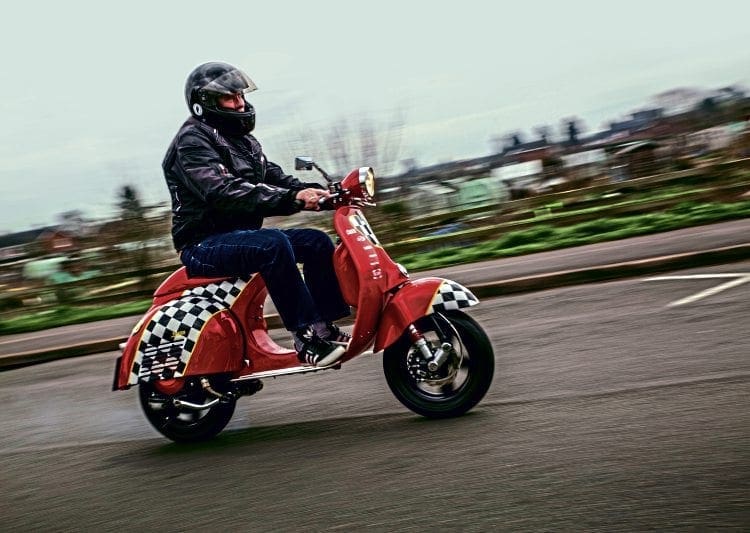 LAW OF THE LAND
Those of you with a very long memory may remember the name of the owner of this scooter, Martin Pope. Many years ago, way back around issue 18 or so, he had a cutdown Lambretta in the pages of this here magazine. Law Of The Land was a classic of its era, and was lined up to be the major feature scooter of the issue. As such, Scootering hired a studio for the shoot, and a leggy blonde to sit astride it as was the way back then. They offered to arrange for a van to collect Martin and the scooter and run them up to Nantwich for the shoot. Martin had other ideas, and believed it was there to be ridden, and said he'd make his own way. Predictably, en-route the weather became inclement and eventually the scooter died. Fortunately this was outside a pub, so he popped in to make a phone call to the studio (no mobile phones then, remember) and was told that it wasn't a problem, they'd come and get him in the van. So a beer was in order. Or three. Or five. You get the idea. As the afternoon dragged on, Martin became concerned that he hadn't been picked up and called again, only to be told that the van had broken down! Eventually the shoot was done near his home, but sadly without studio or busty blonde! If you'd like to see one of Martin's other former scooters, checkout DNCC (posted on 25 September).
Words: Nik
Photographs: Gary Chapman

Enjoy more Scootering reading in the monthly magazine. Click here to subscribe.