Touring Croatia and Slovenia by Vespa scooter brings Hollywood back to life on a romantic retro trip thorugh the Istrian Peninsula.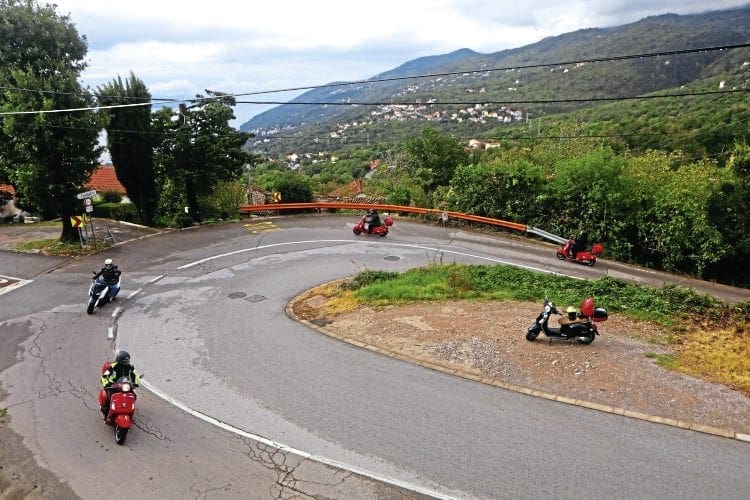 Puttering into Porec on a peppy candy-apple-red Vespa scooter, I plunged from cobbled streets onto a tiny piazza shaded by date palms and myrtles. A welcoming line of gelato sellers and outdoor cafés was set out under awnings, brilliant beneath a warm pencil of October sunlight. In the harbour, elegant schooners and mega-yachts and old wooden fishing boats bobbed gently in the Adriatic Sea of Hockney blue.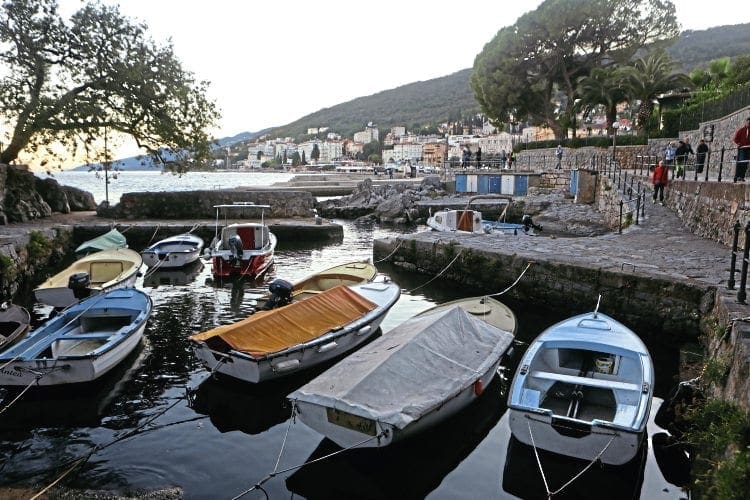 I locked my helmet in the rear top-case. Then, feeling as carefree as Gregory Peck in Roman Holiday, I slung my jacket over my shoulder and set out to explore the cosy Croatian town's warren of narrow alleys on foot as the rest of the group buzzed in behind me.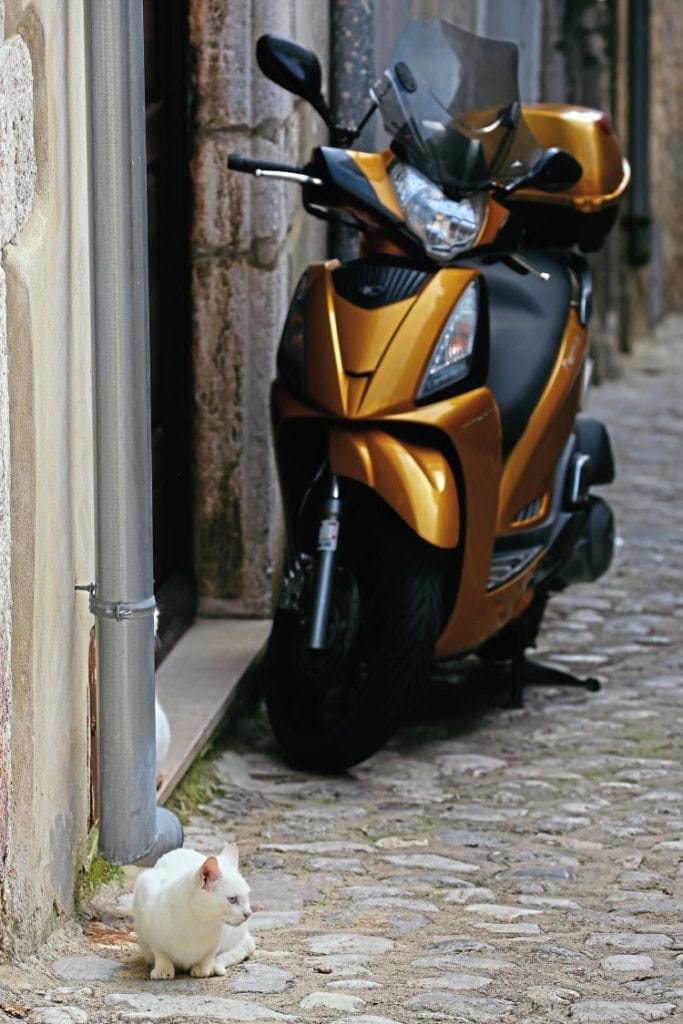 As a lad in northern England I rode a Lambretta scooter o'er hill and dale. When my thoughts recently turned to an autumn vacation, I fantasised about a nostalgic trip down memory lane, but further afield. Then I read how at sweet 16 a Slovenian girl named Melanija Knays rode to the Adriatic Sea on the back of her boyfriend's blue Vespa. When Peter Butoln was conscripted into the army, the aspiring model (aka Melania Trump) started dating a friend: "He had a red Vespa."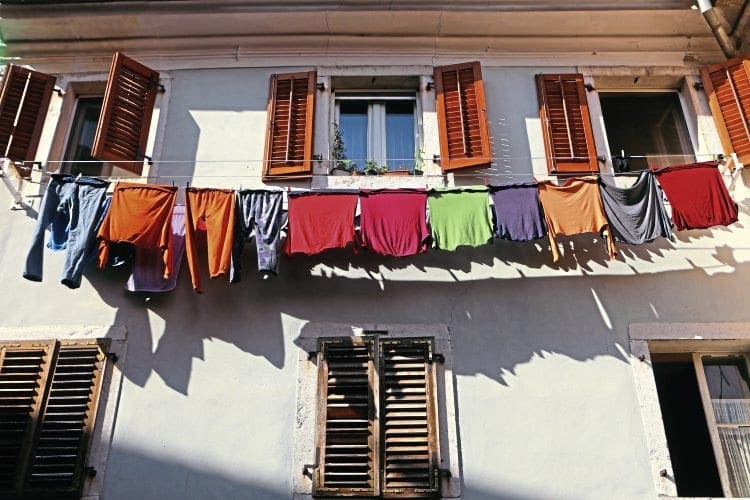 It sounded so like Roman Holiday, the 1953 movie classic in which Audrey Hepburn's character – a bored princess – falls in love with an American reporter after they explore the Eternal City aboard his Vespa.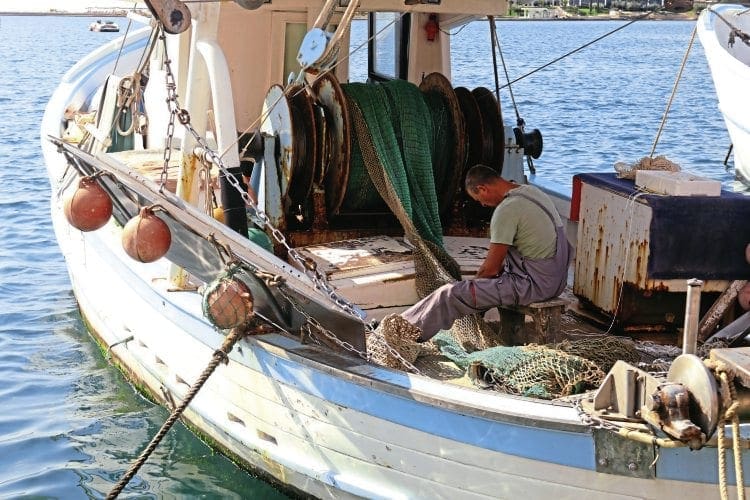 I liked the segue. So I signed up for a seven-day 'Croatia by Scooter' all-inclusive group vacation with Edelweiss Bike Travel to capture the romance and retro spirit scootering around the Istrian Peninsula and Slovenia on a state-of-the-art Vespa 300GTS. The iconic little Vespa seemed a perfect metaphor for the laid-back Mediterranean lifestyle, and a ride both sexy and stylish. As I found out, the compact and Ober-manoeuvrable GTS also proved perfect for exploring the pendulous, heart-shaped peninsula dangling into the Adriatic at the northwest extreme of Croatia.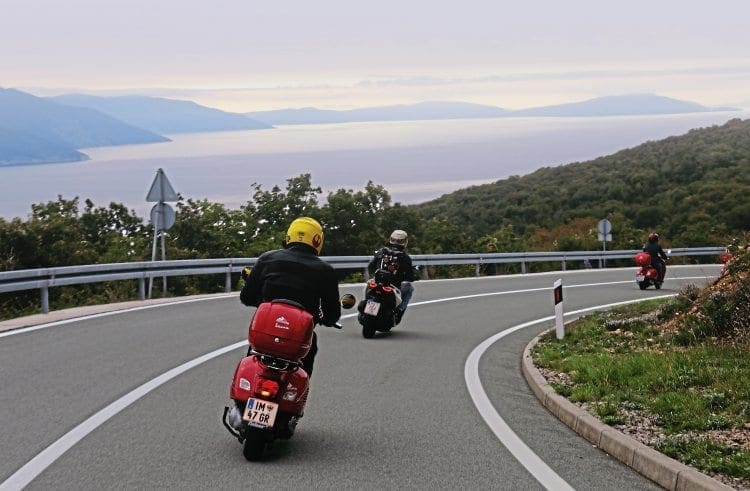 Our group of six riders comprised two young couples and a single middle-aged lady – all Californians and Vespa owners – plus myself, a proud owner of a BMW 1200GSA. I felt like the odd man out, as they were all members of the San Francisco Vespa Scooter Club and Amerivespa, the Vespa Club of America.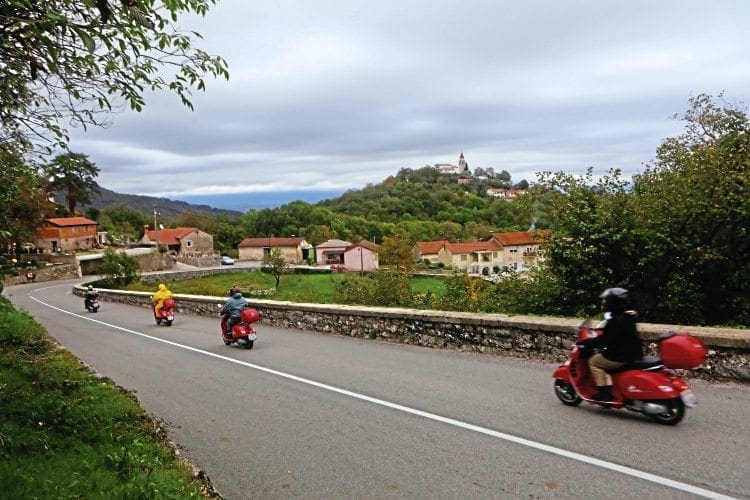 It took me a few days to adjust to the comparatively diminutive and, having just ridden a GSA from Germany to Croatia, the seemingly puny-powered Vespa. I appeared more Mr Bean than Gregory Peck as, after many miles in the motorcycle saddle, I instinctively yanked on the "clutch" lever, attempting to upshift. Forgetting that the humble scooter first made to buzz around bombed-out Rome is today a sophisticated twist-the-throttle-and-go automatic, I almost went over the handlebars as the 'clutch' applied the brakes!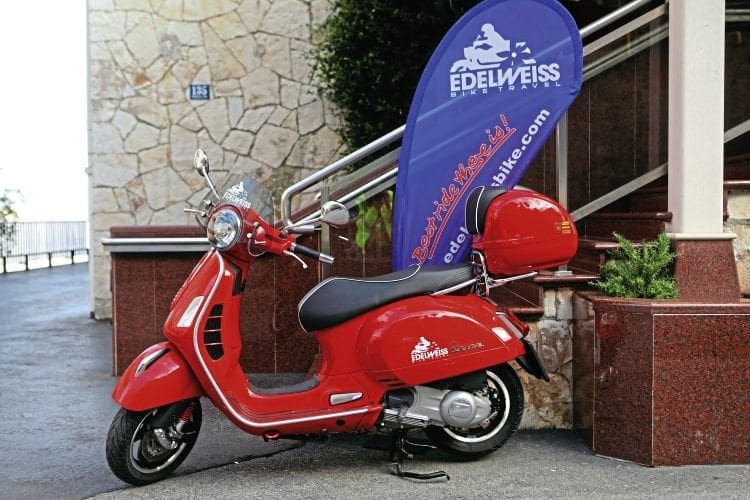 Pablo Piferrer, our guide, hailed from Spain. Raised in England, he spoke fluent English and charmed with sardonic humour and an intimate knowledge of Istria's convoluted country roads. He was riding an Aprilia Scarabeo 500. One of our tour members rode a Yamaha Novi X-max 300 rented from a local scooter agency, as his assigned Edelweiss Vespa had to go for repair. We remaining five were on Vespa 300 GTSs.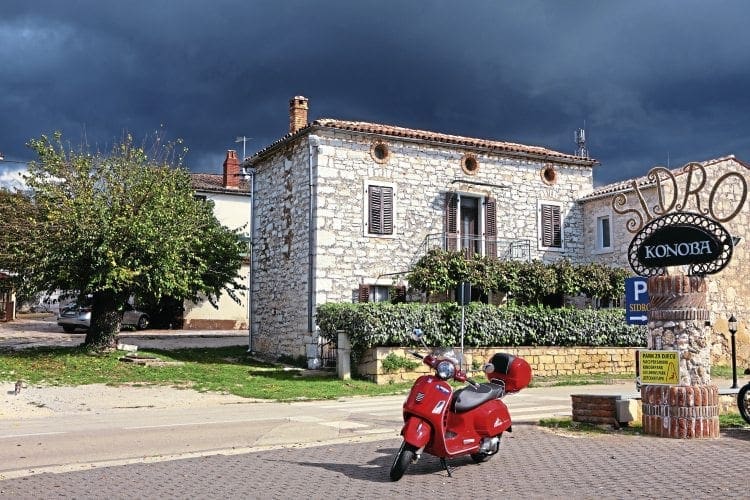 We set out each day for hub-and-spoke touring from the chic Adriatic resort town of Opatija, set in a wide bay like an enfolding embrace. What France's Cote d'Azur once was to Western aristocracy, Opatija was to the Austro-Hungarian elite. They jazzed up the town's Venetian heritage with grand spa hotels and handsome belle-epoque villas. Our hotel, the Kristal, rose dramatically from the Lugomare seafront promenade, exuding trappings of a genteel past.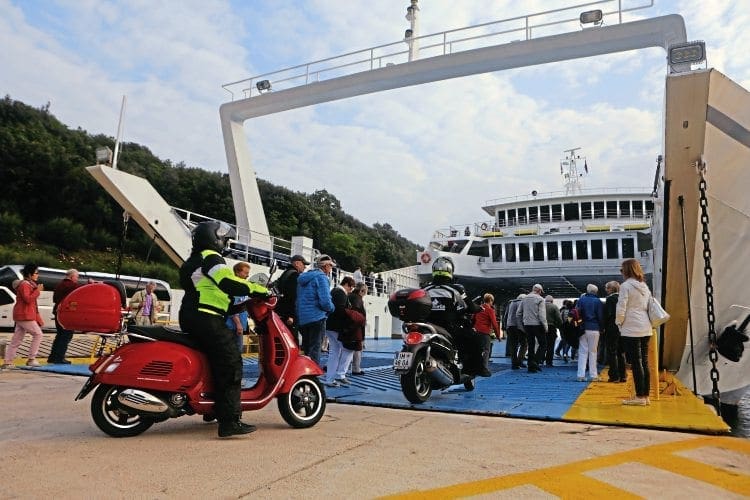 At dawn I flung open my window. A cold breeze was whipping the Adriatic with white-caps; it filled my drape like the spinnaker of the traditional falkusa fishing boat scudding into the harbour below. Then the sun burst over the mountains, casting the riviera in high relief.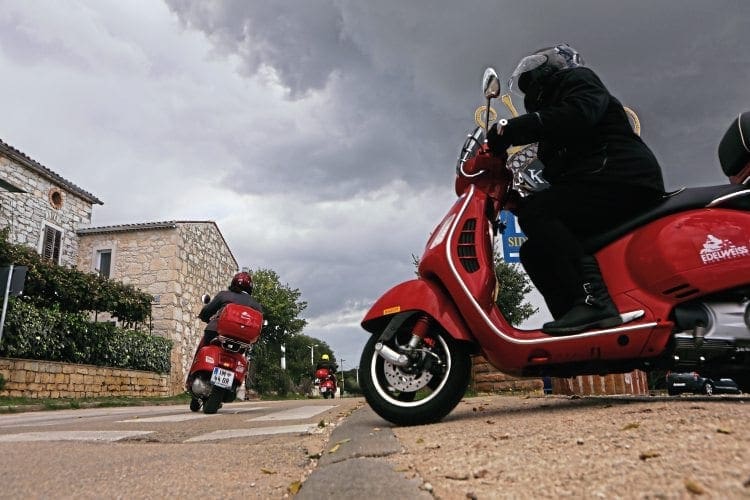 Our ride to Slovenia that day — 115 miles in total — was invigorating to say the least. We soon left the fast-paced coastal traffic behind and coiled sharply up from Opatija, the switchbacks strewn with loose gravel. The chill autumnal air bit like a lynx as we sped north on the undulating A7, scrolling in broad arcs and tight curves through Istria's craggy, wooded interior. As fate would have it, I'd chosen an unseasonably cold week. Thankfully, Pablo liked his coffee. A warm-up stop in Pivka, in Slovenia, was most welcome. The Vespa's temperature gauge showed a brisk 10°C! I bundled up.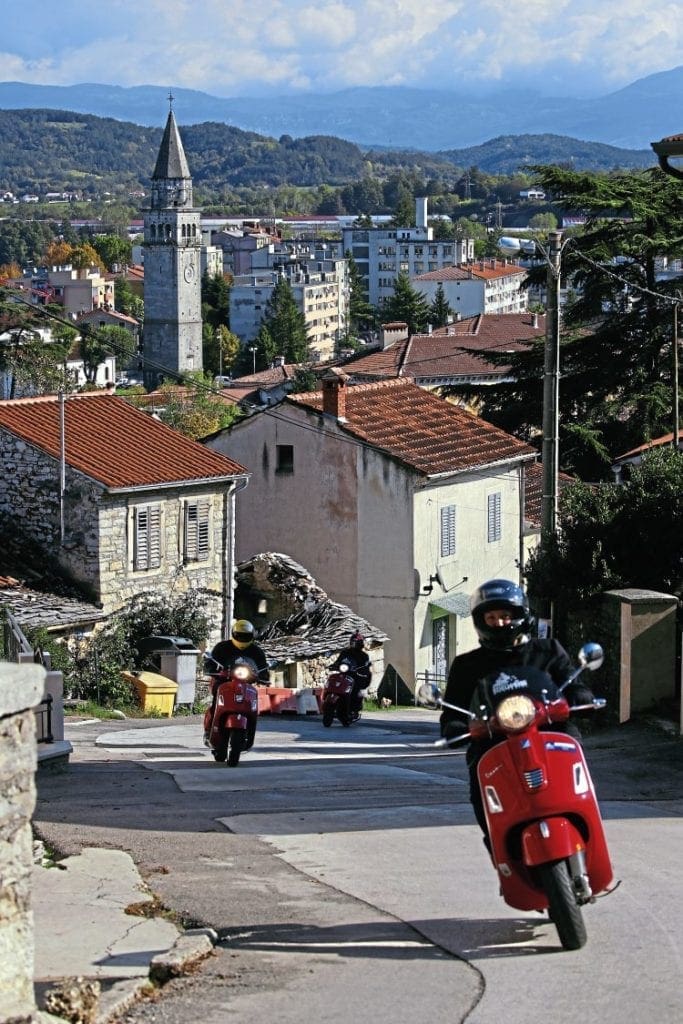 We rode on to Postojna to visit the eponymous underground caves. Hollowed out over the past two million years by the Pivka river, this vast karst system spans 15 miles of sinuous chambers, caverns, and halls big enough to swallow the crowds. Our tour covered three miles, beginning with a two-mile journey by Disneyesque electric train — I felt like I was entering supervillain Blofeld's lair on a James Bond movie set. But here the massive stalactites and stalagmites and flowstones like placated translucent curtains were real. A geomorphology major at university, I hung on every word of the knowledgeable English-speaking Croatian guide.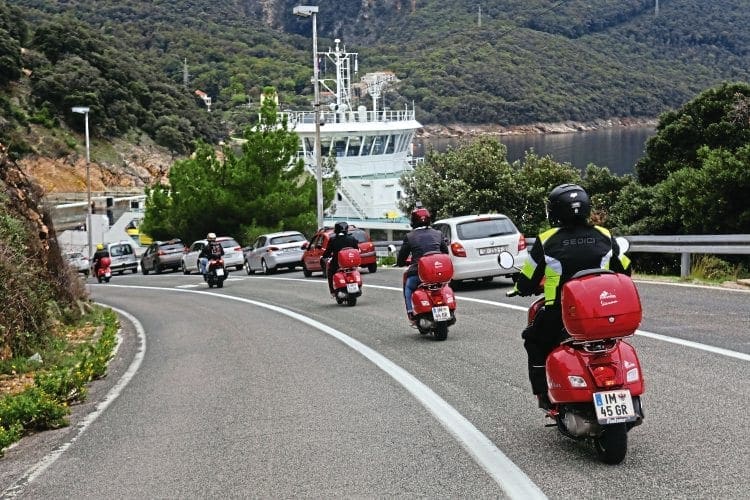 We returned southbound through medieval hilltop villages pinpointed by church spires. Their names were like a melody: Senozece, llirska Bistrica, and Rocko Poije. On-and-off drizzle couldn't dampen our dopamine day as we corkscrewed down to Opatija.
Istria is best avoided in summer, when the blazing magnesium sun haunts its norms and tourists descend on the resorts in droves. But in late autumn, the tranquil hinterland, with its woods of chestnuts and beeches and fragrant olive groves and vineyards, is virtually devoid of traffic. Even Porec (occupying a thumb-like chersonese on the west coast of Istria), on day two, was unplumbed. Its sixth-century Euphrasian Basilica was closed for repair. I was happy simply strolling the ancient walled city, computed like a pomegranate with interconnected lanes softly variegated in ice cream pastels. Laundry flapped from balconies adorned with flowers in bloom.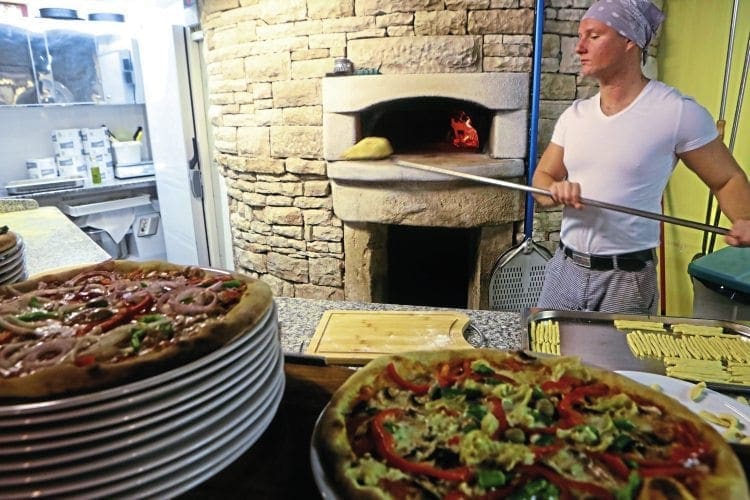 We closed the day with an intoxicating throttle-to-the-stop ride along the tortuous clifftop north from Zagorje. My Vespa roared dotingly as I poured on the gas, the cold, dry wind pressing hard on my lips as I leaned through the curves at the max. The road scrolled in fast sweeping bends, following the contours of ravines necklaced with fishing villages tucked into coves and ridges tending gorgeous views over the azure Adriatic. I was still grinning inanely as we augured down through the hairpins to our hotel.
"I clocked 112kph. Could that be right?" I asked Pablo. "Nah!" he replied. 'Close… but less. The Vespa speedo is famously optimistic."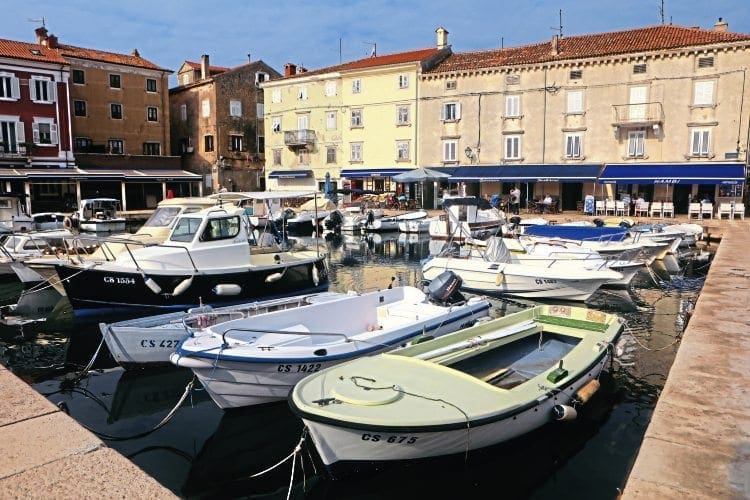 Although Istria borders Italy, the two nations' driving habits were worlds apart. Croatians don't drive like Andretti — they gave us plenty of space and respect. Even the one large city we rode through —Rijeka — was no more challenging than riding through a Cotswolds village on a Sunday.
A thorough briefing on our first night was followed by a daily briefing before riding. A self-guided daily option was offered, but everyone opted to stick with Pablo. There was no requirement to keep up, as Pablo always stopped whenever he reached a junction. Cinda Fox, from San Luis Obispo, was a less confident rider than the two couples and at times she struggled to keep up with our surprisingly Thruxton-like pace.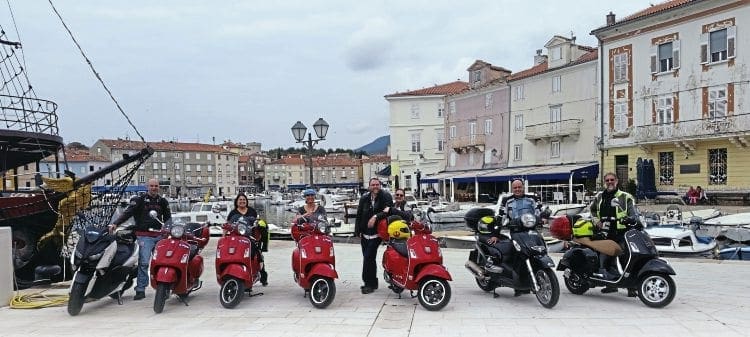 Istria has been hailed as the 'new Tuscany' and not simply for its olives and vineyards and sun-bleached hilltowns. I'd lucked out on truffle season when the prized Tuber magnatum — found in Istria's oak forests in abundance — is a highlight on menus. Elsewhere, truffles are regarded like diamonds. In Istria they're everyday pap, shaved on pizzas, pastas and fluffy risottos. Our dinner at the warmly Tuscan-style Restoran Roko proved why gourmands geek out over Istria's reputation for gustatory treats: prsut (local prosciutto), cevapcici (plump Balkan sausages), and oven-baked truffle pizza, washed down with fruity Malvazija and robust Teran wines.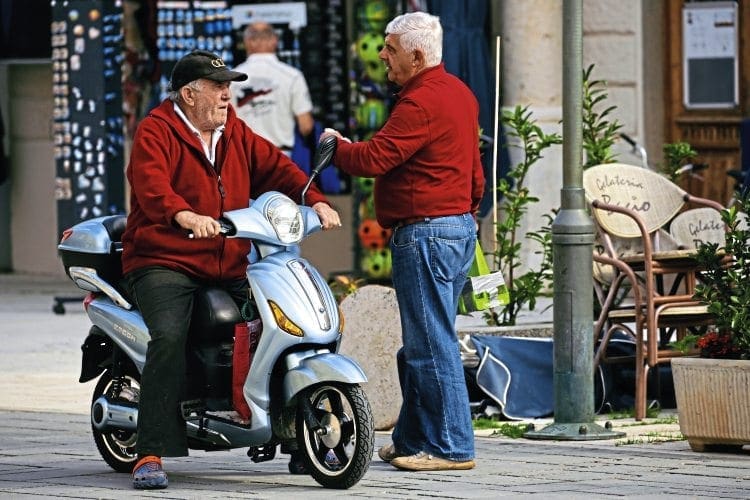 Next day we rode under a clear blue sky into the land of the lynx, wolf and bear. We swiftly left civilization behind as we wound up through rugged karst scenery into a wild mountain region only 30km northeast of Opatija. Soon we were climbing into thick beech forest, leaves falling like confetti, wet and slick… and pine forest above 3000 feet. The Vespas proved powerful enough for the steep climbs. Then we plunged dizzyingly down through a ravine to Caffe Bar Mrzlica for a warming cappuccino and on to Crni Lug, the gateway to the little-visited 24-square¬mile Risjnak National Park — a world of leafy green peace. I wanted to hike the trails, but the dispassionate group had no interest. We were back in Opatija by 1pm, in time for a lazy lunch and even lazier afternoon siesta.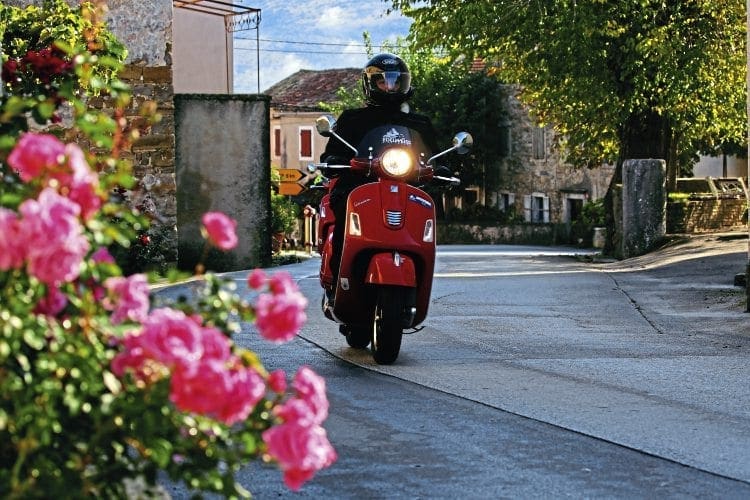 On day four we hopped from Brestova to Ores, the northern-most of the many islands scattered across the Gulf of Kvarner. We wheeled ashore off the ferry (it runs twice-hourly) into a wildly parched and penurious limestone landscape pitted with razor-edged dog-tooth terrain. A single road threaded along the island's spine — high above turquoise coves with tiny beaches — and dropped to Cres, a lovely fishing town cusping three harbours nested like a Matryoshka doll.
Istria's landscapes swung as if on a hinge. Neighbouring Krk, a 20-minute ferry ride east from Cres, was green and lush, with terraced olive groves and vineyards framed by tall cypress that whisked me metaphorically back to Corfu.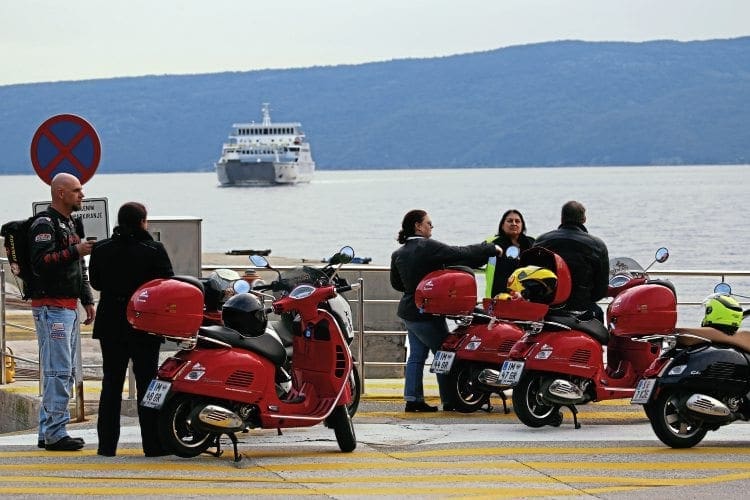 The road afforded wonderful vistas back towards Cres and over the picturesque terracotta roofs of Krk township. In summer its waterfront and honeycombed alleys are packed with tourists. But for us Krk was untrammelled and clung to its drowsy traditions. Fishermen tended their nets, watched on by locals leisurely chatting with friends over espressos and wine. So I did as the locals did and lazed, licking a gelato, enjoying la dolce vita in the shade.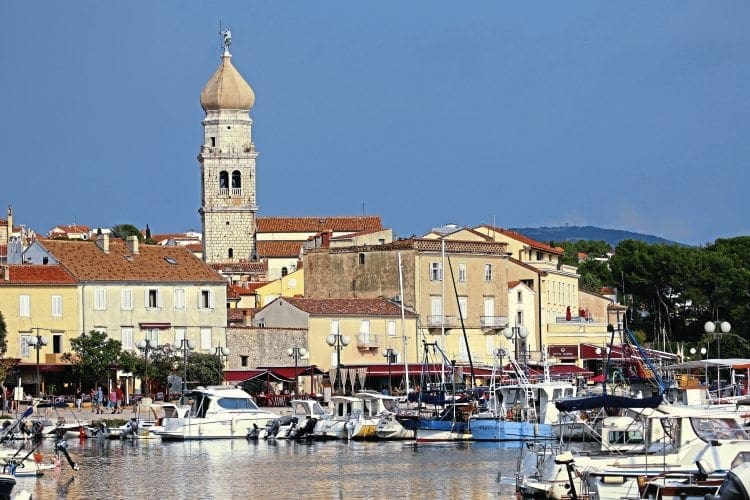 Alas, I was called away urgently and had to miss the last day's journey to Pula, with its renowned Roman coliseum, where gladiators once duelled to the death. But the 2000-year-old, Roman-era walled city of Krk was bursting with interesting sites, including a little Romanesque cathedral built atop Roman thermae (baths) with a still extant hypocaust. The Romans were masters of enduring classic design, and in this case with a sensational backdrop. My little Vespa, exuding its own classical roots fit right in.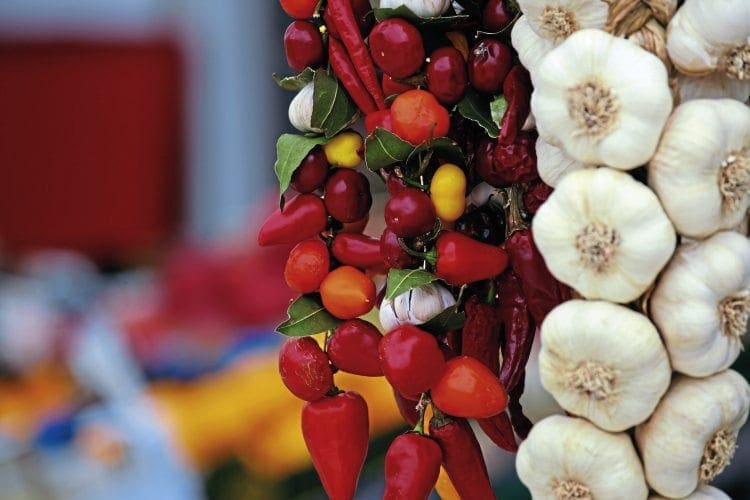 "Vino, vita, Vespa?" said Pablo the next day as I bid goodbye to Istria and my sexy Italian scooter at the end of a fun-filled, retro-themed Roman Holiday redux.
Words and photographs: Christopher P. Baker
TRAVELLER'S GUIDE
Total mileage
Approximately 563 miles
These are the hotel and main restaurants used in Oct 2017 during the tour:
Hotel
Opatija: Hotel Kristal, Mariala Tita 135, 51410 Opatija. Tel +385 51 710 444. www.remisens.com
Restaurants
Ružmarin Restaurant, Veprinacki put 2, Opatija. Tel +385 51 673.
www.restaurant-ruzmarin.corn/en
Pizzeria Roko, Maršala Titi 124, Opatija. Tel +385 51 711 500.
Konoba Sidro, Flengi 24, 52450 Vrsar. Tel +385 52 444 521.
Galija, Frankipasnka 38, Krk. Tel +385 51 221 250. www.galijakrk.com
Tour details
Edelweiss Bike Travel offers its seven-day 'Croatia by Scooter' tours in May and September (spring and autumn are the ideal times to visit to avoid the crowds), with five days riding. The price (from £1674 for 2018) is good value, as it includes scooter rental, hotels and all meals except lunches.
Every day has a route planned and there is always the option for group members to follow a route on their own.
The company provides a 1:500,000 Freytag & Berndt road map, plus a detailed tour booklet that includes each day's route, plus such useful information as handy Croatian words and phrases. This tour follows a petals-of-a-flower daily itinerary to cover the entire lstrian Peninsula.
Road highlights
Croatians drive on the right and generally exhibit good lane and speed-limit discipline.
Many Croatians ride scooters, and Croatians drivers generally treat motorcyclists with respect.
The speed limits are posted in kph and the roads are well-signed and are generally well-maintained, although we did ride some that were in poor repair and littered with gravel.
Contacts
• Croatia National Tourist Board, https://croatia.hr/en-GB
• Opatija, http://www.opatija.nethr
• Scooter rental in Opatija, http://www.kvarner-rent.com
• Tour organized by Edelweiss Bike Travel, www.edelweissbiketravelcom

Enjoy more Scootering reading in the monthly magazine. Click here to subscribe.