Since 1969 Dave Robinson, or Robbo as he's known to his friends, has been into scooters. Until now he has always done all the work himself, but for his latest ride Robbo opted to approach things differently.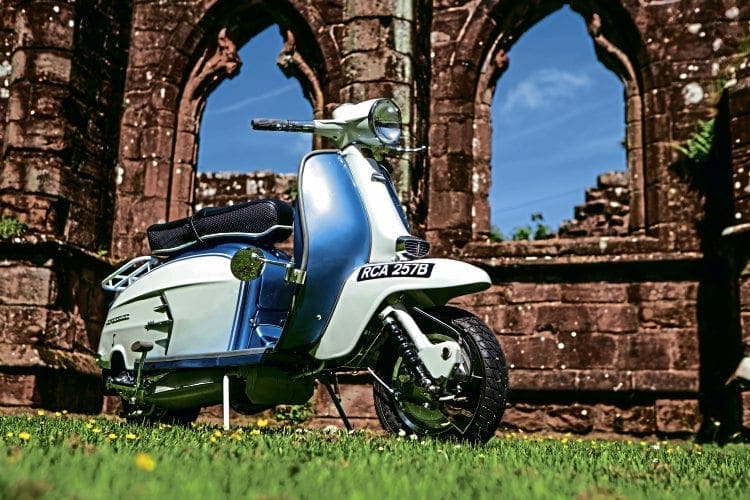 Robbo takes up the story: '`Basically, last year I nearly died from a serious condition, as I'm now retired, and am still here, I fancied getting and building another scooter. First I needed to find one; I went along with fellow Ready Steady Go club member Vince to visit Andy Francis to see what he had or could source for me. Initially it was to have a chat with Andy about a TS1 engine. As we chatted, it resulted in Andy saying, look I'll build the scooter for you exactly how you want it.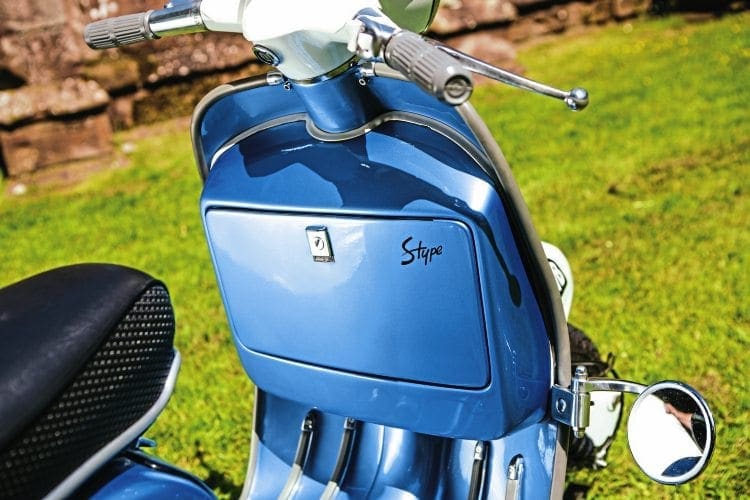 "Now, there's always those who complain and criticise when something goes wrong or is wrong. It's rare that when something is good, something is right that praise is given. I'd like to do my small part on redressing that, by saying not only did Andy Francis deliver what I wanted, he bent over backwards to help me out with this scooter. Andy more or less did all the work as a favour. I want people to know there are decent people on the scene, and Andy is without any question one of them."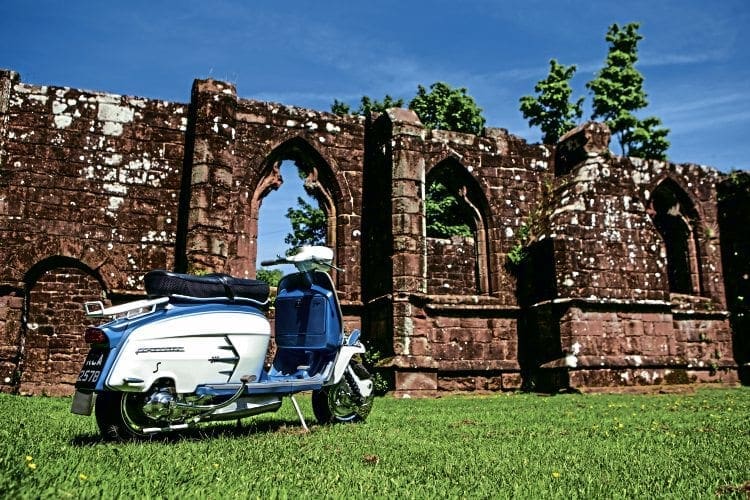 Andy Francis said: "Robbo came to me with a friend; I know he's had lots of scooters over the years, and he has always done all the work on his own scooters, what's more, he's got a high standard that he works to. He's a well-known scooterist in Cumbria, he's represented Great Britain playing Rugby (league) as well as obviously having had a career as a rugby league professional, and he's a good lad. I found him the scooter. Let's say there was no expense spared on the extras and upgraded parts he wanted, it has an expensive Pegasus seat from Italy and SX panels, although it's a TV.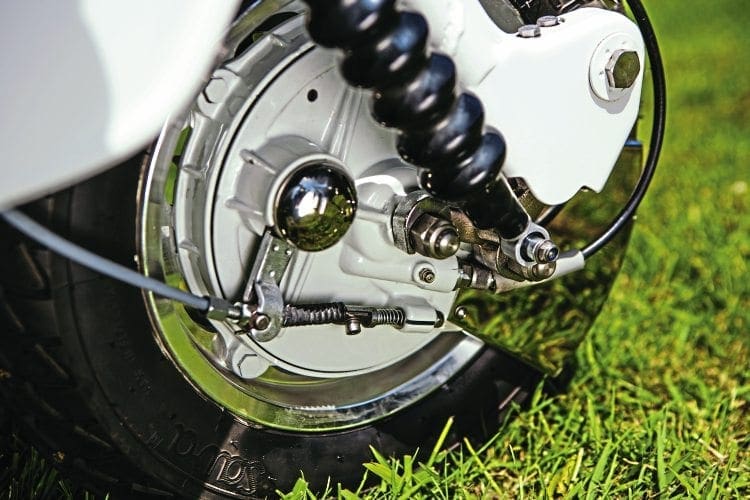 "The paintwork was to Robbo's own design. It wouldn't have been my choice of carb and exhaust, but as I was working to Robbo's requirements, I went with the 30mm Dellorto and Clubman exhaust that he specified." Other goodies fitted to Robbo's Lammy are listed on the accompanying spec sheet.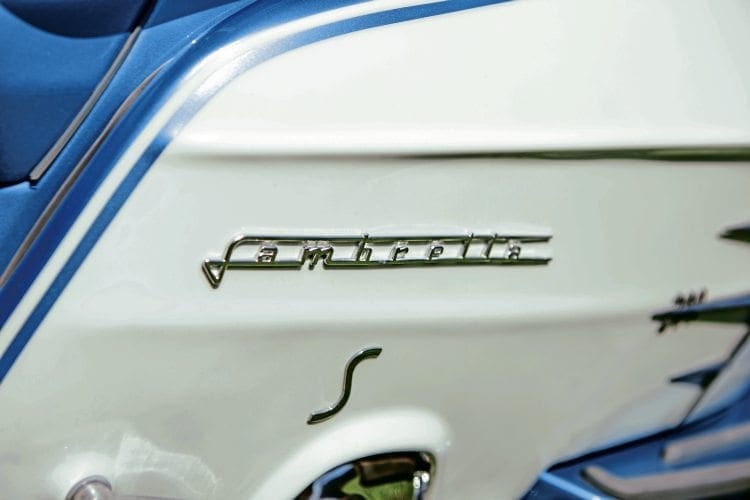 Robbo adds "It was a bit strange not working and building a scooter of mine, though the missus really didn't want me lying on the garage floor. She of course was right. Although I am reasonably fit, that goes back to my rugby playing days, laying on a cold floor wouldn't have been the best thing to do. It's a toss of a coin between the SX and TV200 Lambretta as to which one is my favourite. I went for a TV, because it's a little bit different, and Vince was building his SX at the time. I always liked how the (60s) SX200 Supertune looked, as well as an appreciation of the early Arthur Francis S type. Paintwork design and combination on my scooter was inspired by both of them."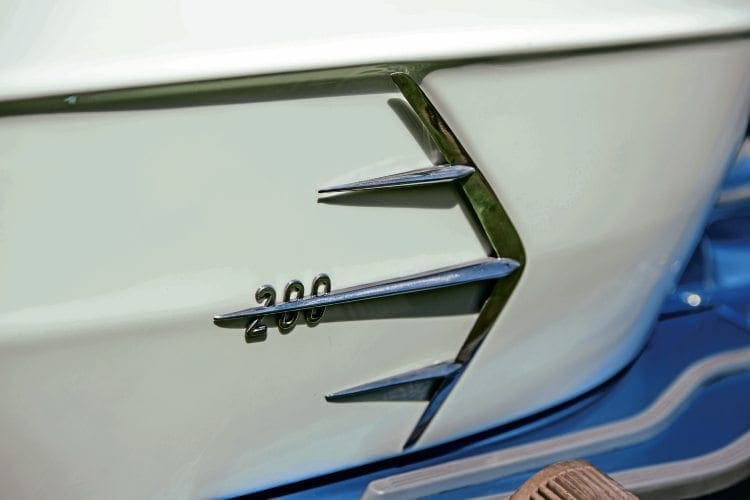 Catching Robbo for a chat coincided with him arriving back from his first weekend away in two and a half years. He'd been to the Isle of Man with mates from his scooter club, and had a brilliant time. Especially as his scooter didn't miss a beat. Understandably tired, Robbo was nonetheless in great spirits: "I've had a great weekend, I'm still here, and enjoying riding Lambrettas."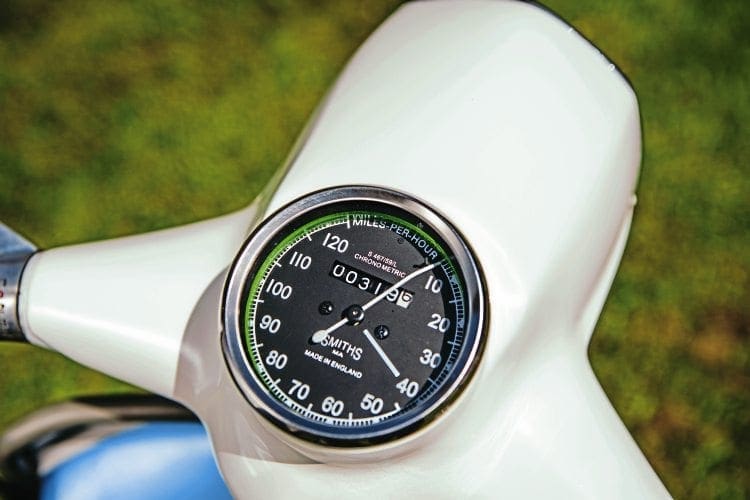 MAN & MACHINE
Name: Dave Robinson
Scooter club & town: Ready Steady Go
How and when did you first become interested in scooters: 1968 as a teenager.
What was your first scooter: SX200.
What is your favourite style of custom scooter: Old style classics.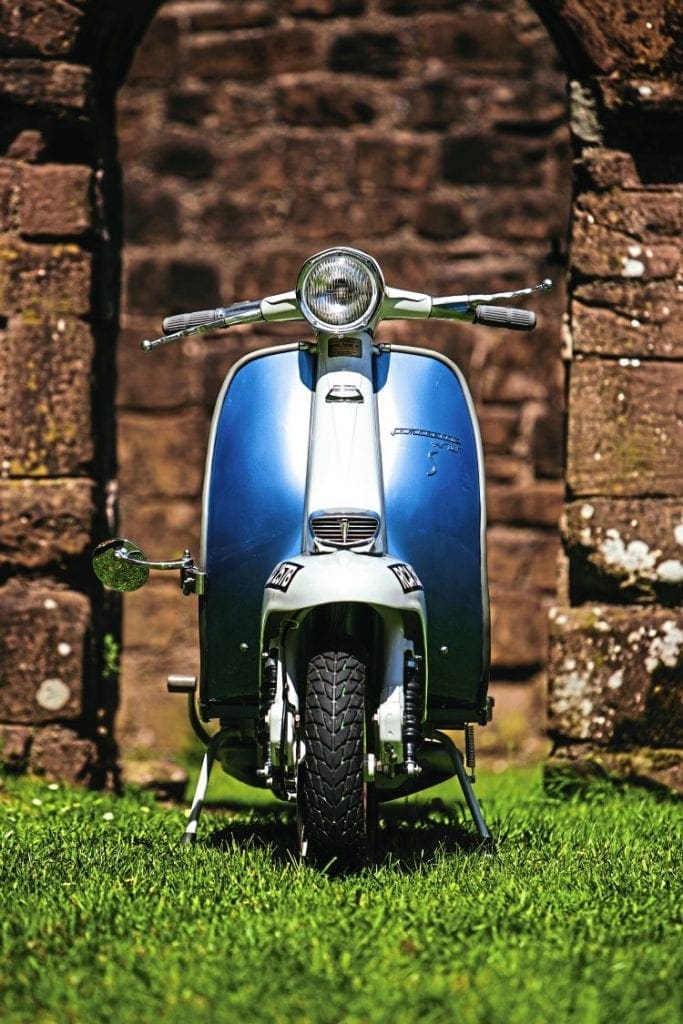 Worst rally/event: Preston in the rain!
What do you like about rallies/events: Meeting up with friends.
What's your favourite Scootering magazine feature: Cover to cover!
If you had to recommend one scooter part or item of riding kit what would it be: Good tyres!
What's the most useless part you've ever bought for one of your scooters: Bad tyres!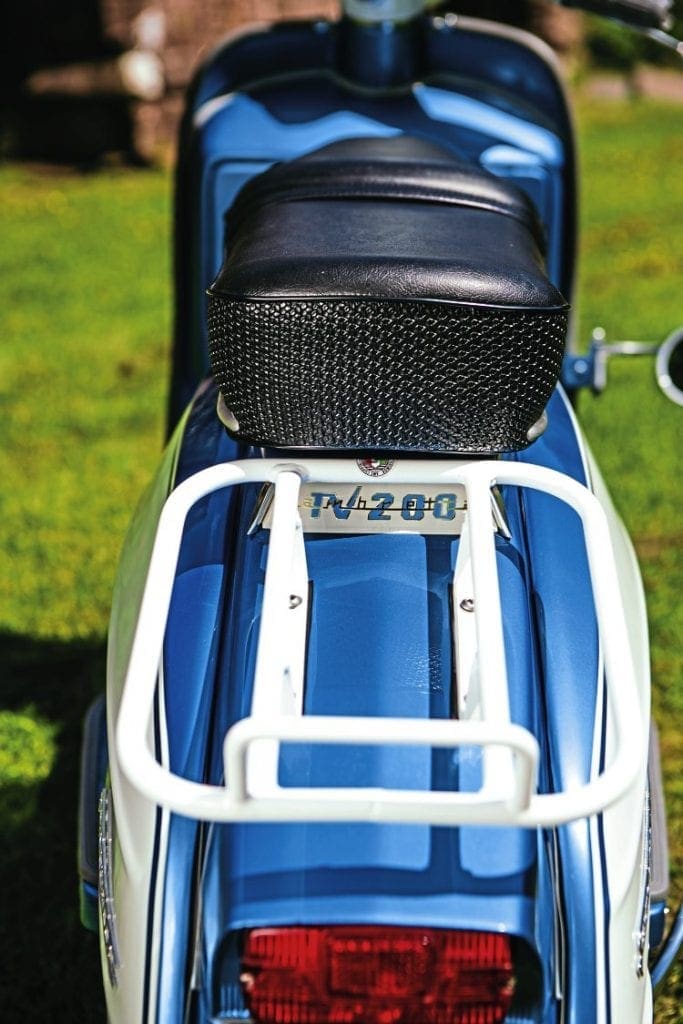 Scooter model: TV200
Time to build: Four months by Andy Francis.
Engine kit: TS1225.
Crank: Race spec.
Carb: Dellorto.
Exhaust: BGM BigBox.
Clutch: 6-plate.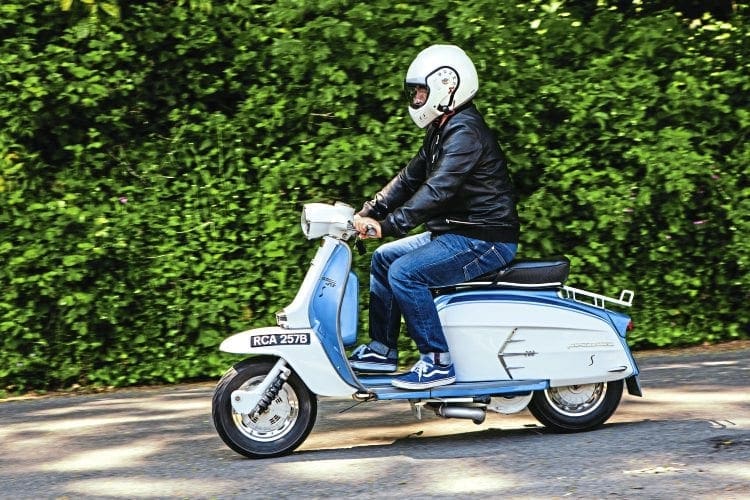 Gearbox: 5-Speed Cyclone.
Top speed & cruising speed: 70mph and 50mph.
Paintwork: Peter Haigh.
What was the hardest part of the project: Eating Andy Francis' bacon butties.
Do you have any advice or tech tips for anyone starting a project: Don't buy cheap parts.
Is there anyone you wish to thank: Vince (Roberts) and Andy Francis.
INNOCENTI TV200 LAMBRETTA
Without the persistence of Lambretta Concessionaires managing director Peter Agg the 200cc version of the TV175 Series 3 might never have been produced. Innocenti's flagship model, the TV175 Series 3, was introduced in 1962 and came with an internal front disc brake as standard. It also had wider engine mounting blocks and a new crankcase for the larger top end set up.
Its top speed wasn't enough for British Lambretta riders though. Events such as Isle of Man scooter week and the advent of high speed regularity trial (an early form of scooter racing), especially at circuits such as Snetterton, where top speed was all important, led to a clamour for more power from the British. In Dickensian tradition, Agg took a metaphorical begging bowl to Innocenti asking, 'Please sir, can I have some more?' At first, the Italians refused point blank and told him that if the Brits wanted a faster machine they should go buy a motorbike! Unfazed, Agg persisted until they relented — albeit with conditions. Lambretta Concessionaires had to guarantee the model, as it would only be produced for the British market.
After arriving in the UK, the TV200 proved very popular. Superb acceleration along with a top speed never seen before on a production Lambretta being two of the factors. As Innocenti suspected, there were a few issues unique to the TV200 — the main ones being excessive vibration and exhaust silencers that fell off. However, solutions were found and implemented by Lambretta Concessionaires.
The scooter is widely known in the UK as the GT200, even though the various incarnations were only ever badged TV200. Once established in Britain, the TV200 became a proper production model, with a total just shy of 15,000 made in Italy.
Words: Sarge
Photographs: Gary Chapman

Enjoy more Scootering reading in the monthly magazine. Click here to subscribe.