The inspiration for Paul Jamieson's beautifully painted Vespa custom 'The Big Easy' came from his deep passion for the music that he loves – the sound of New Orleans blues.
The chances are that if you've got a scooter with any connections to North Wales it's likely that Paul 'Jamo' Jamieson's name will have popped up somewhere along its timeline. However, Jamo's story doesn't start in North Wales. Born into a gritty working class family in what is now Greater Manchester, exposure to the culture of a diverse community gave Jamo the opportunity to engage in something that would affect his outlook for the rest if his life. "I've been renovating scooters for years; since I can remember in fact. Lambrettas, Vespas, cut-downs, customs and full-bodied scooters – you name it I've done it," Jamo explained. Approaching a 'certain age', Jamo is as passionate about scooters, the scooter scene and his musical influences as he was in his earlier days.
Beginnings
In the area where Jamo was brought up, Stretford, Manchester, he spent a lot of time with kids from all sorts of cultures and lifestyles. "I lived in a diverse community and used to go to all the places where my friends from different backgrounds went. On a night after the pubs in Moss Side closed, we used to go to one of the 'blues' clubs where the atmosphere was steady and chilled.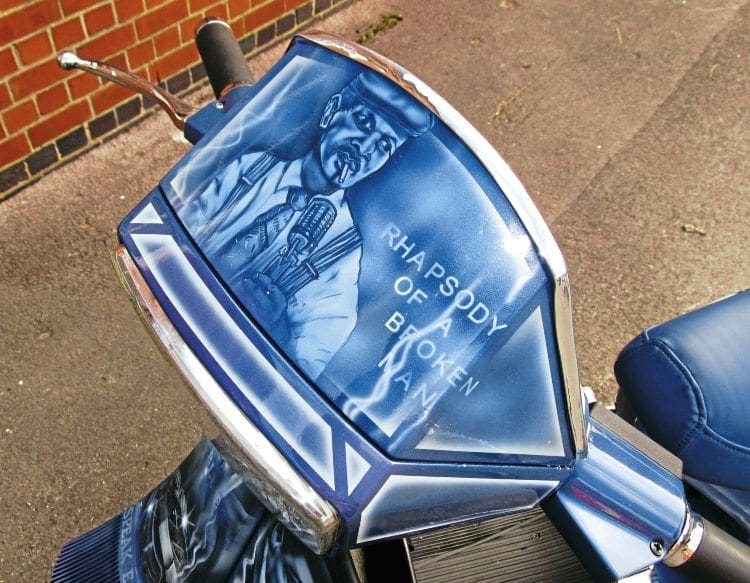 "There was never any fighting and there were never any problems; it was great, and the music was fantastic," Jamo explained. "If you wanted to get into one of these clubs you usually had to knock on the door, then a little window would pop open and a guy would let you in!"
Hard working
Jamo explained that the people he socialised with were hard workers and would most often work double shifts. "We all put the hours in and my friends would send a lot of their money home to their families, but in 1969 with my money I bought my first scooter, a 1959 Lambretta Series 2."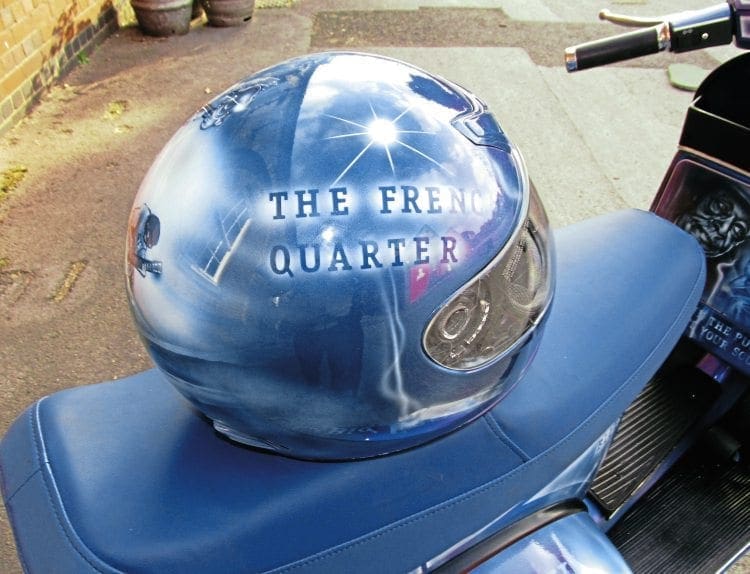 Although Jamo initially worked in the wool mills in Manchester, his passion had always been in mechanics and engineering. In the late Seventies an opportunity came his way which he simply couldn't refuse. He started work as a mechanic on Richard Budge's and Vin Malkie's racing team. Jamo went into a bit more detail: "It was a period and an experience in my life I'll never forget. I've been to just about every race track in the country and we were winning trophies left, right and centre! In the 80s we had one of the top female drivers of the time, Helen Bashford who later married Vin Malkie."
To the present day
In his time Jamo's built a wide variety of scooters. "It's always been a hobby of mine. It's been helped by the fact that my missus used to work most weekends over the years, which gave me the opportunity to spend most of my time in the garage!" Jamo laughed. "Every cloud has a silver lining!" he added.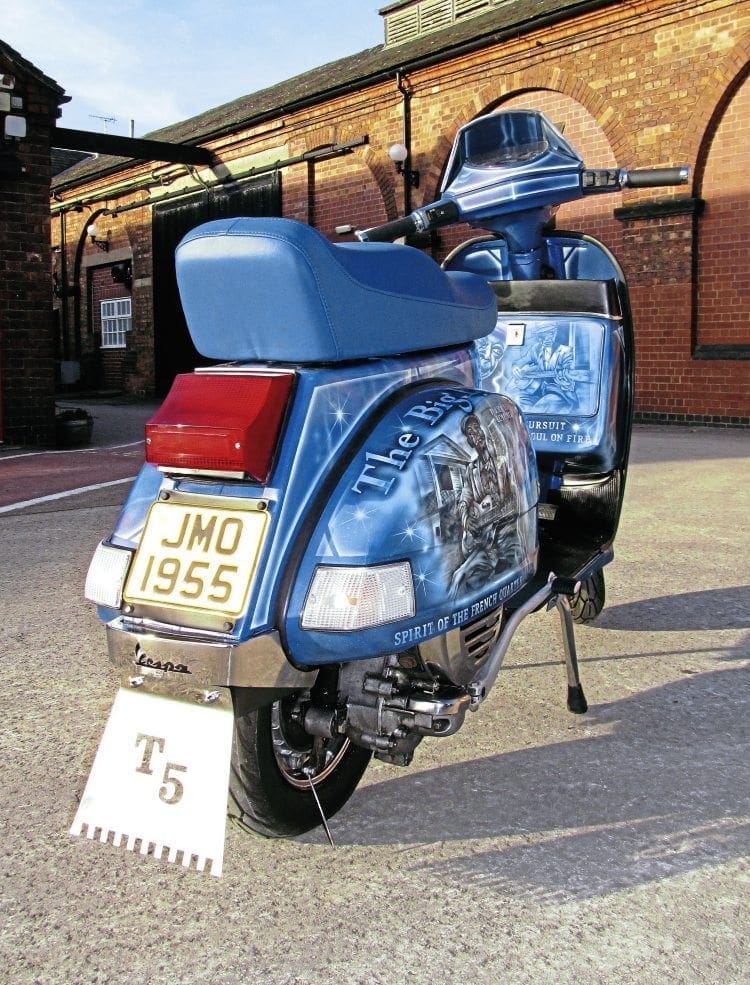 The scooter, which forms the foundation for the 'The Big Easy' is a 1989 Mk1 Vespa T5, which was purchased locally as a non-runner in a part-exchange deal. The previous owner had done some work on the scooter but it needed a strip down and rebuild to get it back to full working condition. While working on the project Jamo was able to make an assessment of the bodywork and discovered it to be in near perfect condition. "There was no filler and it was just about perfect. It'll probably live longer than me!" Jamo laughed.
Inspired
"I've never been particularly interested in the tuning or artwork side of scooters; my passion has always been in the mechanics and engineering side of things. At the time I was building a scooter for a friend of mine, Paul Fairhurst who had a 'punk' themed scooter. I saw the artwork and it made me reflect on my background, it took me right back to my early years and the clubs I used to go to. It gave me a shiver down my spine, I could literally feel the atmosphere of the Rhythm and Blues clubs again," Jamo explained.
Paul Fairhurst had commissioned Gatch to paint his 'punk' scooter, and this gave Jamo a chance to speak with Gatch and run his idea of a rhythm and blues themed scooter past him.
Having been given a basic theme and outline Gatch had to come up with a set of ideas, which would reflect Jamo's background and influences, and developed them into the scooter. "I had all sorts of ideas running about in my head," said Gatch. "I wanted to capture the whole mood of the scene and of the blues era. The scooter needed to tell the story of oppression and pay tribute to the hard times suffered. It needed to be a period piece, which needed to remake the concept, but in a modern way.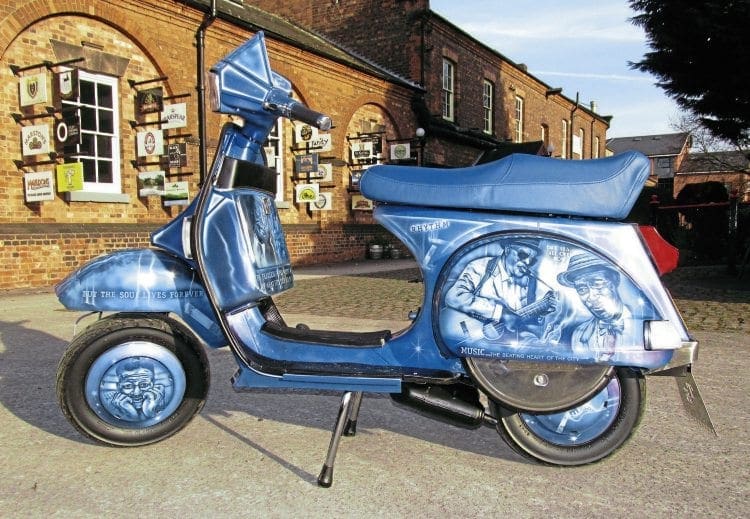 "It needed to tell the story across a smoke filled room and it needed to be a testament to the hard times of the period as well.
"But at the same time I wanted to capture an accurate way to articulate Jamo's youth and experiences."
With the theme decided, Gatch put together a series of images, quotes and statements, which delivers Jamo's intentions perfectly. The characters of the musicians are captured wonderfully in just a blue palette with flip paint to add to the feeling of the dark smoke-filled rooms.
If you listen carefully, while you're admiring the artwork you get the feeling that you can almost hear the sound of the rhythm and blues music playing somewhere quietly in the background, which allows the slow steady atmosphere of the era to pour out of the artwork.
As you walk round the scooter the colours subtly change and shift, which gives a spectacular feel and somehow develops and enhances the overall mood of the theme. The quotes on the scooter help keep you immersed in the artwork too and the quote, 'be fearless in the pursuit of what sets you on fire' delivers Jamo's fundamental outlook on life. The additions of the flyscreen, belly-pan, and wheel trims keep the true T5 profile of the scooter and allow for the inclusion of yet more artwork.
Work in progress
Jamo recently added a custom seat, which consists of two contrasting colours of leather to make the seat base and seat surround. In the not-too-distant future he also intends to have saxophones embroidered into the rear of the seat, which will complement the quote, 'rhythm and blues', which he plans to have embroidered along the centre of the seat.
'The Big Easy' is a true success story. It's a credit to Jamo's passion for scootering and to his life-long desire to produce a scooter with a full custom paint job. It also ventilates the music he loves and delivers an overall culturally emotional experience.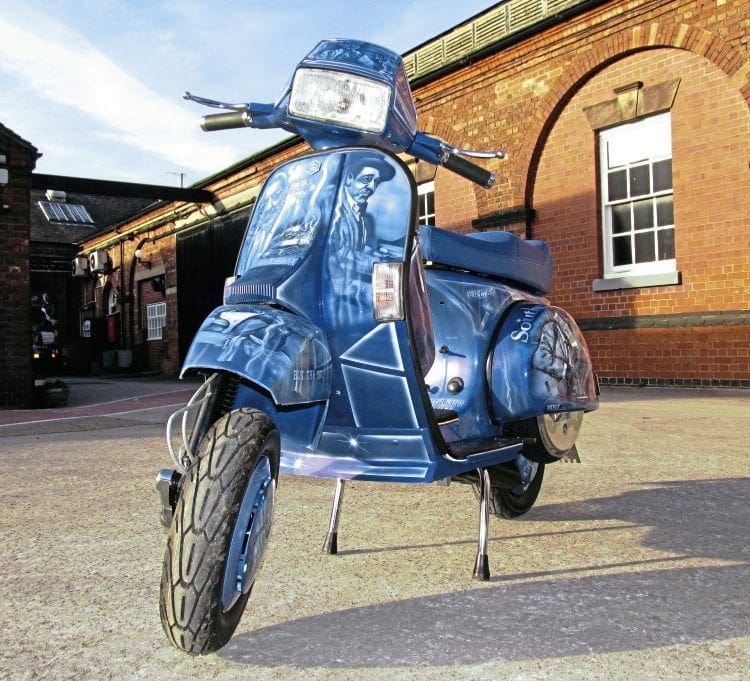 With a broad smile on his face Jamo said: "Once I'd got the theme of the scooter decided upon, I knew it was going to be a winner whatever happened. It would be something which would represent my personal experiences, which are close to my heart and my wife understands this; she's been with me through all my ups and downs and various scooter projects.
"This scooter's got her full approval, I know it because she gave me permission to build it in the spare room and keep it in the conservatory!"
OWNER DETAILS
Name: Paul Jamieson (aka 'Jamo')
Scooter club & town: Coast Riders Back to Zero SC.
How and when did you first become interested in scooters: A few guys had scooters and we all got them for work. We then used to ride round in the evenings and formed the first ever Stretford scooter club. We also used to get chased by Rockers!
What was your first scooter: 1959 Lambretta Li125 Series 2. It cost £8 to buy and £8 to insure!
Favourite style of custom scooter: I like to see scooters which have been restored to their former glory. As if they'd just come out of the shop window (like 'Horners' on Ayres Road back in the day).
First rally or event: Probably Llandudno, Rhyl or Colwyn Bay in the late 70s/early 80s.
How did you get there: I'd either go on my scooter or I'd cadge a lift!
Any stories: One time in 1970/71 we were riding through a road near Ingleby fields. We were in a group and one of the lads knocked me off for fun! My pillion looked like he'd ejected and I fell off. We both just got up, dusted ourselves down, laughed about it and set off as if nothing had happened!
Furthest you've ever ridden on a scooter: 460 miles when I did the coast tocoast 2013 charity ride riding fromRhyl to Barry Island and back.It never stopped raining but itwas all worthwhile.
What do you like about rallies/events: It's a good crack, I like meeting newfaces and also meeting the youngerelement of the scene.
What do you dislike about rallies/events: When you get people who turn up who have no idea about the scene or people who cause trouble.
Favourite Scootering magazine feature:I like 'Show Us Your Scoots' best.It gives you ideas of all the stylesand all the different projects.
Favourite custom scooter of all time: 'Floy Joy' it was an old Vespa based in Stretford, Manchester, in the 1970s but might never have been shown.
SCOOTER DETAILS
Name of scooter: 'The Big Easy' due to the New Orleans blues theme. It's not about the drink; it's about people playing the blues in 'The Big Easy', which is the nickname for the city of New Orleans in Louisiana.
Scooter model: Vespa T5 Mk1.
Inspiration for project and theme: I've always done cut-downs or plain scooters in the past but I've never done a scooter with a full custom paint job before. I'm coming up to 63 years old and it's something I've always wanted to do. It'll be my legacy – it'll show that I've been there.
Is the scooter reliable: Hopefully it will be! It's had a full engine rebuild and I couldn't find any major faults with it.
Paintwork & murals done by: Gatch.
Do you have any advice or tech tips for anyone starting a project: Take your time and always go back to check that you've tightened everything up. Double check everything and don't leave anything to chance!
Is there anyone you wish to thank: Gatch for the paintwork. The missus for letting me use the conservatory to build it. The guys in the club for their support and appreciation.
Words & Photographs: Stu Smith

Enjoy more Scootering reading in the monthly magazine. Click here to subscribe.