Chris Miller, owner of Crucial Brew, had yet to finish his latest scooter project when he was taken all too early; so his friend Shane Barrow has picked up the mantle and completed the mission in a manner that I think would have pleased Buster.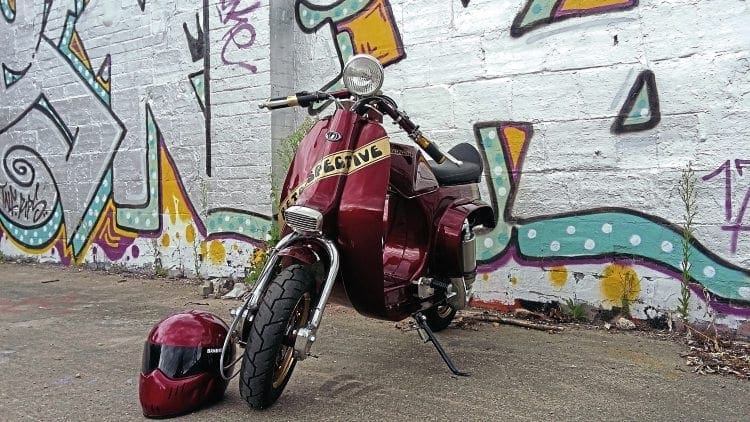 Tastefully done, Crucial Brew was one of the best race styled scooters on the road at the time. So after the passing of Chris 'Buster' Miller, rather than having the new project get covered in dust and be forgotten, a while after Chris passed, friend Shane Barrow made tentative enquiries about the scooter, with a view to finishing it as a tribute. With great generosity, Buster's family allowed Shane to finish the project using parts that had been collected, either with the project in mind, or just hoarded in the manner most of us do.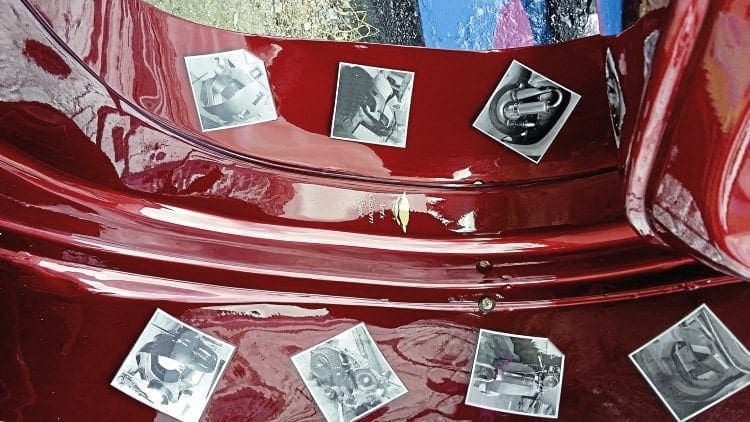 One big (dare I say crucial) difference between this scooter and Crucial Brew lies in the chassis used. Whereas the original used a traditional small frame, Retrospective is based on its successor, the PK. Not much loved at the time, they're still one of the ugliest machines to come out of the Vespa stable… in my opinion, or at least they are until little Miss Bike Tank comes along to brighten things up, as she did on the original.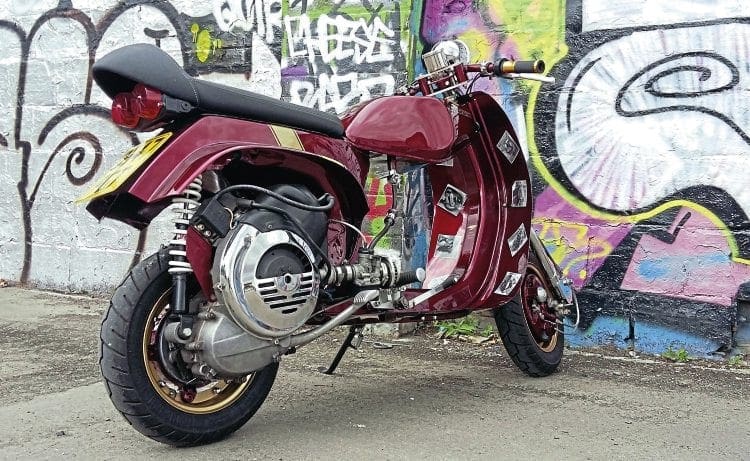 Taking most of its lines from Buster's creation, this updated version is a tribute to both the scooter and the man himself, with the back of the legshields illustrated with a series of images showing the build of the small frame. Unusually, these pictures aren't airbrushed on, but are of the form of transfers that anyone familiar with Airfix models in their childhood would remember. Sadly, I forgot to ask if he had problems with them folding over and sticking to themselves, falling on the floor and all the other problems keen 11-year-old modellers will be familiar with…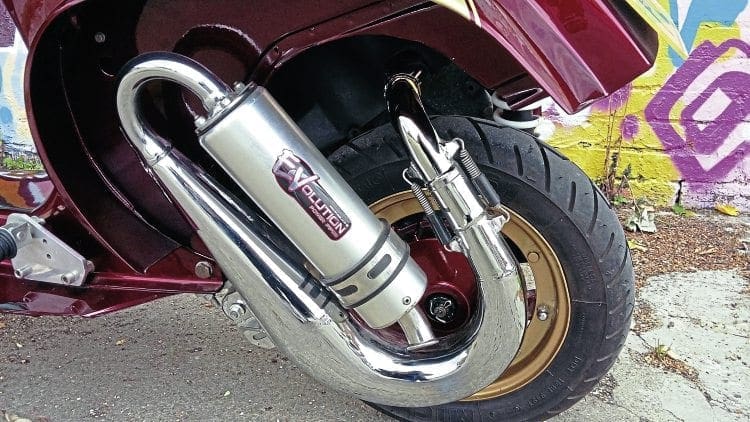 On the tank lies the name of the scooter — Retrospective — and a pair of definitions that explain the doubly appropriate choice for this scooter; the act of looking back, and the evolution of an artist's work. The paint itself was applied by Air FX, the deeply shimmering carmine contrasting nicely with the gold band across the front and rear, colours that are also picked up on the handlebar yoke. The same company modified the Lambretta horn cover to match the legshields, having done such a good job that I wasn't initially sure that the entire front end hadn't actually started life on Innocenti's last full scooter before being transplanted onto the Vespa!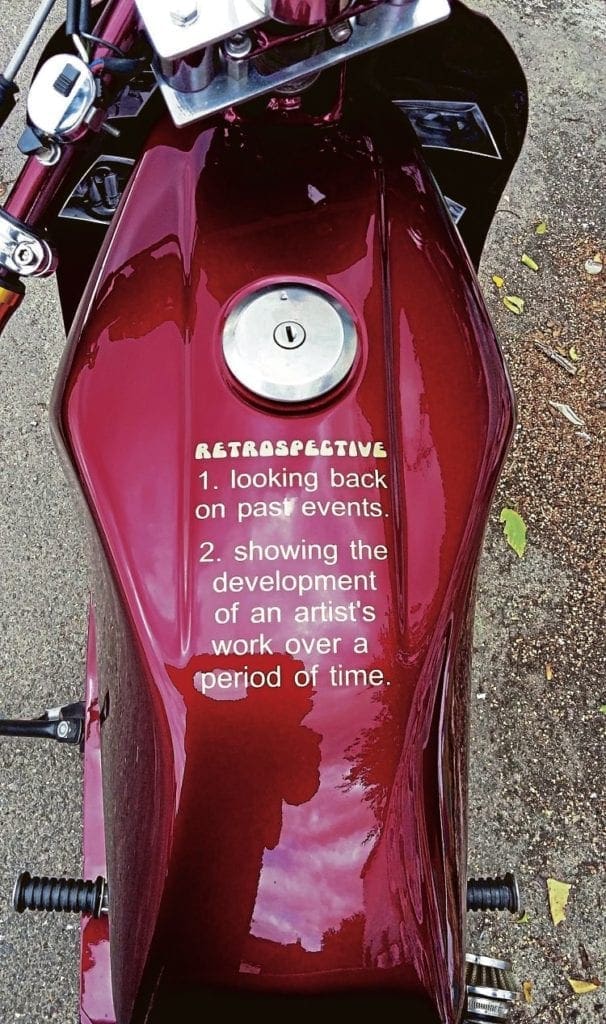 Complementing the aggressive front end, with it's nice and tight drop bars and fuel tank from a Kawasaki AR50 mounted atop a set of modified GP forks, is a one-off racing seat with Aprilia RSV-originated tail-lights suspended below, giving an almost Sixties 'ton up boy' feel to the whole scooter with its fast, flowing lines.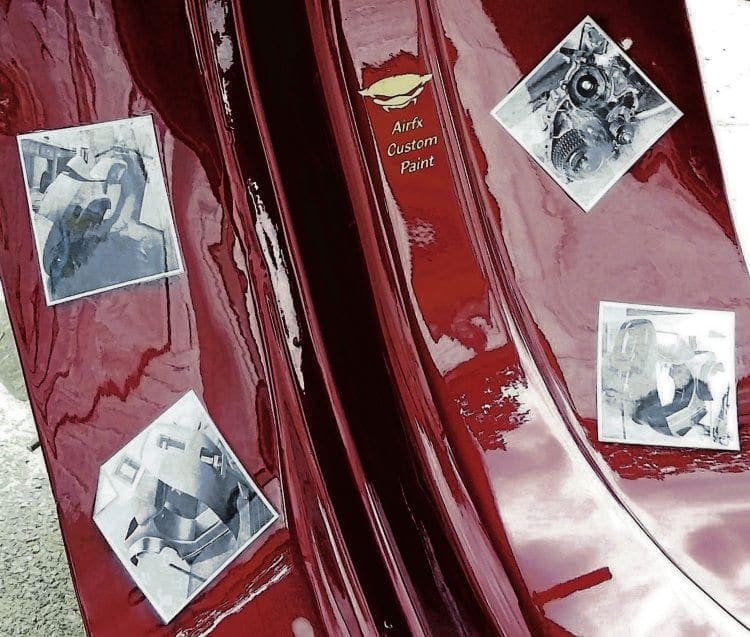 Naturally, to go with the styling, a suitable engine is required. The DR135 is a kit that has been around for a long time now, and has proven its worth, so was pressed into service, along with a PM Evo and a 24mm Dellorto. A combination which should make for a comfortably quick engine, but not one likely to grenade itself at any time.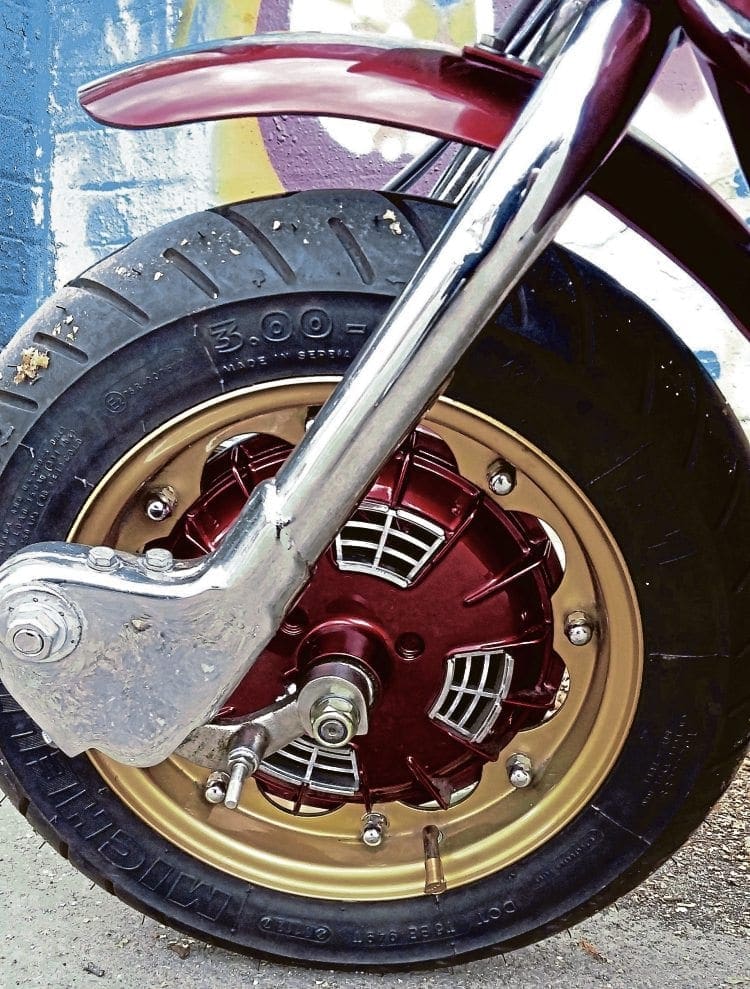 Looking back, I think that Shane has created a scooter that Buster would have been proud of, but has taken it his own way in places. A good reliable motor in a fast-looking chassis. What's not to like?
MAN & MACHINE
Name: Shane Barrow
Job: Mechanic.
Scooter club & town: Norwich. No club but internet ordained so can start a scooter church!
How and when did you first become interested in scooters: Mate's older brother's, early 90s.
What was your first scooter: Li 150 cutdown.
What is your favourite scooter model: Small frame.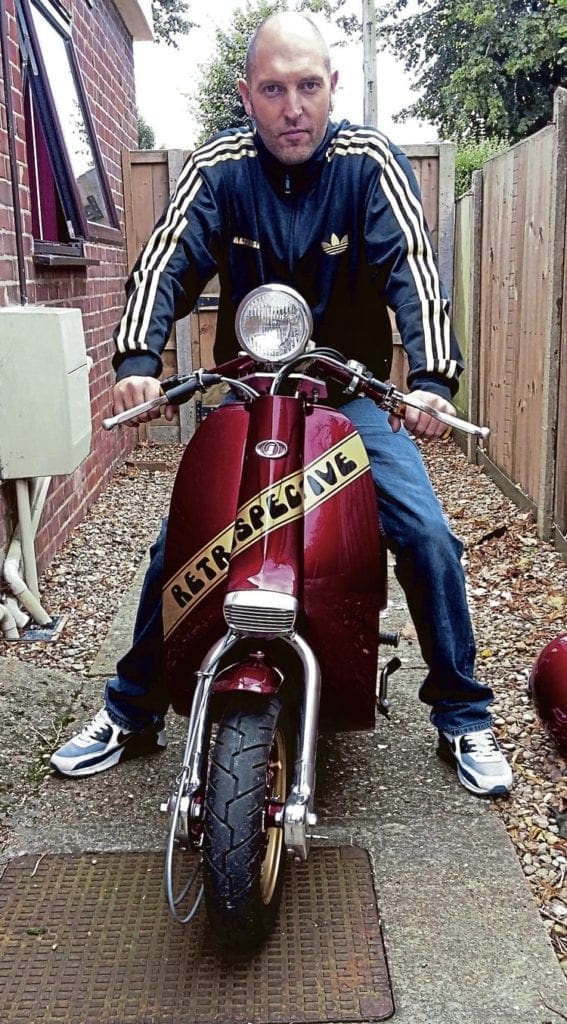 What is your favourite style of custom scooter: Street racer/cutdown.
First rally or event: Norwich Egg Run.
Funniest experience with a scooter: Squeezing family into small tent compartment so could keep scoot dry at Yarmouth Rally.
What do you like about rallies/events: Drinking beer and chatting to like-minded people.
Your favourite custom/featured scooter of all time: Crucial Brew.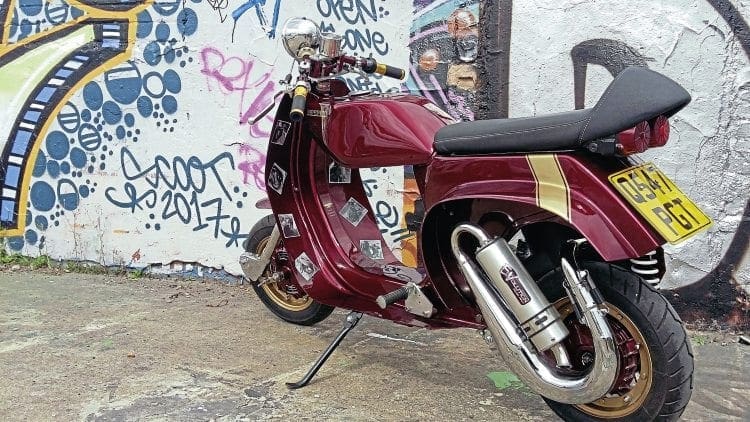 Name of scooter and reason: Retrospective. Tribute to/looking back to Chris 'Buster' Miller, creator of Crucial Brew and sowing its own creation.
Scooter model: PK 125.
Date purchased and cost: Started build 2012 and built front parts, not whole scooter. £2500-£3000 somewhere.
Inspiration for project: Crucial Brew and tribute using last frame Buster worked on.
Time to build and by who: Just over one year by me, except paint.
Any specialised parts or frame mods? What and by whom: AR50 tank, GP125 front end, inboard disc, drops. Tank was on, rest by me.
Engine spec: Kit: DR135. Crank: Race. Carb: 24mm Dellorto. Exhaust: PM Tuning Evolution.
Describe engine performance, power delivery and scooter handling: Pulls well, smooth delivery, nice riding position with rear sets and tank, not much steering lock.
Is the scooter reliable: Yes.
Paintwork and murals done by: Air FX Custom Paint.
Overall cost: £2500-£3000.
In hindsight, is there anything you would have done differently: Dampers on forks, progressive springs.
Is there anyone you wish to thank: The Miller family for letting me rummage their garage. Daz at Air FX.
Words: Nik

Enjoy more Scootering reading in the monthly magazine. Click here to subscribe.