After Retrospective Scooters and London Scooter Bodyshop moved into their new Walthamstow base, Stan paid a visit to see how they'd settled in…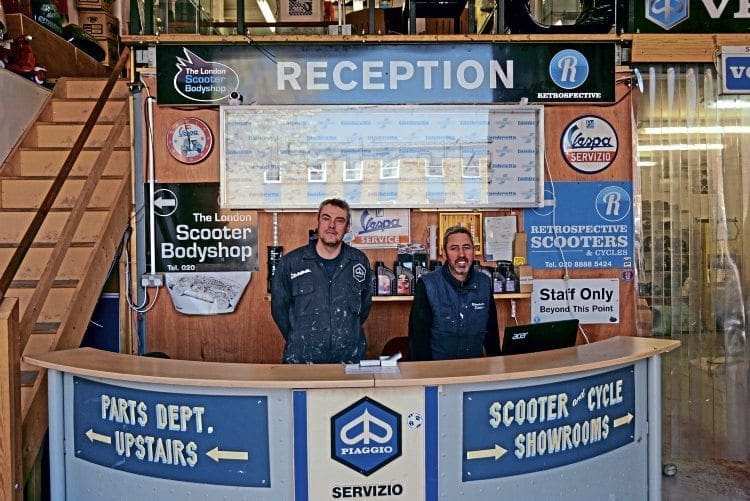 If my wife sneaks up and sees me snap the laptop closed, she knows exactly which website I've been browsing. No, not THAT sort of website — I meant Retrospective Scooters! With its endless procession of rare machinery the company's fascinated me for years and before my association with Scootering it was Retrospective who supplied my 'original paint' GP. I'd bought that machine over the phone and taken advantage of their delivery service, so when the opportunity arose to pay them a visit I jumped at it.
Niall McCart and Dave Maher are owners of Retrospective Scooters and The London Scooter Bodyshop respectively. Friends and scooterists for years, their business interests have always overlapped. Around three years ago the pair sat down to design their ideal base and the result is the new unit in Walthamstow.
"Although we're separate businesses it makes sense for us and the customer to operate under one roof," said Niall. "Between us we offer a 'one stop shop' for scooterists, whether they're a commuter, rally goer or concours restorer.
London Scooter Body Shop: panel beaters not sculptors
When I arrived at the unit, Niall was out on business, by scooter obviously, and it was Dave who gave me the guided tour. "I've been around scooters all my life and for a while ran the bodyshop for Agius Scooters, but I actually learned my craft working for Porsche," he said. "I strongly believe that the facilities here are among the best in the country. We've a blasting room on the first floor, a preparation area and two spray booths — one for primer and one for top coats. Everything is handled in house, that's the only way I can ensure the quality our customers deserve."
London Scooter Bodyshop's (LSBS) bread and butter work is accident repairs and Dave has unintentionally become something of an expert in dealing with accident claims. "Dealing with insurance companies is a complex business. My advice to anyone who wants to keep their scooter on the road after an accident is don't allow the insurers to recover it. For some reason insurers seem keen to write off easily repairable machines and it's always wise to speak with an expert repairer."
With a project of my own in the wings I asked for an indication of cost and was pleasantly surprised by how competitively priced LSBS is. "Every job's different and we never really know what we're dealing with until back to bare metal," said Dave.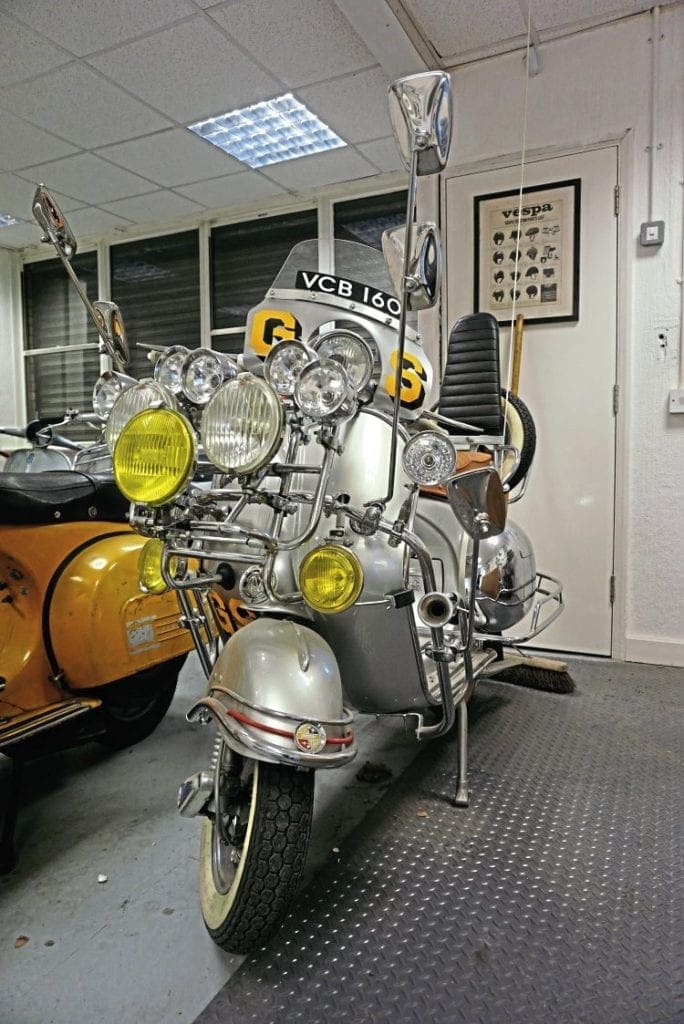 "I'd estimate that eight out of 10 Vespa frames need a new floor, but we'll handle everything from a straightforward respray to dismantling a Vespa monocoque into its component pressings." If that sounds extreme, LSBS have developed a range of precision-engineered jigs for the various Vespa frames, the details of which Dave guards closely.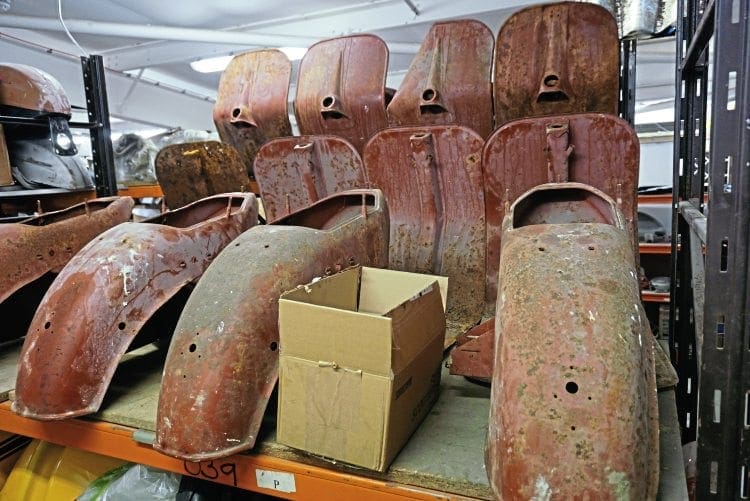 Walking around LSBS's premises with Dave, the pride that he and his staff have in their work is obvious for all to see. "Using filler is a failure," said Dave. "It's difficult to recruit staff that are capable of panel beating to the standard that I require.
"It's easy to mould a shape with body putty but the curves on a scooter are complex. Getting everything to fit correctly is something only experience can deliver. I like to say that we're panel beaters not sculptors."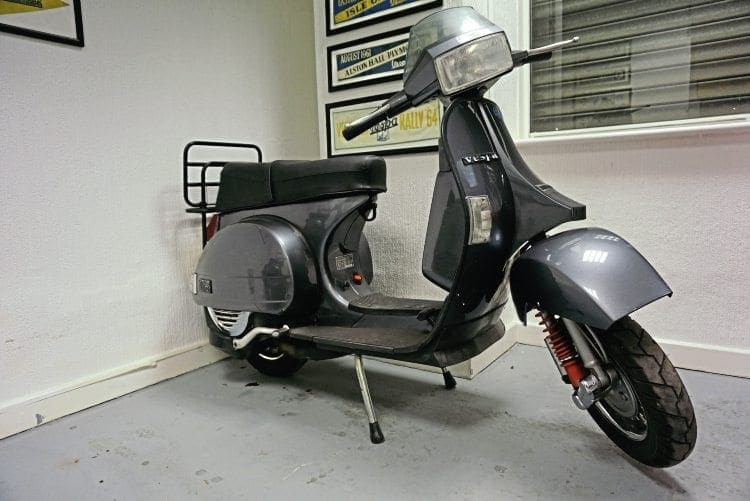 Retrospective Scooters: Not just restorations
"People tend to think of us purely for our restoration work," said Niall, "but we offer so much more than that." Based close to transport links into Central London it's possible to drop a scooter in for service on the way to work and collect it on the way home. For more complex jobs why not drop your machine in and have a couple of days sightseeing?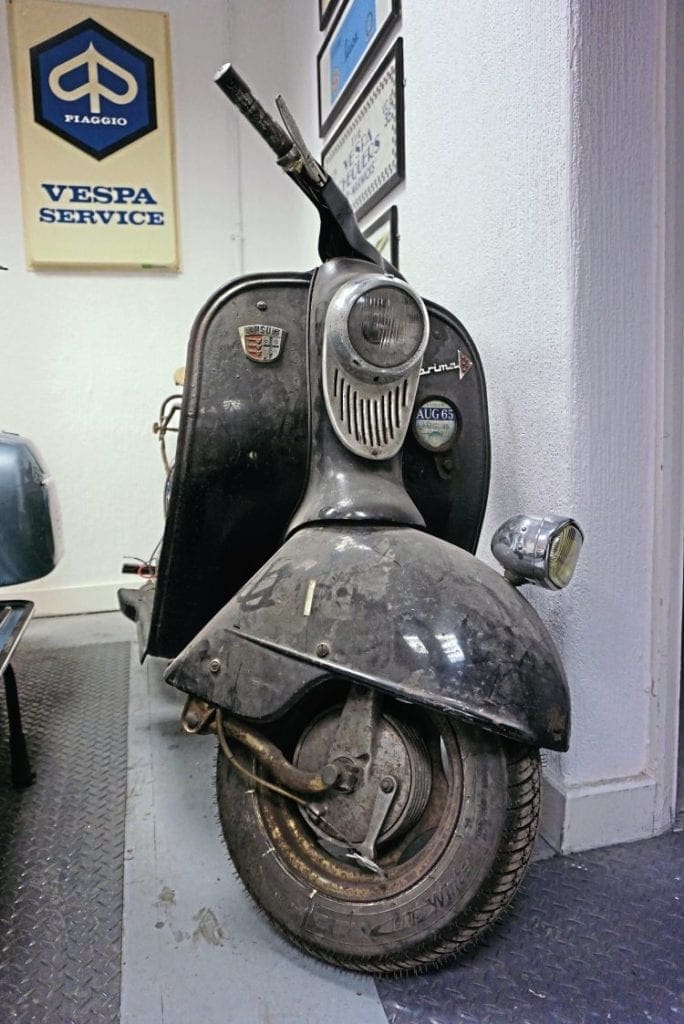 Retrospective also carries a wide range of consumables and parts for customers to use in their own restorations. One benefit of moving premises was the opportunity to organise and Retrospective's storage area is now the very model of organisation.
I could have spent all day exploring the racks of new, new old stock and used parts. Niall also holds a number of frames, all waiting for the right buyer or their place in the ongoing queue of restorations.
"We don't just sell completed machines," emphasised Malt. "Whether it's a full rebuild, supplying a project bike or simply taking on the jobs a customer's not comfortable doing themselves, we'll always try to meet a customer's individual requirements."
With classic scooter prices at an all-time high Niall's determined to make sure he matches rider and machine. "Buying the wrong machine as a first scooter can put someone off classics for life and moving from a PX to an early Vespa isn't as straightforward as it may seem" he explained. "There are some very knowledgeable scooterists among our customers but we've also got the capability to help and advise the less experienced. Recently we had an approach from a young rider who wanted a classic scooter. He came to the workshop and I walked him through the services we offer. After discussing what he wanted to use the scooter for, what period inspired him and what maintenance work he was capable of doing himself I was able to advise what the best machine was for him. Happy people keep returning and we get a lot of repeat custom."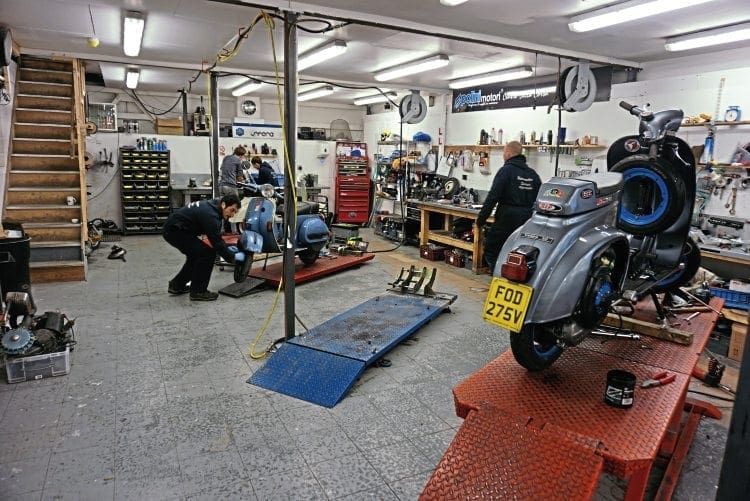 It's the repeat custom that bothers Mrs Stan and having visited I now realise that the website is only the tip of the iceberg! The two businesses are a place every scooterist should make the effort to visit. I'll certainly be back, just don't tell my wife.
'Mint Sprint'
This much loved Sprint was entrusted to Dave and Niall, arriving in virtual scrap condition. After much welding, a respray and full mechnical overhaul it's back to factory condition and set for decades of use.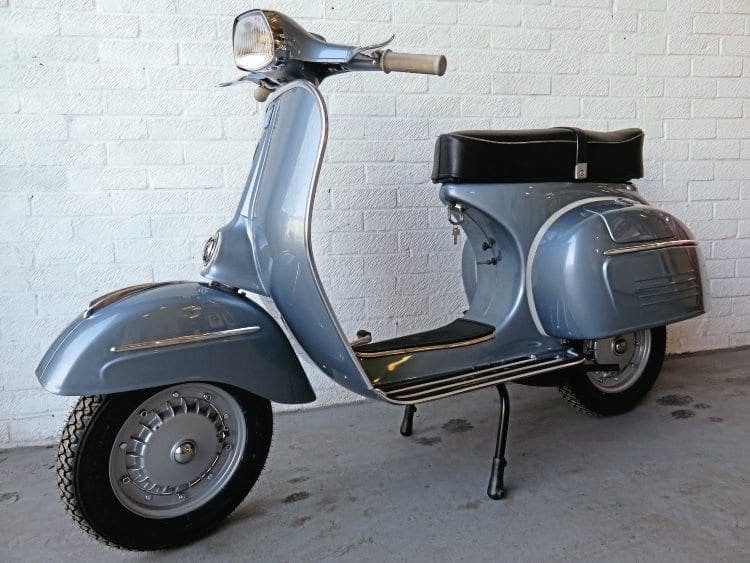 Living in the modern world
A 'speciality of the house' is converting classic machines for everyday use. This ranges from paint conservation and a PX engine transplant, through mild tuning to a fully bodywork conversion turning a humble PX into a GS lookalike.
AMERICAN PICKERS
Fans of the reality show American Pickers may have seen the stars Frank Fritz and Mike Wolfe pay a visit to Retrospective on their European trip, but were they really old friends? "Mike and I share a mutual friend," laughed Niall. "We went on a buying trip to Italy together in teh 90s. Mike's just as you see him on TV, a nice guy who's passionate about everything. In fact he was so enthusiastic we had to keep him in the background at time, the Italians could see how keen he was to buy and kept pushing up prices!"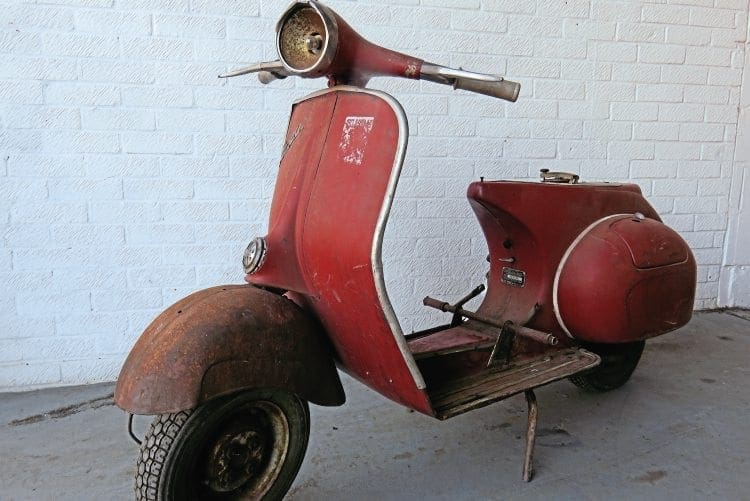 Ironically having helped Americans on buying trips to Europe, Niall has recently imported an American market 'Allstate' Vespa, effectively a budget version of the 125cc VNB with simplified front suspension.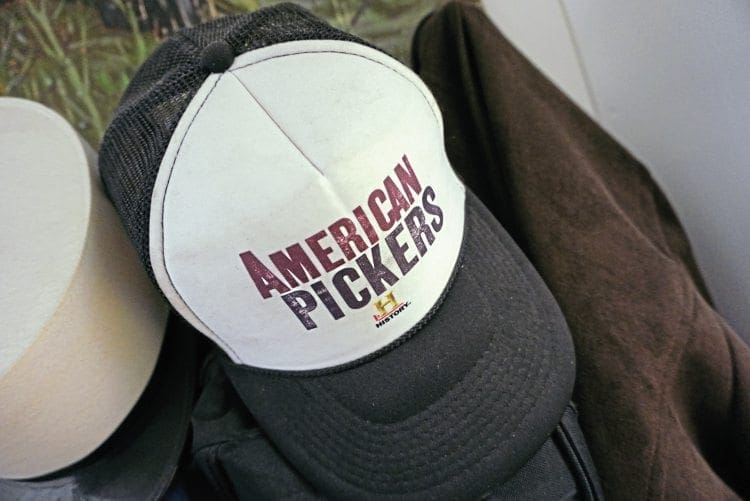 WORLD WIDE WEB
Ask any dealer in classic scooters and they'll say that finding good examples becomes more difficult every year. Italy's just about exhausted, Spain isn't far behind and even Indian examples are drying up. Set against that background how does Niall keep discovering such interesting machines?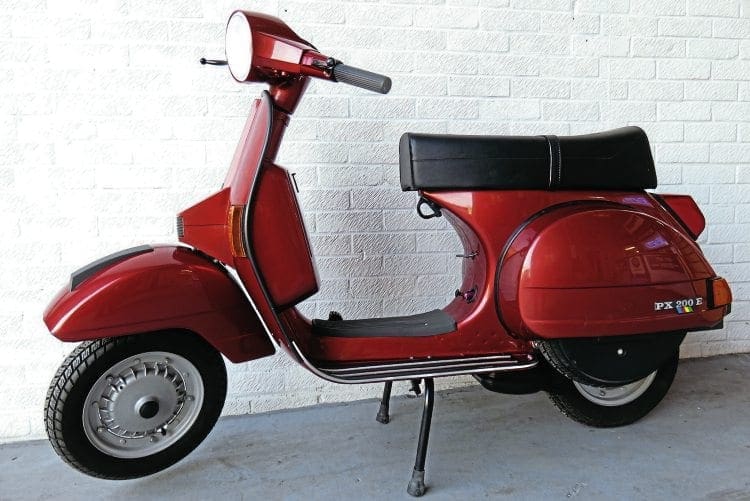 "I've been building relationships since the 90s. When people have something good they know I'll treat them fairly," he said. "Fortunately both Vespa and Lambretta were global brands. There are still examples out there but they take persistance and more than a little faith." The recent batch of South African Lambrettas is a case in point. "I can only think that when other dealers heard 'Africa' they feared a scam. I did my research and took the risk. The result was a coup of around 20 government surplus Series 3s and GPs, all in original paint." The only part of the globe out of bounds for both Niall and Dave is Vietnam. "We've both had bad experiences," said Dave. "The effort involved in putting them right isn't worth it so we don't allow them through the door."
Exceptional finds do still emerge closer to home and as an avid fan of the P range I was intrigued by a delivery miles PX200E. "That came from a motorcycle shop in Chesterfield. They'd been Vespa dealers years ago and I assume had taken the carb from this example to fix another machine. Unfortunately in the process they stripped a thread in the crankcase and it was pushed further and further back into their storage area. We've fixed the the thread, it's ready to go and is possibly the most original 'P2' currently being offered for sale anywhere."
NOT SO SUPER SPORT
On Dave's workbench at the time of my visit was this SS180 frame, the perfect illustration that it's often less expensive to employ an expert from the outset. This was restored by a 'high end' classic car workshop," said Dave. "The owner brought it in to Niall for some routine work but it was obvious to him that the frame was out. The owner agreed that it needed to be straightened but once in the jig, filler popped off left, right and centre. We've taken it back to bare metal, replaced the floor and rectified several poorly patched repairs. When this leaves us it will be in factory fresh condition."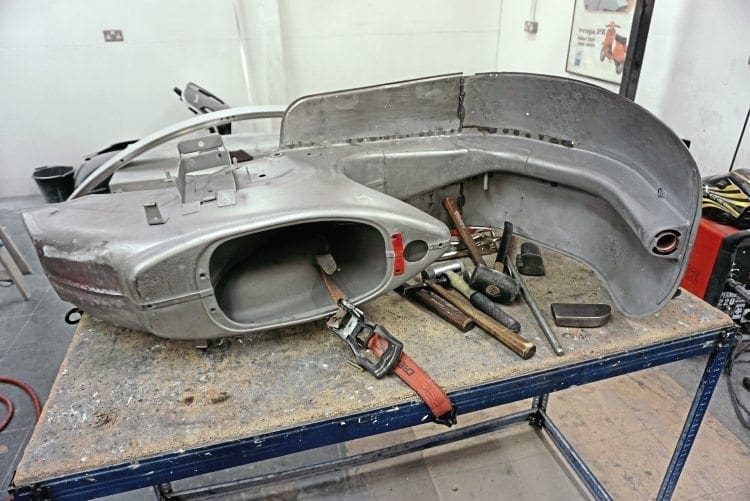 Words & Photographs: Stan

Enjoy more Scootering reading in the monthly magazine. Click here to subscribe.