Words & Photographs: Dan Clare
When an accomplished engine builder and tuner offers you the chance to rip apart one of his engines and peek inside, you don't ask questions… you just get on with it.
When the phone rang and Paul Green mentioned that Chalky White was offering a full strip-down and spec list of one of his race engines for the magazine, I couldn't believe my ears.
The amount of secrecy usually surrounding the spec of tuned engines is the stuff of legend. Tuners tend to aggressively 'protect' their research in attaining those last few bhp or mph.
So at first I was doubtful it would come off, but come the day, I rolled up to Chalky's workshop and Paul Green was waiting there for me, with said engine on the bench in front of us… I was relieved and excited in equal measure.
Despite my eagerness to push past everyone and go at the engine with a set of spanners, I thought it polite to wait until invited, and instead engaged Chalky in some probing questions.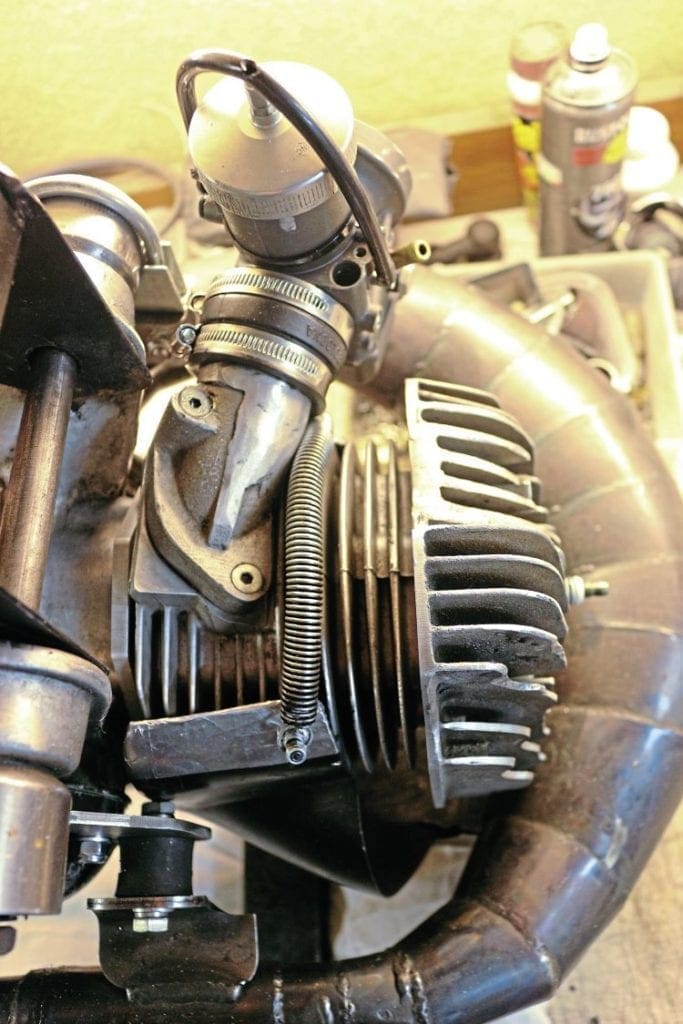 I asked if he was happy now the season was over, to which he replied: "It's a curse and a blessing I guess. A blessing because I carry 10-14 weeks' worth of lost labour during the season, plus the costs of parts for the machines, and the financial burden is huge.
So I'm glad the season is over and I can now try to clear some of the backlog of work, and recoup some of the losses incurred… but you never really do, you just carry most of it for the love of racing. In the same token, it's a curse that the season is over, because I enjoy the thrill of it all so much. I'm always nervous when viewing a race, but it's great to see a good pilot in action, and hear positive comments from crowd. It's a great buzz, which I miss."
It was nice to hear someone who is so passionate about what they do, and who thrives on the buzz of it all. Chalky has built himself a solid reputation, with the 2017 season seeing his engines win 57 of the 64 races they entered… that's some achievement.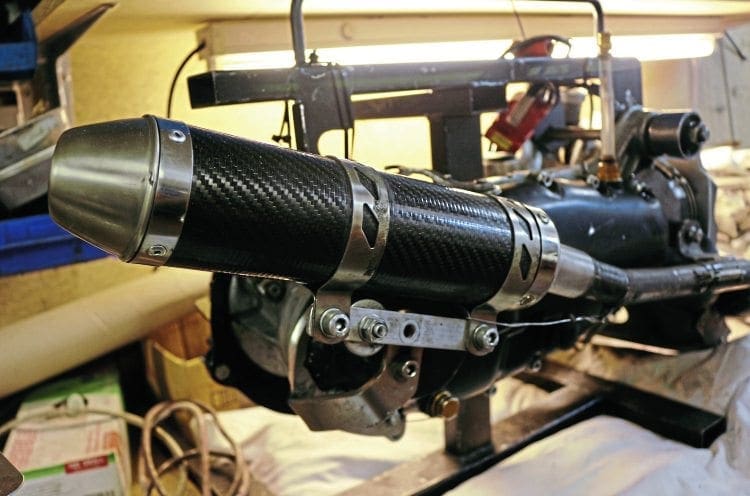 The particular engine we would be looking at is the one which Steve Conneely ran in his Gp4 during 2016 and Dave Bristow used for around five races at the end of 2017. I asked Chalky about the Conneely bros, and who was the fastest of the trio — he told me Darren was a great rider, and probably the quickest of the three, but thought Burt would have something about that, as he laughed.
My penultimate question, before I burst with enthusiasm to rip open the engine, was in regard to his achievements, and specifically whether was there anything on his list that he had not yet achieved. He was quite pragmatic and cool in his response: "Not really, I think the trophies speak for themselves… Darren broke every lap record there was with my engines, and we won practically every race we entered, what more is there to achieve?"
After a pause, he concluded: "I would have liked to pitch my best engine and rider against Chad le Edmonds at his peak. He has achieved what very few do, and that is legendary status. To have raced against a legend, and potentially to have won, well that would have been something. But we were at our peaks in different eras, so it's just not to be. You can't have everything."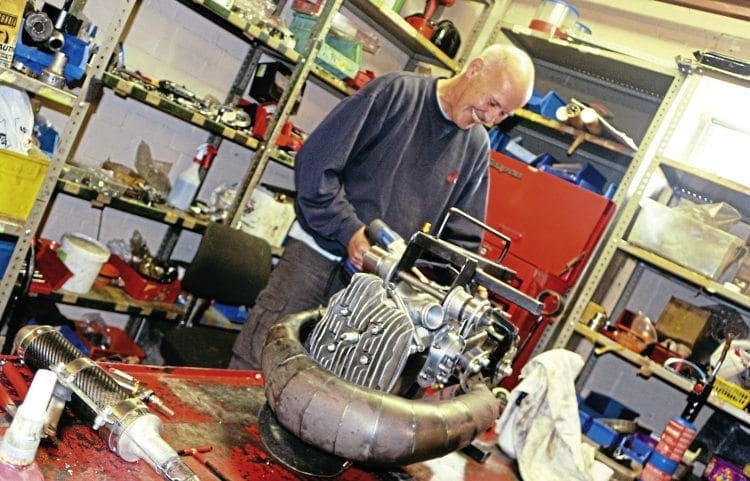 So finally, with the preliminary questions and queries now out of the way, I asked about the engine development. Chalky, once more, was very measured and thoughtful in his response: "I didn't care about the crazy 40-50hp numbers which people are banding around these days. Most people will be surprised to hear, this engine is 34hp."
There was a time when that seemed astronomical; there are well known racers who won group championships on 24hp machines, so 34hp is a significant number… though by the 40-50hp numbers being quoted today, it seems somewhat tame.
Chalky went on: "The engine has everything — power, torque, revs, speed, and most importantly reliability. It was about selecting quality components which all worked together, like the LTH clutch: it holds the power without slippage, but unlike the old fashioned mega-plate heavy-weight homemade jobs, it's a good weight and so doesn't act like a flywheel and break gearboxes.
We finished race after race, up at the front, and that's what won us the championship. Speed and reliability."
You can't fault that ethos.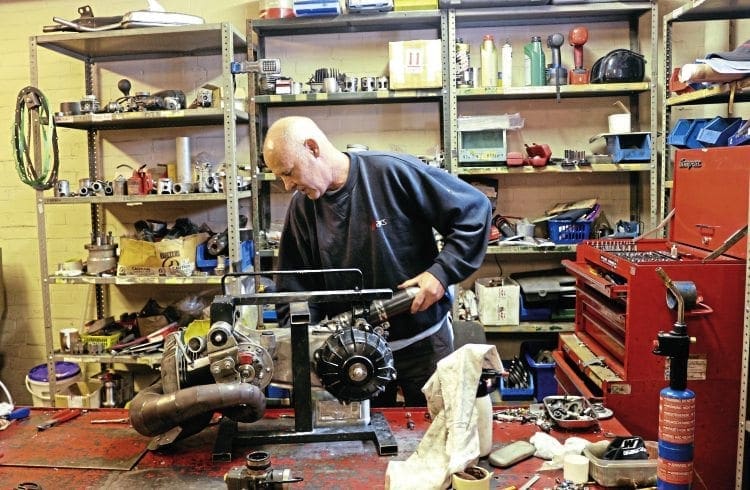 So to work. Let's take a look inside the beast…
---
Engine Specification
Case: 200 SIL skimmed mag face — simple, cheap, readily available.
Gearbox: Chalky presses gearboxes which vary depending on tracks, he likes using Li 150 third and SX150 fourth — close ratios.
Chain: 82 link IWIS.
Sprockets: 17/47 on a machined Si drive tube — 4.9 final drive.
Layshaft/dog: Tino sliding dog and layshaft with MB spring — used to use SIL shafts which are fine also once deburred.
Clutch: LTH seven-plate clutch — a good weight which reduces inertia and thus gearbox breakages.
Bearings: Low friction bearings throughout, Honda RS125 in drive side, and 18mm ball bearing in mag side, with double lip seal, drilled hole and groove for tube.
Ignition: Selettra.
Crank: 8GM 58mm webs— 116mm Yam 6H4 outboard high-hp rod with I8mm little end, TIG pin, 8mm base packer and space crank webs 1mm each side to reduce viscous drag. Cylinder: Mugello V4 cylinder.
Piston: Suzuki/Wossner with heat coating.
Carb: 39mm Dellorto with Aprilia hose.
Exhaust: Pipe Design Hornet.
Rear hub: Tino or Scootopia
Tyres: Bridgestone.
---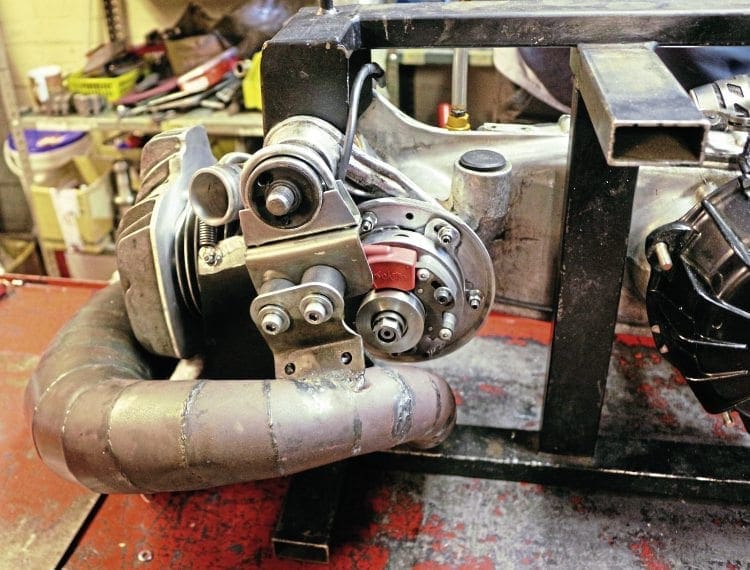 Settings and details
Jetting: DQ267 — K24 (1.5 clip) 48p — 165-168 main
Port timings: 197 ex — 128 tr — 180/200 inlet depending on track. Chalky sets the transfers to a level the engine rpm can handle, and then develops the exhaust to gain the necessary blowdown without going crazy high, thus retaining mid-range and rideability. The longer inlet duration can help slow down crankcase transfer delivery by keeping the case open longer, and thus lowering crankcase compression. All alterations to inlet timing were done at piston skirt, not cylinder, which made track-to-track alterations easier. It's not all about peak power, it's about balance. Keep a small exhaust duct with oval shape bore on exit, Chalky uses a transitional stub between duct and pipe.
Ignition timing: 15° before 4000rpm — then straight up to 26° after 4000rpm, progressively coming back to 17° at 9000rpm, and finish at 14° in over-rev.
Bore and stroke: 67mm bore x 64 stroke in the Group 6.
Head: Buys blank heads 10 at a time and machines his own conical/toroidal heads torqued to 20lb-ft, setting 0.85mm squish and with about 51% squish area depending on MSV dictated by software, giving around 15cc volume in chamber (on avgas) and 6.75:1 CCR. Chalky spends hours on the head, in order to quench the heat sufficiently. He's never had a seizure on track.
EGT temp: 200°
Bits: Air scoop for cooling, welded and reworked inlet with venture effect, machined heads, LPC crankcase compressions to prevent losses via exhaust port, reduce crank turbulence, Mikano AFR.
Speed and power: Around 95mph with 34-35bhp.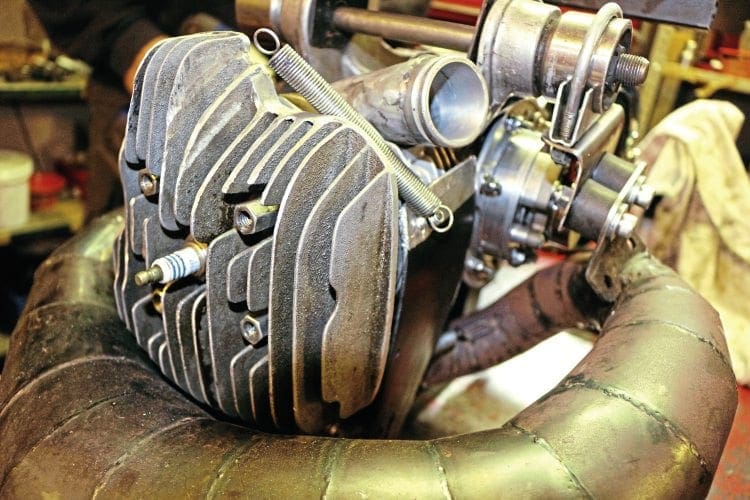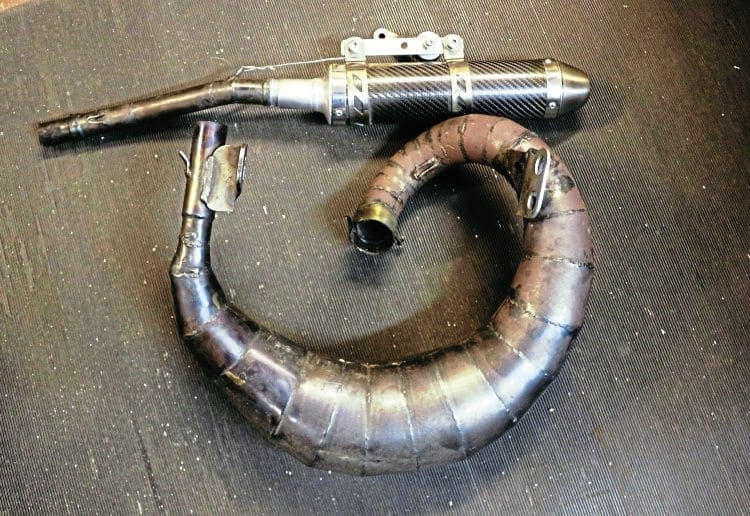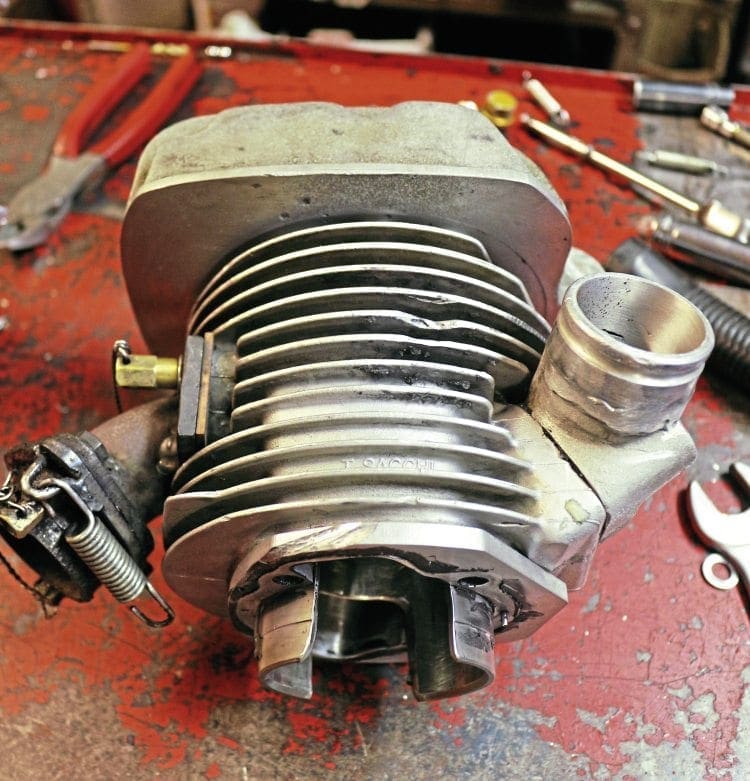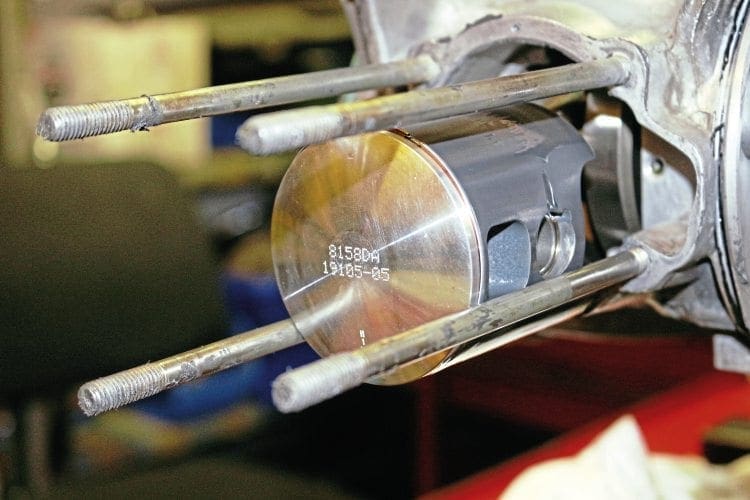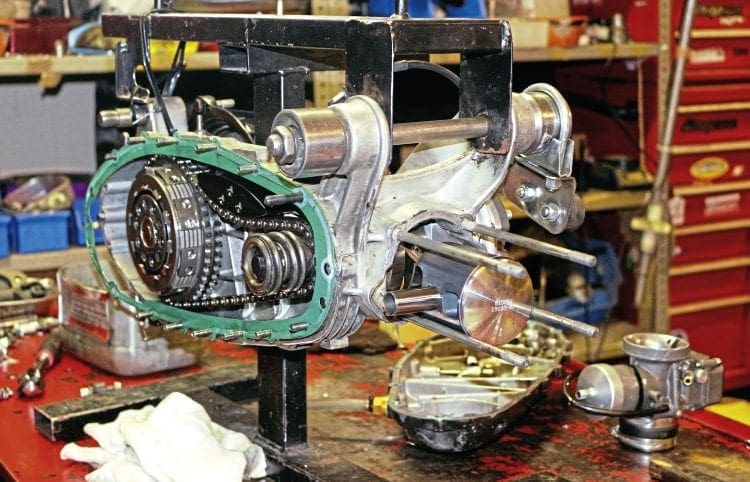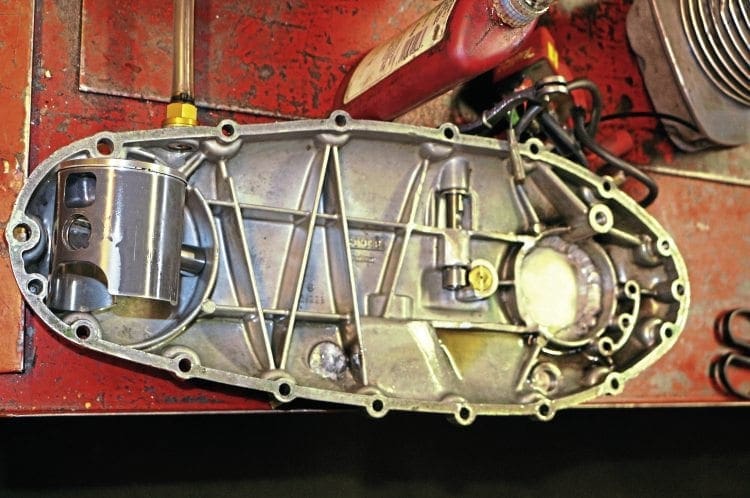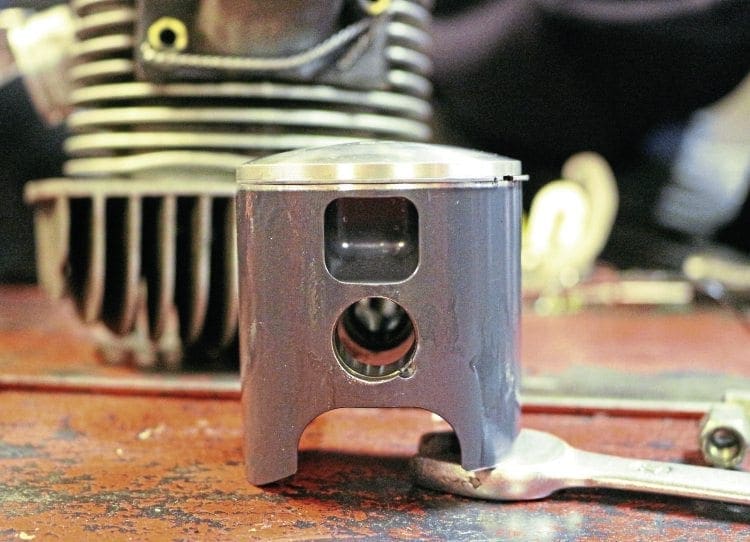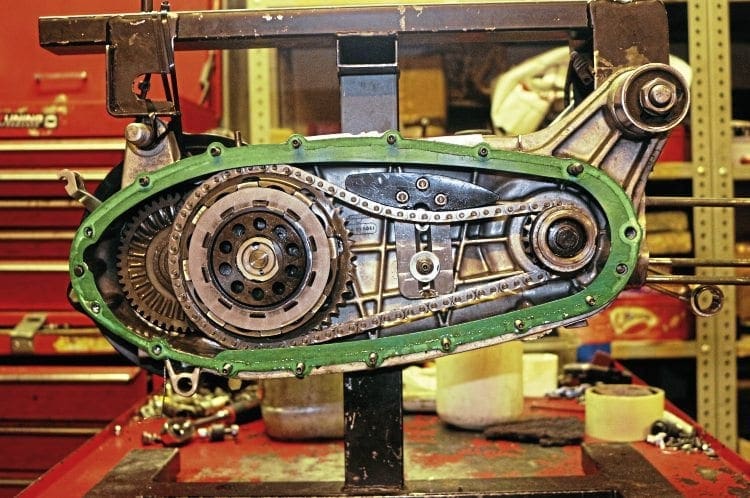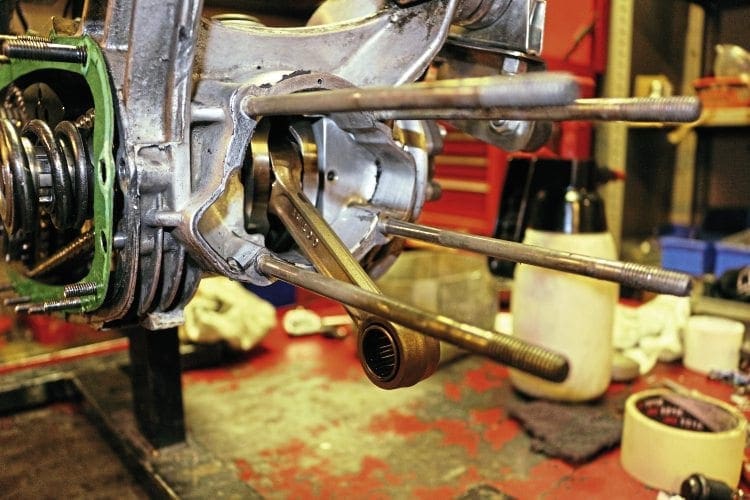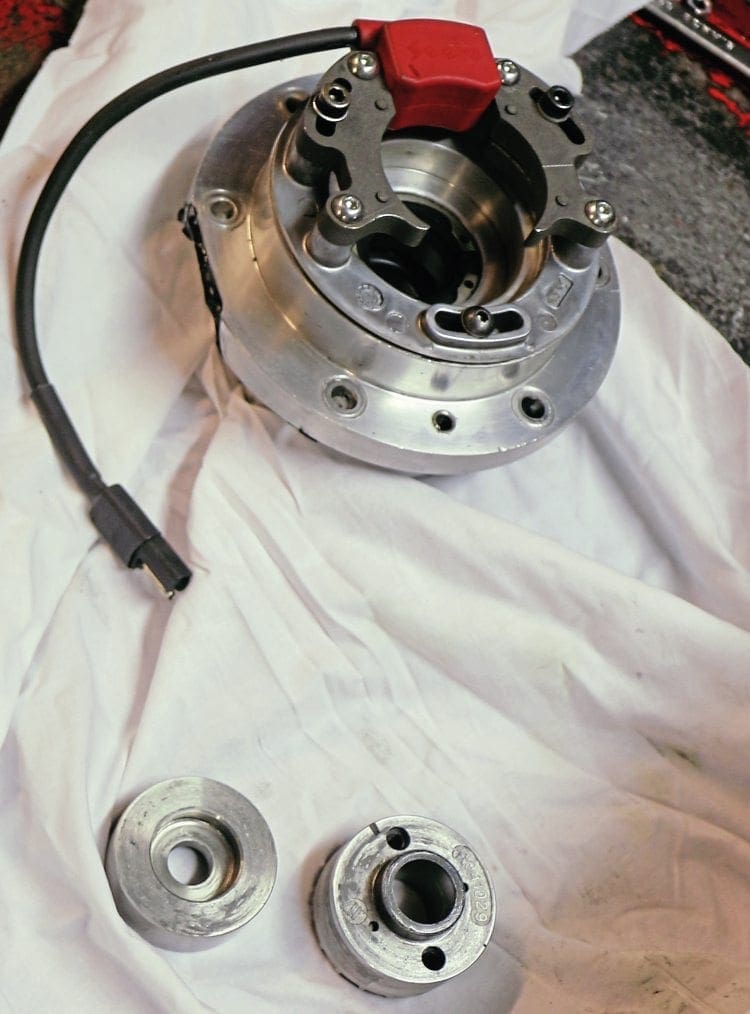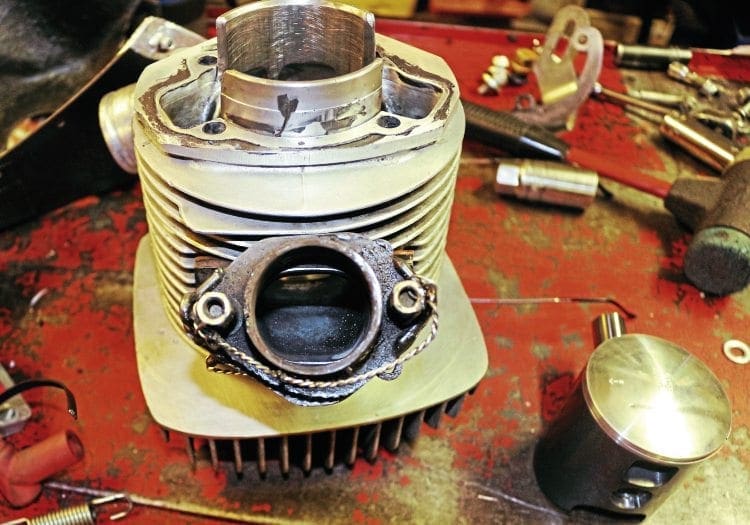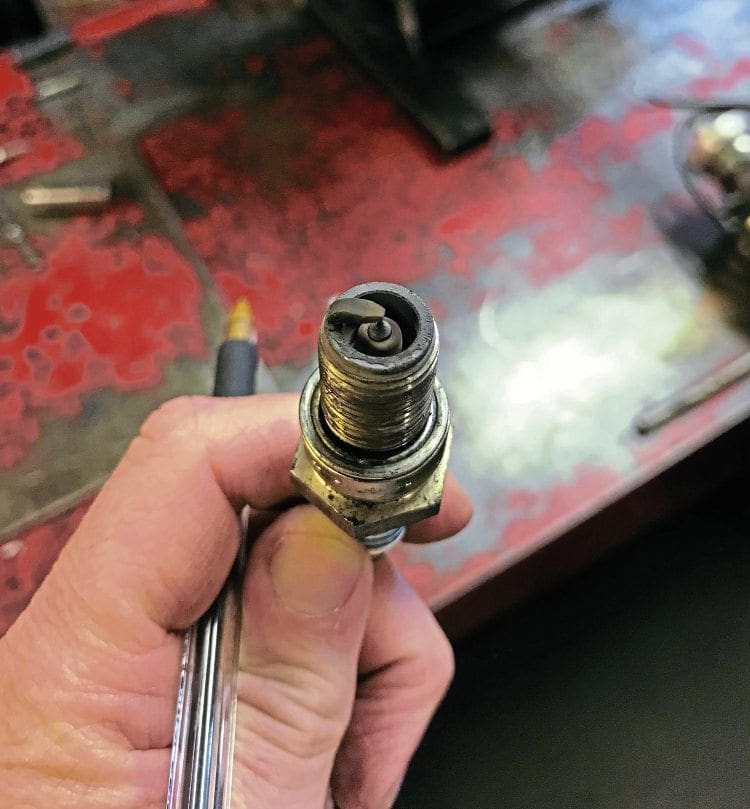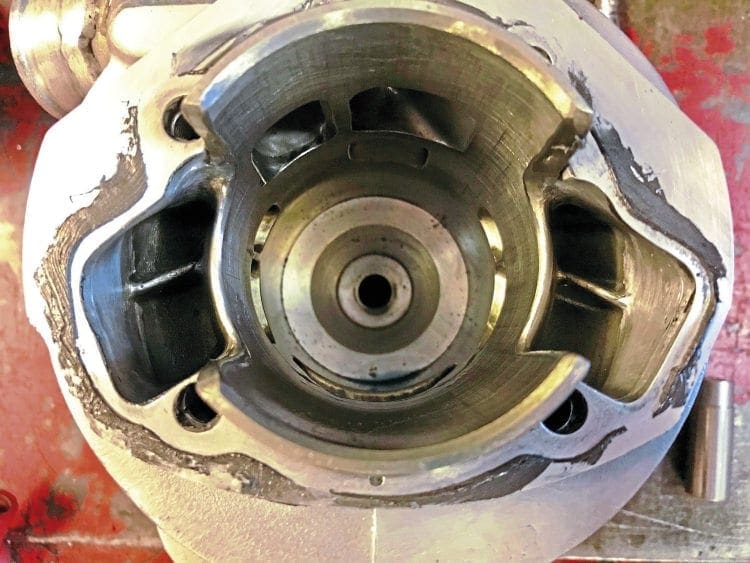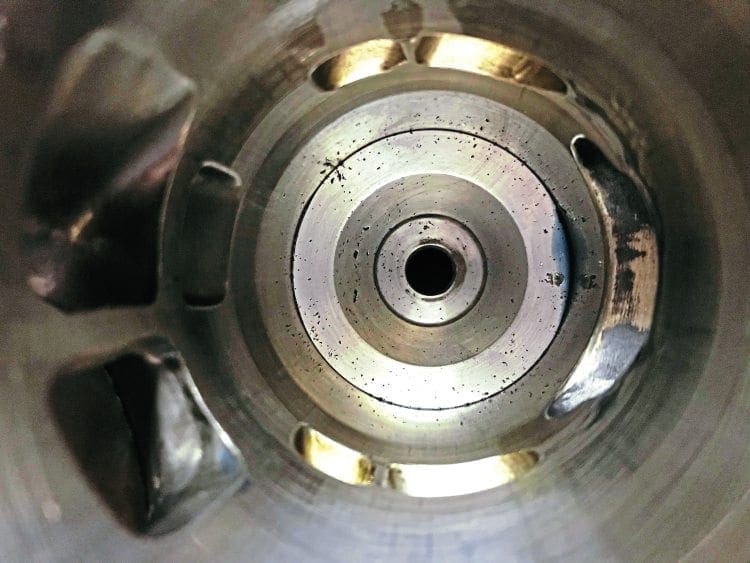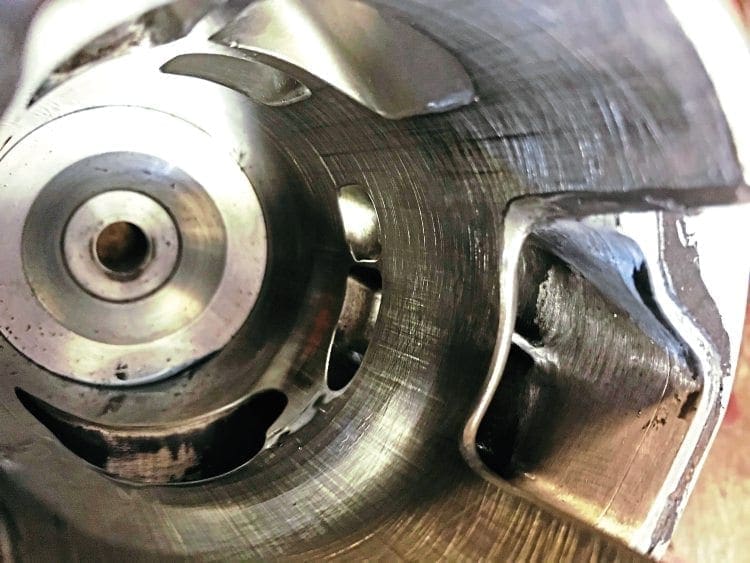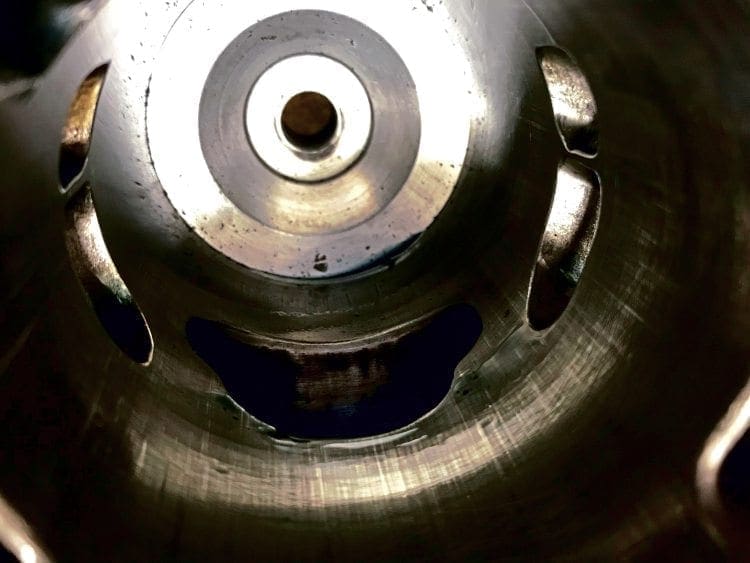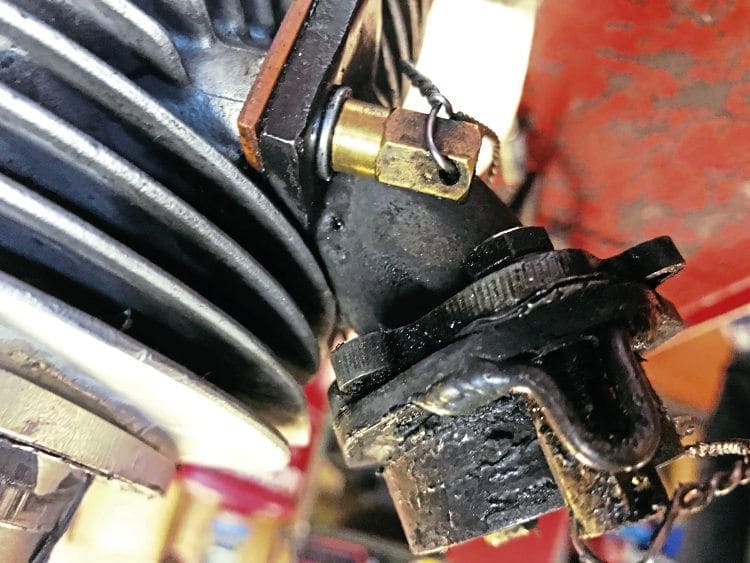 FAILURES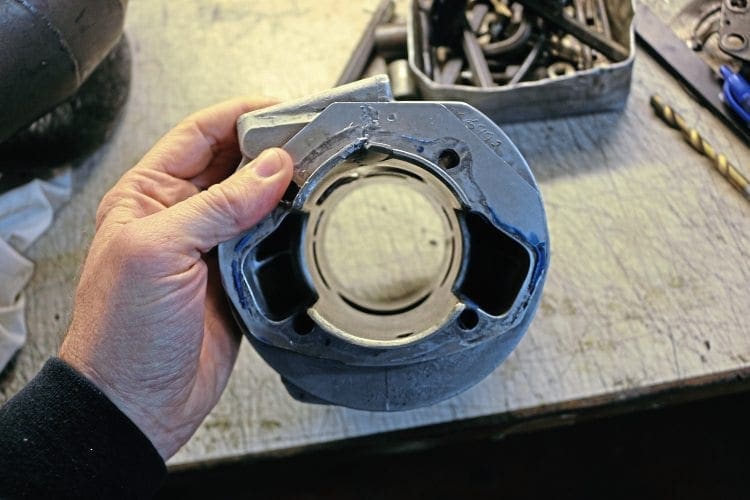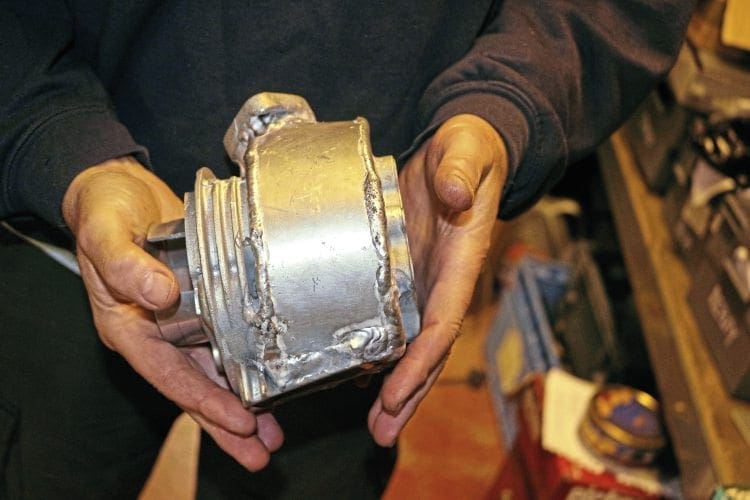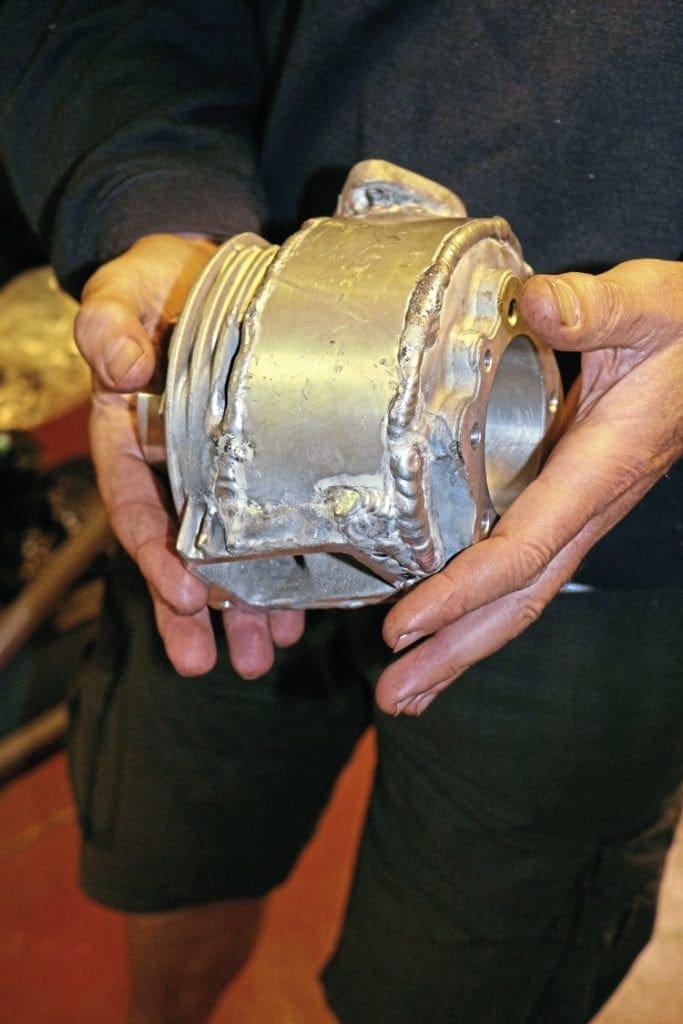 Possibilities
As I left, I realised the engine I had seen laid bare, perhaps wasn't the 'big hp' and 'exotic porting' item I'd first expected to see, and assumed was required to win a championship, but was in fact part of a bigger equation.
The engine didn't win the championship, the complete package did: Chalky's dedication to the sport, having put in countless hours both at workshop and track. His quest in trial and error, combined with research and development, for a fast and reliable engine, inserted into a well thought-out chassis.
Combine the above with the relationships he cultivated and nurtured with his riders, and there you have it, a winning combination… the dream team. Chalky requested that I include thanks from him to Dave Bristow, Taylor Sturgess, Darrell Westgarth, Clipo Kettering, and Darrell Taylor for all his advice and being so forthcoming himself with helpful tips and information, to advance others knowledge.

Enjoy more Scootering reading in the monthly magazine. Click here to subscribe.