"When they kick at your front door
How you gonna come?
With your hands on your head
Or on the trigger of your gun"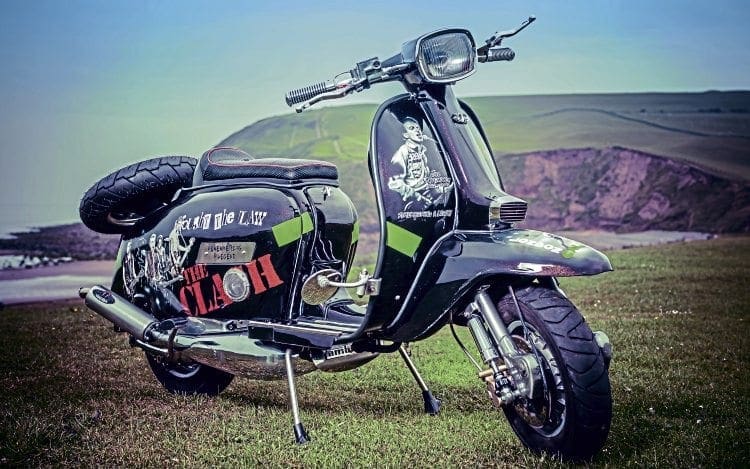 John Graham Mellor (aka Joe Strummer) was born August 21, 1952, and shuffled off this mortal coil on December 22, 2002, and I for one was gutted. I loved The Clash, their music has been a backbeat to many a scootering related escapade or eventful evening. I once got to meet Joe Strummer and he was a very unassuming man. I told him how much I liked the Clash to which he replied: "I am very proud of our records, even the crap ones." And that just about sums the bloke up. Ronnie Burns (aka Bugsy) is also a huge Clash fan; hence his choice of subject matter for his latest, and possibly greatest, custom scooter build.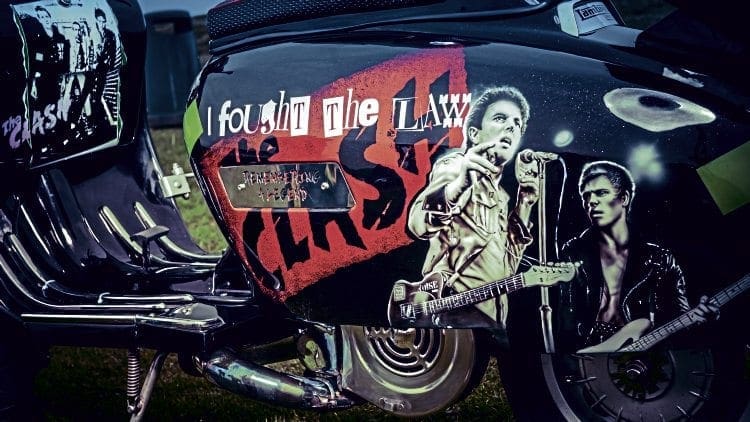 Picking up the donor scooter, a tidy GP200, back in 2014 Bugsy he set about creating his dream machine. He knew exactly what he wanted, and where to get it done. So once the scooter was stripped back to its bare bones, he employed the skillful services of one Colin Fitzgerald at The Garage Artwerks to apply the breath-taking paint and artwork, which truly deserves a long lingering look to appreciate every meticulous detail. Col has a string of show winning feature scooters behind him already and for very good reason, as illustrated in this latest creation. The old motor was then shipped off to Alan 'Singy' Singleton for a 'bare case up rebuild', the idea being that the scooter should be as much 'go' as it is 'show'. The intention wasn't for it to be anything flash, or particularly exotic… just something that would tramp-on when required. It's alright having a visually breath-taking scooter, with all the shiny bits on, but when you are in the outside lane of the motorway, you want it to be able to do the business, and at least inspire confidence!
Things moved along at a brisk pace on this build and by October 2015 the gorgeous paint was finished and the motor came back close behind. Then the nail-biting feeling of tension mounted, one familiar to anyone who has done a fresh-paint rebuild…the challenge of building the scooter without scratching it! Aided and abetted by a couple of pals, the scooter was swiftly finished off in January 2016, and without too many problems or scratches! It then made its 'scooter show debut' at the Morecambe pre-season rally. Bugsy was now the owner of his dream, a classic, full body Lambretta GP200, with beautiful paint and show standard artwork, which just happens to thankfully be another 'ridden and not hidden' scooter. The photo shoot for this feature was on the coast at Saint Bees in Cumbria, and pulled quite a crowd, even the non-scootering public appreciated this thing of beauty. No surprise really, what's not to like?
Words: Kris
Photographs: Jamie Rowland
MAN & MACHINE
Name: Ronnie Burns 'Bugsy'
Age: 53
Job: Retired.
First interest in scooters: 1979 revival.
First scooter: Jet 200.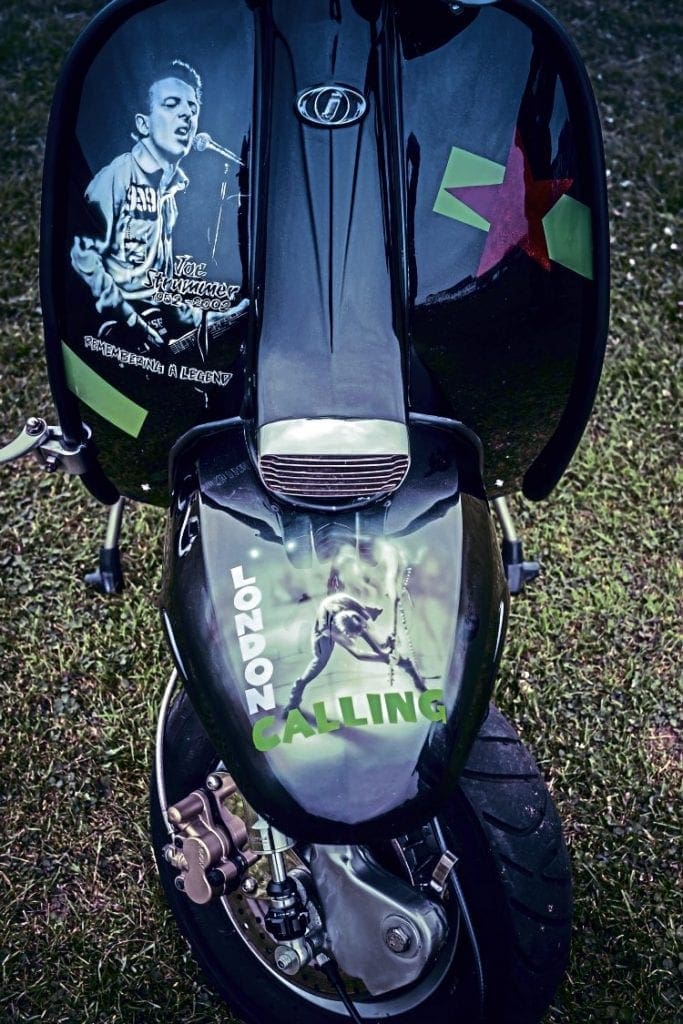 Favourite style: Street Racer.
First rally: That long ago I can't remember.
Furthest ever ridden on a scooter: From Cumbria to Isle of Wight.
Favourite custom scooter of all time: Cazzle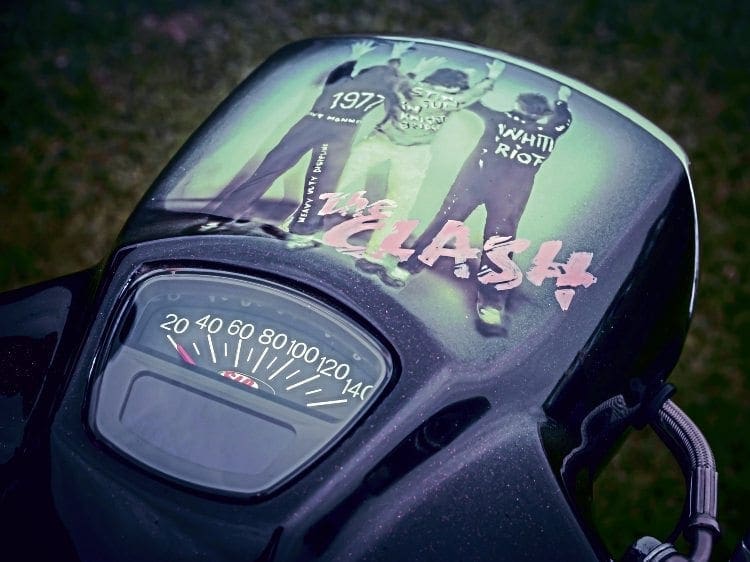 Scooter name: Remembering A Legend
Scooter model: GP 200.
Date purchased: 2014.
Inspiration for project: The late great Joe Strummer.
Time to build: Two years.
Engine: TS1 225, race crank, 34mm, DeIlorto carburettor, PM Tuning FAT Mamba exhaust pipe.
Paintwork: Colin Fitzgerald, The Garage Artwork,
Overall cost: Pifft!!
Thanks to: Colin FitzgeraId at The Garage Artwerks. Alan Singleton, Brian Beecrett and Alice for putting up with my moaning.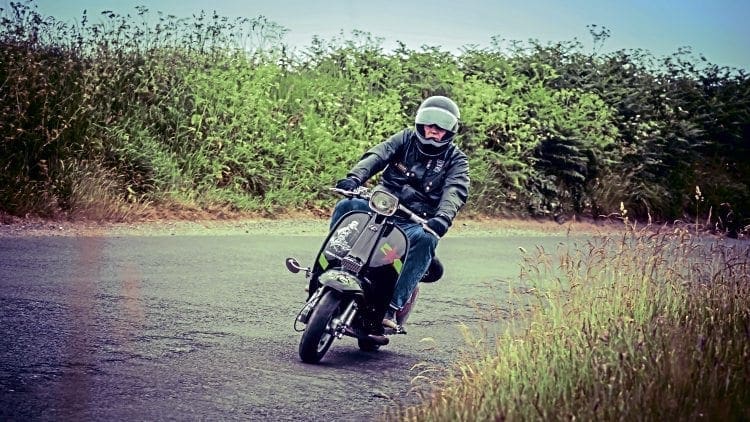 Enjoy more Scootering reading in the monthly magazine. Click here to subscribe.