As a photographer whose work regularly filled the pages of cutting-edge magazines, Tony Briggs' portfolio features some of the most influential, culturally beloved faces of the past two decades. It also reveals his enduring passion for scooters and 60s iconography. He told Andy Gray the story behind some of his more Mod-ular work.

Seaburn Station Mods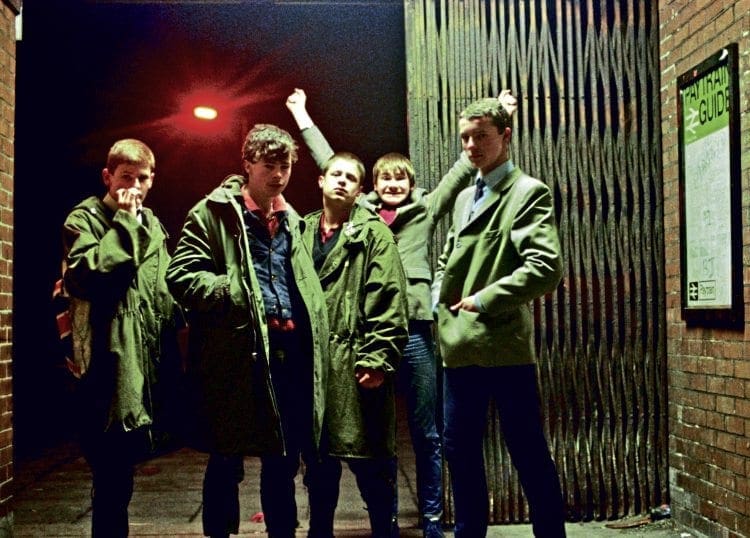 This is me and a group of mates. I'm the one on the far left trying to look cool. I was born in County Durham and grew-up in Sunderland. A big part of the Mod culture there in the 70s and 80s was fighting. It was like a hobby and involved me getting beaten-up a lot. Our gang was called the Seaburn Station Mods. The picture was taken in 1983 and I would've been 17 at the time. It actually won first prize in a photographic competition run throughout the north-east. From that moment I considered myself a photographer. People are either visual or literal, and being dyslexic, I was definitely the former. I was 10, possibly 12 when my dad bought me my first camera; an old Kodak Beirette; I was obsessed with it.
It sounds a cliché, but Blow Up (iconic 60s Mod flick starring David Hemmings as a David Bailey-esque fashion photographer) really turned my head and made me want to take pictures as a career. I used my brother's exam certificates to forge my way into Newcastle Polytechnic to study for a degree in photography — you could do things like that in the pre-digital age. I ended-up a Sunderland Mod at a college full of Geordie punks. I was only there six weeks before I moved to London with my then girlfriend and another mate. Polytechnic wasn't a complete waste of time. A tutor gave me one bit of advice which stayed with me: "Try to work out how you'd photograph any situation, whether you've got a camera with you or not." I also managed to relieve the poly of one of its cameras, which came to London with me.
Soho Crop (the Face 1992)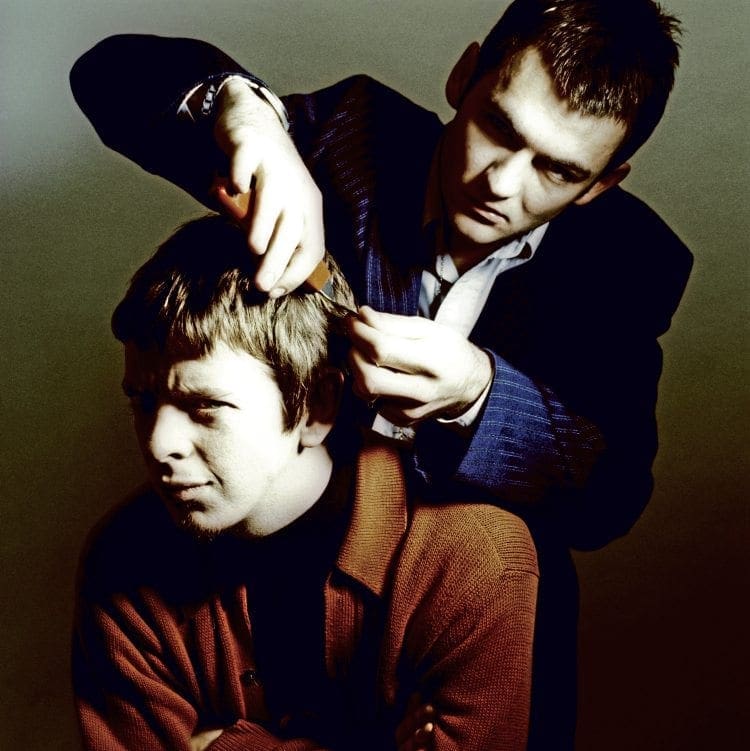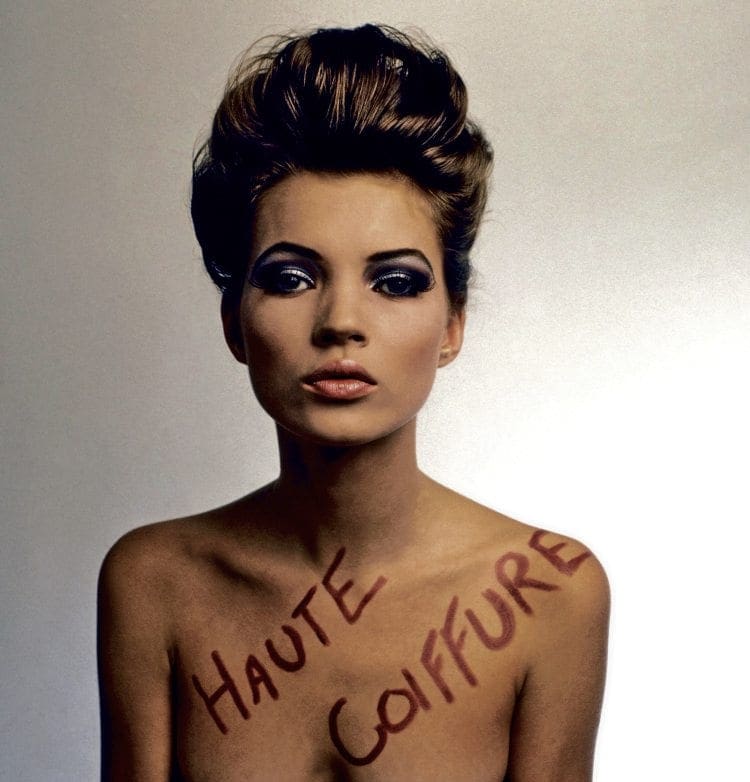 This is a shot I took for The Face magazine in 1992. It shows an old friend of mine, Paul Burfoot, creating a French crop with a Stanley knife. Paul owns Fish Hairdressing Salon in D'Arblay Street, Soho, and the 'customer' he was working on, Fraser Moss, started-up YMC, a very trendy fashion label in the 90s. The French crop was hip at the time and was synonymous with football hooligan culture. We did it as a joke, really — we were all pacifists. Skinhead haircuts had been around for ages, but the Soho crop fashion-ised it. Following the picture's publication, queues of kids formed outside Paul's shop expecting to get their hair cut with a Stanley knife. At the same time as this shoot, I did a portrait of Kate Moss for The Face. It was one of her first shoots as a 17-year-old. Her hair was shaped into a near-beehive and she had 'haute coiffure' (high hair) written across her chest in lipstick. The mag opted for the Fraser shoot rather than the Kate pictures which ended-up sitting in a draw for about a decade before an assistant of mine said I should print them off.
Merc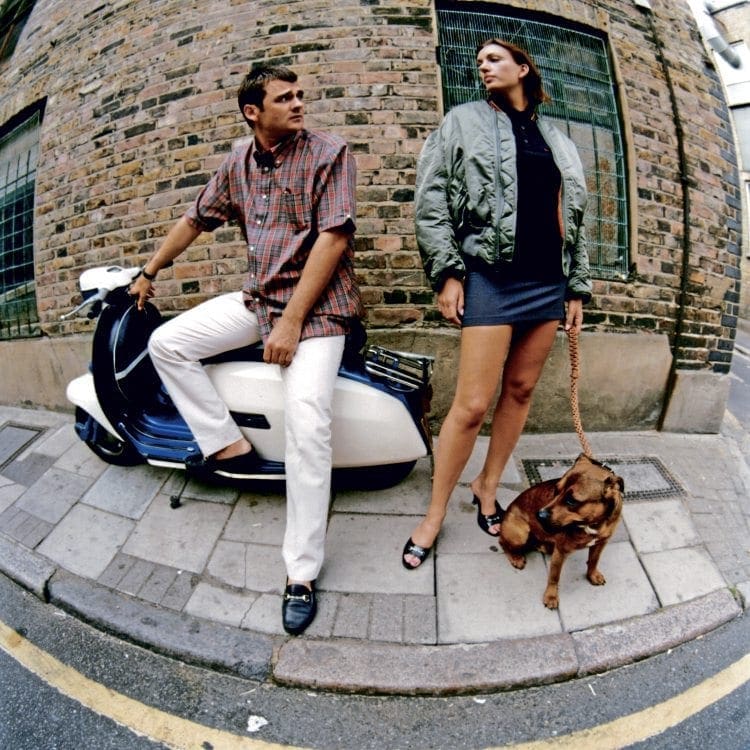 As kids, we'd come down by coach from Sunderland to shop in Carnaby Street at places like Merc, Sherry's and Shellys. Jam shoes were always a popular purchase. Before they created their own brand, Merc sold vintage Fred Perrys and Ben Shermans. The above picture was taken for a mail order catalogue I did for them. For more than 20 pages, it's just pictures of this leggy girl and cool-looking scooter boy modelling every Ben Sherman the company sold. That's my scooter — and my dog Steve — in the above picture. At the time no one was doing shoots like this; high fashion was all the rage.
There was no hair or make-up artist involved in the Merc shoot. We just wandered around London, shooting as we went. It only took about three days to put it all together. I always try to photograph people the way I like to be photographed myself; I want it to be cool, painless and relatively quick. I shoot all my pictures in 30 minutes to an hour. Other photographers spend hours and days, really dragging it out. I've no idea why. Models will stand on one leg for you all day if you want them to, but when you're photographing comedians or actors, they've got limited time.
Unless there's a direct brief, I just try and photograph people as themselves. In those days, I felt photographers were paid for the responsibility. You could be assigned Ewan McGregor for example and the laboratory could screw the film up during the development process, leaving you with nothing and no second chance to shoot Ewan McGregor. Until you had the negatives in your hand, you carried the cost of the shoot on your shoulders. Now everything's digitalised, so the picture's practically published before you've taken the lights down.
Kes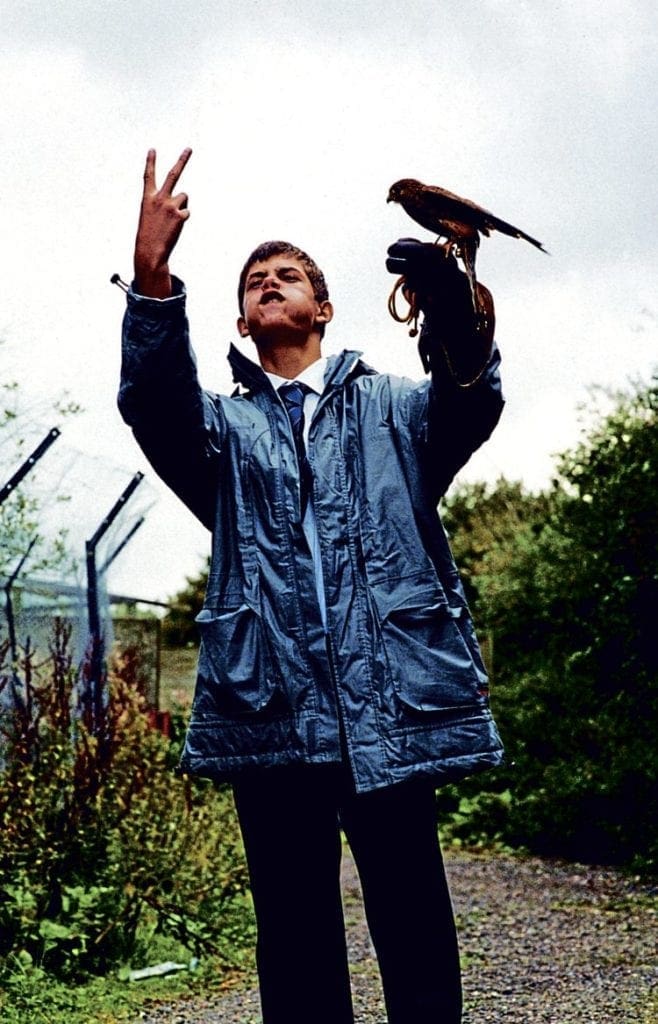 Before it became an embarrassing tits and arse magazine, Loaded was really cool. I worked on the first 18 editions after it launched in 1994. Blokes that were really into their clothes, but not particularly interested in high-fashion hadn't really been catered for until Loaded came along. We always went for regular guys, not models. Maxim was another of the lad's mags which sprung-up during the 90s. The Kes picture (above) was taken for a fashion shoot I did for them in 2003. We had to photograph these new parkas so I suggested we do Kes (Ken Loach's 60s cult classic based on a schoolboy's escapist infatuation with a kestrel) cause it's such a great film. The only way we could get a kestrel was to patronise a bird of prey centre in Suffolk, but they didn't get the Kes thing at all. They'd arrive on set holding snowy or tawny owls — they obviously hadn't seen the film. Maxim and Loaded were jobs made in heaven. Tales of the debauched goings-on at Loaded during its late-90s peak are legendary — and all true. You'd often walk into the magazine's offices on Monday morning and find people asleep on desks.
Ocean Colour Scene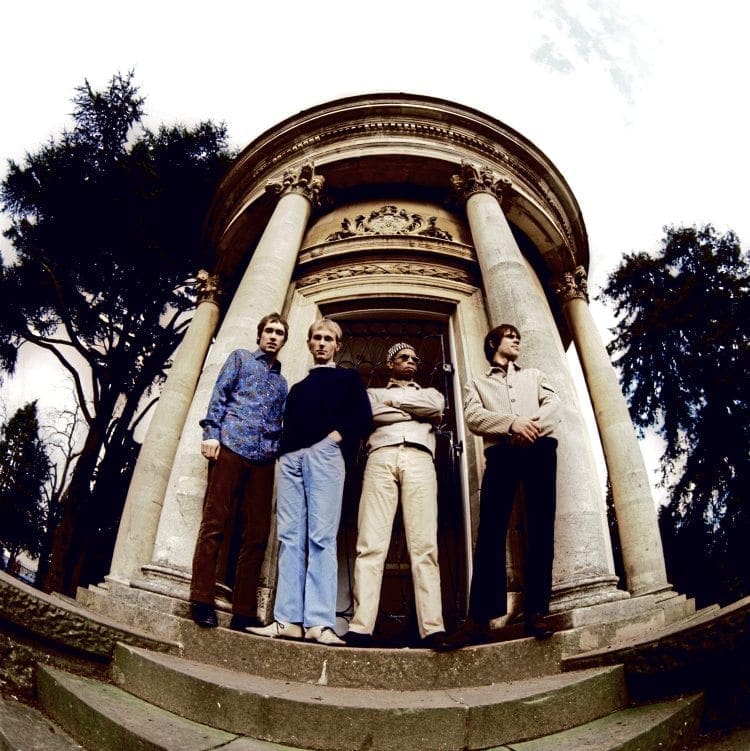 I've photographed a lot of comedians — Jimmy Carr, Bill Bailey, Sacha Baron Cohen and the like — before they were famous, but to get into music mags in the early 90s you had to be a bit of a noodling, goth, Radiohead, indie fan, whereas I was just a Mod kid. The only way I was ever going to get into the NME was when Ocean Colour Scene cracked it. The paper hated the band, but their hand was forced and they had to have them on the cover when they were charting all the time, so I kind of entered the music press through the back door.
I was introduced to Steve Cradock (OCS guitarist) when the advertising agency I was working for was contacted by the band's record company (MCA) to take some pictures. Steve and I clicked straight away. The band invited me to an MCA showcase they were playing in a tiny little club in Piccadilly. It was about the size of someone's front room and I was sat right up close to the stage. Even now I can feel the hairs on the back of my neck stand-up when I think about it — they absolutely blew me away. I'd never heard anything like it. For the Moseley Shoals shoot, I travelled to a recording studio in Leamington Spa which was owned by Dr Robert, formerly of the Blow Monkeys.
Ocean Colour Scene were recording b-sides for some upcoming singles. I wasn't given a brief — 'just shoot the record cover'. The band were completely uninterested. They literally gave me 20 minutes' shooting time. They couldn't care less about videos and photographs; all they were interested in was the music, which I totally understood. It was snowing; freezing cold. The band walked to the chip shop and back, then I stood them in front of an Edwardian-looking water building and the album cover came from that.
Steve said he didn't like the way his trousers were hanging in the original picture; he said it looked like he was playing with himself, so we cropped it to show the band from the waist-up and that became the cover. While the band were having their picture taken, behind them were some kids playing on a frozen lake. One of the kids fell through the ice. The band just stood around laughing. I don't think the kid was in any mortal danger, but he was screaming and really panicking so I waded in and pulled him out. I've often said as a photographer, I was more like a paid babysitter. The challenge with Ocean Colour Scene was getting all four of them in the same room for five minutes – it was like herding cats. I don't know why the band were so disinterested in having their picture taken.
All the bands that Steve aspired to, like the Stones and the Beatles, were photographed doing all kinds of things in all sorts of outfits. Maybe it's shyness. I was Ocean Colour Scene's exclusive photographer from '96 to '98. I shot the cover for Marchin' Already, the follow-up album to Moseley Shoals which knocked Oasis' Be Here Now off the top of the charts in '97. Steve and I remain good friends and I'm putting together a short film of previously unseen cine and Hi8 footage of the band, which I took during the Moseley Shoals era. It's provisionally titled, A Year with Ocean Colour Scene.
Fire & Skill recording

Reportage, fly on the wall stuff, along with portraiture is my favourite style of photography. This shot taken in 1999 during the recording of Fire & Skill, an album of Jam songs covered by various artists, is what I call 'reportage'. We were based at Nomis Studios in London which is quite flash, but as you can see the lighting was very poor. There was an excellent cast, like a 90s version of Free or a Britpop supergroup. Noel and Liam Gallagher were there, as were Ocean Colour Scene and Paul Weller. I hadn't worked that much with Liam, though I documented Ocean Colour Scene's European tour with Oasis in the late-90s.
Oasis had kind of cracked it by then and Noel and Liam were travelling and living separate from each other. I've always found Liam really funny, in the nicest sense. In this picture you get a sense of what a great frontman he is. During the shoot he spent most of the time chatting my wife (Alice) up. Everywhere we went, he'd be there. I said to him, 'you do realise we're married, don't you'? It was an amazing day, though.
There I was with Paul Weller, the hero of my day, and his 90s equivalent, Liam Gallagher. Sessions like this were just a tiny bit of my career, really. I was a working photographer and doing lots of big advertising jobs as well. The biggest job money-wise was a national 'Know the Score' anti-drugs campaign I shot in 1998 that appeared in all the youth-based press. The message was meant to be hard-hitting so the pictures were of ordinary kids enjoying a night out, but with parts of their brain and stomach made to look see-though to illustrate the damage drugs like ecstasy caused. The ad agency blanket-bombed every magazine and newspaper in the country for about a year with those pictures. The money we made…
The Spitfires – Response album cover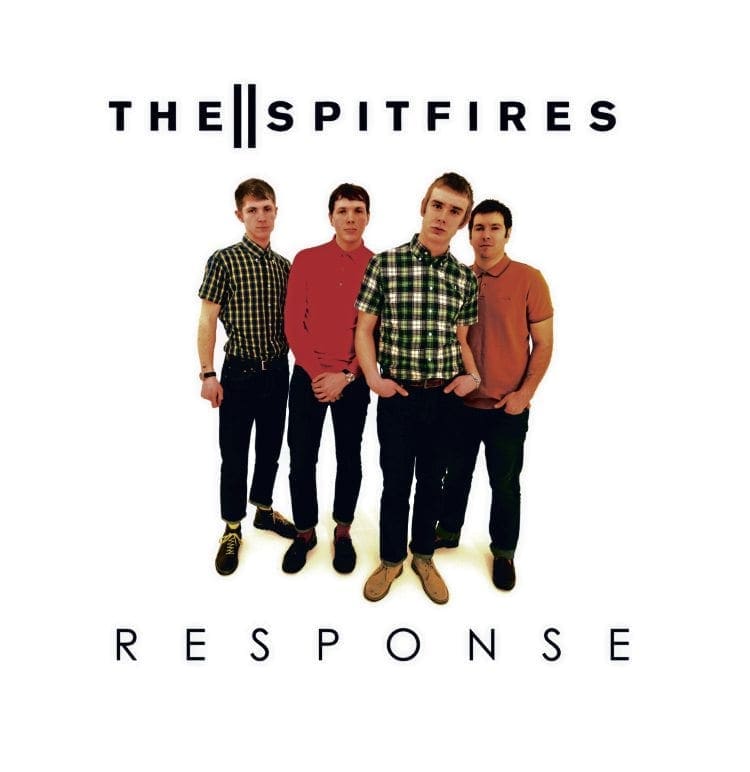 I wasn't consciously looking to work with another band. Nothing was doing anything for me musically from 2000 onwards. Perhaps there was a part of me, though, that was looking for a Mod-influenced band intent on keeping the torch burning. Whatever it was, it led me to the Spitfires. The band were big Ocean Colour Scene fans and very complimentary about my work with them. So as a point of reference, for the front cover of the Spitfires first album, Response, I used the same camera and lens that I used for the Moseley Shoals pics.
Billy's a grafter; he's relentless and really puts the hours in. He was two when Moseley Shoals came out, He's got his dad's copy of the album which has loads of felt tip scribblings Billy did as a baby. The Spitfires are like a garage band – that's what I liked about them. I'm not sure how were going to find the new Paul Weller or Liam Gallagher. The internet's screwed it up for everyone, including photographers. All bands or artists are interested in is building a profile on YouTube or whatever. I'm not sure anyone's really interested in combining the graft with the craft any more. With photography, because digital's free, people can take thousands of shots and trust that at least one of them will be good enough. Without sounding too bitter about it, I suppose a bit of the art's gone out of photography. The heyday of film has gone. I'm still a photographer — I can photograph anybody and make them cool — but I make a lot of live action films now and try to do at least one art project per year. Photography's meant I've met and worked with a lot of heroes of mine. I've never sat down and made a conscious decision about anything to do with my career — just worked hard, put the hours in and above all else, been very lucky.
SC

Enjoy more Scootering reading in the monthly magazine. Click here to subscribe.