Cornwall is famous for many things but Dave Ridge believes that its cyder outclasses everything.

RUNNING IN THE FAMILY
Scooters are part of the Ridge family DNA. Dave's sister Nadine is well known in the South West for her awareness raising Series 2 'Kidney Machine', but it was their grandfather who set the ball rolling with his Vespa 152L2 — a scooter that's recently come back home.
"I always knew grandad rode a Vespa but I started off riding scooters round the local fields with a few mates. The stories about cheap scooters have all been told before but I'm ashamed to say while learning to ride we destroyed a Sportique and an SS180. Fortunately, the family kept grandad's old 152L2 out of reach during that time but once I started to ride seriously I inherited it." All this was in the early 1980s when Dave had left school and started working at the local paper mill. "Someone at the mill said they could spray the 'L2 so I stripped it down and took it to the workshop. I was so preoccupied with my 50 Special and had just discovered the rally scene that I honestly forgot all about the 'L2."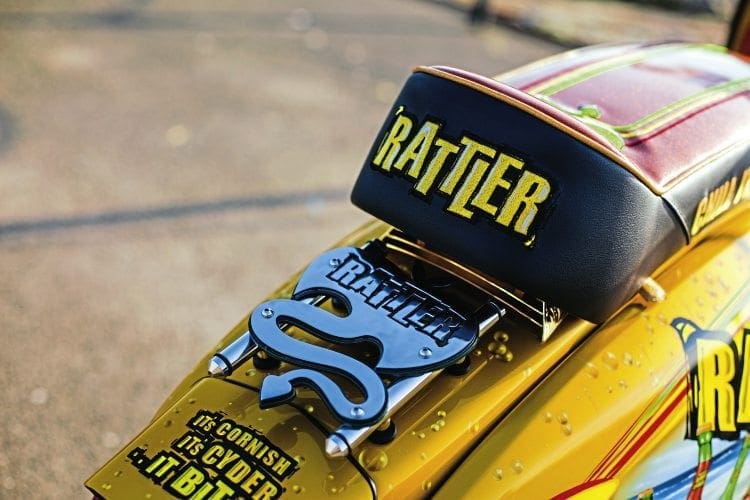 The paper mill ran for several years after Dave left before closing its doors very recently. "I'd kept in touch with the lads from the mill but I never expected a call asking what I wanted to do with the old scooter!" Dave rushed round to the mill where he found his grandad's scooter which, like the rest of the Mill's contents had to be disposed of. Unfortunately, it never did get painted and the past few decades haven't been kind to the frame. With Rattler completed there was always going to be space on the workbench for a new project anyway…
Barn find
There aren't too many feature scooter interviews that start with a potted history of the owner's employment, but Dave Ridge, Rattler's creator, is an exception. "When I left school I went to work at the local paper mill. I enjoyed working there but as time went by it felt less secure," explained Dave. "I then got an opportunity to work at Yeo Valley and I've never looked back." At the new factory, Dave found a strong motorcycle culture and was soon invited to ride outs on his days off. "My boss told me that one of the old boys at the factory had a scooter hidden away. He was right but it took two years of persuasion before I got to look at it!"
Based on its description Dave was expecting to find a Lambretta LI but what he discovered was a British, registered from new, GP150. "The old boy bought it new in 1971 and used it for two years before something went wrong with the gearbox. It had been partially stripped then put on one side and forgotten. We agreed on a price and I brought it home. It was in pretty rough condition but substantially complete."
Orchard inspiration
Having secured the sound basis for a project Dave turned to his favourite tipple for inspiration. "I'm not a big drinker but when we go down to Cornwall I love a drop of Cornish Rattler Cyder." Produced by Healey's Farms from the traditional Rattler apple the cyder packs a mean punch at 6% abv, hence the race number on the scooter's side panel.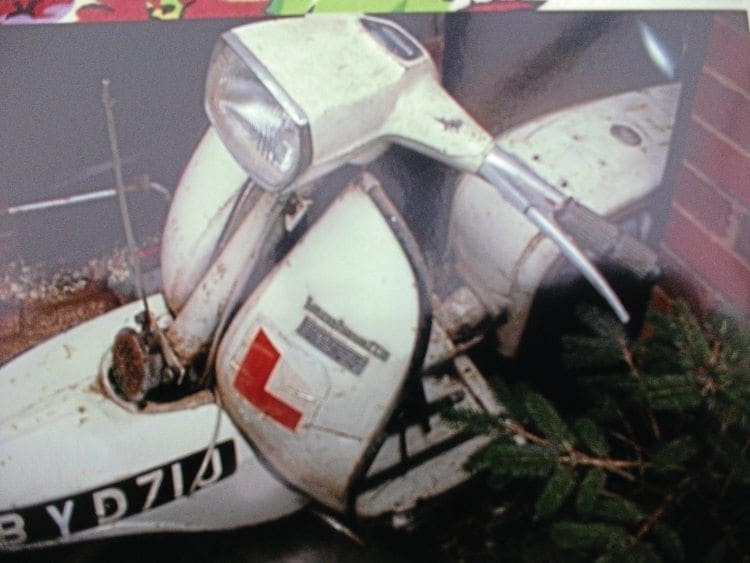 Dave prefers not to cut panels so Rattler was always going to be a full bodied scooter and Rattler Cyder's vibrant branding lent itself to a street racer style. With the basic plan in place, there were only two names in his mind to complete the project, Dave Dickinson for paint and Adi Clarke for engraving. With a string of trophy-winning schemes behind them both men can afford to pick and choose their work, so how did Dave manage to secure their attention? "I sent them a case of Rattler of course," said Dave.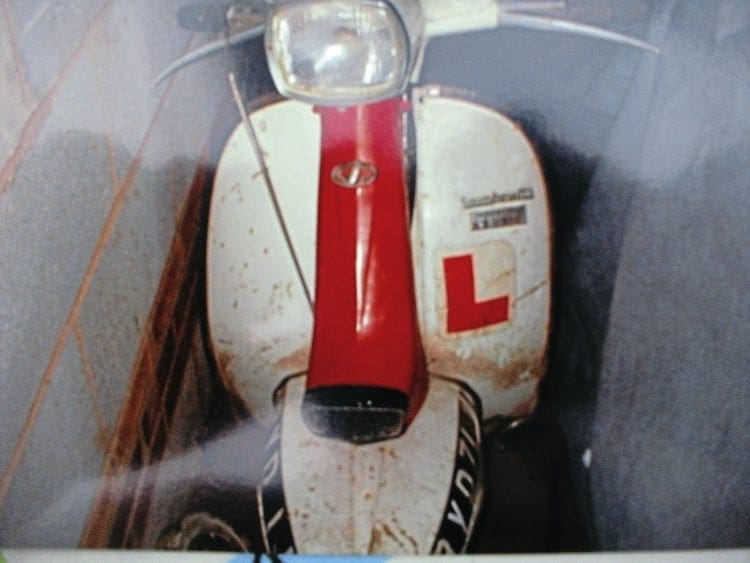 Aided by Cornwall's finest produce, Dave has produced a stunning Lambretta in the tradition of machines such as Bass Racer, a clean-lined street racer with all the trimmings of a full-blown custom. Dave Dickinson's paintwork is truly stunning with no stickers or wraps just exceptional airbrush work. The cyder bubbles are so convincing it's hard not to try and brush them aside and the deepening hues towards the bottom of the machine match those seen in a glass of Rattler. It's an exceptionally well observed and executed scheme which is protected by 14 coats of clear lacquer.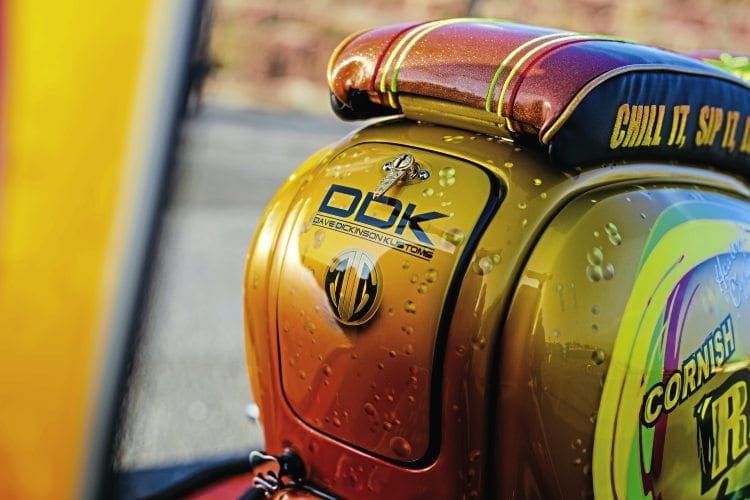 Dave's insistence on uncut panel-work means that much of Adi Clarke's engraving is hidden from view but the detail is astounding. The chain case, in particular, is a masterpiece of design — the Rattler logo leaps into view but it's the kickstart shaft housing that's worthy of close attention. Radiating around the mount are the Healey signature, Rattler's apple logo and a surfing scene which can be easily missed but are superbly engraved. Another subtle piece of engraving is the horn-cast badge, where the Rattler snake emulates the Innocenti 'I' it replaces.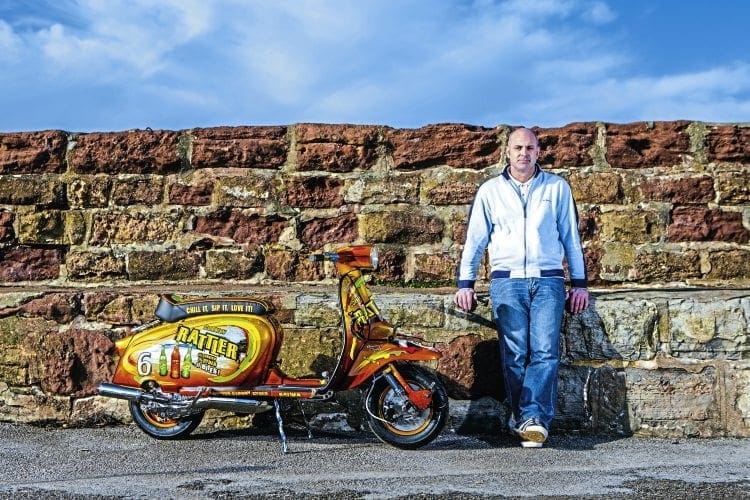 Detail parts are by Keith Newman at K2 Custom and reflect Dave's attention to detail. There are no rubber plugs in the seat mounting holes, instead, the vacant spaces are filled with bespoke replicas of the Rattler logo. Rattler's seat was completed at Custom Scooter Covers and must be one of the finest pieces of work that Corky has produced. All brightwork was endtrusted to the capable hands of Quality Chrome in Hull with Dave having struck the right balance of accentuating but not dominating the overall effect.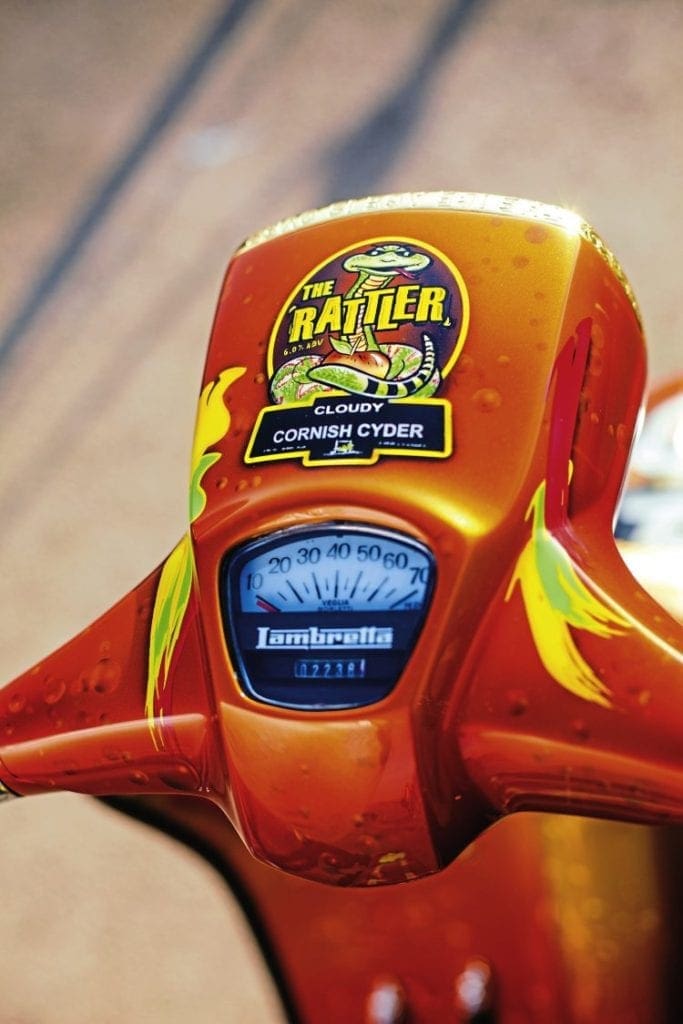 At its heart Rattle is a street racer and its engine, also built by Dave, doesn't disappoint. The top end is an RB20 kit ported by SRP Race Tech with AF race crank and 30mm Dellorto VHSH carb. A Franspeed exhaust takes care of spent gases while an AF six-plate clutch and Li150 gearbox transmits power to the road. Rattler's performance and reliability are still to be established but Dave has every intention of putting in some miles this season.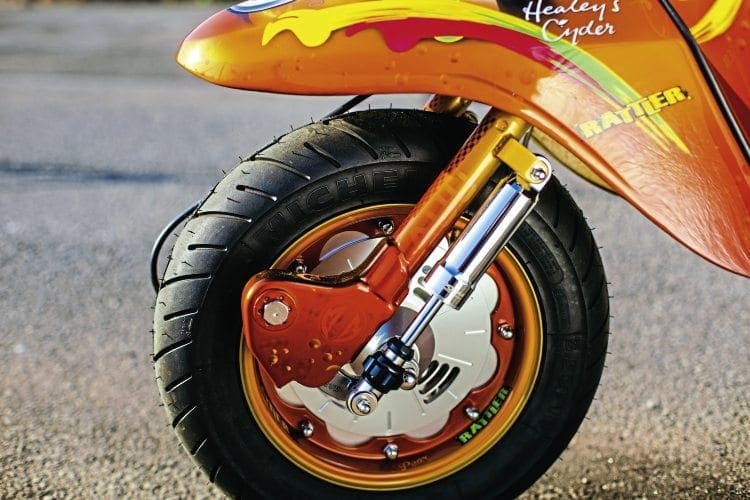 Wherever you see Rattler it's bound to draw a crowd but the best way to appreciate it is to step back, relax and enjoy a drink while taking in its charms. Perhaps a nice cold glass of cyder?
MAN & MACHINE
Owner's name: David Ridge
Scooter club: ScooterManiacs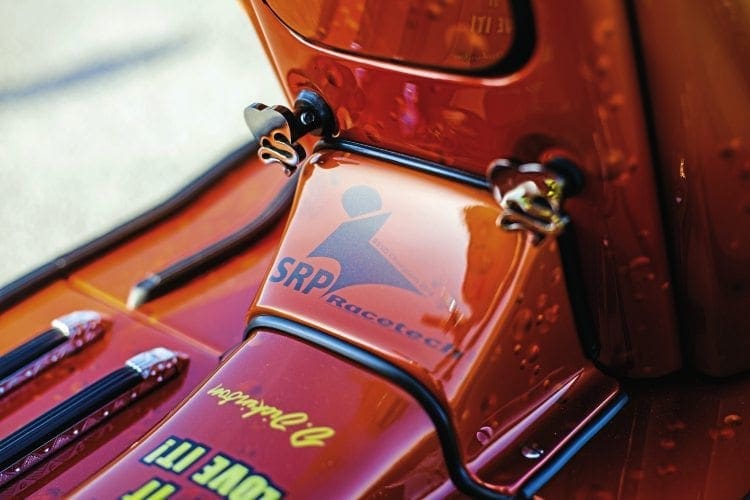 Your first interest in scooters: My grandad had scooters and then as a teenager when a group of mate would regularly take it in turns to ride one scooter around the local round land.
First scooter: Blue Vespa 50 Special.
What is your favourite scooter model: All Lambretta models, as well as Vespa Rally 200.
What is your favourite style of custom scooter: One ridden to rallies and where the owner has put a lot of thought and effort into building it.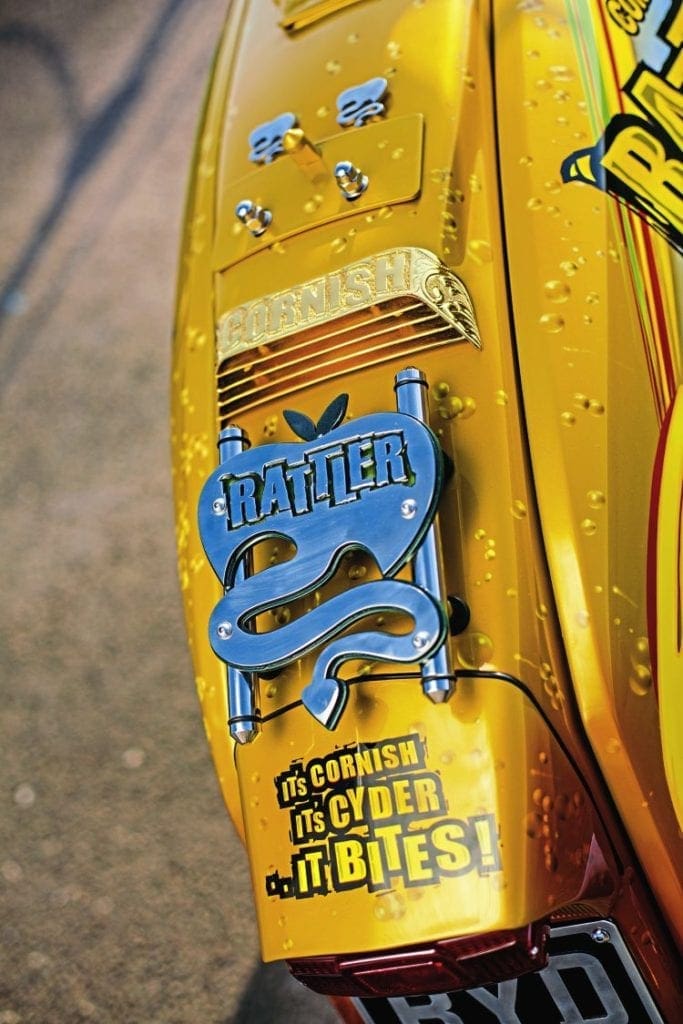 First rally or event: Torquay 1984.
How did you get there: On my Vespa 50 Special.
Any stories: As youngsters a mate and me were travelling home from Great Yarmouth in thick fog and pouring rain. We were so desperate to find somewhere to stop we ended up kipping in pitch black at a derelict petrol station, only to find when we woke frozen the next morning a 24 hour café just 100 yards up the road.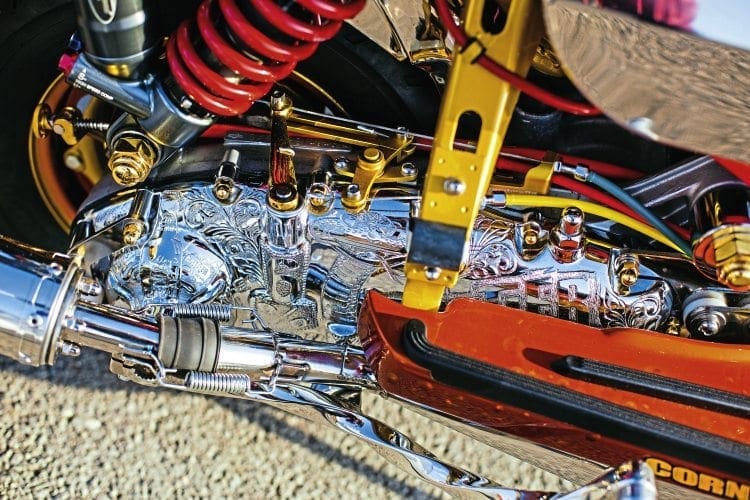 Favourite rally: I enjoy them all.
Furthest ridden: 2012 Euro Lambretta.
What do you like about rallies: Riding there, and meeting up with friends.
What do you dislike about rallies: Riding in the rain and not getting a lie in when cleaning the scooter for the custom show.
Favourite Scootering magazine feature: Pretty much all of it but I do enjoy the write ups and photos following rallies.
Your favourite custom scooter of all time: Start Me Up and Memphis Belle.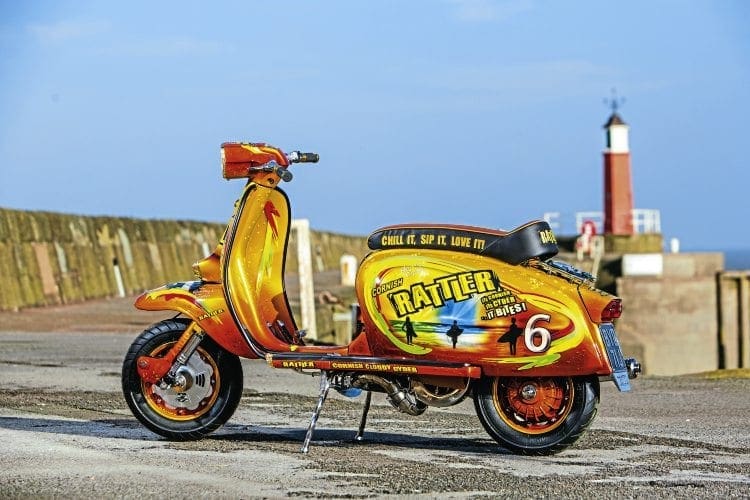 Name of scooter and reason: Rattler, it's my favourite cider drink.
Scooter model: Lambretta GP150.
Date purchased and price: Four years ago at a bargain price of £300.
Inspiration for project: My favourite drink!
Time to build and by who: Built by me over about 12 months start to finish.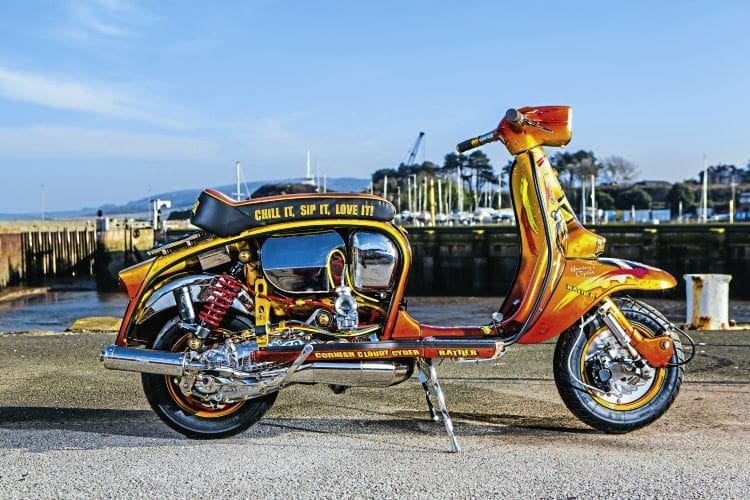 Any specialised parts: Fuel tap, choke lever, rear rack, stainless steel fuel tank and tool box.
Engine kit: RB20.
Crank: AF Race.
Carb: Dellorto 30 VHSH.
Exhaust: Franspeed tour.
Clutch: AF 6-plate
Gearbox: Li150.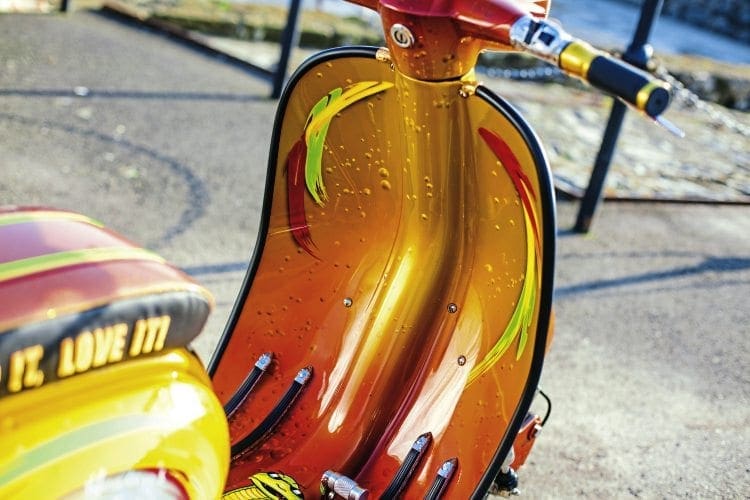 Porting work by: SRP Race Tech.
Dyno done by: SRP Race Tech.
Paintwork & murals: Dave Dickinson; a great job and top man.
Engraving: Adi Clark again, brilliant work helped along by the Rattler cyder sent to him.
Chrome: Yes, good work by Keith and Carl at Quality Chrome.
Hardest part of the project: Rebuilding with scratching.
Your favourite dealer: Scootopia. They are always helpful.
Is there anyone you wish to thank: Dave Dickinson for a brilliant paint job, Adi Clark for engraving, Paul Baker SRP for the engine, Keith and Carl at Quality Chrome, Keith at K2 Customs for designing and make the little extras, and Corky for a great seat and covers. Jerry for all his time, effort and help and my wife for her support, patience and hot drinks.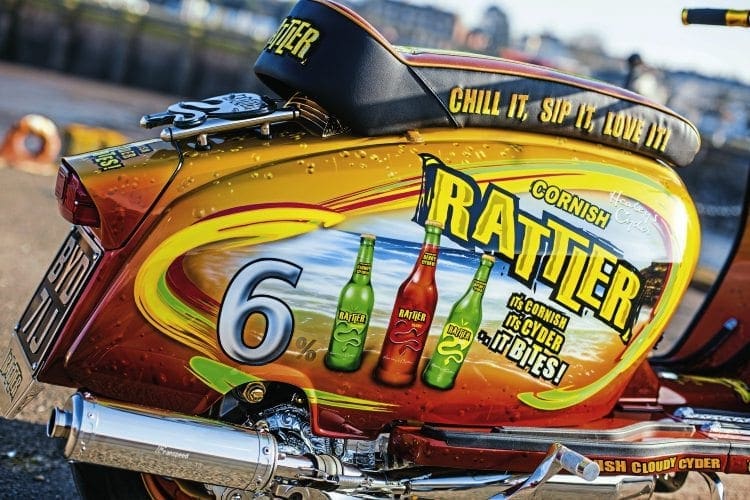 FARM MACHINERY
Healey Farm is much more than the home of Dave's favourite tipple. It's owned by direct descendants of Donald Healey, the inventor of the famous Austin Healey sports car. In addition to farm tours, distillery shop and cyder museum there's also a small collection of restored Austin-Healey cars. Situated in central Cornwall, there's plenty of stunning scenery to enjoy and wonderful stretches of coast road to explore. You might even find Dave and Rattler taking in the scenery. www.healeyscyder.co.uk
Words: Stan
Photographs: Gary Chapman

Enjoy more Scootering reading in the monthly magazine. Click here to subscribe.