Jason Robinson of A5-SC has an amazing background. He researched his life history and uncovered probably one of the most interesting and compelling stories you could imagine, which provided the foundation for his scooter…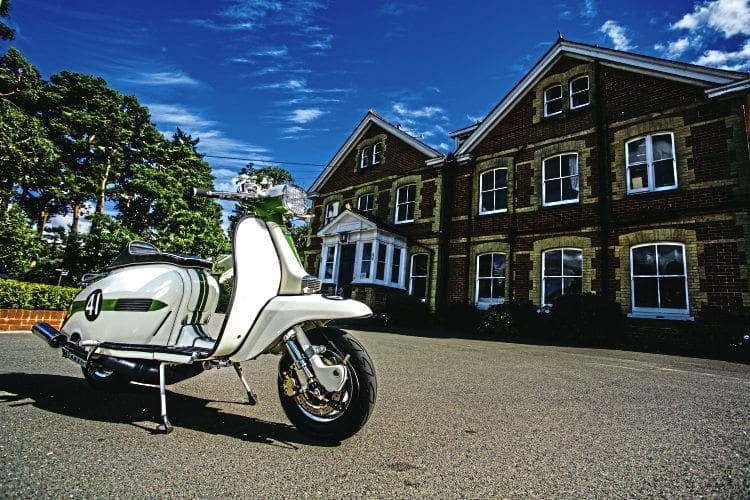 I first met Jason while viewing the custom show entries at the Big 7 National Scooter Rally. We got talking about the fantastic entries and Jason began to explain his story. As Jason's story unfolded it was clear: he'd brought man and machine together as one and the outcome gave rise to his stunning Jim Clark Lotus Lambretta tribute scooter. We walked over to where Jason's scooter was parked and Jason explained the fascinating detail.
Disillusioned
Jason started by telling me that he got his first scooter from a friend at the age of 17, a Lambretta GP125, which he never got chance to make ready for the road. Jason said: "It was in need of a complete restoration, I never got a chance to purchase all the parts, nor did I have the time and patience to build the thing anyway. I just lost interest so I gave it back to my friend. I decided to pursue my career as a motor mechanic and complete my apprenticeship." Jason went on to explain that from his point of view during the mid to late 1980s he'd seen a change in the scooter scene and he'd seen it drift from sharp dressed Mods and neat-looking scooters to cut-downs and 'scooter scruffs'.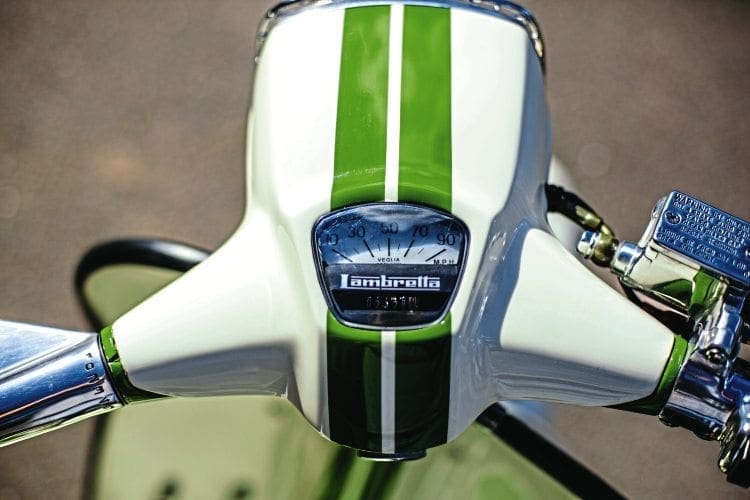 Time passed and in the early 1990s the Manchester music scene rekindled Jason's passion. Jason said: "I'd always kept in touch with the scene and always kept an eye on what was going on. One of the bands I was interested in at the time was a band called Bus Ryde, which a friend of mine from work played in. I was involved with the band, I regularly went to gigs with them and I supported them on the road. It was at this time I was approached by Paul Weller's cousin, Mark Boxall, who was overseeing Bus Ryde and I was asked to work in partnership with Gerrard Ellis to co-manage the band, who later became known as Weaver.
A random event
In 2006 and with his passion for the scene reignited, Jason happened to visit a local motorbike dealership. In the shop Jason noticed a Lambretta GP200 for sale. He asked how much it was and the fella told him he wanted the princely sum of £1600. Without hesitation Jason said: "I'll have it!" and so the story of the Lotus Lambretta begins.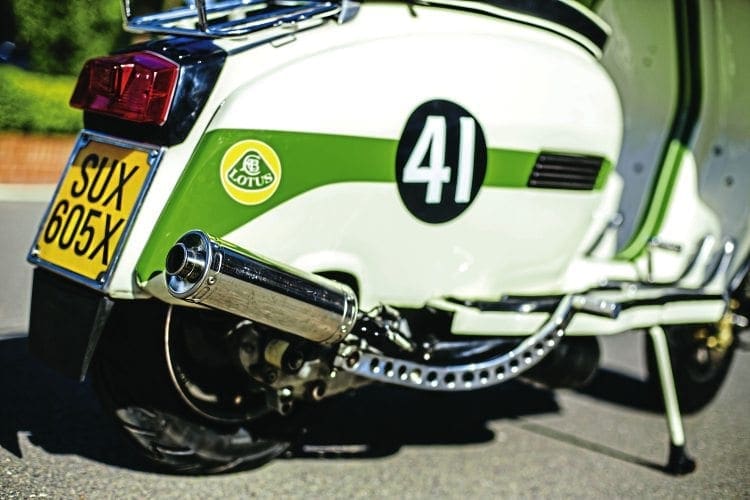 Jason said: The scooter had previously been owned by a guy in Basingstoke and it ran like a dog! I had a tweak and a play about with it and I decided to change the carb and exhaust. It was running okay but it still looked a complete mess."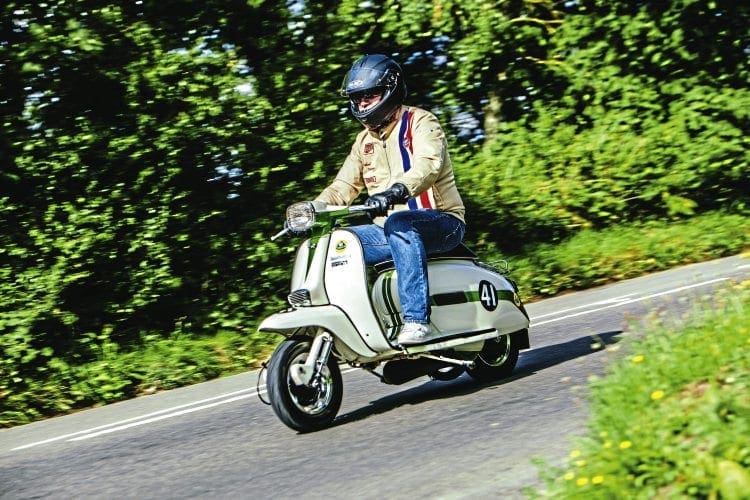 I asked Jason where his idea for the Jim Clark theme came from. Jason said: "I wanted to give the scooter a paint job, which was different; but not over the top. I was reading a car magazine one day, which was about the Mk.1 Lotus Cortina and that gave me the moment of inspiration I needed.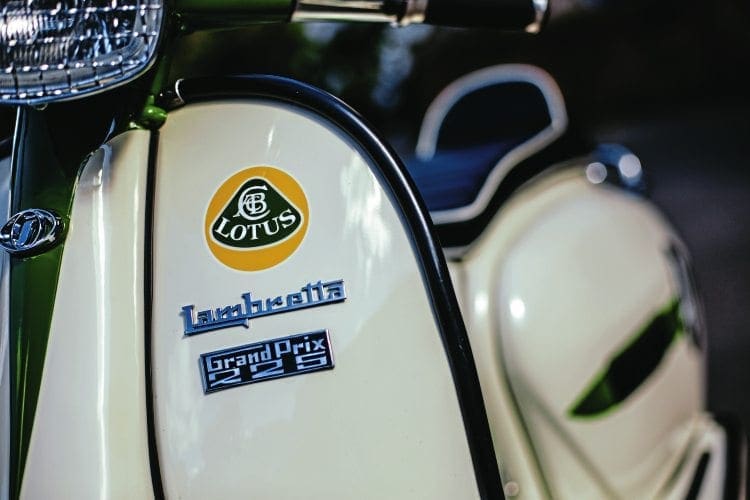 "When I saw it I thought; Yes! There's a paint shade which hasn't been done before on a scooter. I'll have that! And I'll do the scooter as a tribute to the late Jim Clark — former Formula 1 world motor racing champion."
The 'Clark connection'
With the Jim Clark theme set in mind and as a result of Jason's research he discovered that Jim Clark was a close friend of the late Mike Hawthorn, Britain's first Formula 1 world motor racing champion who, as a child attended Barfield School, Farnham, which is only three miles from Jason's home.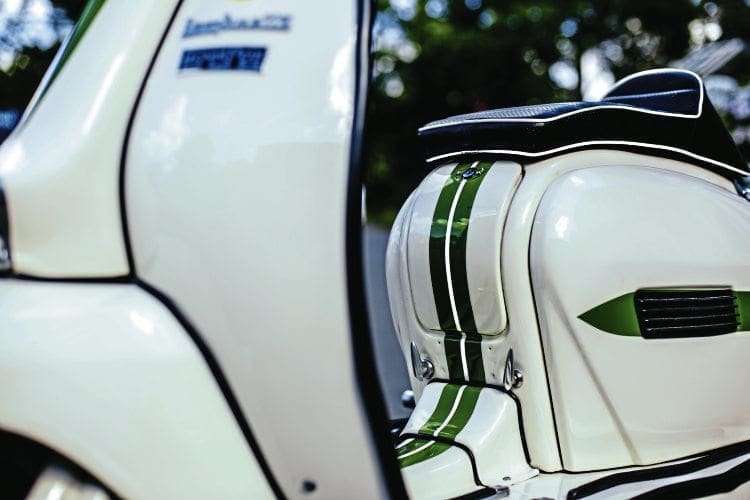 Jason said: "Barfield School, was previously known as Barfield House, which was originally built for the inventor John Henry Knight who is a distant cousin of mine!" With a smile on his face and with an element of pride Jason said: "John Henry Knight was a forefather of the AA and RAC. He was also responsible for lobbying Parliament to abolish the Red Flag Traffic Act after he and a colleague were arrested for breaking the 8mph speed limit at a speed of 14mph! This red flag is the one, which you see symbolically ripped in half before the start of the London to Brighton race!"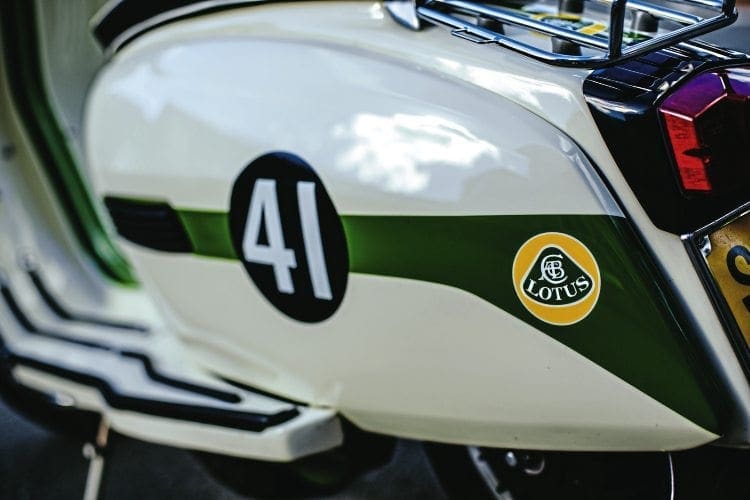 Jason commissioned JB Tuning to build the engine and his choices in gearbox and supporting parts make an absolutely outstanding combination. The scooter runs on a Casa TS1 225 Avanti head and piston. It has a road race crank with a Yamaha con-rod.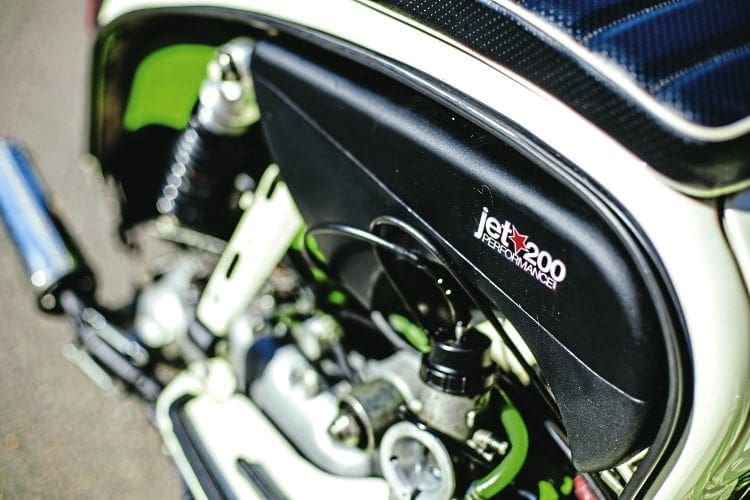 It has a Cyclone five-speed gearbox, AF clutch and Franspeed JLB Exhaust. The main portion of the stopping power is provided by the LTH front hydraulic disc brake, supported by BGM front dampers and Scomadi forks.
Crash
The scooter is painted in Ford Irmin white and Sherwood green, with airbrushed badges. Having received all the parts back Jason got on with the rebuild and eventually got the scooter on the road at the end of May 2015, but after only six days on the road a car pulled out in front of him taking him off the scooter. Jason said: "I was devastated; the bloke just drove off and the scooter was smashed. To make matters worse the scooter was later seen by an underwriter who tried to write it off, telling me that the engine was seized! I wasn't having any of it; I said to the fella, 'Give me the key!' I turned the fuel on, switched on the ignition and the scooter kicked up first time!" As a result of the accident the scooter had sustained some damage to the bodywork so Jason contacted Stuart Harris of Ooey Custom Paint, Camberley to re-do the work. In terms of engine repairs required as a result of the accident, Jason discovered that he only had to reseal the barrel to crank case to get it all running perfectly again.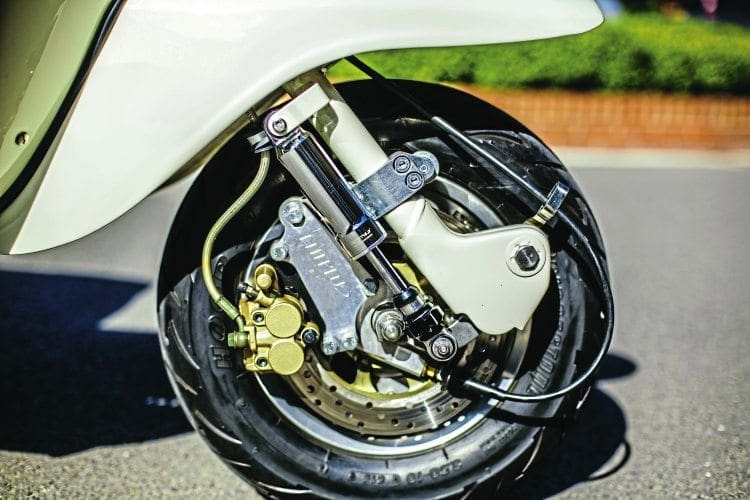 I asked Jason how the scooter performs, and he said: "It handles superbly; it's been dyno tested at 70mph in third gear! And it powers up perfectly through each gear. I've had it up to 85mph with no problems and there's more to go! It cruises nicely at 75mph and prior to being run in it was dyno tested at 28.3bhp. With all that exciting stuff said and at the risk of sounding like some kind of red-flag speed limiting anorak I asked Jason if the scooter was reliable. "Yes," he said, "but it doesn't like being ridden round town, every now and then I break the odd cable but that's because it likes to be run hot!"
To top it off
The Lotus Lambretta was back on the road in May 2016, which gave Jason the opportunity to enter it into the custom show at the Sid James 'Carry on Regardless' Rally where, on its first outing it won Best in Show. What a story!
MAN & MACHINE
Name: Jason Robinson
Scooter club: A5 Aldershot.
First interest in scooters: When I was in my mid-teens.
First scooter: Lambretta GP125 when I was 17. It was in need of a complete renovation.
Favourite scooter model: TV Series II.
Favourite style of custom scooter: Full panelled, nice paint jobs.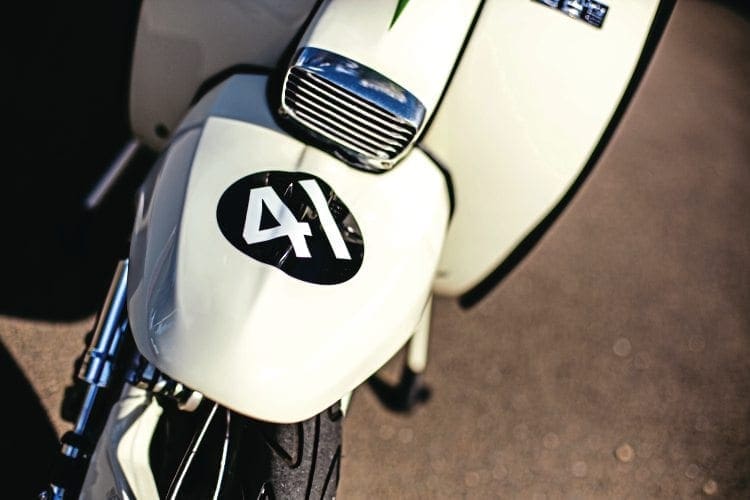 First rally: Cap and Gown, Reading 1986.
Worst rally: My worst rally moment was when I went to Mersea Island four years ago and blew up the piston 15 miles from the venue on a dark Friday evening.
Furthest you've ridden: Weston-super-Mare. I don't think my back can cope with great distances these days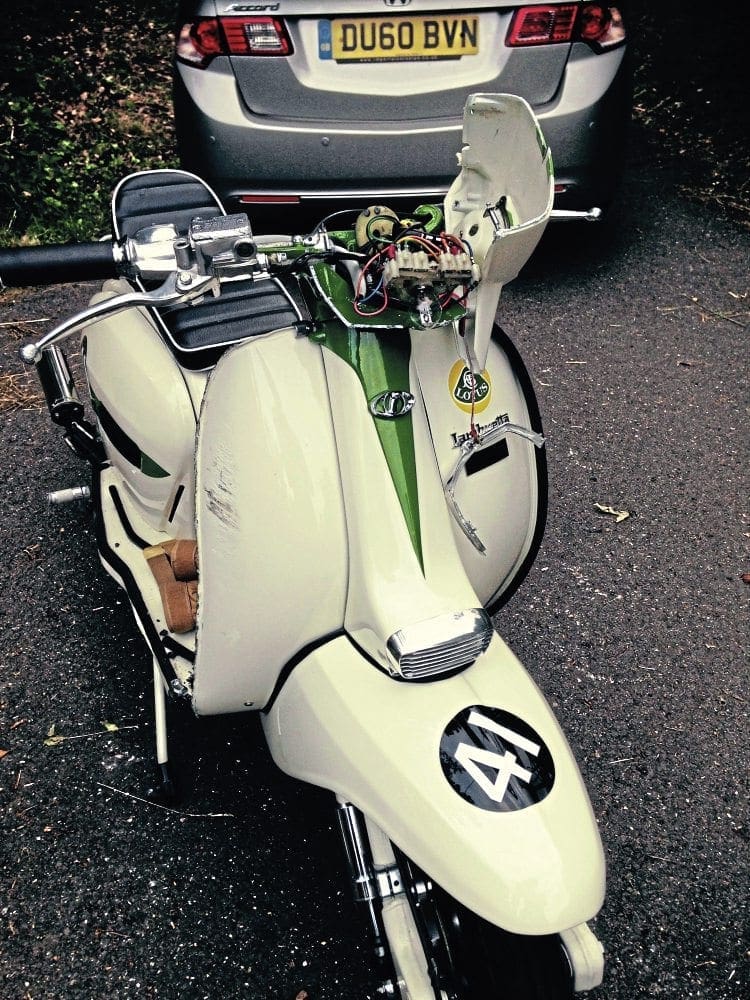 Favourite Scootering magazine feature: Paul Weller's interview in '97 when he mentions his cousin's band Weaver.
Favourite scooter of all time: 'Dambusters' as my great uncle worked with Barnes Wallis before the Second World War on RDF, which was the name given to early radar.
If you had to recommend one scooter part what would it be: LTH front brake.
Most useless part you've ever bought: Stainless steel fuel tank. Don't bother!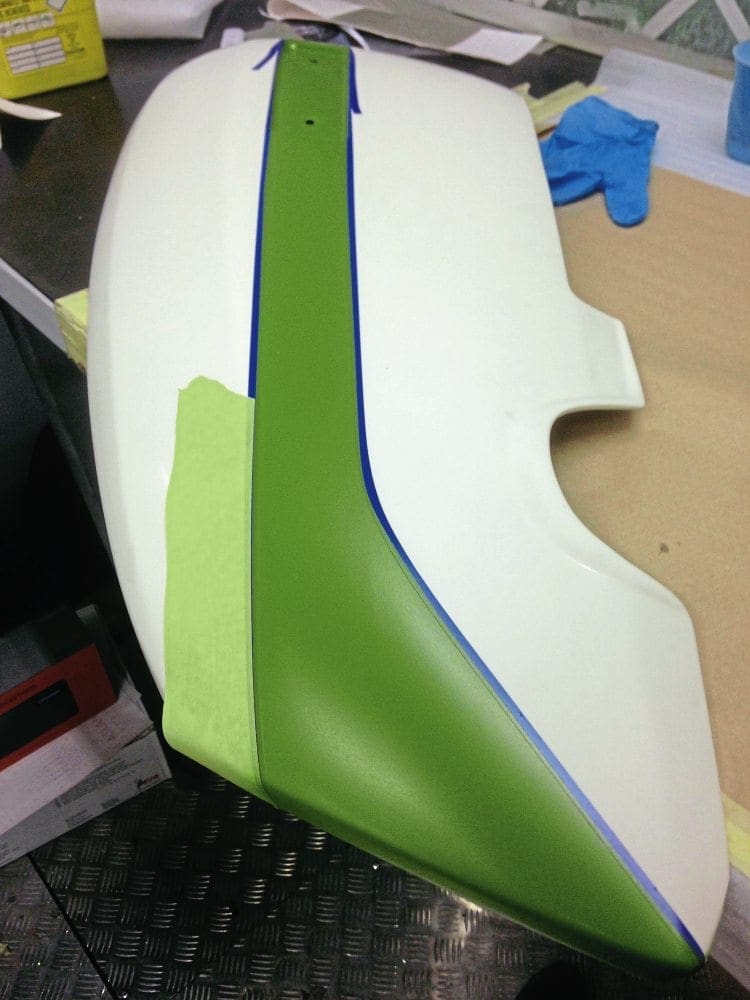 Name of scooter: Lotus Lambretta
Scooter model: Lambretta GP TS1 225
Date purchased & cost: May 2006 for £1600.
Inspiration for project: Mk.1 Lotus Cortina and the late Formula 1 racing driver Jim Clark who was also a friend of the late Mike Hawthorn — Britain's first Formula 1 world champion driver.
Engine spec — kit: TS1 225 and Avanti head. Crank: Race Crank. Carb: 38mm Flatside Dellorto. Exhaust: Franspeed. Clutch: AF. Gearbox: Cyclone five-speed. Porting & Dyno by: JB Tuning.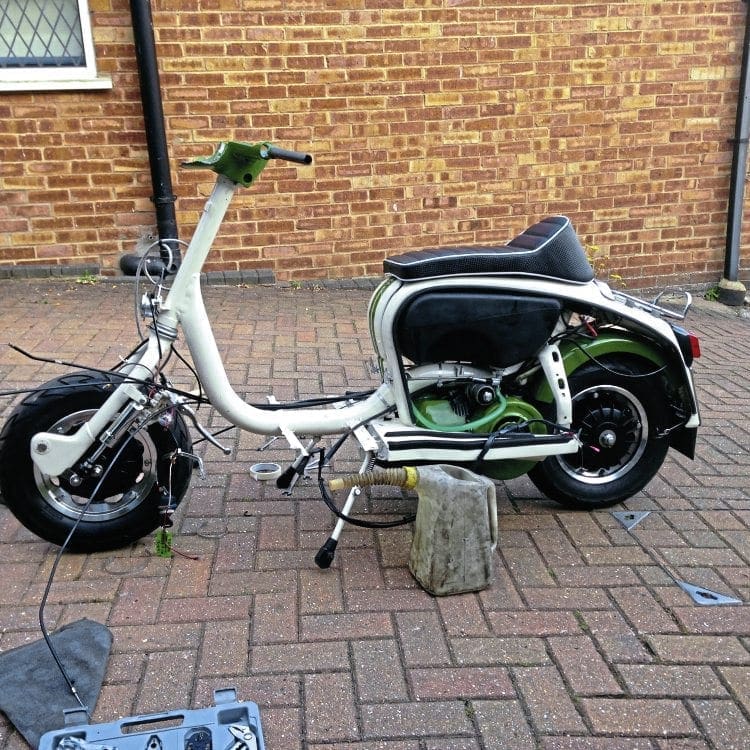 Has the scooter won any show trophies: Best in show — Sid James Isle of Sheppey 2016. Best Lambretta — Hayling island 2016. Best Lambretta – Solent Cougars 2016. White Dove — Best Continental Cup 2016. Fleet Lions Classic Superbikes — 1st prize 2017. Church Crookham North Hampshire Motorcycle Club Les Pelham Trophy 2017. 1st Place — Mods at the Frog 2017.
Is there anyone you wish to thank: All at JB Tuning, John and Mike Ooey Custom Paint, Richard and Kate Anthony, Stuart and Justin Harris from Hiwatts for winning the same trophies as me at the same rally!
Words: Stu Smith
Photographs: Gary Chapman

Enjoy more Scootering reading in the monthly magazine. Click here to subscribe.