After receiving an unwanted sabbatical from driving, Wolfie decided to put his time to good use: he would create part 2 of an old master… Nagasaki Nightmare 2.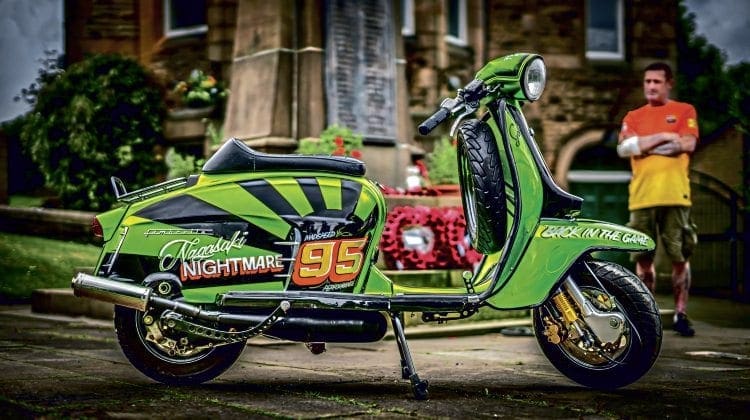 Back in the game
Paul Wolf (Wolfie) once met, never forgotten – not for sinister reasons, but because of his insatiable lust for fun, banter and mickey taking as I found out quickly. You can't help yourself but laugh and join in with him. Being a plasterer and ex-boxer, you'd presume Wolfie would be a capable lad who could turn his hand skills to anything. Well you'd be wrong, and without exception, his spanner twirling skills and mechanical grasp to say the least are laughable… he readily admits that and laughs about it. But that doesn't mean he doesn't know what he wants or who he wants to do it.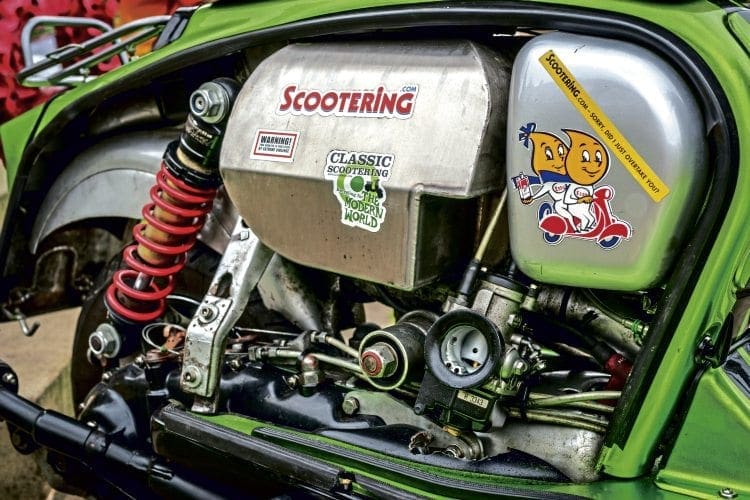 Wolfie has owned quite a few scooters over the years, and a couple should be mentioned: the original orange and black 'Nagasaki Nightmare' and the absolutely bonkers small frame Vespa: 'Nosiy Boy'. So when a new project started to bubble and ferment in Wolfie's head and he found himself in a position to buy a very neat Lambretta off fellow clubmate and partner in crime Stevie, he knew exactly what the scooter would be, and who was going to help him achieve his goal!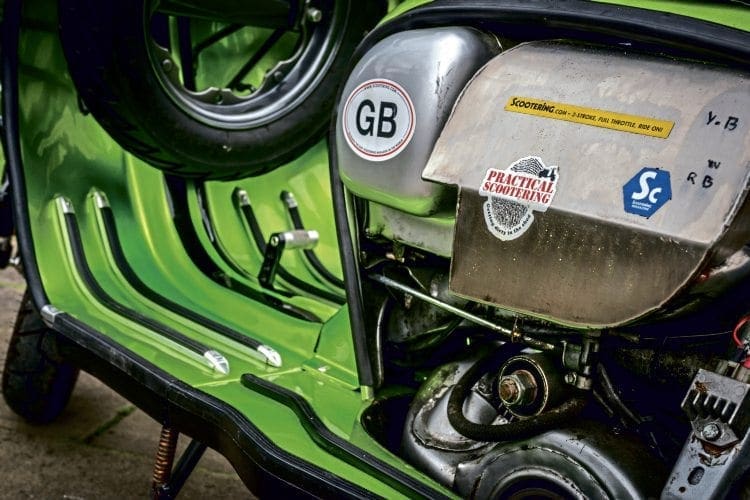 Nagasaki Nightmare 2
Having been gifted a break from the laborious task of having to drive every day and ride every weekend (courtesy of HM Court Services via cheeky driving ban) Paul took a positive from a negative, and used the time to build his next scooter. The motor, as with the original Nagasaki, was dispatched to Dave Madison of Madspeed Performance Scooters in Bradford. Paul delivered the engine to Dave personally, an experience that usually leaves Dave having to have a lie down in a dark room for several hours after dealing with Captain Chaos Paul Wolf.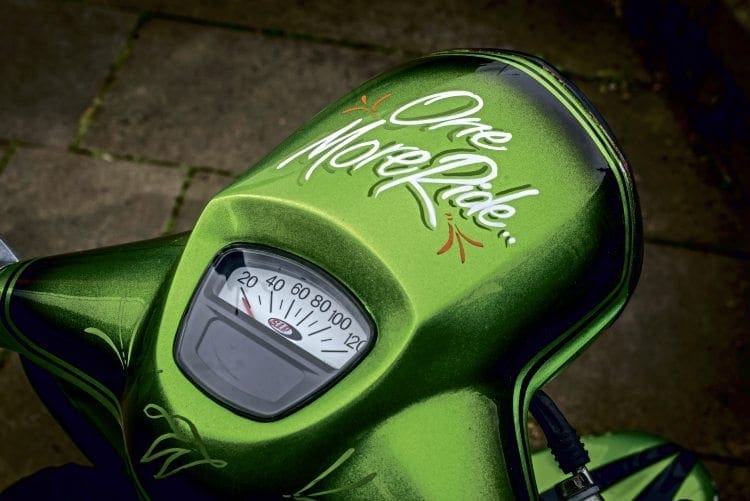 But this time the meeting went well, and an engine spec was agreed upon. While Madness worked his dark magic on the motor, bodywork and frame were dropped off at a local body shop Wolfie had used many time before, in order to lay down the paint. The choice of colour was candy 'acid Green' with black fogging and Rising Sun graphics. The artwork was applied, tipping a generous nod to the original Nagasaki, using hints of orange. The quip 'Back in the game' is of course his own way of acknowledging that the driving ban had finally ended and he could once more indulge his favourite passion… scooters.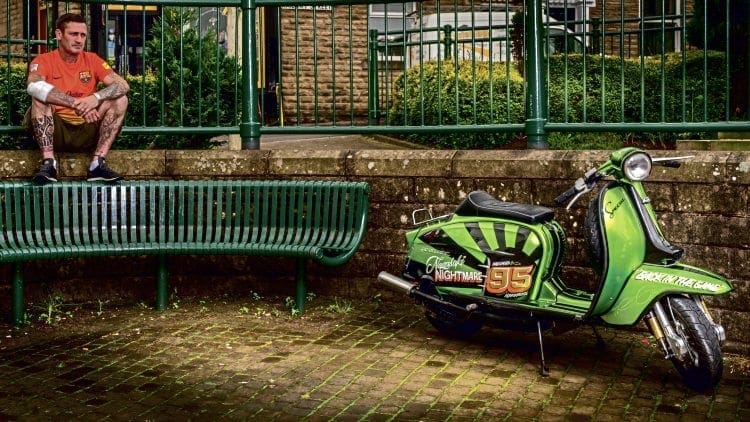 Assembly
So with the ban over, and the parts back with him, the painstaking moment of assembly loomed. With fresh paint this is always a tedious and somewhat laborious chore, desperate not to scratch the new paint. But soon the new motor was installed, along with drop bars, Targa line dampers, disc brake, saddle and new consumables; the build process was actually looking very good. Wolfie's son Joe and Jasmine, eight, were chief supervisor and quality assessor to the build, and I did pity them as it's clear that working with Wolfie on any mechanical task, not matter how simple, is like herding cats while drunk and blindfolded.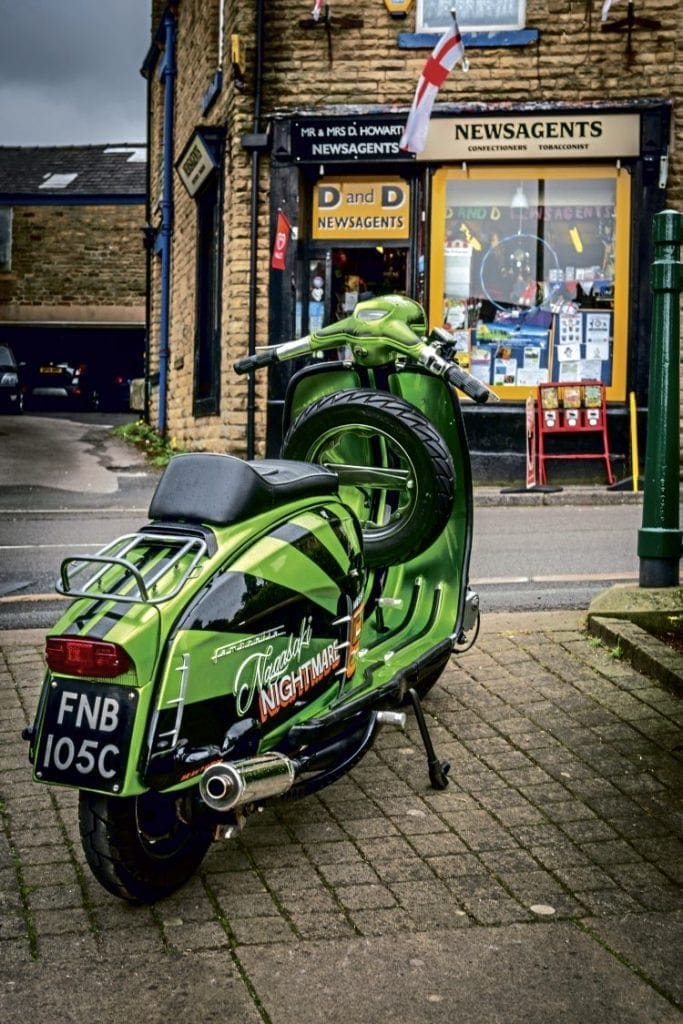 But finally the beast was complete, and since then it's never missed a beast and as the photographs show, this scooter is not wrapped up in cotton wool, it's used and abused. Don't get me wrong, the paint scheme is Wolfie's pride and joy and he certainly does his best to carefully maintain it, but that doesn't mean he's frightened to rag the scooter around, or has to polish it every two minutes… there are battle scars and war wounds aplenty on this beast, something he is proud of.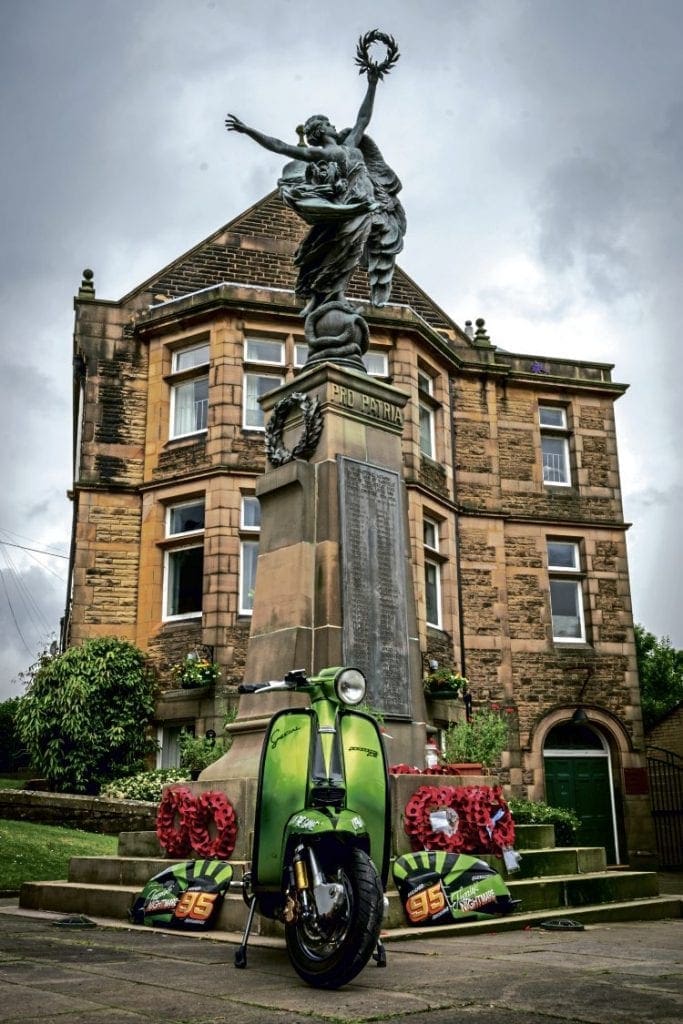 Too many scooters have become 'show room delights' these days, so it's great to see another one sporting a fantastic paint job… but also a bit 'roughed up' as a nice result of being ridden, not hidden.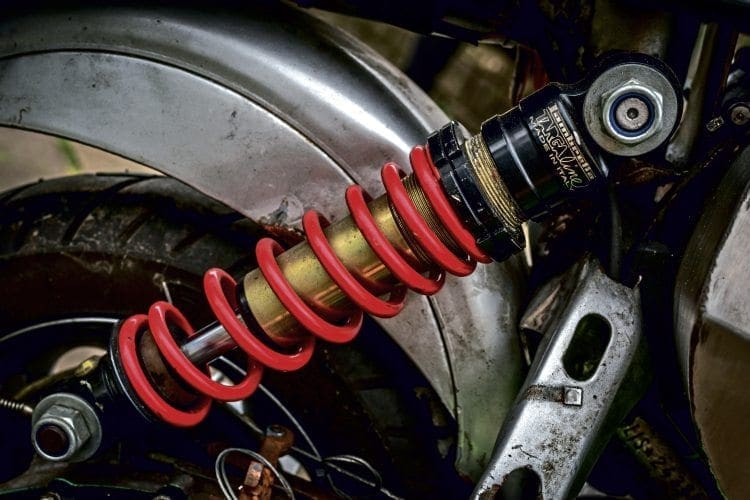 So there you have it, another stonkingly fast street scooter ripping around at licence losing speeds – the cause of Wolfie's problem in the first place!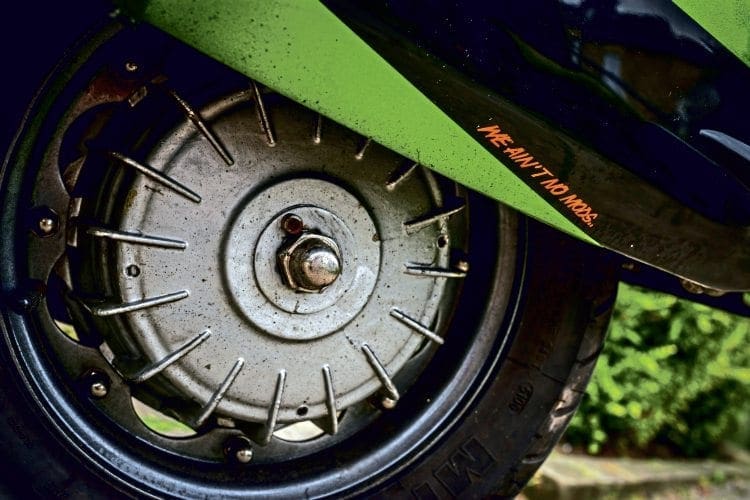 MAN & MACHINE
Name: Paul 'Wolfie' Wolf
Age: 50
Job: Plasterer.
First got into scooters: Early 80s.
First scooter: Raleigh Chopper.
Favourite type of scooter: Lambretta GP.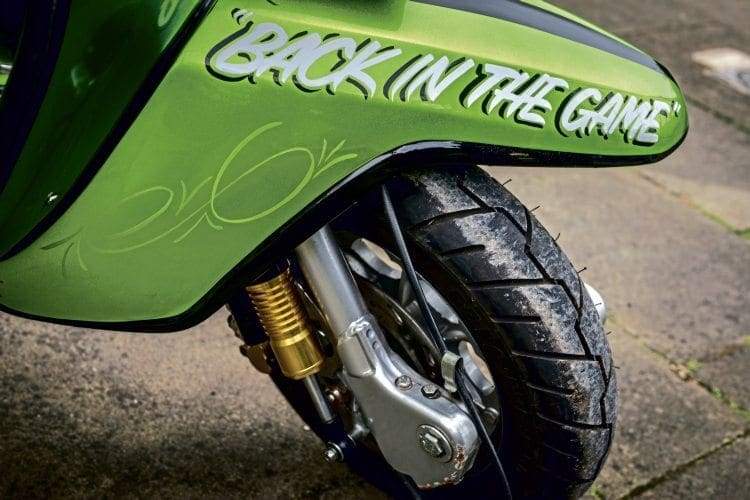 Scooter name: Nagasaki Nightmare.
Scooter model: Li 150 Special.
Cost: £3800 and plastering favours.
Inspiration: Hayley's father Kendo Nagasaki the wrestler.
Built by: Owner, Jasmine, Joe and Hayley.
Engine: Madspeed Performance Super Tuned Imola 186 2mm out of exhaust port. Polished casings and transfers all matched. 46/16 sprockets 60mm crank, 30mm Dell'orto PM 28 pipe and Surflex clutch.
Thanks: Stockport Crusaders, Daz, Jonnie, Stevie Ace, Steve Bell, Eric Mason, RIP Michael Mason and Ronnie Clayton.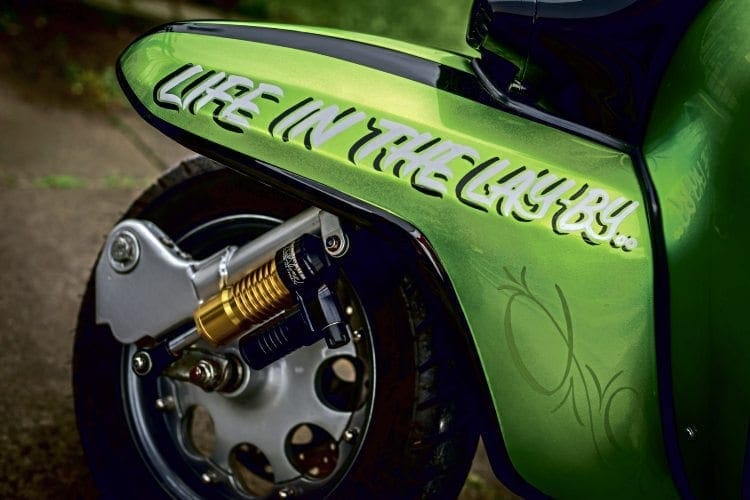 Words: John Willie
Pics: Jamie Rowland

Enjoy more Scootering reading in the monthly magazine. Click here to subscribe.