The latest offering from the 'Exiled' stable – based on the stunning 'Pure Sex Dragster' – made by Exile Cycles…
After I built my tribute to the ground-breaking chop Exile in 2012, we met up with Russell Mitchell and his family at his California base while holidaying. He was just finishing off one of his bespoke 'Pure Sex' dragsters (no not an Italijet, but a monster-engined lowrider that was first conceived in 2004 to compete in Discovery Channel's Biker build-off series), its simplicity and lines were just perfect so when my wife asked me to create her a Lambretta chop I decided to base the build along the same brief.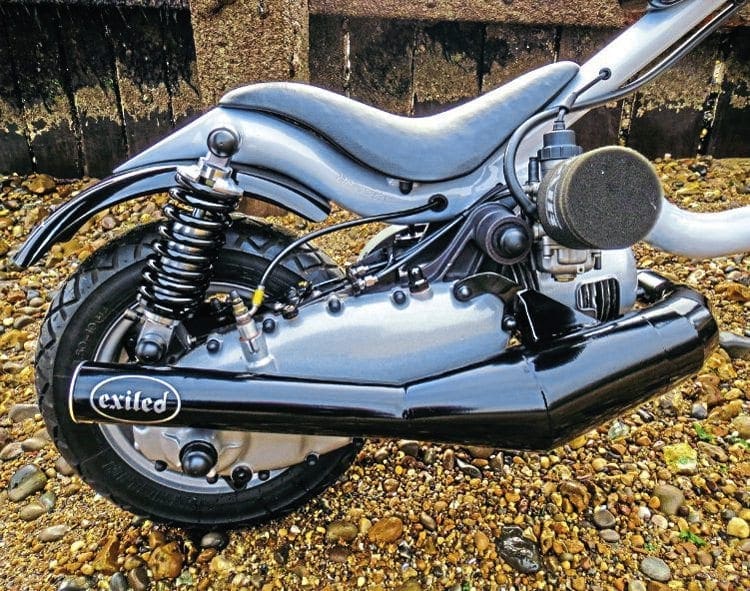 She's a proud Essex girl so the name just seemed right! It took about a year to build, but most of that was waiting for outsourced parts and fabrication, although I must say all the professionals I have used have been real diamonds. After being donated an already chopped GP frame at the 2012 Brid T&C show (thanks Roob) we set about the design. It was always our intention to give the scooter a clean low-rider look, so after extending the frame by 6in with another scrap piece of Lambretta frame, it was mated onto a Suzuki RM250 headstock and adapted to take 50mm diameter Moto-X forks.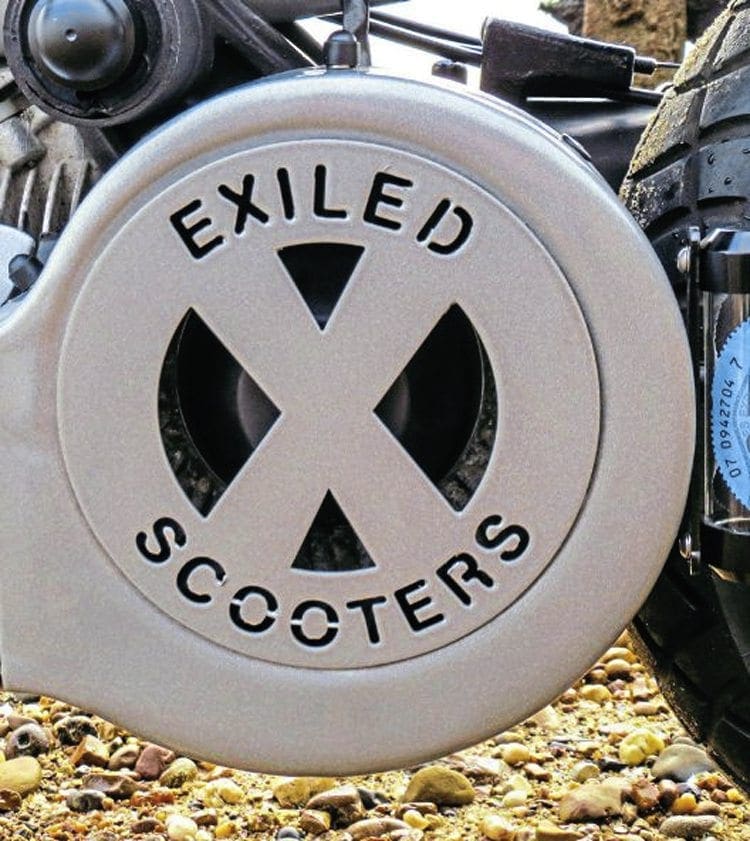 I wanted to use a spoked wheel so sourced one from a pit-bike and made up spacers, a hub spindle and bracketry for the slave cylinder to fit. The rear end was then sculptured around the back wheel with more Lambretta steel and a new top shock mount fitted. By using a one-off suspension the mudguard could be used more as a hugger. It would also make up the number plate, probably not totally legal but then the Channel 5 Essex Police Interceptors have enough on their plate!
Next, the aim was to make the build as 'uncluttered' as possible, very much in the Exile style — cables and loom were routed through the frame, clip-on bars fitted, matched lighting and working foot controls all designed and built from scratch. To get the gear changes comfortable several different diameter 'wheels' were tried. The chosen wheels have small bearings fitted for smooth action, the pegs are then knurled to match the grips. It also has both removable stand and kick-start, although after carrying these around in a rucksack it doesn't seem the brightest of ideas! At the moment I am working on an electric start similar to the one used on the Italjet Dragster with modified mag housing and flywheel, so as to lighten the load slightly and make room for hair straighteners and a pair of white stilettos! Plans are also in motion to design an inner corkscrew style throttle for the 22mm handlebars so as to remove another cable from that area. It would also be nice to re-site the petrol tap to the bottom of the tank and run the fuel through the frame. However, with a new addition to our family, this taking a while.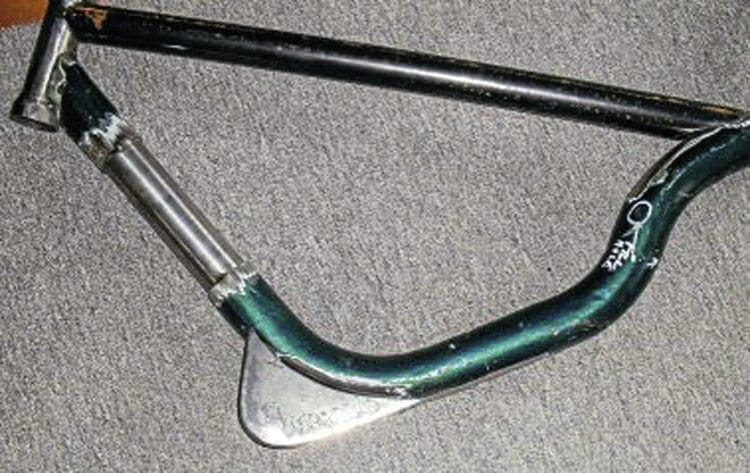 Special thanks must go to Karl Harris for all the welding, etc. that made our idea a reality. This scooter was never built for the custom show circuit, but we were made up that at the one and only event it was put under the spotlight (the LCGB T&C) it picked up two pieces of silverware (well glass actually) for Best Cutdown/Chopper and Runner-up in Best Engineering. It was also really nice to show it to Russ who said he loved the rear end treatment and use of a spoked wheel.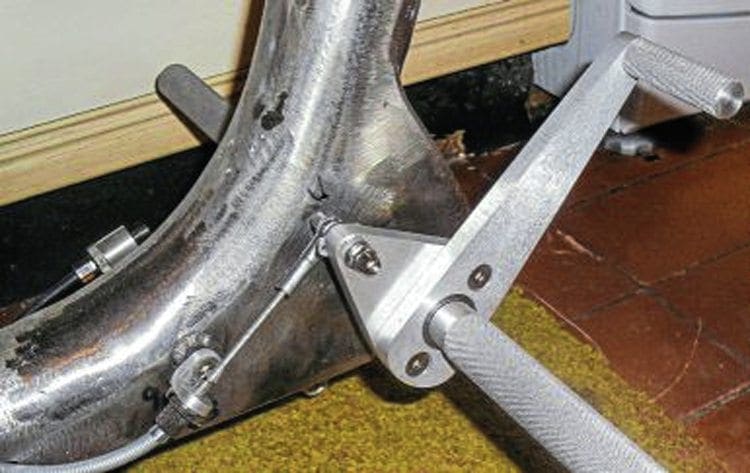 THE FRONT END
The one thing I really don't like on chops is the 'spaghetti' of cables, wires, etc. that is around the handlebar area. To cure some of this, all of the wiring for switches and lighting was done internally. I also copied an excellent idea from Exile Cycles (albeit crudely) by using the left grip as the light control with pressure contacts for On/Off and Hi/Lo beam. As previously explained I am working on an internal twist throttle at the moment, and that will remove another cable from the area. Another problem we encountered was that by using double strength clutch springs with a large centre spring you had to have a hand like 'The Mountain' to just engage. I had always fancied a hydraulic clutch and after a few failed attempts, and a bit of adjustment seem to have got it just right. The compact master cylinder from an Italjet Dragster fitted and gave enough pressure, and so was mated with the front brake one.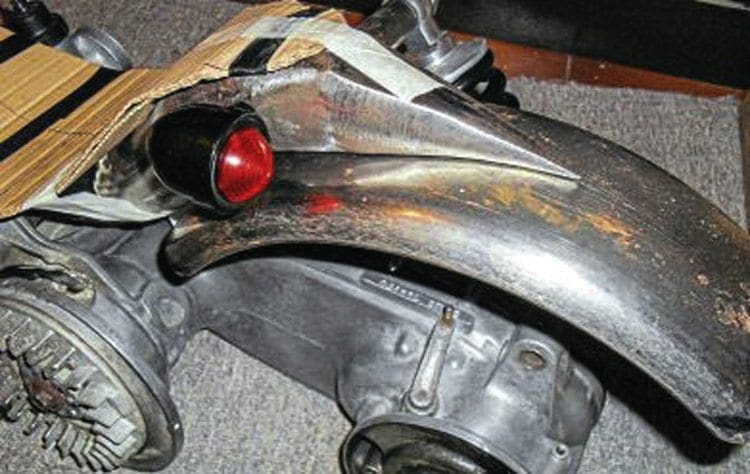 THE ARSE END
As a standard Lambretta engine and rear suspension works basically as a swinging arm it means that the rear end is often left untouched. However to keep the long lowrider look I wanted to change this. So after getting the right ride height I searched for the correct length and strength rear shock — and found one on a pit bike! After making up fixings and new mounts, Karl came up with the idea of curving and pointing the frame around the rear tyre. This meant the mudguard could be used more as a hugger. It is fitted so an old style AF wide rim with an 110/90 tyre is just usable. But for around town, I have gone back to a standard 3.50×10. I also find chop seats can be an eyesore, either too big they resemble a block of cheese or too minimal you may as well be sitting on an odour eater. By once again sculpting to the frame a detachable base was given to Corky who used high-density foam, get inlay and leatherette to create the 'Slug'!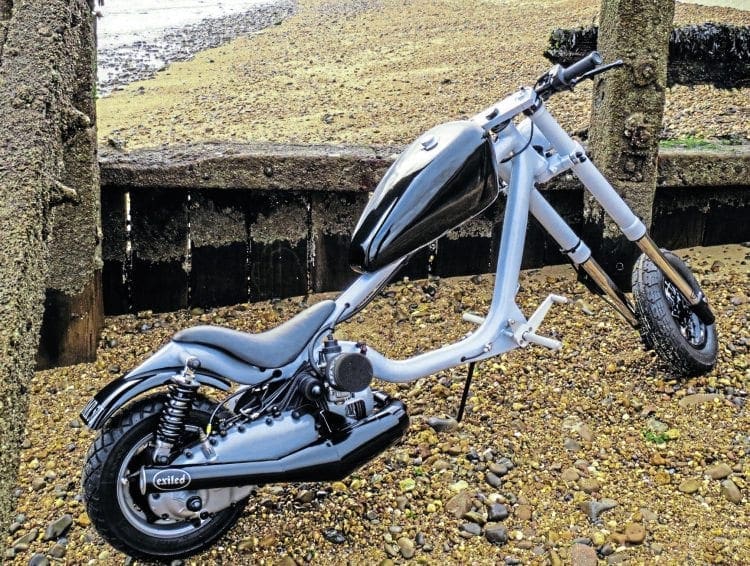 THE FOOT  CONTROLS
Over the years I have tried various foot controls on both cutdowns and chops. Now although the brief with PE was to keep everything hidden we didn't want to sacrifice usability. With this in mind, I contacted fabricator Adi Newnham to make a set of 'external' controls that were both responsive and easy to adjust. We tried out various sized gear wheels to get changing right and also keep it to a size that didn't look out of place. By keeping the adjustment outside the frame it also means a snapped cable doesn't require any special tools and is fixed in minutes. Inside the frame, a T5 style pressure switch activates the brake light when force is applied.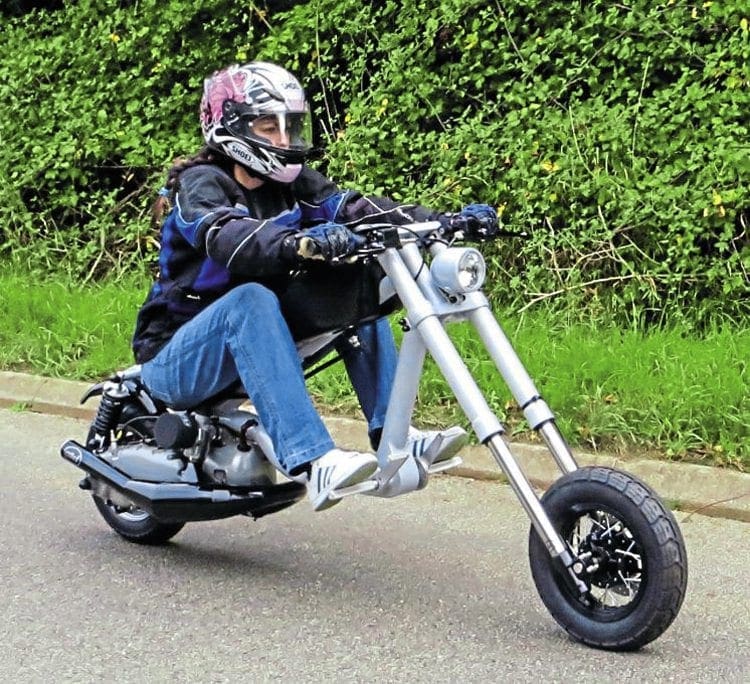 MAN & MACHINE
Name: Kerry Oakley
Scooter club & town: VFM Collective, hometown Harwich, Essex.
How and when did you first become interested in scooters: 1993 through my future husband.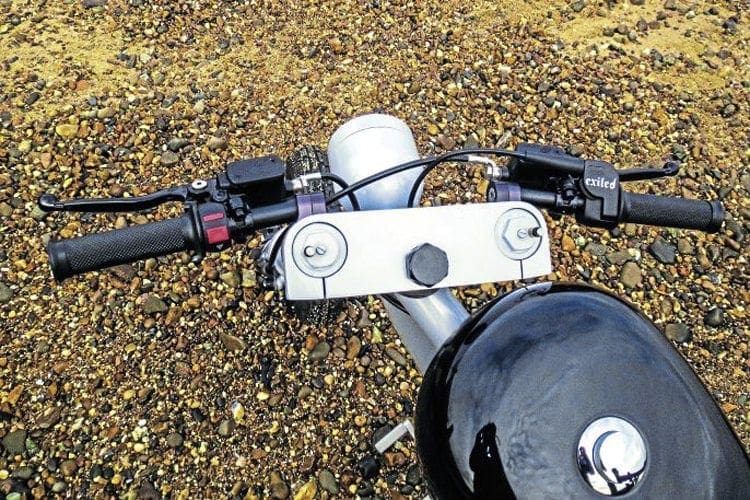 What was your first scooter: 1970 GP125 'Godfrey'.
First rally or event: Mersea Island 1993.
How did you get there: Pillion.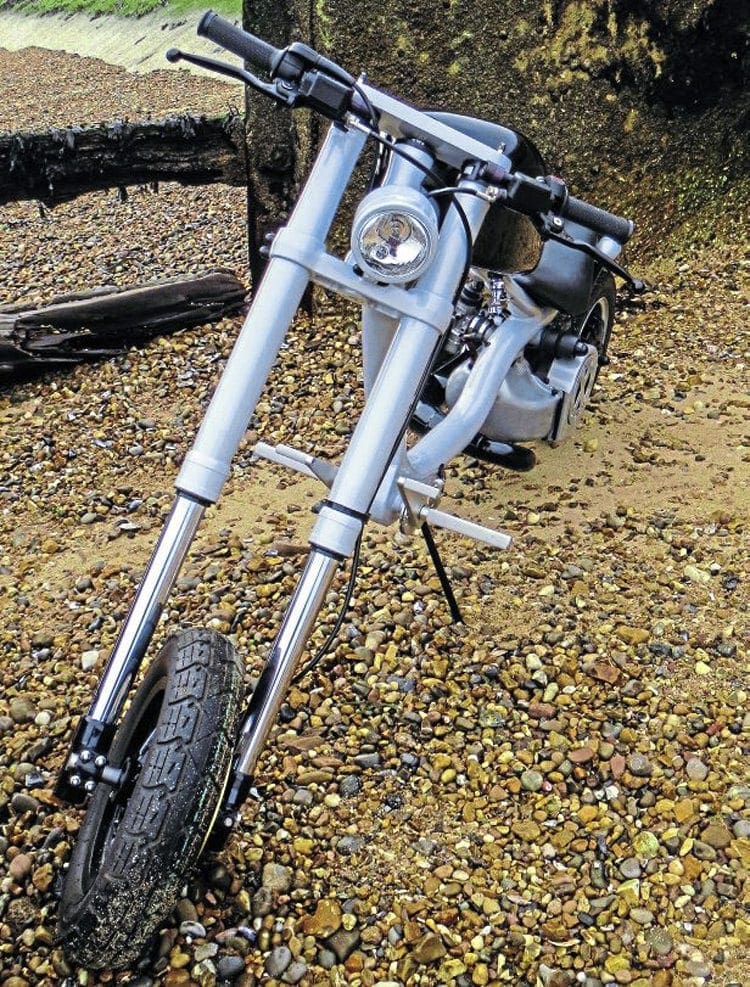 Favourite rally/event: NE rallies/Tilff's.
Your favourite custom/featured scooter of all time: Wake and Chewits.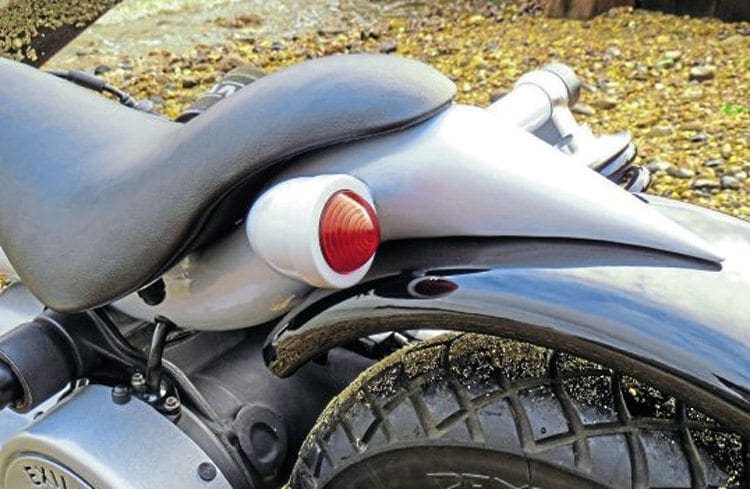 If you had to recommend one scooter part or item of riding kit what would it be: Gel seats!
What's the most useless part you've ever bought for one of your scooters: Non original 22mm carb for my GP.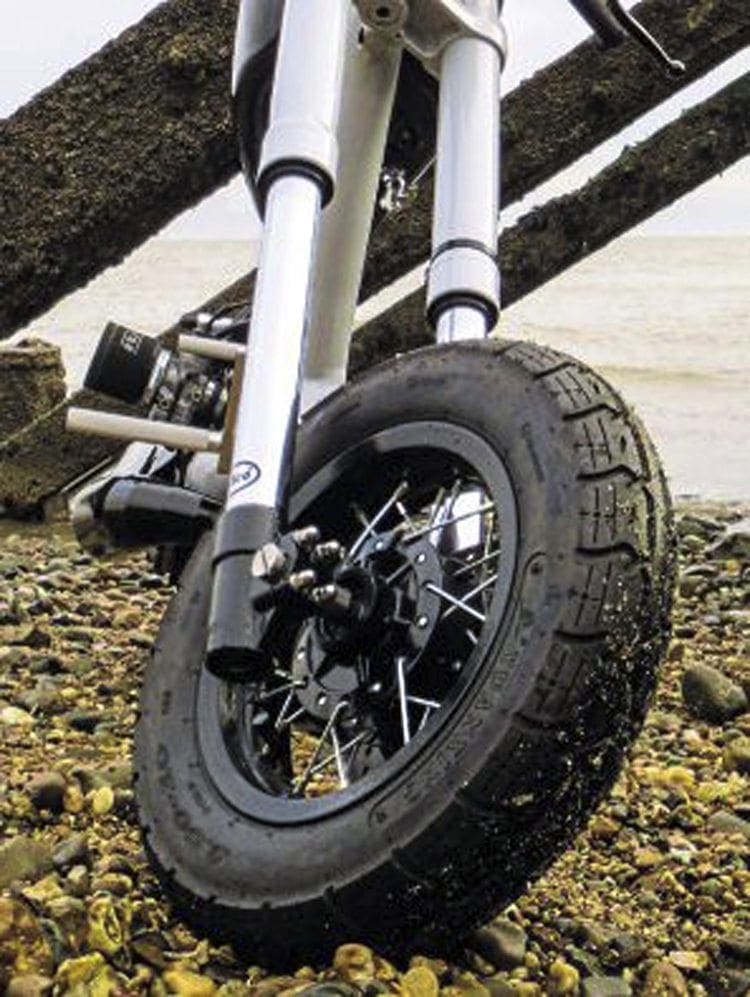 Name of scooter: PURE esSEX
Scooter model: Frame is an amalgamation of Lambretta GP and Suzuki RM250.
Date purchased & cost: Built from scratch 2012, donated frame, RM parts £50.
Inspiration for project: After my husband built his tribute to chop Exiled, we met up with Russell Mitchell and his family at his California base. He was just finishing off one of his bespoke 'Pure Sex' dragsters, its simplicity and lines were just perfect so I asked Dave if it was possible to build a Lambretta chop based along the same brief.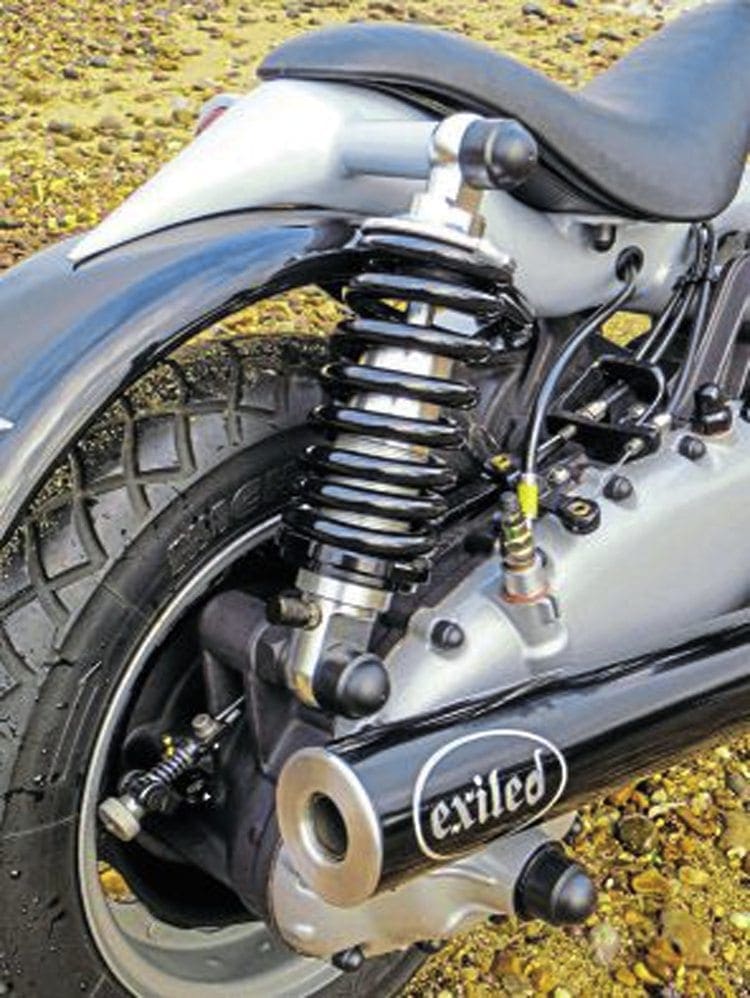 Engine spec: Kit: TS1 225 with 5mm packing plate. Crank: AF with Yamaha rod. Carb: 32mm flatside Dellorto with Ram-air filter. Exhaust: KH original based on 80s DJ. Clutch: AF cassette, hydraulic operation. Gearbox: Pacemaker. Porting work done by: MBD Stage 2 Road tune.
Paintwork: Black and Silver (original VW mixes), all by Stephen Allen Newmarket Paralytics SC.
Powder coating: Silver Titanium and Pitch Black by Elite Refinishing.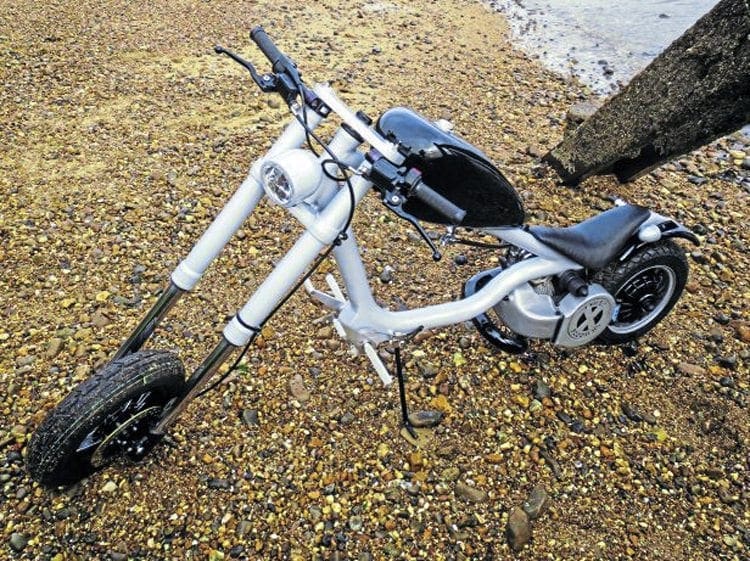 Describe engine performance, power delivery and scooter handling: It actually handles quite well, the foot controls were set-up for me and the hydraulic clutch makes life a lot easier.
Top speed & cruising speed: No idea of top speed, it sits nicely at 65/70mph.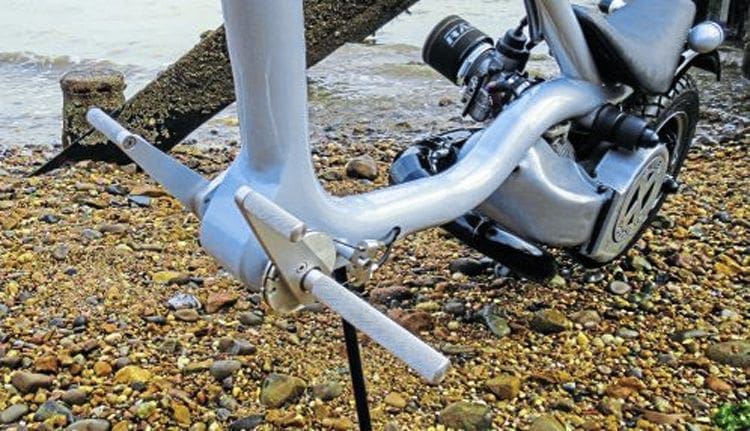 Overall cost: Discounting the engine which we already had, I'm told about £700.
Do you have any advice or tech tips for anyone starting a project: Be original.
Is there anyone you wish to thank: Dave & Karl for design and building, Stephen Allen, roob Harker, Corky, Adi Newnham, Stevie Goodfellow.
Words & photographs: Dave O

Enjoy more Scootering reading in the monthly magazine. Click here to subscribe.