When Mark Mitchell decided to create a tribute to his Formula One hero Gilles Villeneuve there was only one choice of machine, Piaggio's Vespa T5.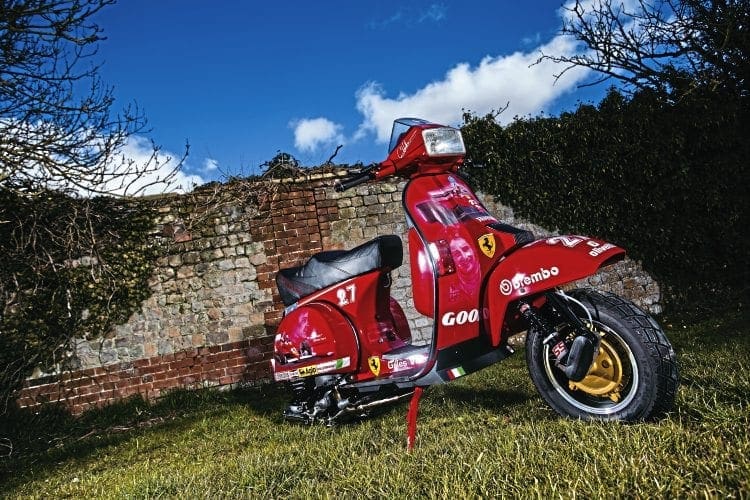 Launched in 1985 the T5 was a radical departure from the traditional curvaceous designs for which Vespa was so well known. Not everyone was impressed but its legendary performance soon won over British scooterists and I wasn't the only P2 rider to be puzzled after my first encounter with a T5. Watching a showroom fresh 125 pull away from me was simultaneously embarrassing and exciting in equal measure.
From the outset Piaggio made the most of its latest sports model. Having previously made a seasonal deal to award the Formula One driver with the most Pole Position points a brand new P-range, it wasn't long before the T5 was being photographed in the pits with famous drivers and featuring 'Pole Position' branding in the showroom.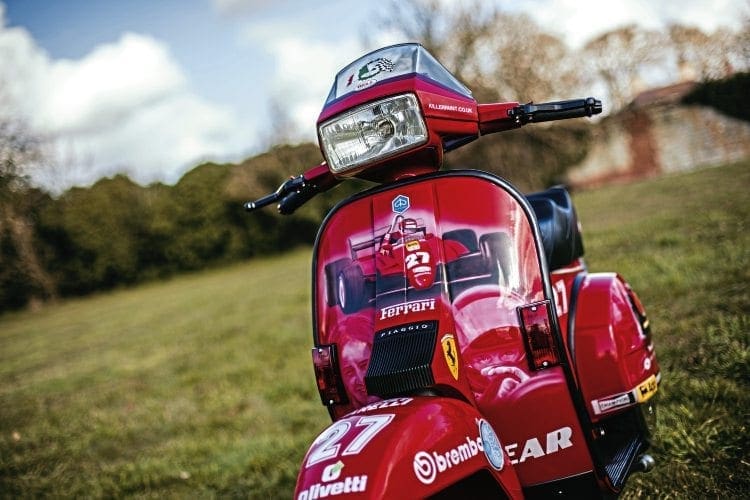 Starting grid
"I've been a fan of Formula One racing since I was at school," began Mark, the owner and creative force behind this gorgeous T5. "My all-time hero is the Canadian driver Gilles Villeneuve. His driving style was second to none – he would slide his Ferrari sideways like it was a rally car. I was about 12 when he died and I was devastated."
Although he now uses a GTS for long distances, Mark's a big fan of Vespa's P-range, particularly the Mk1s. Having decided the time was right to create a tribute to his Grand Prix hero, the logical choice was a 'Pole Position' T5. The problem was finding a suitable base for the project. Their low cost and relatively high performance means that most surviving T5s have had a hard life. Many of the five port engines went 'bang' a long time ago and as functional as the integral floor mats are, they also harbour water adding to the P-range's built in selection of rust traps. "I was very lucky," said Mark. "I'd been searching for four or five months when I saw this example being advertised on eBay. It only had two previous owners from new. It needed work but still had the original engine."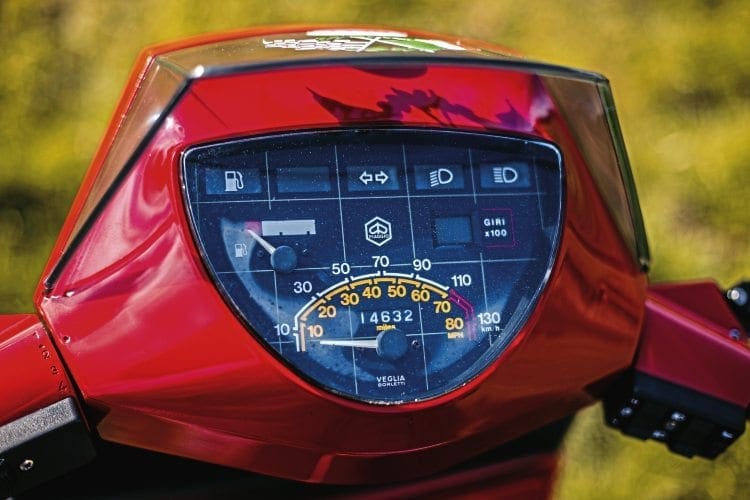 Having sourced a suitable scooter, the hunt began for a suitable artist. "I'd got a budget in mind," laughed Mark, "unfortunately the big names I approached were asking prices way beyond those I could afford. A friend suggested I try John Hooper at Killerpaint in Dawlish. From our first conversation I knew he was the artist I wanted to use." John's based in a small unit outside Dawlish in Devon, but the size of his operation is deceiving and even a quick glance at the Killerpaint Facebook page will reveal both the quality and breadth of John's work. His undoubted talent combined with affordable prices and a quick turnaround has ensured John an enthusiastic following in the South West. "I dropped the frame off with John and he took care of everything, including blasting," said Mark. "I was very nervous about the horrors that may be lurking under the paint but the T5 was pretty solid. The only hole was on the frame tunnel and that was no larger than the size of a 5p coin."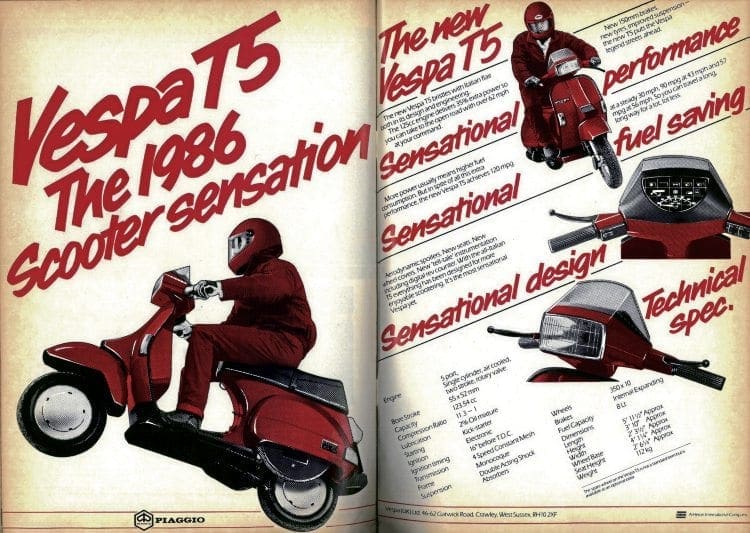 When creating a race tribute there's a temptation to go overboard but on this machine John's struck the perfect balance. The mixture of logos and murals is just right and in keeping with the Formula One theme there's no chrome, engraving or powder coating. The overall effect is of a showroom fresh red T5 that's been treated to a makeover rather than an over restored, over the top, show bike. It's exactly the effect Mark wanted and for those paying attention, there are hidden gems to be found. Inside the panels are Italian flags, a 3D tribute to Ferrari that plays with the senses, making it hard to work out if they're on the inside or outside. The toolbox lid contains another tribute, in this case to Mark's father and fellow Formula One enthusiast Tony.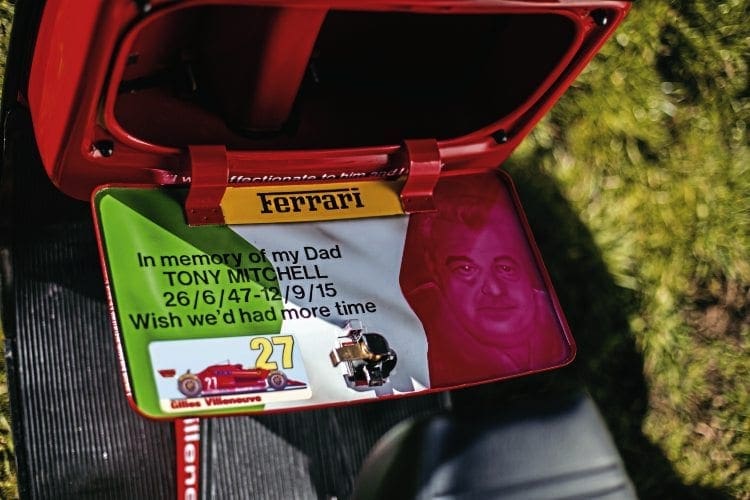 Although he's been around scooters since the mid-80s, Mark didn't trust himself with the rebuild. The painted frame and bare engine cases were dispatched to an old friend, Martin Goree at The Bike Clinic in Gillingham, Dorset. "While the frame was being painted I'd sourced all the hard to obtain T5 Mk1 parts and Martin fitted in the rebuild around his other work." Although a Mazzucchelli crank now lives in the casings and a TSR Revolver exhaust assists fumes on their way, the engine is essentially a standard T5. In Mark's words: "There's no point messing with perfection."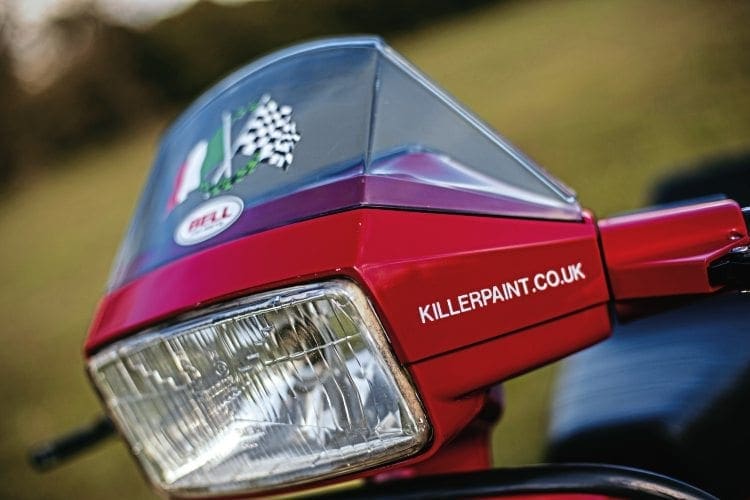 By any standard Mark has created a stunning scooter but incredibly the entire project stands Mark at a miserly £4500. Admittedly the build was completed at 'mates' rates' but he's joined the growing number of readers who prove that it's possible to build a head turner without breaking the bank.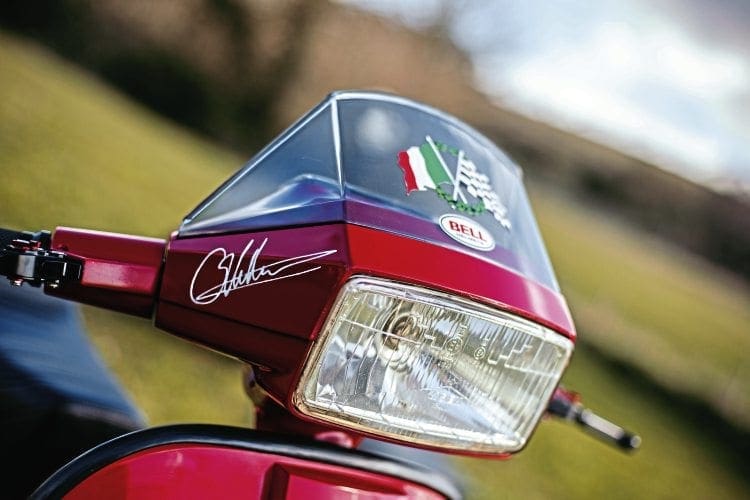 The coming season will see it being ridden to events across the southwest and even further afield. Will it pick up trophies? It certainly deserves to but Gilles himself never secured a championship and that didn't prevent him from becoming a motorsport icon. 'Salut Gilles' isn't just a superb tribute to Mark's childhood hero, it's also a worthy addition to the T5's sporting history.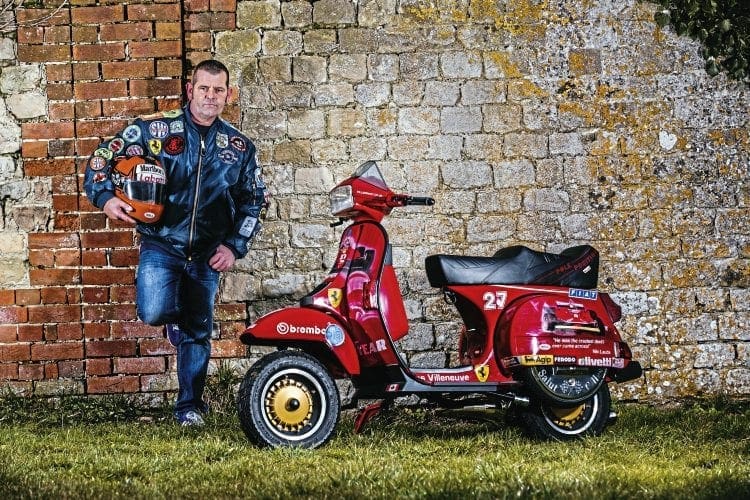 OWNER DETAILS
Name: Mark Mitchell
Job: Carpet fitter.
Scooter club & town: Radstock Devils SC, Warminster.
How and when did you first become interested in scooters: Late 70s/early 80s with the Mod revival.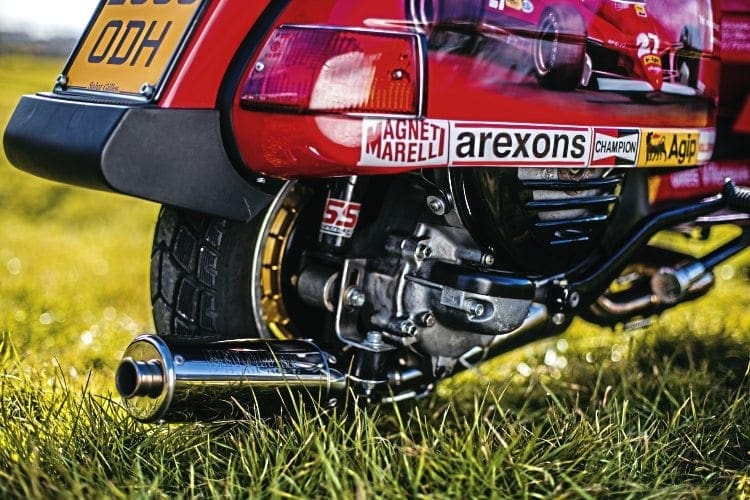 What was your first scooter: Vespa 90.
What is your favourite scooter model: Mk1 P-range.
What is your favourite style of custom scooter: Any, as long as they are ridden.
First rally or event: Weston-super-Mare, 1984.
How did you get there: Train.
Any stories: Too many, lol.
Favourite and worst rally/event: Too many to list.
Funniest experience with a scooter: Riding in Rome.
What's the furthest you've ever ridden on a scooter: Wiltshire to Rome, Italy and Lisbon, Portugal.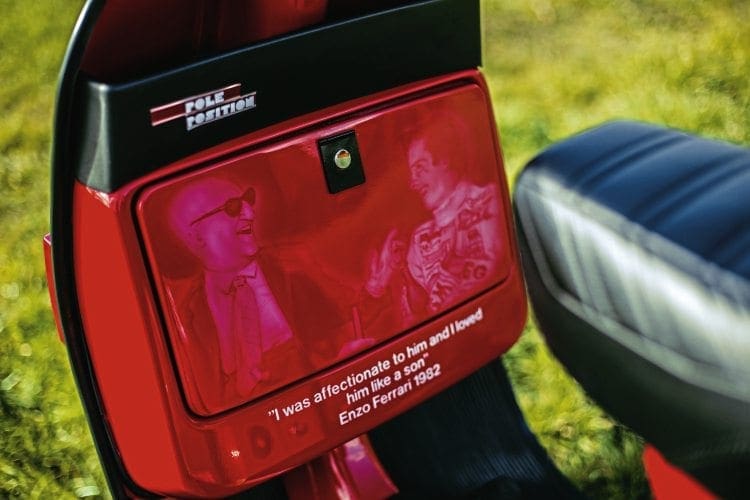 What do you like about rallies/events: The ride to and from with good mates.
What do you dislike about rallies/events: Too much snobbery to modern scooters.
What's your favourite Scootering magazine features: Tip and fixes maintenance and Reader's Scooters.
Your favourite custom/featured scooter of all time: Deckchairs at Dawn – Lambretta GP and Atlantic Gold – Vespa PX.
If you had to recommend one scooter part or item of riding kit, what would it be: Slime in tyres.
What's the most useless part you've ever bought for one of your scooters: Indian PX rear light guard item, listed as chromed and arrived in silver paint.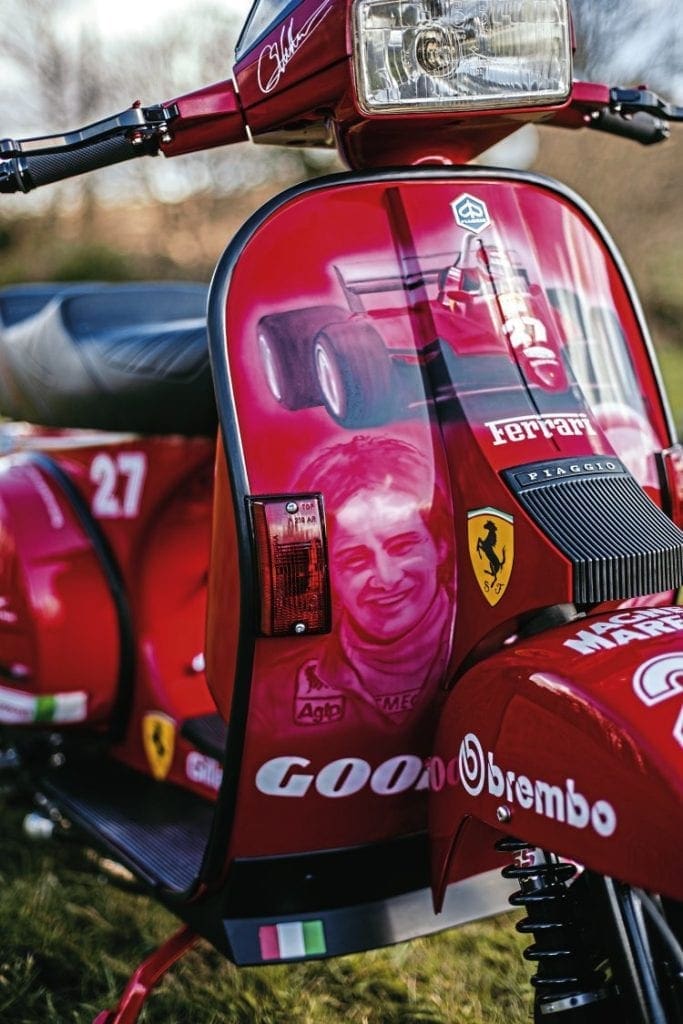 SCOOTER DETAILS
Name of scooter & reason: Salut Gilles. Tribute to my childhood F1 hero Gilles Villeneuve who died doing what he loved in 1982. Mk1 T5 Pole Position being the perfect choice.
Scooter model: 1987 Vespa Mk1 T5.
Date purchased and cost: Donor T5, March 2015, £1200.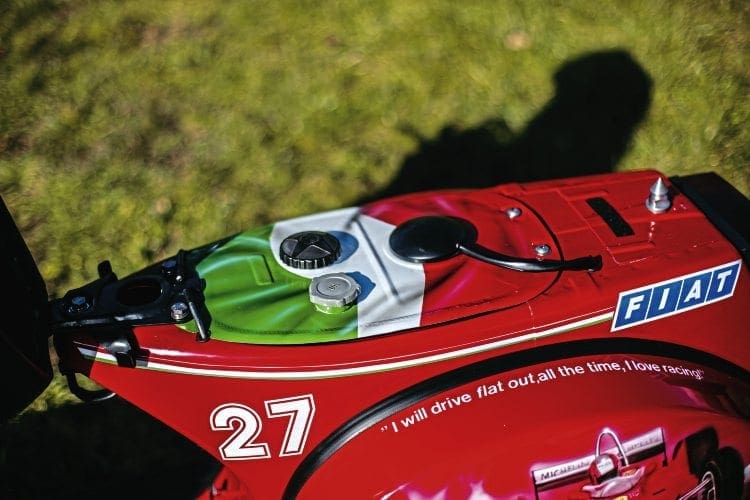 Engine spec: Standard rebuilt T5 top end.
Crank: Mazzucchelli race. Carb: Standard. Exhaust: TSR Revolver. Clutch: Cosa.
Gearbox: Standard.
Describe engine performance, power delivery and scooter handling: Standard T5 motor, good for 70mph.
Is the scooter reliable: Very.
Paintwork & murals done by: John Hooper at Killerpaint.
Overall cost: £4500.
What was the hardest part of the project: Collecting all the parts needed for the rebuild of a 30-year-old scooter.
Do you have any advice or tech tips for anyone starting a project: Take your time and be patient.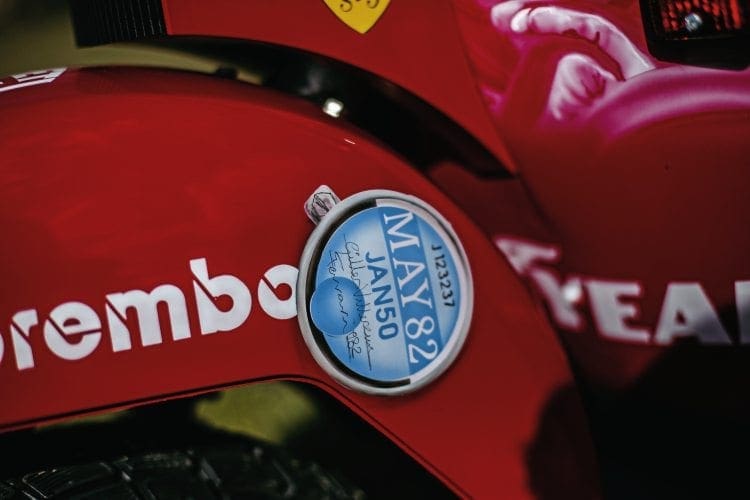 Is there anything to add to the scoot: Was thinking about some engraving but it's a ridden scooter, so maybe not.
In hindsight, is there anything you would have done differently: Yeah, don't buy parts off eBay as half went in the bin, shit quality.
Is there anyone you wish to thank: John Hooper at Killerpaint, Dawlish; Martin Goree at Bike Clinic, Gillingham; Pedparts, Bristol.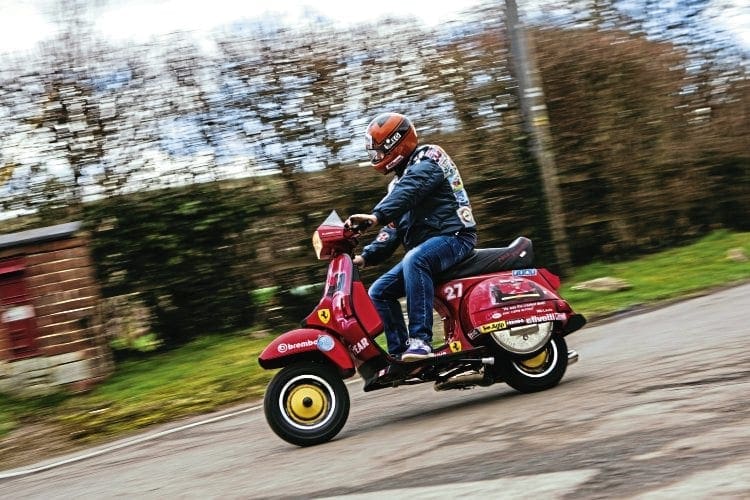 GTS TOURING TIP
Mark's no stranger to Continental riding although he now leaves his P2 at home in favour on a GTS 300. "We were around 2k into a trip around Spain and Portugal when the GTS refused to start. Up to that point it had been performing perfectly and nothing I could think of made any difference. In desperation I posted on a GTS forum and got an immediate reply from someone who'd had exactly the same problem when he'd also been riding on dusty roads. Like me he always used the key to stop the engine but it seems that unless the kill button is used every so often its micro switch gets clogged with dust. The cure is to wash it out by spraying WD-40 behind the button but dramas can be prevented by just using the kill switch once in a while."
CANADIAN HERO
Born in Quebec, Canada, Joseph Gilles Henri Villeneuve could be described as a born race driver. From an early age he was a fan of all things automotive — the faster the better. A professional racer for most of his life, Gilles funded his Grand Prix ambitions by racing snowmobiles, winning the 1974 World Championship Snowmobile Derby. Villeneuve later credited his success to this early experience, "Those things used to slide a lot, which taught me a great deal about control. And the visibility was terrible! Unless you were leading, you could see nothing, with all the snow blowing about. Good for the reactions — and it stopped me having any worries about racing in the rain."
Although he began his Formula One career with McLaren, Villeneuve is most associated with Ferrari, for whom he raced between 1978 and 1982. Despite winning six races and receiving widespread admiration for his spirited driving techniques a championship title constantly eluded him. Villeneuve was killed while qualifying for the 1982 Belgian Grand Prix at the Zolder circuit. In circumstances that have never been fully explained, Villeneuve collided with Jochen Mass. He was thrown from his Ferrari at approximately 140mph and died later that day in hospital. He was 32 years old.
Words: Stan
Photographs: Gary Chapman

Enjoy more Scootering reading in the monthly magazine. Click here to subscribe.