With distinct influences from a well-known film era, this sorted streetracer turns heads for all the right reasons. POB rides again, as Dave O explains…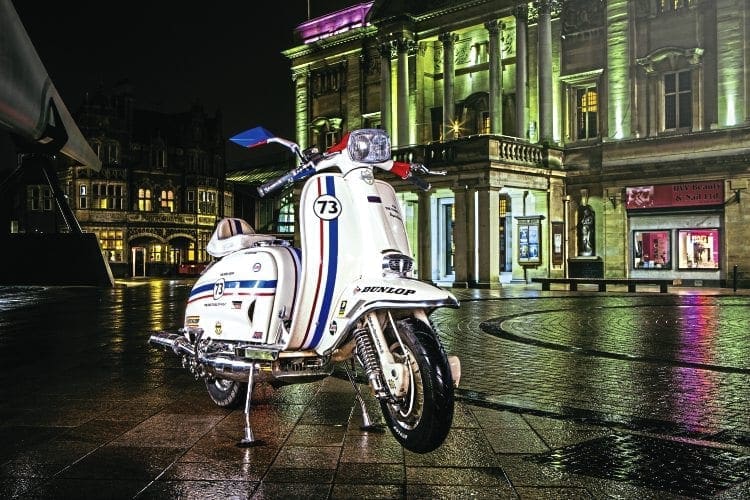 If, like me, you were brought up in the 70s, a trip to the cinema was a special treat and brings back memories of James Bond, a monster shark called Jaws or a little white VW fondly known as Herbie! First hitting the silver screen in 1968 the latter, also known as The Love Bug, was a Walt Disney motion picture series based on a temperamental 1963 Volkswagen Beetle. Due to some miracle, Herbie had a mind of his own and was capable of driving himself! Another miracle, one I'm sure any owner of the basic Teutonic air-cooled auto will verify would have needed a miracle, is that somehow he is also a serious contender on the car racing circuit.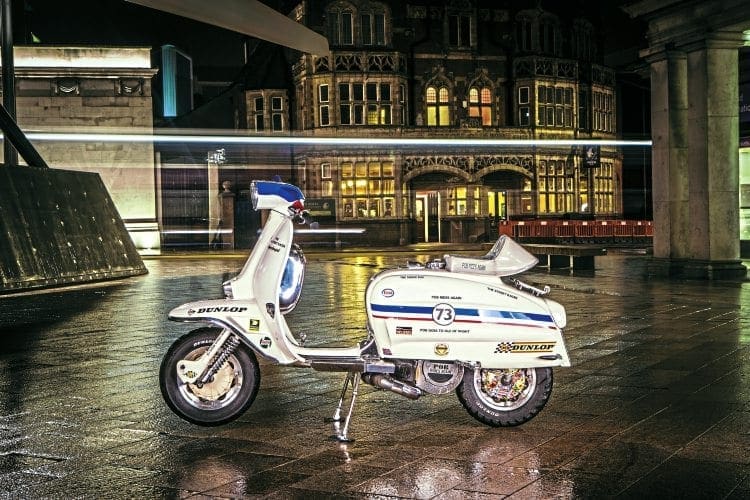 However when you find out that in some of its 'movie stand-ins' the basic lump was replaced by a Porsche Super 90 engine the boost in performance becomes explained! Easily recognisable by a standard factory Pearlweiss L87 white shell, it is 'sported up' by the addition of a patriotic red, white and blue racing stripe from back to front and a racing style 'number 53' on bonnet and doors. This simple but effective scheme has become adopted by numerous lookalikes, and the loveable yet temperamental attitude seems very apt for a Lambretta street racer… which brings me to this month's offering from Paul Atkinson.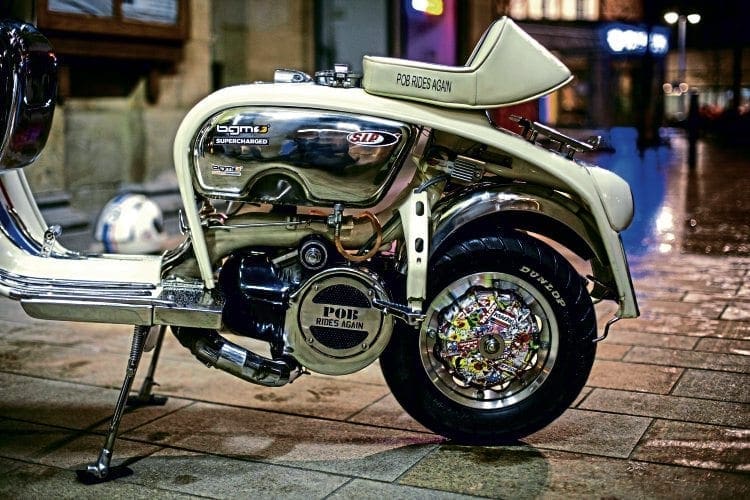 Paul loves the Herbie films, and so when he purchased a Jet 200 in 2013 for £1800 he instantly knew which customising route he wanted to go down. After stripping down, the scooter that is, he set about the bodywork and with the help of his brother-in-law made a few changes. First the frame toolbox door was welded in and smoothed, and then air vents built into the panels and front mudguard. The rear light was adapted, as was the fuel filler and headset. He took on the paintwork and graphics layout himself but got his mate Mike Foster to do a bit of porting and assist him with the engine assembly.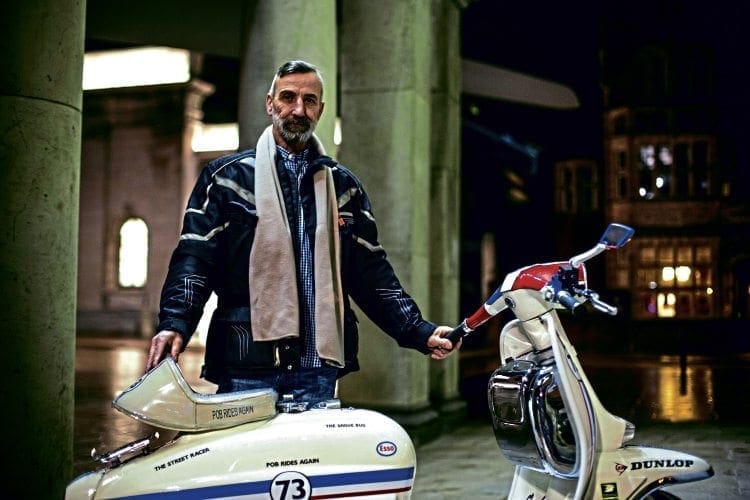 Mike also had a hand in making the smoothed out forks and auxiliary dampers. Metalwork such as the stainless additions to the front mudguard, shortened rear runners, legshield sides and running strips were all fabricated by Keith at K2 Customs. The remaining parts after upgrading were then all polished and plated to the usual high standards by the team at Quality Chrome. Other things that stand out are the one-off shortened race seat with matching vinyl, the multi adjustable levers and twin eye style headlight.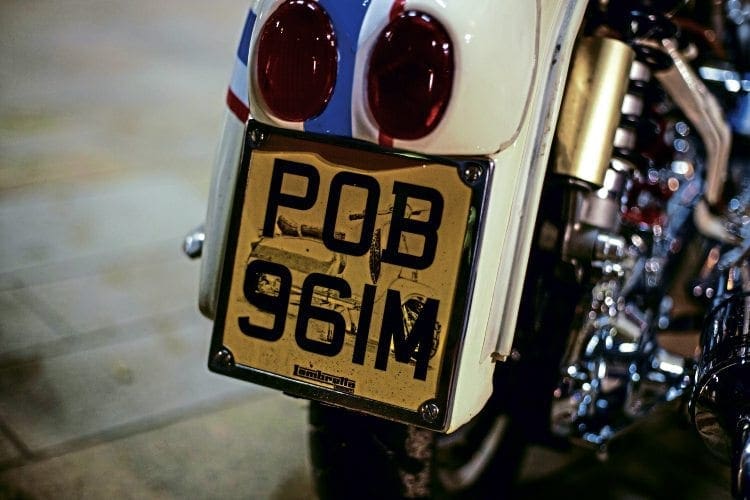 Even doing most of the work himself his total build costs came to just under £1700 in a time frame of nine months — money and hours well spent I'd say! This effort was rightly rewarded when he picked up two trophies at last year's IOW rally.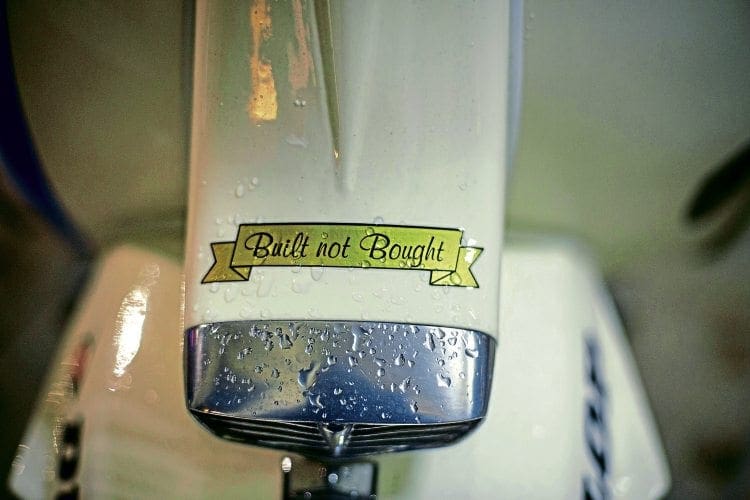 Although street racers, very much like this beauty, often have pristine paintwork and fittings, their main attribute is having a tasty engine and being responsive to ride and Paul's scooter is no different. After stripping the casings it was completely rebuilt by him to live up to its outer coating. Internally all the bearings, seals, etc. were replaced for race spec items along with an Italian LI150 gearbox, AF Rayspeed cassette clutch and high load crankshaft. Then a Mike Foster ported RB 200cc kit was added, and mated up with a Soul Scoot exhaust and Dellorto 32mm carburettor. The end product is a nice strong motor giving a top speed of around 80mph and a cruising capability of over 65. I hope bringing its engine up to the latest spec will mean this Jet will 'Ride Again' and not make him 'Go Bananas!'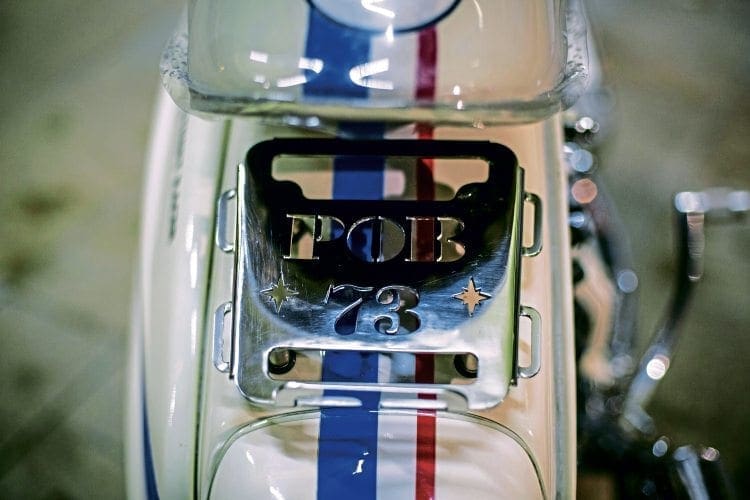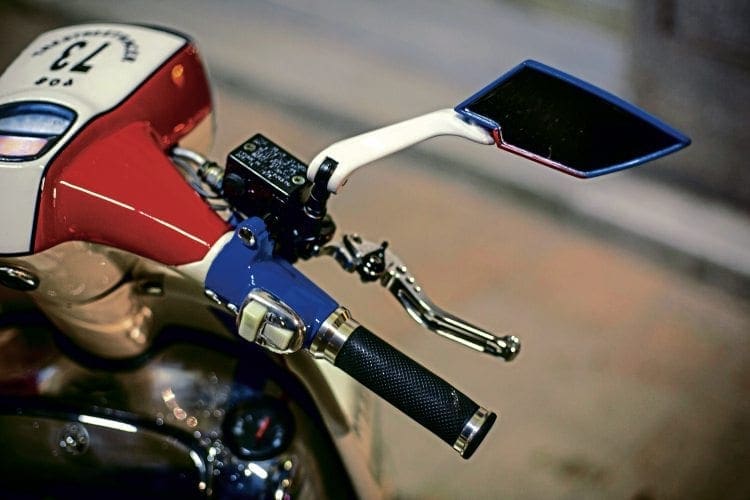 MAN & MACHINE
Owner & builder: Paul Atkinson
Job: Plumber.
Scooter club: Ride with several Hull clubs.
First scooter: SX150.
Favourite scooter: SX200.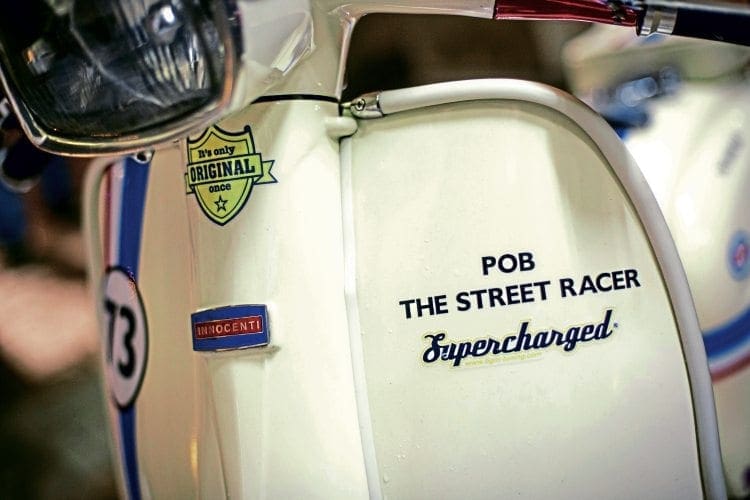 Furthest ridden: Hull to Whitby.
Favourite custom: Rhapsody & Blues.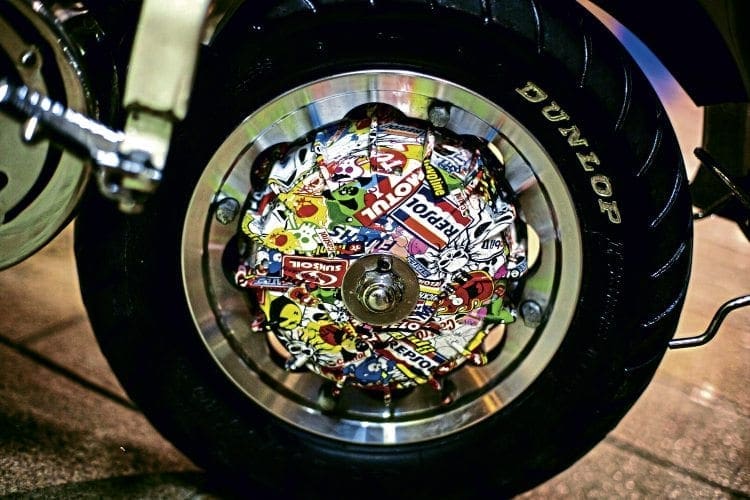 Name: POB73, my nickname and the first year I became aware of scooters.
Model: Jet 200.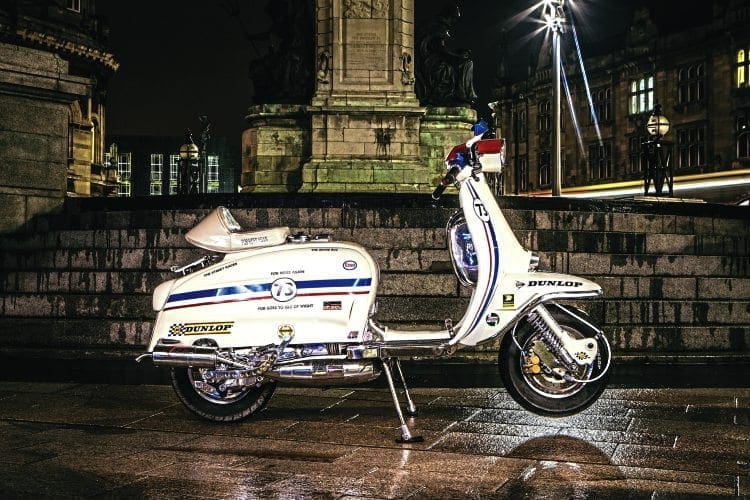 Engine: RB.
Paint: By owner.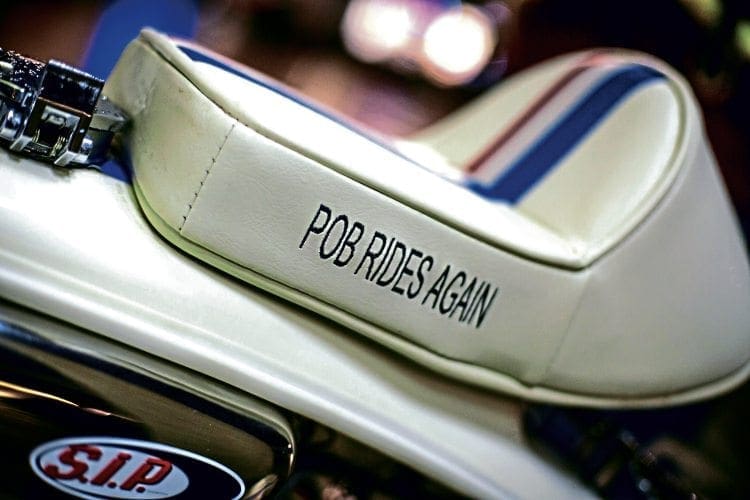 Stainless: K2.
Chrome: Quality Chrome.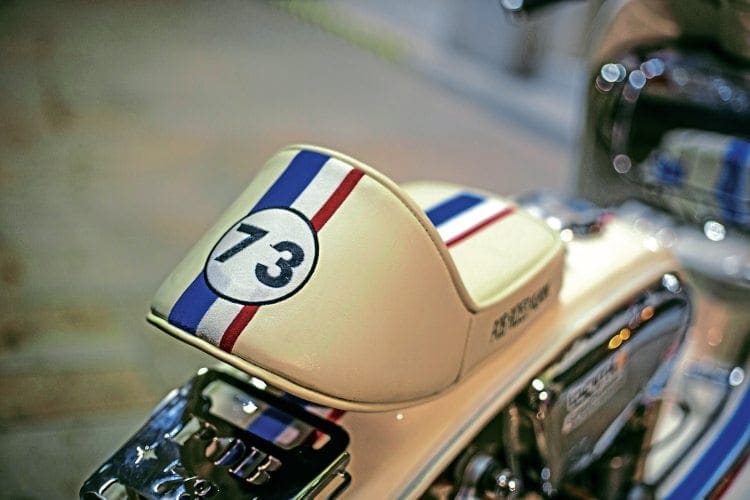 Purchase price and date: £1800 – 2013.
Overall cost: £2500.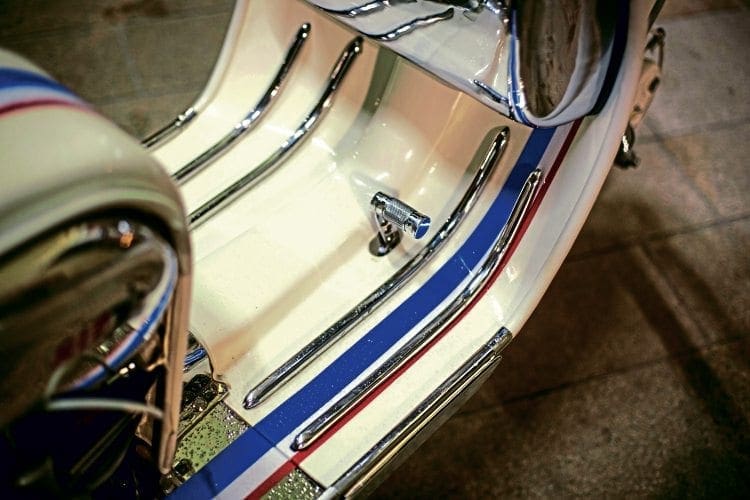 Thanks: Mike, Keith, Quality Chrome, Darrell for seat, Acorn Graphics.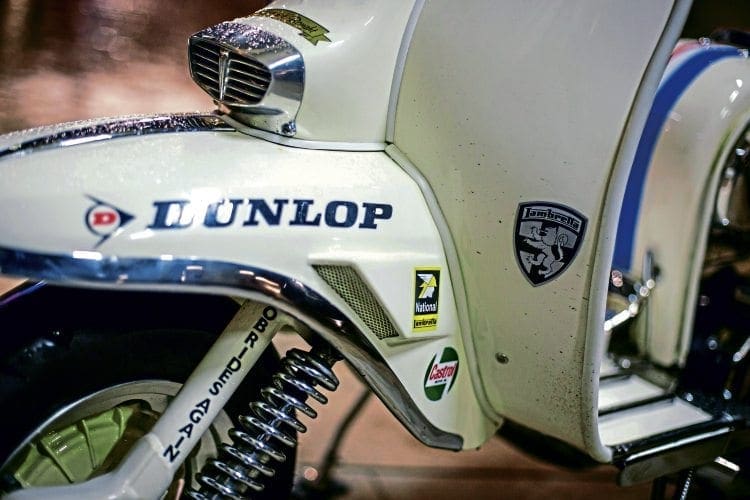 Words: Dave 0
Photographs: Gary Chapman

Enjoy more Scootering reading in the monthly magazine. Click here to subscribe.