Love at first sight was exactly what Vince Roberts experienced the first time he saw a PJ Oakley Mark III SX200 dealer special in the late 60s. He did have a 1963 Li150 at the time, but when one of the older lads in Barrow turned up on an Oakley Mark III, Vince was smitten.
The memory has never left him…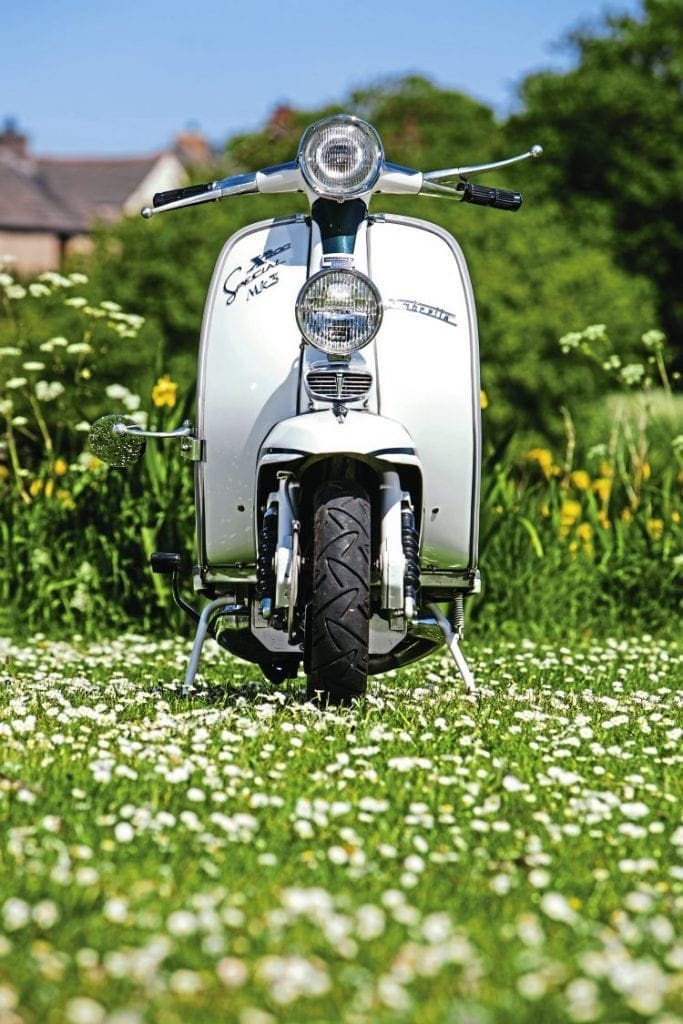 It wasn't just any Oakley Mark III he wanted, it was the very one that he first saw; to Vince it truly was a thing of beauty. During the 60s there were a handful of outlets that went a little bit further than most by offering their customers an enhanced version of a standard scooter. The Grimstead Hurricane, Rafferty Newman Wildcat, Ron Moss Supertune and Arthur Francis S-Type are well known and renowned. Not as well-known as the aforementioned, yet equally as significant as all of them, was the dealer special offered by Leicester dealer PJ Oakley. These are arguably the rarest of all the 60s dealer specials to find, now nearly 50 years on from their first introduction. Based at 227a Melton Road, Oakley offered the basic version of his SX200 Mark Ill, which retailed at £249. The following extras constituted a standard Oakley Mark III: restyled two-tone paintwork to the customer's specification, engine tuned to stage 1, high compression cylinder head, 12v conversion with 9 amp charge rate and switchable 6v magneto, Lucas 55W 12v quartz iodine spot-lamp, headlamp flasher and warning lamp on the headset, legshield glove-box, electronic rev counter, reverse pull front disc brake, ball end levers, front damper gaiters, side panel locks and Avon cling tyres. Reliability was something that the modified Oakley Mark III was renowned for, something that PJ Oakley himself was justifiably proud of. In addition to the standard Mark III specifications there were several additional extras the more affluent customers could choose. This list included a Nanucci dual racing seat, a choice of Amal carburettor 1.25in (32mm) or a Wal Phillips injector, an Ancillotti exhaust, suspension bush modifications, 120mph speedometer, alternative gear ratios and engine heat dissipation. The latter being a black coating to the engine casing, reference to which was Scooter World's headline for its feature on the Oakley Mark III test day at Silverstone circuit.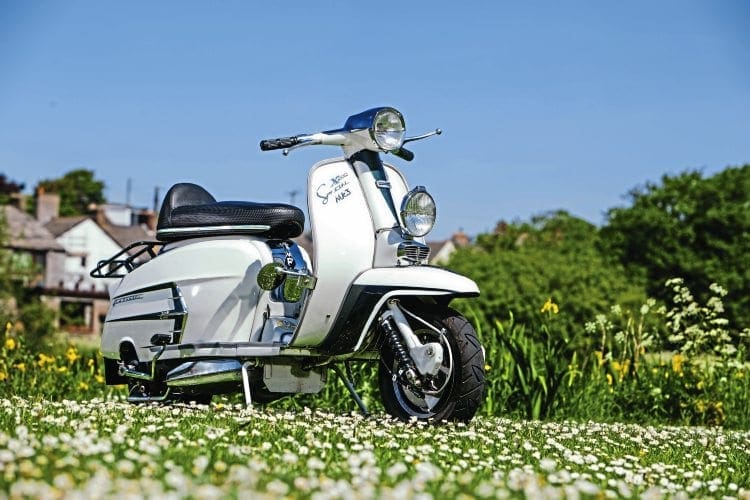 Vince recalls: "When that Oakley Mark III first turned up in town, it was like a scooter equivalent of a rare Ferrari arriving with all the scooter lads. It was the first dealer special in our town. I tried a few times to buy that Oakley off the owner, he always declined my offers. Then I was tipped off by a friend that it had gone to the tip! As soon as I heard, I went down there and managed to rescue as many trick bits as I could. That set me on the road to tracking down a genuine Oakley Mark III, which I found in a shed in Leicester."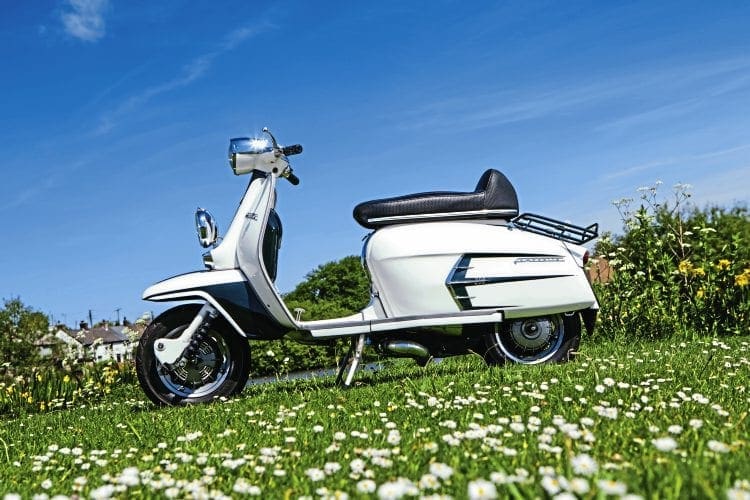 Some of the Oakley parts were no longer on the scooter, and the shed was not damp-proof; the rear end was pretty much rusted away. Off it went to Chiselspeed to have a new frame loop and fork tube, and all trued up on the frame jig they have there. A local paint sprayer, using old photographs, recreated the distinctive Pi Oakley design. Using the Oakley parts, as Vince calls them, trick bits, rescued from his local tip, marrying them up with his now resurrected Oakley SX; in effect building one complete Oakley dealer special out of the two.
When it came to rebuilding the engine though, Vince had a tough call to make. First off it was completely checked over, all the necessary items such as bearings, studs and where required essential running items were replaced. Next it was a choice of option A: utilise the currently available items such as a tuned Mugello top end, an up to date ignition system, upgraded crankshaft and 'rod, a six-plate clutch and five-speed box, plus other new items to suit the demands of today's roads, or… option B: retain the original Oakley stage one tuned barrel and head complete with Amal Mk 1 concentric carb, standard SX crankshaft and clutch, and keep the original Oakley 12v conversion. As with all of his scooters Vince builds them to be used and mildly abused, so he went (albeit reluctantly) with option A. He has of course kept to one side the original Oakley tuned top end, with Amal manifold and carb, along with the Oakley 12v conversion set up and Lucas rectifier.
During his quest of bringing back to life a genuine Oakley Mark III, Vince's extensive research and detective work resulted in him tracking down Paul Chambers, Oakley's own mechanic and test rider. "Paul Chambers did take some finding to start with. Once I had been in touch with him to start with I communicated with him a few times. When I'd finished my Oakley I took it up to see him. He was very impressed, telling me I'd done a really good job. He said he'd be interested in getting another SX himself. When I told him the sort of money they go for, he winced, and that put paid to that idea!"
Recently Vince, along with fellow Ready Steady Go SC members, rode over to the Isle of Man. While over on the island he encountered a group of scooterists from Team S Equipe, with their early S type Lammies. One of their number, Lee Geary from Leicester, was chatting to Vince who told him about his genuine Oakley Mk III. Lee ran the 100 yards or so to where Vince's scooter was parked up to have a closer look, and was suitably impressed with Vince's handiwork. So far one Oakley trick part has eluded Vince — an original flasher unit for the headlight. If there's one out there, I'm certain Vince will track it down too. After all, lavishing hard earned cash on a present is something most will do for a loved one. Vince's love affair with his Oakley dealer special is a love that will last.
Sarge
SCOOTER DETAILS
Owner's name: Vince Roberts
Job: Nuclear submarine build team leader (retired).
Scooter club & town: Ready, Steady, Go — Barrow in Furness & LCGB.
When did you first become interested in scooters: Late 60s.
What was your first scooter: 1963 Li150 which cost £8 in 1969.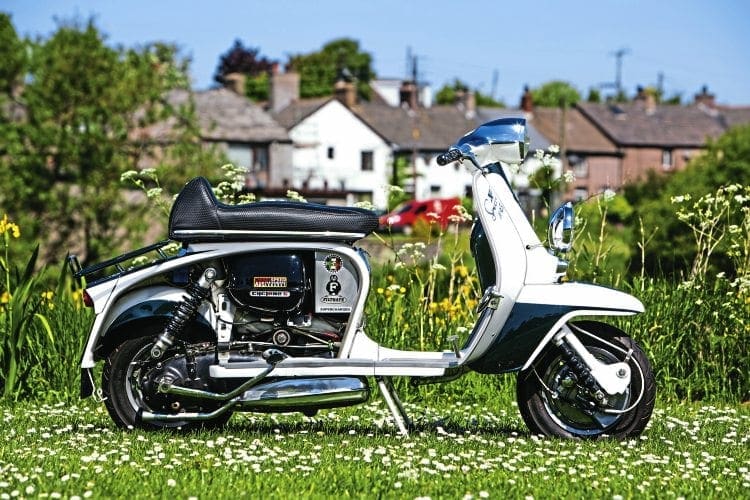 Favourite scooter model: SX200.
Favourite style of custom scooter: 60s dealer special and 80s style customs.
First rally or event: Ambleside 1971.
How did you get there: On a trusty Li150, which then broke down, so I got a lift off a biker on a Triumph Bonneville!
Favourite and worst rally/event: Favourite — early 80s Scarborough, and these days LCGB C2C and 4-Nations. Worst was Morecambe in the mid-80s when my tent got set on fire. I packed it in for a short while after that…
Funniest experience with a scooter: As a teenager when I chased a lass into the ladies' public loo on my scooter and got it stuck in the entrance!
Furthest you've ever ridden on a scooter: Probably the Euro Lambretta to Ireland.
What do you like about rallies/events: With so many characters on the scene, it's always great to see familiar faces, meet new people, and catch up with old friends.
What's your favourite Scootering magazine feature: Into the Sunset, most of us can relate to the stories. I also like the technical features, and any stories from the 1950s/60s.
It you had to recommend one scooter part or item of riding kit what would it be: Nurofen.
Scooter model: Original Leicester PJ Oakley Mk III 1969 SX200.
Date purchased and how much did it cost: 2010 and cost me £3000 for a heap of bits. Engine kit: 230 Mugello V4 with LTH reed and Touring Tune.
Crank: Indian webs and RD400 rod.
Carb: Mikuni TMX 30mm.
Exhaust: BGM Clubman V2.
Clutch: AF Rayspeed Cassette.
Gearbox: Cyclone 5-speed.
Porting work & Dyno by: Martin Cook @ Chiselspeed.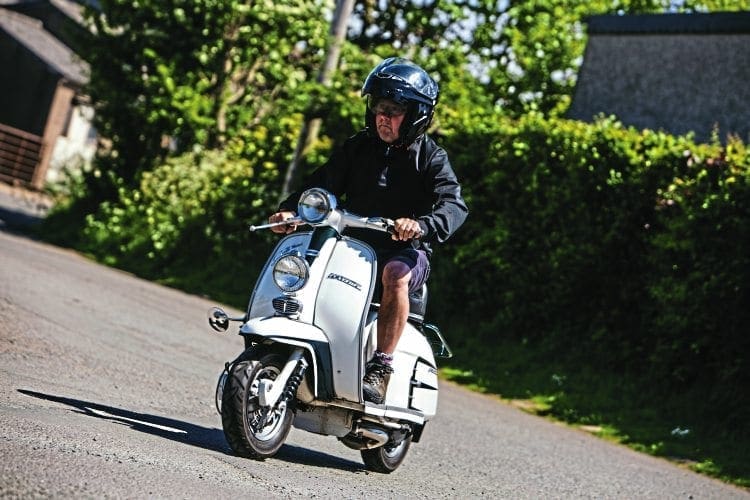 Are there any other details worth noting: 12v DC lighting with Wassel — kept the original 12v conversion with Luca rectifier, also have original tuned barrel & Mk1 Amal carb kit.
Top speed & cruising speed: 70mph and 50mph.
Is the scooter reliable: Yes.
Overall cost: £7000.
Is there anything still to add to the scoot: Still looking for original headlight flasher unit.
Is there anyone you wish to thank: Chiselspeed, Trey at Midas Touch, my wife Trish for letting me get on with it, Paul Chambers (ex-PJ Oakley employee/racer) and the RSG SC.
PJ OAKLEY MK III SX200 1967 DEALER SPECIAL – TEST DAY WITH SCOOTER WORLD
PJ Oakley hired Silverstone race circuit to test his Oakley Mark III SX200 on August 3, 1967. PJ took with him, as well as an Oakley Mk III Lambretta, a plethora of different spares as well as a then expensive £100 worth of accurate timing equipment. Also accompanying Oakley to Silverstone was Paul Chambers, who worked at the Leicester outlet as chief mechanic. He was also both test rider and works rider, competing on his own Oakley Mark III at race circuits, sprint meetings and rallies.
At a number of scooter sport events the fastest times of the day in Standard class were set by Paul Chambers on his Oakley Mark III. Enhancing the reputation of the Oakley dealer special for power, performance and reliability. The latter was a big factor at the time as many competitors would ride to competition events, take part and then ride home again afterwards.
Scooter World's journalist was surprised to find in attendance Walter Hartley Phillips, who 40 years previously was a top International speedway rider. Phillips was also an engineer, and the inventor of the Wal Phillips injector. Walter Phillips was not at Silverstone as a mere spectator; he actually took the Oakley Mark III for a few runs. Obviously with the scooter running one of his own one inch fuel injectors, fitted with a 0.43 jet. After his rides Phillips was impressed. He was quoted as saying: "Not bad, we made 70 with the wind, it seems clean all the way up, no hanging at all."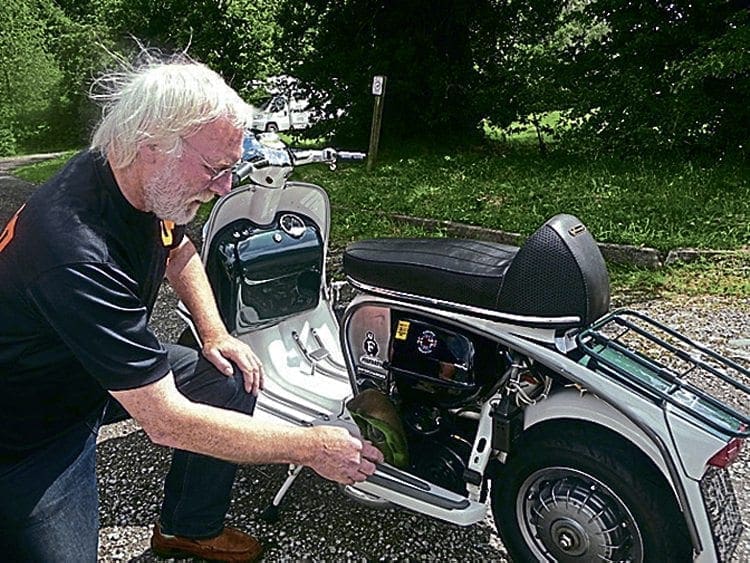 Paul Chambers then took over the test riding, changing the injector for an inch and a quarter Amal concentric carburettor, which, give or take a fraction of a millimetre translates to 32mm. He ran the Oakley Mk III first without and then with side panels fitted. PJ Oakley himself commented: "We feel we have a winner in this machine. It looks well and handles well. It has powerful acceleration, enough to give a standing quarter mile in standard trim of 19.05 seconds, with additional equipment we've got that down to 18 seconds fiat, and your terminal velocity will be of the order of 70mph. The machine in that condition will have an overall top speed of between 75 and 80mph." Test rider Paul Chambers confirmed "we reached 75mph after Maggots corner" which was very impressive for a Lambretta in 1967. Testing came to an earlier than anticipated conclusion due to continual hard cornering wearing a hole in the silencer, causing it to blow, On the test day, the Oakley Mark III was run on a pet-oil mix of standard pump petrol and a 24:1 mix of Filtrate oil. Filtrate was the oil brand recommended by PJ Oakley. For everyday use a mix of 32:1 was the oil ratio mix recommended for the Oakley dealer special.
Scooter World were very positive about the Oakley Mark III saying "this indeed was a fabulously equipped scooter, it WAS different and it LOOKED different, including the colour scheme" and going on to say "a dealer who hires Silverstone circuit for a day, takes along a truck of equipment, a prepared machine and timing gear costing nearly £100 can fairly be said to be taking the job seriously.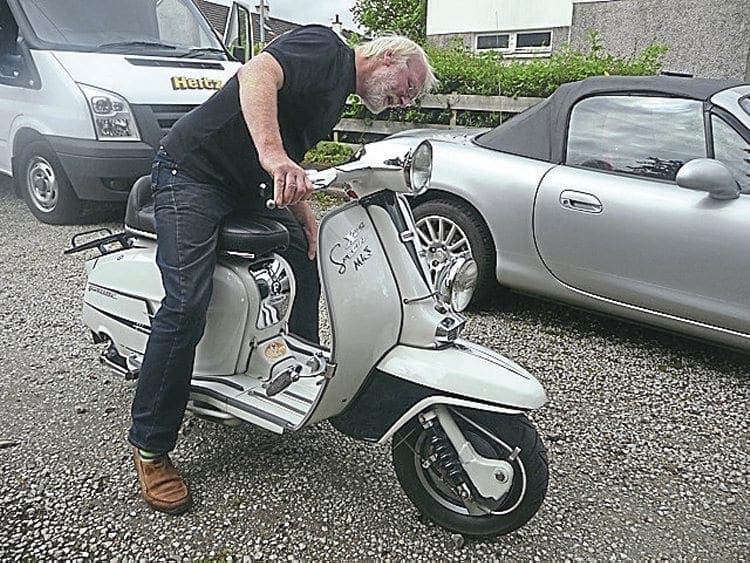 "When the single scooter is run over distances of one tenth mile and one quarter mile, clocked time after time, meticulously checked against various equipment changes… and at the end of a hard day's running the scooter is still in fine fettle, has not crashed, run a bearing or burst the engine… then you can say one scooter dealer is justified in talking about tuning scooters and preparing them for the sporting rider." Quotes are taken from Scooter World September 1967 feature titled 'The engine is painted black on this Mk III Lambretta SX200'. PJ Oakley cut and pasted a number of quotes from the Scooter World feature into a two pager for the 60s scooter press, advertising his Oakley Mark Ill SX200.
Sarge
This article was taken from the October 2016 edition of Scootering, back issues available here: www.classicmagazines.co.uk/issue/SCO/year/2016

Enjoy more Scootering reading in the monthly magazine. Click here to subscribe.