Sex, drugs and ragtime music – Paul Douglas' tribute to the hit TV series shows this unlikely combination translates into metal just as well as it does to the small screen.
You can change what you do, but you can't change what you want
The man behind Peaky Blinders is Paul Douglas, who's lucky enough to earn his living as the manager of a motorcycle dealership. With a lifelong love of scooters and access to some of the most powerful motorcycles on sale to the general public, it was only natural that he'd want to combine the two at some point.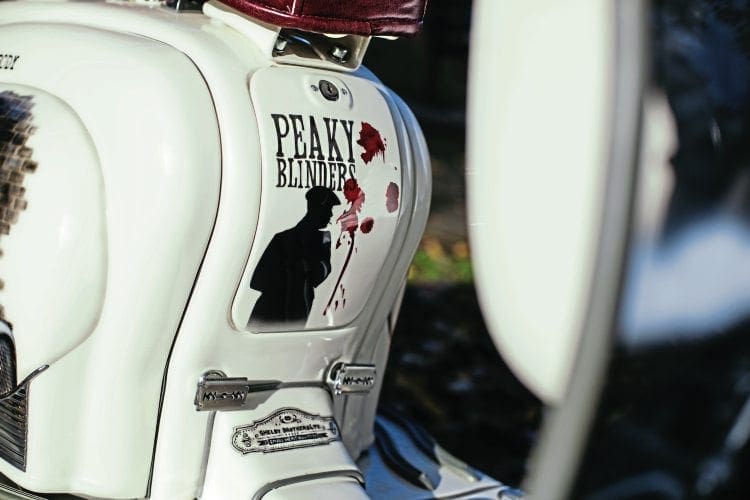 "The original plan was to build a Guy Martin themed custom," explained Paul. "At the advance planning stage I realised it had already been done and to a very high standard. There was no point repeating that so I needed to rethink.
"Although I've owned and built several customs over the years they've been mainly street racers and I was determined that this build would be a full blown muralled machine. Once I'd made that decision, to go with a Peaky Blinders theme, which is one of my favourite TV shows, was the obvious choice."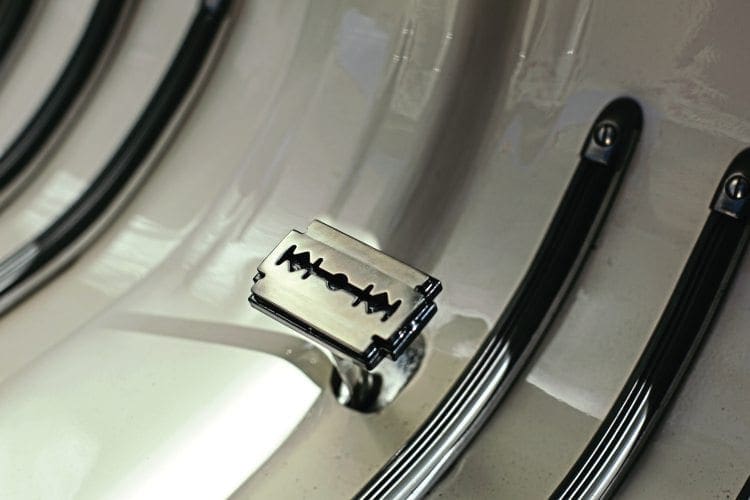 Set in Birmingham during the aftermath of the First World War, Peaky Blinders tells the story of the Shelby family and is multi-layered. On the surface it's a straightforward and often violent gangland drama but look a little deeper and there are many sub plots including the damage inflicted to those who fought in the conflict, the breakdown of the British class system, women's rights and political intrigue.
Although it received critical acclaim from the outset I must admit that before the photoshoot for this article it had bypassed me completely. If you've missed the TV show, starring Cillian Murphy, I'd strongly recommend it but be warned — it's addictive and I'm not certain my wife was convinced that I needed to watch all three series back to back as research for this article…
When you plan something well, there's no need to rush
For decades, Series 1 and 2 Lambrettas were regarded as the ugly cousins of the slimstyle model. More recently their ample curves and distinctive road presence have found a keen following, meaning that good examples are increasingly hard to find at a reasonable price. Paul said the basis for Peaky Blinders was particularly uninspiring: "One of the sales reps mentioned that he'd acquired a Series 2 frame and after a lot of nagging on my part he agreed to part with it. Then I gathered together the panel work and other components."
With the engine contracted out to tuning supremo Darrell Taylor and after the base coat had been applied by Paul Firth, it was to a local contact that Paul turned to for murals. "One of the best artists at the moment is Kev Thomas and he was my only choice for Peaky Blinders."
Get yourself a decent haircut man, we're going to the races
Having worked in the motor trade for most of his life Kev, based in Doncaster, has huge experience of vehicle refinishing but has only recently turned to airbrush work: "I was clearing out the garage a couple of years ago and found an airbrush that my son had got bored with. I tried my hand with it and was pleased with the results. My first commission was a helmet and things have grown from there. Paul's shop took in a Judge Dredd themed Suzuki that I'd sprayed and he was impressed enough to get in touch and commission his Guy Martin theme.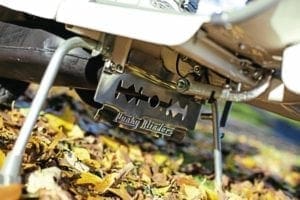 "I'd got to the stage of producing advanced mock-ups for the design when Paul got in touch to say that he wanted a Peaky Blinders scheme. I couldn't have been happier as it's my favourite show and I knew exactly how it should look." Unfortunately there was a slight difference of opinion when he outlined his plans to Paul in greater detail.
"We both agreed that it should be in monochrome but Paul only wanted to feature the brothers whereas I was convinced that it should tell the whole story and that other characters should be included." Fortunately the pair came to an agreement and in Paul's own words, "Kev's done a fantastic job, the best I've seen." Show judges seem to agree with Peaky Blinders taking 'Punters Choice' and four second places at its debut in Bridlington last year.
You've got to get what you want in your own way
With engine and paint under way Paul turned his attention to the fine details. "I've used Keith Newman's K2 Custom Classics on several projects," said Paul. "The quality and standard of service are second to none." With Peaky Blinders as the theme there's an obvious motif to use – the classic razor blade. Sewn into their cap peaks the humble razor blade gave the gang both their name and principle weapon of offence. From the rear mudguard to horncast badge via tap and choke levers K2's accessories bring a sense of menace to the design with the polished stainless steel complementing the predominantly monochrome paintwork perfectly. Spattered across the design are splashes of red, blood red. Red seat covers lift the design perfectly. "Originally I'd planned for black seats," said Paul. "They just didn't look right though. I wasn't convinced that red would work either but I'm very pleased with the result."
Bringing the whole project together was Chris Swift. A 'hobby' scooter mechanic, Swifty is the only man Paul trusts to bring his scooter dreams to life – high praise indeed from a motorcycle industry professional. Although he's the owner and builder of several custom scooters Paul is a reluctant showman and at Bridlington he actually denied being Peaky Blinders' owner to avoid too many questions! "Although the scooters are based on my ideas I can't take all the credit as they're a team effort," he says.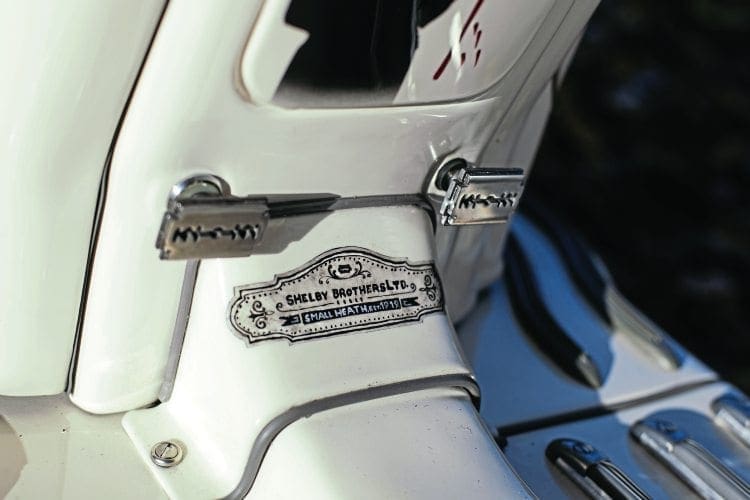 On thing's for certain Peaky Blinders is a stunning tribute to the shown – even Thomas Shelby would struggle to take offence.
MAN & MACHINE
Name: Paul Douglas
Job: Motorcycle sales manager
Scooter club & town: Rotherham SC
How and when did you first become interested in scooters: I think all 14-year-olds in 1979 were influenced by Quadrophenia – following the older lads who had scooters, trying to fit in with parkas and suede boots – good days.
First scooter: GP150.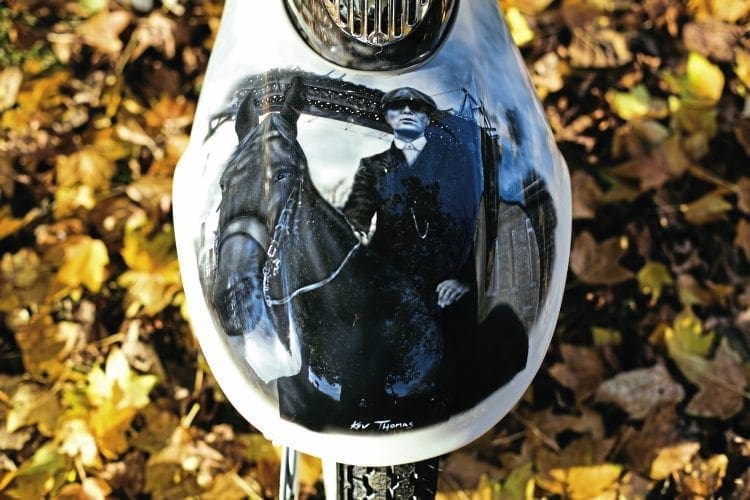 Favourite scooter model: SX200.
Favourite style of custom scooter: Anything that just says time spent on it.
Any stories: Riding behind my mate Hodgy we took a corner too fast and came across a humpback bridge with no time to slow down. The scooters were all over the place before we both came off. Hodgy couldn't stop laughing.
Favourite and worst rally/event: Favourite is Bridlington, worst is Mablethorpe.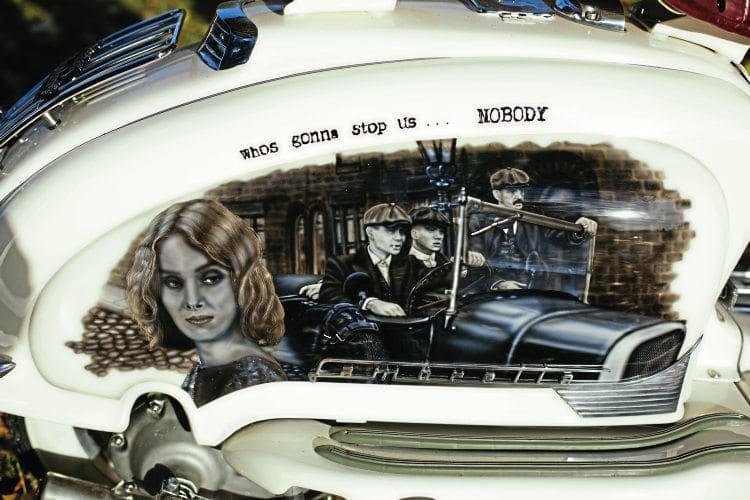 What's the furthest you've ever ridden a scooter: Whitby, very cold.
What do you like about rallies/events: Seeing all the custom scooters and I enjoy the night life but get sent home early – I'm not good at drinking!
What do you dislike about rallies/events: Moaners.
Your favourite custom/featured scooter of all time: Top Gun.
If you had to recommend one scooter part or item of riding kit what would it be: Best helmet you can afford.
What's the most useless part you've ever bought for one of your scooters: Stainless steel runner board protectors.
Name of scooter: Peaky Blinders
Scooter model: Lambretta Li125
Date purchased & cost: £1400 for spares.
Time to build & by who: Once we got all the bits together it took Chris Swift about three months but it was started 18 months ago just gathering parts.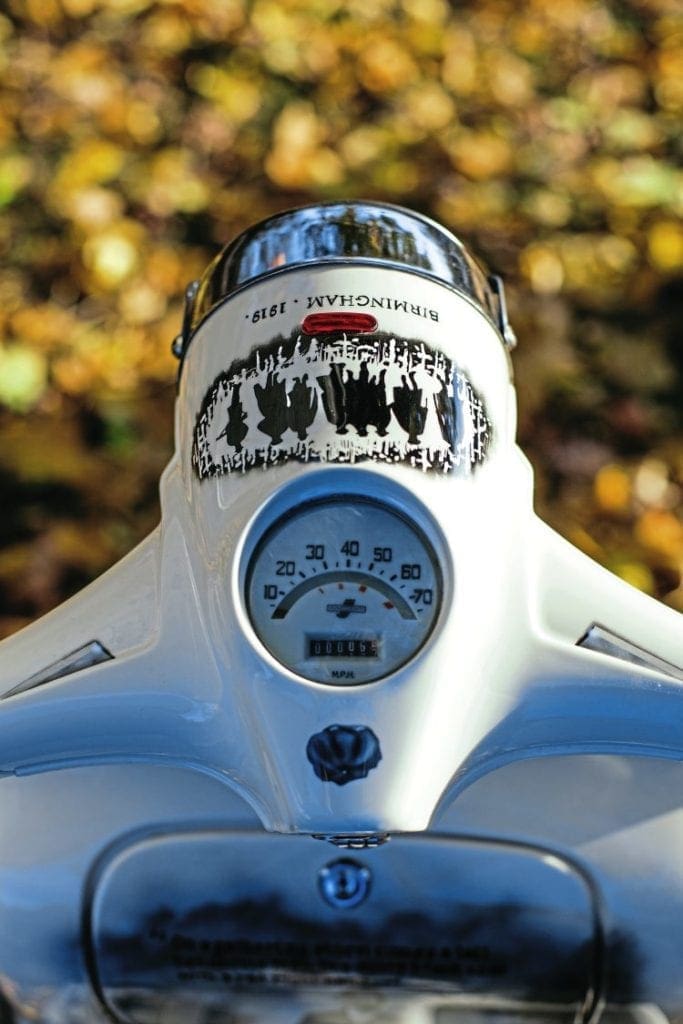 Engine spec: Kit: Monza, Crank: 60mm, Carb: Dellorto, Exhaust: TT, Porting & Dyno by: Darrell Taylor.
Paintwork & murals done by: Base coat by Paul Firth and murals by Kev Thomas – fantastic job.
Is there any powdercoating: By Keith Newman at K2.
Is there any chrome: Quality Chrome Hull.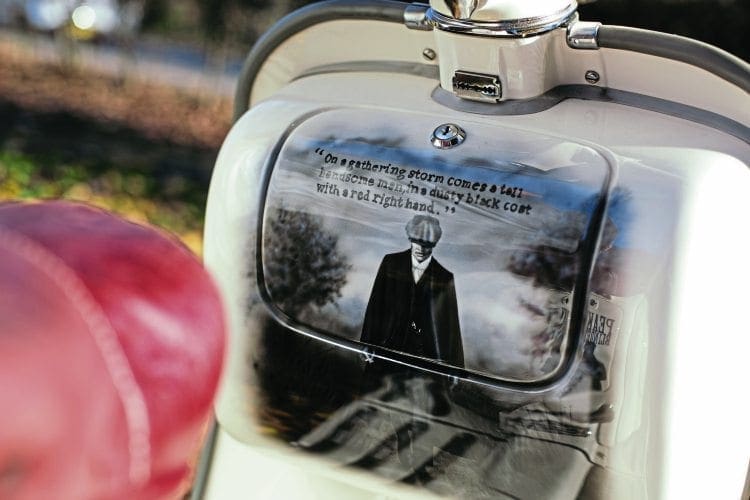 What was the hardest part of the project: Getting all the bits to fit!
Do you have any advice for anyone starting a project: Always dry build first!
Is there anyone you wish to thank: Chris Swift for putting up with all the crap I bought while he was doing the build. Kev Thomas for the best paint job I've seen. Paul Firth, Keith Newman, Stuart Gulliver, Ernie Richardson, and, of course, my wife.
PAINTING A BLINDER
If you've never heard of Kev Thomas don't worry, such is his reputation that he's not needed to advertise for many years. Although full resprays still pay the bills, Key is devoting an increasing amount of his time to custom work. A self-taught airbrush artist, his preferred technique is a mixture of freehand work and careful masking.
Facebook: Keys Custom Paints. Email: [email protected]
Words: Stan
Photos: Gary Chapman
Words of wisdom: Thomas Shelby

Enjoy more Scootering reading in the monthly magazine. Click here to subscribe.