Second time around, it's said, is often better than the first time. If this 1964 Lambretta could talk, I've a feeling it would agree with that statement. As would owner and rebuilder of this Li 150 Pacemaker Special, Mark 'Nobby' Byron who is now on his second tenure…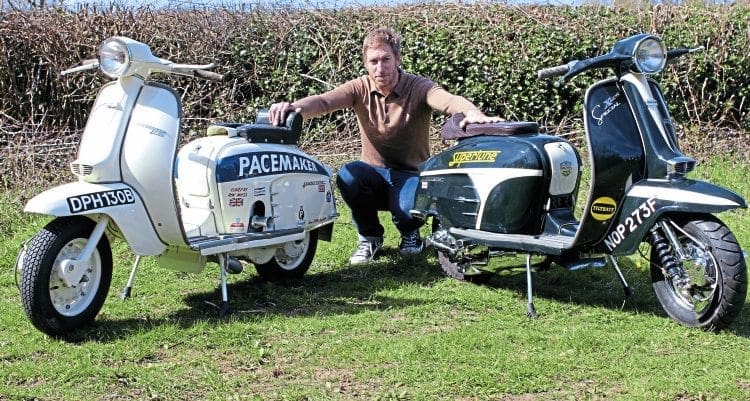 I'm having that…
At the age of 17, DPH130B was Nobby's very first Lambretta. In 1987 he visited local scooter dealer Trevor Goodalls in Didcot where he had seen the Lambretta for sale; it was previously owned by various locals and was now in a bit of a sorry state. The side panels and rear runners were missing and the engine was seized. It had initially gone in to be resurrected, but instead of being fixed, the former owner had left the scooter as part payment for another owing invoice.
It had a price tag of only £150. Nobby was earning £70 a week at the time, so he borrowed two weeks wages off his dad, paid for the scooter, then proceeded to push it seven miles home. Although he had owned several Vespas, he had always desired a Lambretta. Despite the physical effort involved in getting it home, he wore a huge ear-to-ear grin the whole way. After sourcing a second hand crankshaft for £5, and with no mechanical knowledge whatsoever, he set about replacing the crank. Much to his and his dad's surprise, the Lambretta roared into life on the third kick. A life-shaping moment it turned out to be: he would eventually become a mechanic.
Revamp
The next stage of his journey started while he was out on a ride. A ring peg on the piston let go. Luckily there was no damage to the barrel, so Nobby embarked on a low-level attempt at scooter customising. He stripped and rebuilt the engine, and with rattle cans, sprayed over the white and red paintwork with a coat of black. He made a new wiring loom himself, topping off his handiwork with second hand chrome parts and seat.
"I'd then developed confidence to ride it long distance to rallies," says Nobby. "I went to Exmouth, Margate, Morecambe and Rhyl that year, clocking up close on 1600 miles that year alone. Over the next five years I went everywhere. Two-up I rode the P200, one-up the Lambretta."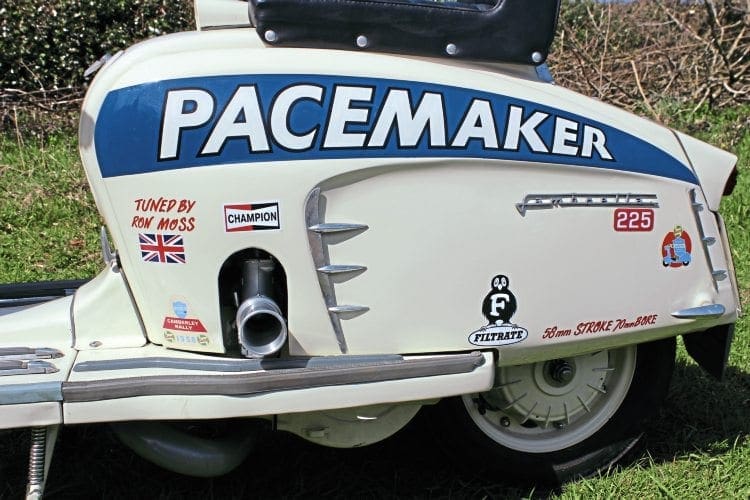 European vacation
Nobby got made redundant in the early 90s recession, so with his sizeable pay off, he decided the scooter deserved a bit of TLC, a proper custom job as she was looking a bit tired from all the years of rallies. Still black of course, but this time a professional spray job, a complete engine rebuild and chrome, loads of it. Chrome forks, hubs, rims, entire engine casing, tank, toolbox, rear mudguard, and new chrome OTT Fresco.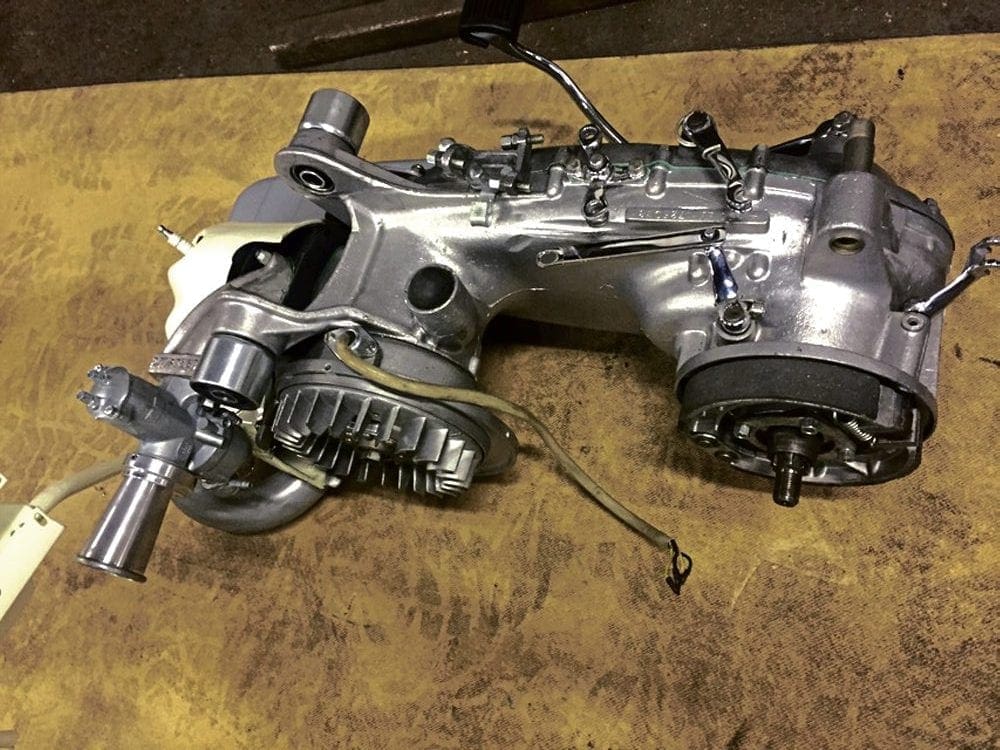 As she was just coming back together, a trip through Europe beckoned. The idea was to join up with the Hot Knives (amazing 90s ska band for those who don't know) on the last part of their European tour. But timings were tight. Nobby told us: "I finished the rebuilding the day before I planned to set off, only to find I'd made a schoolboy error and put the third gear in round the wrong way! It wouldn't stay in gear. Now these days I could have sorted that out in half a day, but back then it took me a day just to identify the problem. I was a good two days behind schedule by the time I was on the ferry to Calais. In the end I just rode through France, Belgium and Holland sightseeing instead before camping out in Amsterdam for eight to 10 days in total.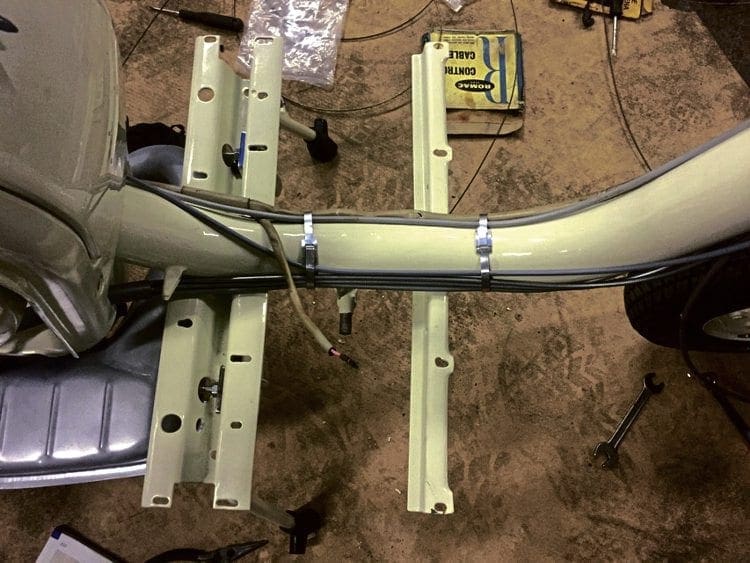 "I loved riding across Europe on my own. I'd never been abroad before except a day trip to Calais with the school; I did a lot of thinking and came back a bit of a different person. I eventually parted company with the scooter in 1994, to fund a bay window in a VW camper van! Then, in 2007 while visiting a scooter shop in Newbury I overheard a conversation about a black and chrome Li special for sale. Hmmm. I popped round the back, and there was my old special. Got in quick and was reunited after a gap of 13 years."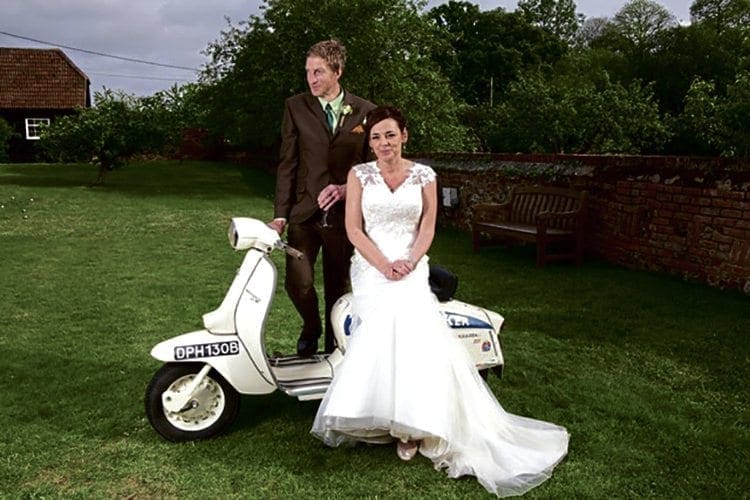 Over the following eight years Nobby set about acquiring original Innocenti parts with a view to a complete restoration, one last time. "I thought after all that the scooter had been through over the years, it deserved rebuilding with all genuine parts. It took quite a time to locate all the things I needed. I bought a new old stock set of original 60s cables, genuine 60s Michelin tyres, grey rubbers, floor rubbers. Slowly I amassed what I needed. I'd never been into that trainspotter anorak type of thing; I'd really never got what it was about.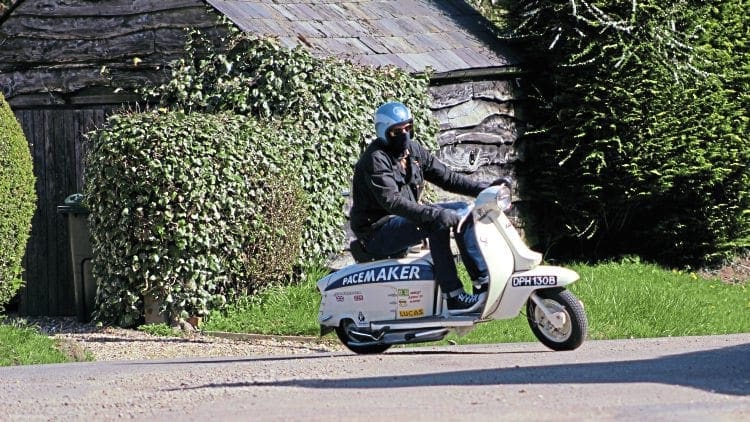 "But when I was amassing parts, I not only found myself doing just that, finding something like a rare but genuine nut and bolt, then enthusing and bragging about it. No doubt boring anyone I told about it. For a time I was not only an anorak, I had the hood up and toggle drawstring pulled tight. When I bought it for the second time it had a TS1 engine. I traced back previous owners to see if they had the original engine and after a lot of pestering and persuading, the one who put the TS1 engine in it, after first saying he didn't have it, looked in his shed and there it was!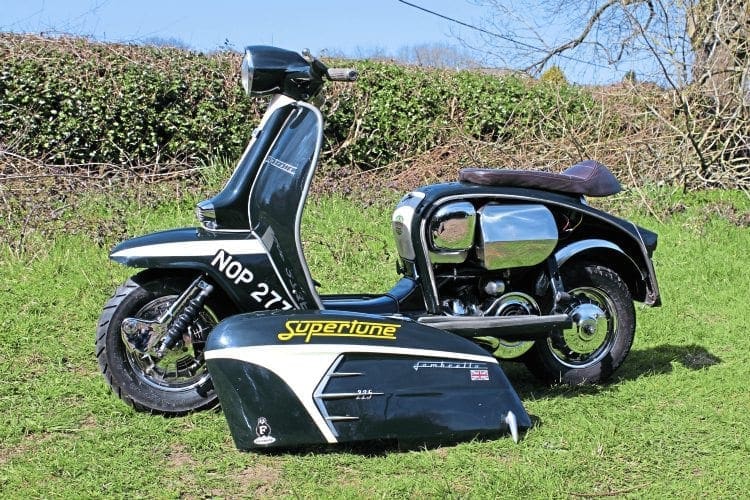 I'm The One
"As I was obtaining parts I needed, I'd had a bit of a rethink on the restoration idea. Still running with all original 60s parts in mind, I decided as I'd already restored a few scooters, to go for more of a 60s style 'run what you brung' scooter. I didn't want a replica of any particular scooter, my intention was more of a fully functional homage to a 60s scooter that would have been used as everyday transport and competed on at weekends.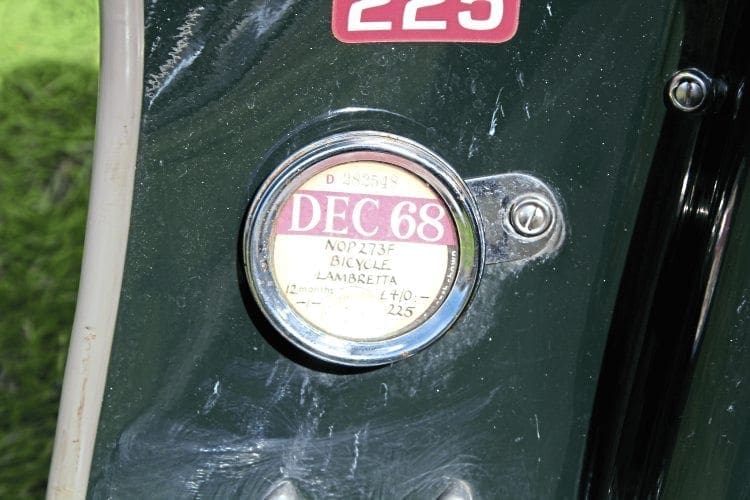 "With 60s examples of ball end levers, 60s logos and stickers, everything is how it would have been as a 60s work and competition scooter. Why Ron Moss? Because I wanted it tuned exactly how it would have been in the 60s but also by someone who would have actually tuned track scooters in the 60s, so its very soul was authentic. That's how accurate it was trying to get it!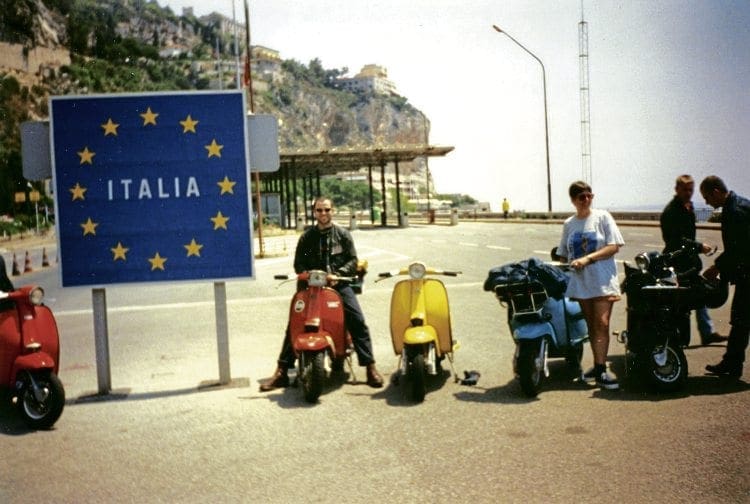 "I wanted it to look and feel like an actual 60s scooter transported forward in time and not a modern replica so I spent years almost finding an good original set of handle bar grips that had browned with age! And original floorboard rubber and plastics that had aged in the right colours, also the actual colour of the Pacemaker I had matched off of an old original SX150 mudguard that had faded in the sun.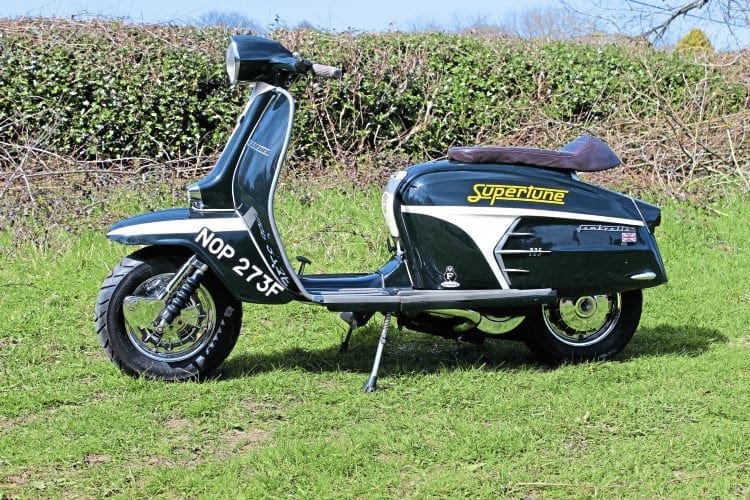 "Front and rear lights are original used and slightly scruffy again so they didn't look brand new box fresh. Amal thumb choke and the Smiths mechanical tacho is also off an original 60s British bike, slightly tatty around the edges. Like I also said most nuts and bolts were original re-zinc'd I had collected, wiring loom is original cleaned up as are the rear shock and front springs again to get the feel right. All the body is 100% Innocenti, even the wheel rims.
Cagoule time?
"I don't think I'm some sort of weirdo anorak, just look at my other Lambrettas: a rat/modified Frame breather, an Indian GP custom and I custom TS1 SX200, I've never gone to town being a serious anorak on a scooter before but I wanted to do this special justice. Last year I was getting married, I planned on finishing the scooter to ride to my wedding.
"I begged, pleaded and coerced both the painter and the plater to get everything done in time, with just a fortnight to go. While my wife to be was away on her hen do, I rebuilt it in the living room over a long weekend. Come the day of the wedding, it just wouldn't start! It did make an appearance at the wedding but, afterwards as sort of punishment, it was shut in the garage for a few months so it could have a good think. I've since fitted a mechanical 60s Smiths tachometer and after changing the stator plate it does run, and quite well too."
Given the complete transformation that Nobby has bestowed on this particular scooter, second time around really is better than the first.
OWNERS DETAILS
Name: Mark 'Nobby' Byron
Scooter club & town: Oxford Roadrunners SC (1986-now).
Other club: LCGB.
How and when did you first become interested in scooters: 1983-1984 seeing older lads (scooter boys) about town.
What was your first scooter: 1985 PK50 (brand new, crashed it after one week then cut it down!).
What is your favourite scooter model: Joint SX/TV/Special or S1/2.
What is your favourite style of custom scooter: Anything from rat to street racer to resto to full on dazzle that's been done tastefully and well thought out.
First rally or event: Disc 86 on a brand new T5. I was the map reader but the excitement mixed with dyslexia meant we went to Rugby instead of Derby… about a 100 mile detour!
Favourite and worst rally/event: Any 80s 10Ws and GT Yarmouths, Margate, Fort William. Worst was Skegness 90, camping in dogshit outside a dog track four miles out of town. No bar and OTT police presence.
How could the scooter scene get better: Be more open-minded.
What is the funniest experience with a scooter: Riding back 270 miles from Newquay '89 through the worst storm/hurricane Britain had seen in living memory… 14 hours. We laugh about it now.
What's the furthest you've ever ridden on a scooter: I went to a German rally (Tortured Maniacs SC, Bosel) then a Dutch rally (Dutch Lions, Rotterdam) the weekend after via Hamburg and Amsterdam in one 10 day road trip a few years ago. Not sure of the mileage. What do you like about rallies/events: Same as always, building/riding, old friends and getting drunk.
What do you dislike about rallies/events: Comedy Mods/rude boys, PXs and GTSs with lights and mirrors 'ride outs', Series is with Series 2 headsets, scooter 'alliances', people who van scooters.
Who first inspired you in the scooter scene/or your first scooter hero: Going to my local youth club aged 14ish and see a custom Jet 200 turn up — 'The Black Panther' — a classic early 80s scooter boy style custom. Been hooked since that day…
SCOOTER DETAILS
Name of scooter: Pacemaker 225
Scooter model: 1964 150 Pacemaker Special
Date purchased: £150 in 1987 and £750 in 2007.
Inspiration for project: 60s/70s run what you brung racers.
Time to build: Two days and three nights… one long weekend to put back together! That's including building the engine! Collecting parts, prepping, spraying etc. took me years though!
Engine: Original '64 150 Pacemaker engine casing bored out to take a 200 barrel spigot, Innocenti SX200 barrel, bored to 225 and tuned by Ron Moss, Ron Moss big bore clubman exhaust, Royspeed manifold/Amal Mk.1 carb, Pacemaker gearbox, strengthened clutch springs, GP200 crank, 12v points stator/original GP Ducati flywheel.
Top and cruising speed: 55/70mph.
Is the scooter reliable: Meh!
Paintwork & murals: Paint by local sprayers, sign-written by local old guy (Allum Signs, Woodcote 01491 681040).
Cost: £2500-ish? Not including price of scooter.
Hardest part of project: Finding good original parts.
Do you have any advice or tech tips for anyone starting a project: Reuse as many original parts as possible!
Is there anything still to add to the scoot: Different sets of side panels with different paint schemes (in the same theme) as time goes on (one set is already at the painters — in green).

SCOOTER DETAILS
Name of scooter: Supertune 230
Scooter model: 1968 SX200
Date purchased: £2500 in 2001, 99% complete but stripped in boxes.
Inspiration for project: 60s Supertunes and 80s customs.
Time to build: Six months-ish. By me.
Are there are any specialised parts: One-off seat by me, chrome B-race stealth exhaust (only one Simon ever did).
Engine: Original SX200 engine casing, MB 'road/race' tuned TS1 225,RB piston ,CNC MB head, AF 60mm stroke crank, Boyseen reeds, 35mm Mikuni TMX carb, B-race stealth exhaust, Varitronic ignition, Camb Lamb six-plate clutch, SX200 gearbox with 16t front sprocket.
Top speed & cruising speed: 60/75mph+.
Is the scooter reliable: Apart from a few teething problems 15 years ago with clutches not being up to the job at the time it's never let me down.
Paintwork & murals/who did them/any stories: Local biker Derek Landowski, Sign-written by local old guy (Allum Signs, Woodcote 01491 681040).
Is there any chrome: Lots, Quality Chrome, Pete Robinson, and a local company.
Overall cost: £2500 for the SX in bits and £2000 on top (15 years ago).
SX SUPERTUNE REPLICA TS1 225 – WITH CHROME
Supertune was the name of one of a small number of 60s dealer specials lovingly recalled by many, when looking back through rose-tinted specs. Nobby built his Supertune replica in 2001 himself. He bought an SX complete, but in boxes, which was the start point for that project.
"I'd always thought the paint combination and layout as used on 60s Supertune scooters looked amazing, especially on an SX," he says. "I admit I've always had a soft spot for 80s tiling too, so I put the two together when I did this scooter.
"Once finished, she has been my old faithful, never let me down. When I first built the engine with a Broady tuned TS1 it had a 58 stroke crank, a Devtour exhaust and a Koso 30mm carb, varitronic ignition with the original SX200 gearbox with 16 tooth front sprocket (I've always liked tall gearing). It was dyno'd at 25bhp/19lb-ft but used to go through five-plate clutches like they were going out of fashion. As soon as the Cambridge Lambretta six-plate came out I've never looked back.
"Koso always had a flat spot in mid-range so I changed it to a 35mm Mikuni TMX which was a revelation, it cleaned up the flat spot and also the power came in more smoothly. I never quite liked the look of an expansion chamber with a 60s paint job so when the new type of hidden curly exhausts started to come out I got Simon at B-race to make me a one-off chrome one (I say one off because he specifically did it for my MB tuned set up). I also switched to an RB piston because of the 1mm rings as opposed to the 1.5mm of the old TS, and as the top end was apart I changed the crank to a 60 stroke. The original MB TS barrel I first put on there 15 years ago is still going strong although I've changed the head for a CNC MB one in the last few years.
While Nobby's Supertune replica is showing a few minor signs of age, it's still a fine looking scooter, despite the countless thousands of miles he has clocked up on her. A testimony to the quality of build as well as undisputed proof that a well set up Lambretta, if given tender loving care, will give years and years of reliable riding.
Words & photography: Sarge
(archive images via Mark 'Nobby' Byron)
This article was taken from the July 2016 edition of Scootering, back issues available here: www.classicmagazines.co.uk/issue/SCO/year/2016

Enjoy more Scootering reading in the monthly magazine. Click here to subscribe.