Converting Lambretta frames to take auto engines is nothing new, but what about converting an auto to look like a Lambretta?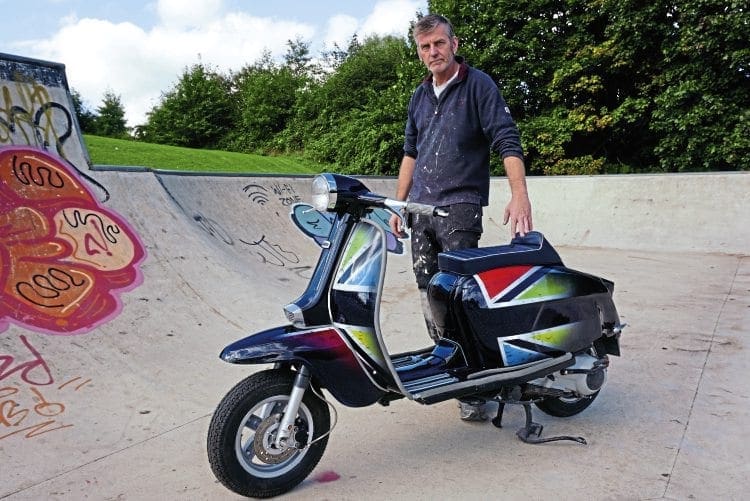 Engineer and founder of EDM Race Paints, Rick Galloway, isn't a man bound by conventional thinking. His workshop in Barnsley is more like Dr Frankenstein's laboratory due to the range of two-, three- and four-wheeled projects he's got under way. Having ridden scooters since the early 1980s it was inevitable that Rick would turn his vivid imagination in their direction. The result is a machine that's sure to divide opinion as it's the first Piaggio Zip to feature in Scootering magazine for many years.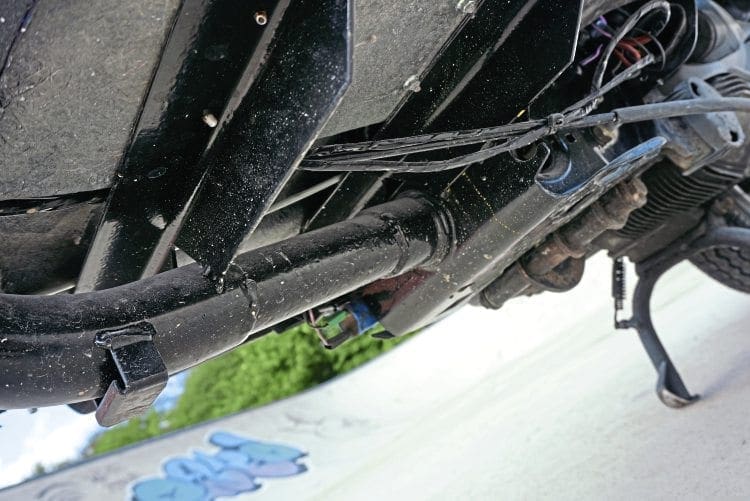 "I'd looked at various Lambretta auto conversions and thought there must be another way of approaching the problem," explained Rick. "I've been producing fibreglass moulds for years and looked around for a modern scooter that would take a set of Lambretta panels and by inserting 70mm into the frame, a Zip fits perfectly."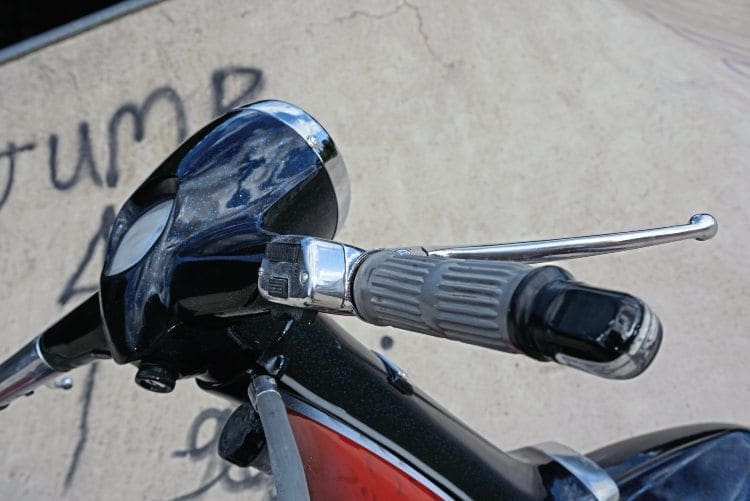 Rick built a special jig to ensure that handling remains close to factory specifications but the weight saving is considerable. "This weighs around 10kg less than a standard Zip and 35kg less than a GP. Even with the standard 125 engine it's very quick and far more nimble than a Lambretta to ride."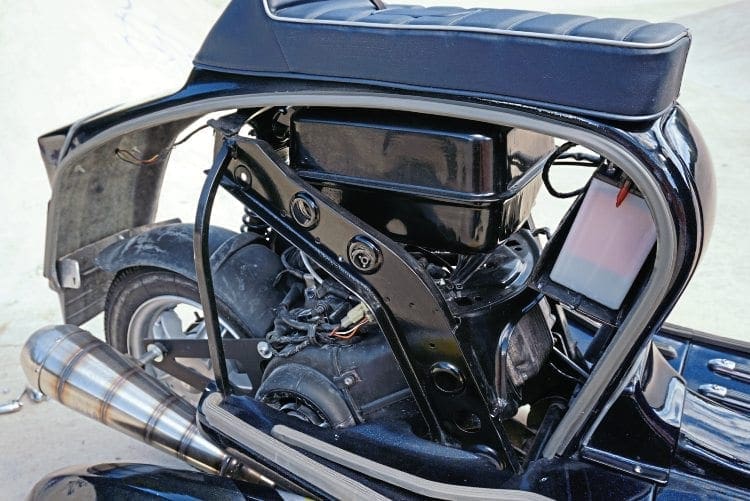 Unlike traditional conversions Rick's creation hasn't butchered an original frame "The only Lambretta components are a few pieces of trim and the headset which is probably the hardest part to find at a reasonable price." This way, the Zip retains its original identity and as a result complies with current regulations.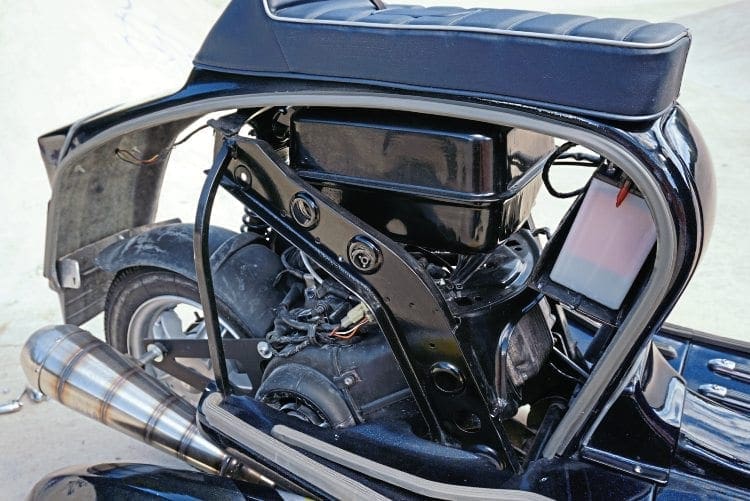 This isn't the typical machine we'd feature in Scootering but it does show the level of ingenuity among scooterists. If it encourages just one reader to approach an engineering challenge in a different way then Rick's time has been well spent.
MAN & MACHINE
Name: Richard Galloway
Job: Engineer/paint sprayer
Scooter club & town: Deanne Valley SC, Barnsley.
How and when did you first become interested in scooters: As long as I can remember.
What is your favourite style of custom scooter: The ones where the owner has put the effort in and not just handed over a massive wad then a couple of months later, collect it.
First rally or event: Redcar about '85 I think.
Any stories: After designing and manufacturing the evolution Lambretta I turned my attention to auto builds which I have been doing for around 15 years.
Funniest experience on a scooter: Watching my mate shake his P200 from side to side to mix his two-stroke oil. By accident he clicked it into gear and then I watched as it disappeared across the petrol station forecourt on the back wheel with him chasing closely behind.
What's the furthest you've ever ridden on a scooter: Kelso.
If you had to recommend one scooter part or item of riding kit what would it be: Oiltek rear disc brake, it is a piece of art.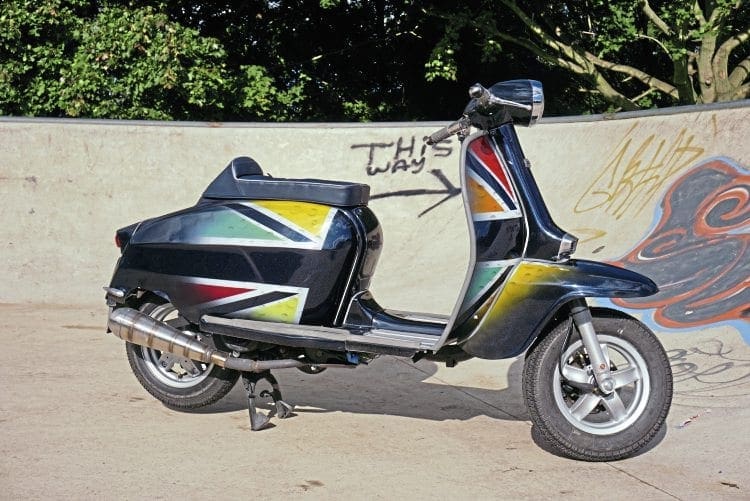 Name of scooter: Zipbretta
Scooter model: Lambretta styling with Piaggio Zip frame and engine.
Date purchased & cost: Built by myself to my son's design to take him to his prom.
Time to build: About three months in-between other customer builds and paintwork.
Performance and handling: Standard Zip engine with race exhaust, plenty of torque being a four-stroke.
Top speed & cruising speed: It'll cruise all day at 65+.
Is the scooter reliable: Oh yes.
Paintwork & murals done by: Myself.
Is there any powder coating: Frame and fuel tank.
Overall cost: £2700.
Hardest part of the project: Wiring, as there is a lot of it!
Anyone you wish to thank: My son Owen for design and inspiration.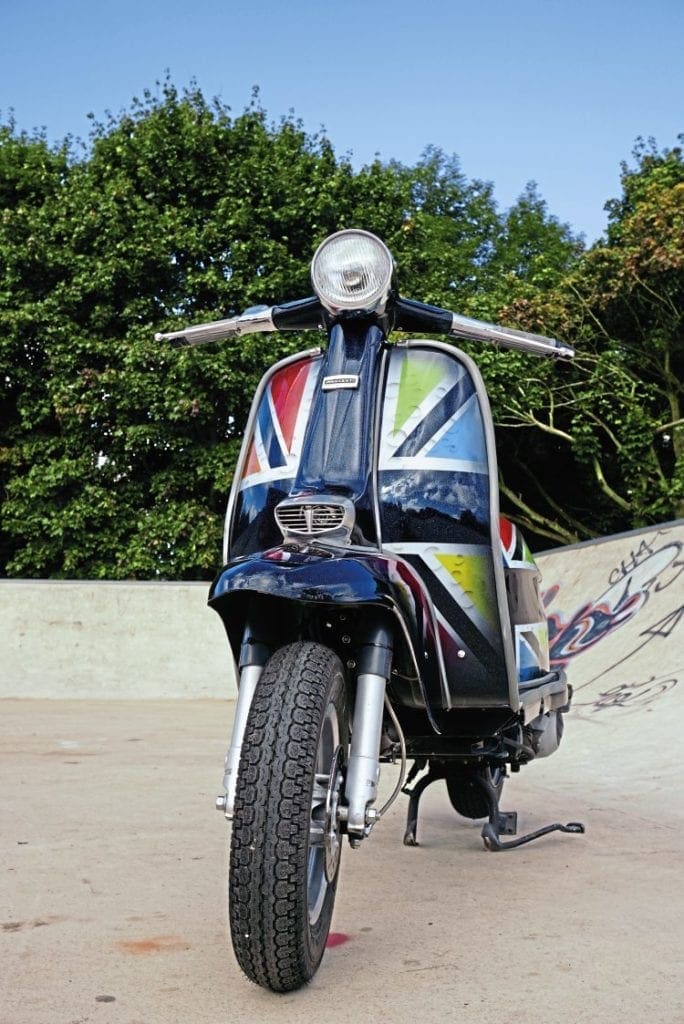 Words & photographs: Stan

Enjoy more Scootering reading in the monthly magazine. Click here to subscribe.