Ask a British scooterist to recreate the 1980s look and they'll reach for an angle grinder, but Continental nostalgia takes a very different course…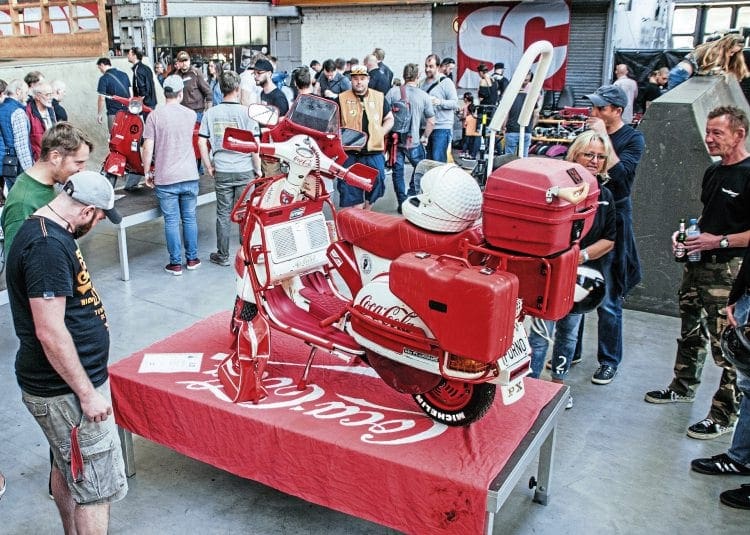 I sometimes wonder if I missed the 1980s. Many of the things that now pass as retro such as velour tracksuits, leg warmers and that whole Miami Vice style thing had no place in my life. So it seems to be with scooter accessories. Anyone who thinks that 1960s trim sells for unbelievable prices should take a look at the emerging trends for the 1980s equivalents. What strikes me most though, is that with a few notable exceptions such as the driver screen, I don't recall seeing too many of them at the time.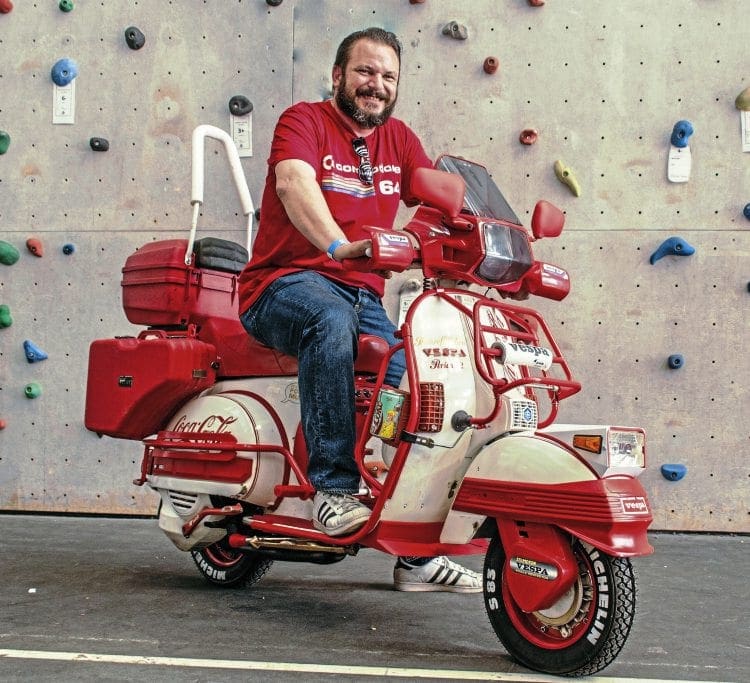 Over on the Continent things were very different, with owners snapping up increasingly useless adornments from companies such as Faco, Buzzetti and Utah. Loading scooters with the maximum amount of accessories is a style that ultimately became known as 'Porno'. Unlike their 1960s predecessors this new generation of accessories were predominantly manufactured in plastic and not always to the highest of standards. With the lifespan of some components being measured in weeks, it's unsurprising that many are now exceptionally scarce.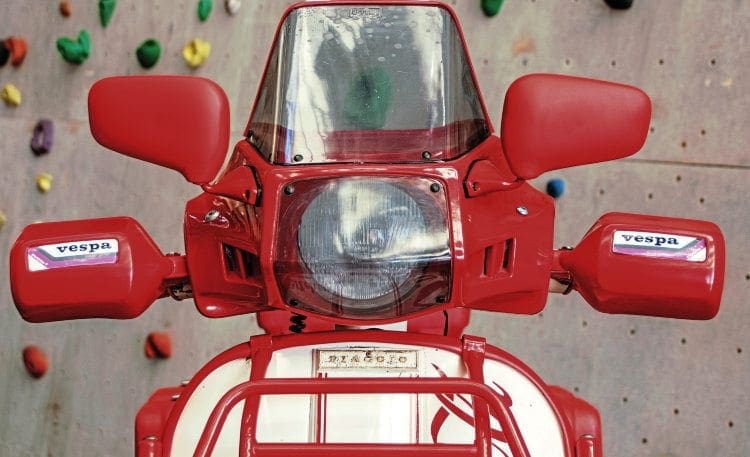 One man with a passion for all things 1980s is Riet Carnot from Argovia in Switzerland. Riet's been collecting rare Vespa accessories for over 20 years. Not content with setting himself the task of assembling the ultimate accessorised Vespa, Riet also decided that only red or white items would do. These share the happy coincidence of being the colours of the Swiss flag, Coca-Cola and Marlborough cigarettes, each of which opens up another avenue of collecting for Riet.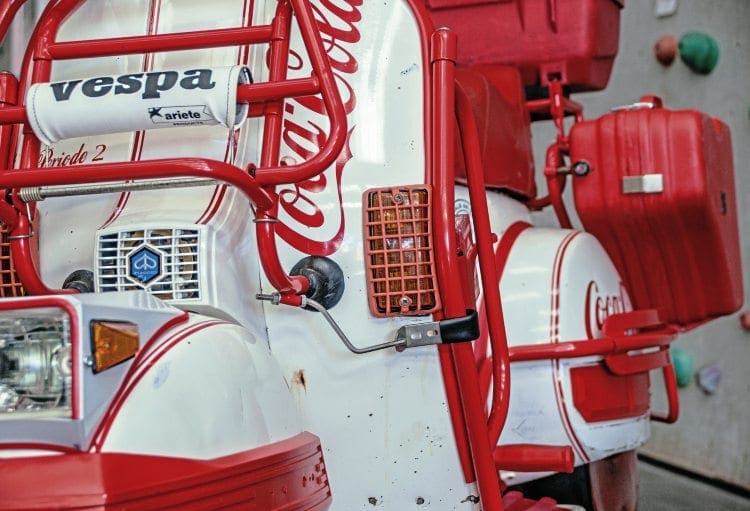 By far the hardest items to source were the ultra-rare 'Elite' panniers in red. Anyone looking for a pair should be prepared to pay upwards of €1000, assuming that there's another set out there. There's only one scooter on which to mount the ultimate 1980s accessory collection, a Mark 1 P-range, in this case a PX80. From the golf ball helmets to soft drink holder, it's hard to imagine that there are any accessories left to source but Riet explained that he's still searching: "There was a front rack with an integral fuel canister that's been impossible to find but the rarest of all parts are the coloured tyres manufactured by Kings. A friend of mine has a set in red but let's say he's not prepared to just give them away…"
Riet knows his scooter isn't to everyone's taste. But it reminds us that there's more to the history of scooters than Vigano accessorised TV Series 1s, and that there's more to 1980s nostalgia than matt black cut-downs and flat top haircuts.
Article continues below...
Advert
MAN & MACHINE
Owner: Riet Carnot
Home town: Argovia, Switzerland.
Scooter name: Coca-Cola.
Type: Vespa PX80.
Inspiration: A love of all things 80s.
Any accessories: "Are you serious?"
Words & Pics: Stan/Julia

Enjoy more Scootering reading in the monthly magazine. Click here to subscribe.
Article continues below...
Advert