Modifying the Vespa frame has always been difficult due to its pressed steel construction, but this scooter overcame that problem in a smart way…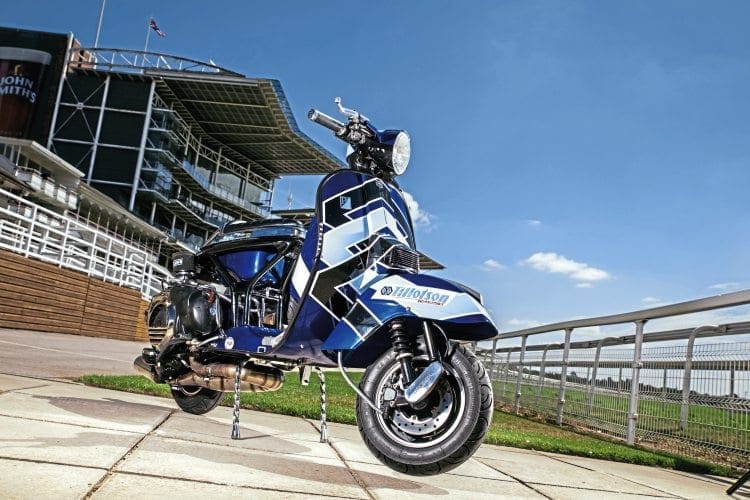 When it comes to the Vespa street racer there is only so much you can do to modify it. While the engine has plenty of scope to improve performance the frame does not. Due to its one-piece design, there are limitations to what can actually be done to alter it. For years we have seen frames cut down or pieces removed but nothing that removes it much from the original shape. However, one person has changed all that even though it was not how he initially intended it to be.
Grim up north
Like so many Phil Duck's initiation to the world of scootering came through the traditional route of the post-1979 Mod revival. Though his first scooter would be a Lambretta, and if he is honest they are still his favourite, there has always been some sort of allegiance to the Vespa. Having owned a scooter for almost 40 years he finds it difficult to see something different any more. In his own words "when you've been riding them for as long as I have there is nothing that hasn't been done before when it comes to modifying a scooter". Perhaps that was the challenge he needed to create something different, a type of modification that's not been previously seen or thought of.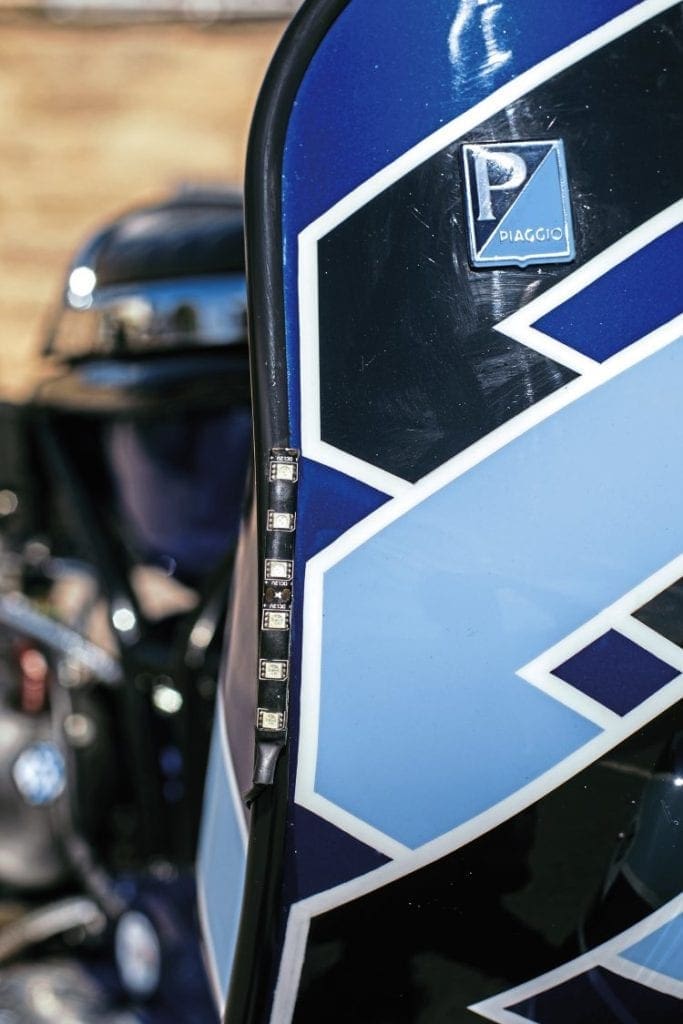 Even though the Lambretta is Phil's preferred choice he made life more difficult for himself by choosing to build a Vespa street racer instead. The idea had come about after visiting the launch of Evolution scooters. The short-lived business was based around building a subframe upon which a fibreglass shell would sit, replacing the original bodywork. Before Phil could get one built the company folded but he contacted one of the partners at a later date who agreed to do a one-off for him.
This would be called Northern Hybrid but due to financial shortcomings, Phil had to sell it before he had even ridden it. Undeterred and frustrated he hadn't seen the project through a year or so later the second evolution of it was born. This time Grim Up North, as it would be named, would be slightly different. There was the alteration to the frame but the fibreglass shell was ditched to give an open sportier sort of look. Happy with the outcome, Phil used the creation for a couple of years before someone made an offer for it he couldn't refuse. Now having built two hybrid Vespa street racers he knew exactly how to perfect the format and so decided on building a third and final one.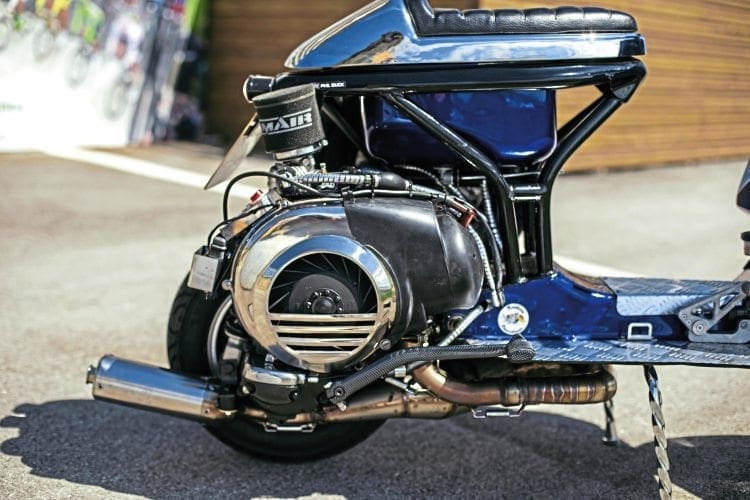 Third time lucky
The idea behind the aptly named Northern Powerhouse was to build what in essence is the perfect Vespa hybrid street racer. Using the two previous creations as a learning curve was an ideal platform for getting this one exactly right. One might think it can't be that difficult but it must be remembered nothing like this had ever been done before so there was no benchmark to work from. The base model was an old PX 125 which Phil picked up for a modest £350 albeit in bits. Having previously used the fabrication services by Rick (Evolution Scooters) he was once again trusted to build a subframe which would be grafted on to the main chassis.
With the engine mount remaining in exactly the same place (the original frame removed just above it) the subframe needed to be as strong as possible. The top of the shock absorber now bolts directly to the subframe so if it isn't rigid enough it will flex too, much creating a potential weak point. To get around this problem four main tubes secure into the main chassis; they then separate using the triangulation principle which gives the framework the greatest strength possible. With an outer ring tube fixing them all together this allows a space for the petrol tank to sit while the seat sits perfectly on top. Its clever use of mathematics and trigonometry, not to mention Rick's great engineering skills.
Powering the Powerhouse
With the unique looking and acting chassis built, an engine worthy of it now needed to be fitted. With the overall weight of the machine now considerably lighter the power to weight ratio has been significantly raised. Even a mildly tuned engine would give notable acceleration but just like the frame, this Vespa has something different when it comes to the engine. It is kitted with a Malossi 166 kit and uses a Mazzuccelli 60mm stroke crank. The porting work was entrusted to veteran scooter racer and Chiselspeed legend Martin Cook. With years of experience behind him, Martin knows his stuff and Phil was happy to give him a free rein when it came to getting the most power out of the engine.
So far so good, but instead of fitting the presumed Dellorto carburettor a Tillotson racing one was used. Tillotson has been around almost as long as the petrol engine itself and is renowned as the preferred choice when it comes to go-kart racing. Using a butterfly valve they are very responsive but not the easiest to set up. Though used on scooters before they are not common so set up details are scarce. This is a diaphragm carburettor and to control the fuel flow it houses an internal fuel pump. No problem — until you try and fit one on a Vespa. A new manifold was needed and made by Martin's son, Chris. Phil said: "It took him a whole day to get it right until it fitted, true dedication."
The top end was finished off with a JL RZ Mark One exhaust, and fitted with a Cosa clutch to cope with the extra power. The engine was now ready to be fitted, well almost. The final stage of the engine was to fit a SIP hydraulic rear disc brake but for some reason, it sat out of line. Step forward Martin Cook this time and with a careful bit of machining, he soon got everything in line.
Blank canvas
When it came to the paint it was a story of two halves really. A local lad by the name of Adam had been trusted to get the frame blasted and prepped before finally laying down the blue base coat. It then went over to Colin Fitzgerald at Garage Artwerks who was given a free hand to create a scheme of his own choice. Phil did insist the Tillotson logo be used but otherwise left it all up to Colin. To make things easier, the front indicators were removed and the space filled in. Replacing them was a series of small indicator lights built into the trim, making leg shield surface area much smoother and easier to work with.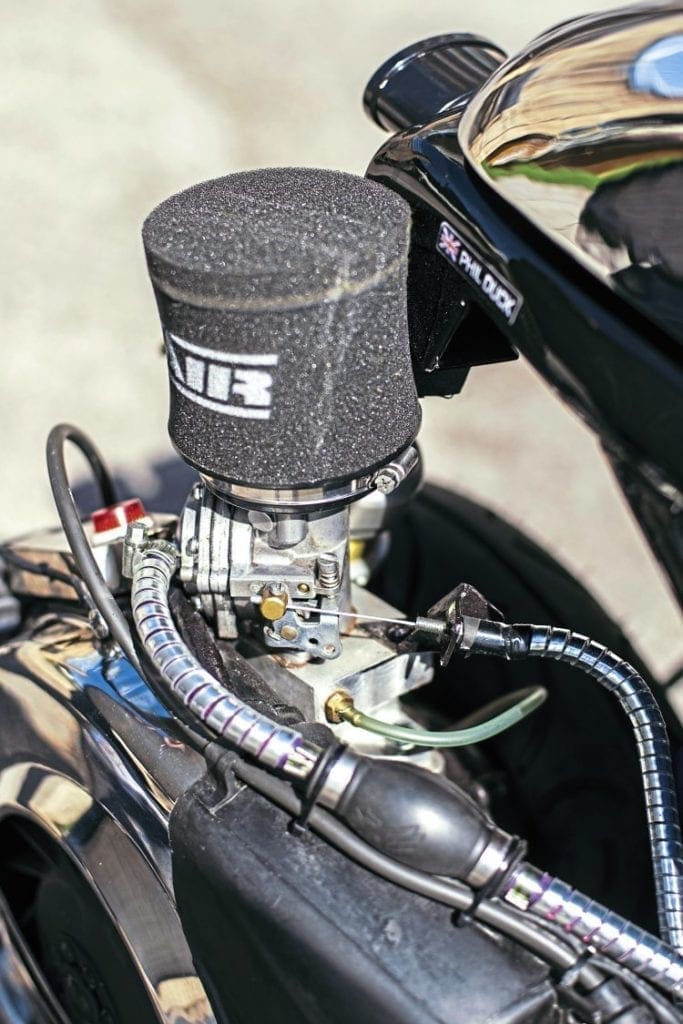 At the front, there are three overlapping diamond shapes which give a unique effect the more you look at them. It is almost as if they are infinite as they go up the leg shields – a difficult illusion to create considering they have to go over the horn casting. The front mudguard holds the Tillotson logo while the clever zigzag stripe across it flows into the inside of the leg shields and floorboard area. With the only other logos being those of Chiselspeed on the toolbox door and Northern Powerhouse on the spare wheel, the scheme doesn't get too overcrowded. Perhaps that's what makes this scheme work so well – letting the network of angled lines do the talking instead of the logos for a change.
End of part three
Northern Powerhouse is the evolution of three different Vespas, each progressing to produce what you see here. Though Phil probably had the vision of what he wanted right at the very beginning, it required one and two to be built before he got everything exactly right. That's the correct way to go about it when you want to achieve something as unique as what this is. It takes the term 'cutdown' to a new level certainly when it comes to the Vespa and shows there are still different ways of customising a scooter if you think about it hard enough. Again, it's all about using the right people for the right job – from the frame fabrication to the engine then the paint and so on until you have everything in place. Phil did exactly that and then executed it by putting together a group of components to produce a stunning creation. Northern Powerhouse means part three is now complete but Phil did tell me part four is waiting in the wings. What will the next instalment in there series be I wonder?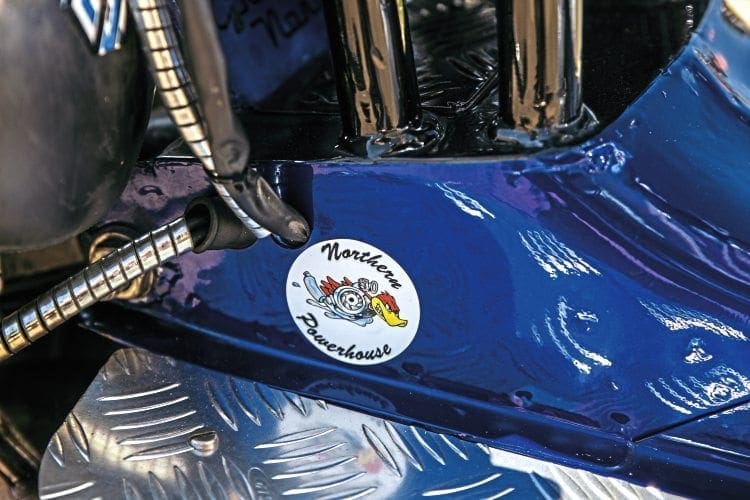 MAN & MACHINE
Name: Phil Duck
Scooter club & town: Few old mates from the York Saxon SC.
How and when did you first become interested in scooters: 1979 with my mates at the local fair watching the scooters come and go.
What was your first scooter: White GP125cc.
What is your favourite scooter model: Lambretta Jet 200.
What is your favourite style of custom scooter: German-engineered Vespa PX.
First rally or event: Knaresborough pre-season local event 1979/80.
How did you get there: Very slowly on my GP.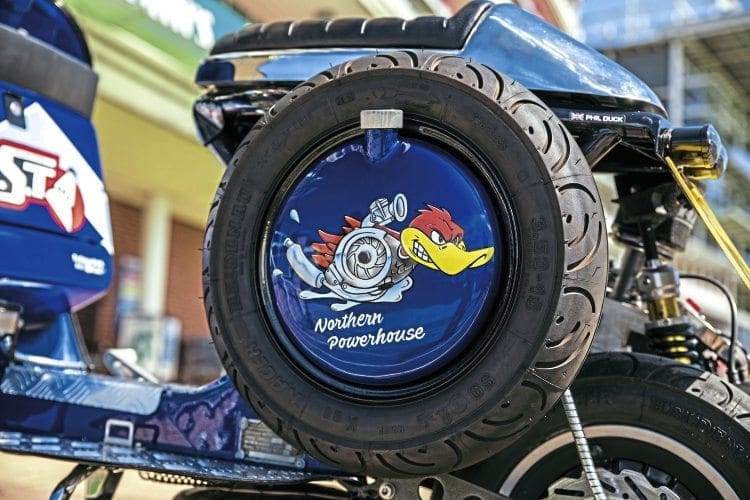 Any stories: A gang of us went touring in Europe last year, on the ferry were a lot of big bikes, choppers, etc. As we docked the bikes started revving the engines; one of our group who was on a large auto decided to rev his while stood at the side of it. It then decided to catapult itself into the air, taking out three of our scoots. We laugh now but not then.
What's the furthest you've ever ridden on a scooter: Last year's tour around Holland, France, Belgium and Luxembourg.
What do you like about rallies/events: Having a laugh and a catch up with faces that have been around forever.
Name of scooter: Northern Powerhouse
Scooter model: Vespa PX125.
Date purchased & cost: 2016 £350 in bits.
Time to build & by who: Four months, by me.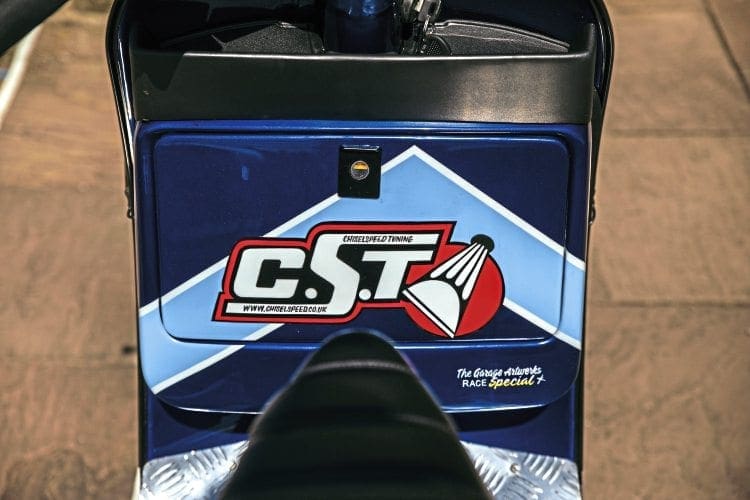 Any specialised parts or frame mods: Rear end taken off cradle made by Rick at EDM Race Paints, Barnsley, indicators welded up, SIP seat, rear disc, wide wheel kit, YSS shocks.
Engine spec: Malossi 166 kit.
Crank: Mazzachelli 60mm crank.
Carb: Tillotson carb with internal fuel pump, manifold by Chris Cook at Chiselspeed.
Exhaust: RZ Mk 1.
Clutch: Cosa 22-thooth.
Gearbox: Standard PX125.
Porting & Dyno: Chiselspeed.
Describe engine performance, power delivery and scooter handling: Very smooth with not having any jets etc. With having just a light butterfly it responds instantly, at 50mph the fuel pump keeps it going – no throttle required – which takes some getting used to. Handling is stiff but comfy. I'm not a knee-down type of guy as my mates keep reminding me.
Overall cost: £2200.
What was the hardest part of the project: I had the engine done first which gave me the idea of a race theme. To be honest Rick turned the frame around in two weeks. Adam turned the base coat around in 10 days then over to Col who pulled out the stops and I got it back in four weeks. I have done two others like this so dry build was not required, waiting on a few parts held me up but say four months overall.
Is there anyone you wish to thank: Martin and the team at Chiselspeed for the engine, Rick for the frame, Adam for base paint and Col for another outstanding job.
Words: Stu Own
Photographs: Gary Chapman (thanks to Alison at York race course for helping out)

Enjoy more Scootering reading in the monthly magazine. Click here to subscribe.