Double-take: A hard-ridden TSI-230, five-speed motor, strapped into a deliciously painted Lambretta chassis and sitting in a particularly drool-worthy environment. It made me look twice.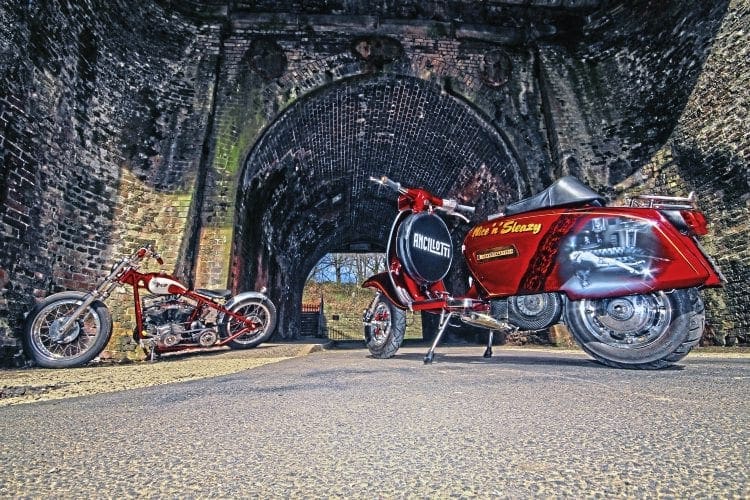 The year is 1979. Thatcher's Britain is out on strike, unemployment reigns during the winter of discontent, Sid Vicious is found dead in his hotel room and the Yorkshire Ripper is still on the loose. On the 28th of this year, The Damned released their single Smash it Up from the album Machine Gun Etiquette fronted by lead singer Dave Vanian. As it happens The Damned are currently in the middle of their 40th anniversary tour… but I digress. So what's all that got to do with this scooter? Well, cock-all mate, except for the tenuous link that 1979 was also the year this humble SIL Lambretta rolled off the production fine, and was later destined to become a thing of sultry sexiness so many years later.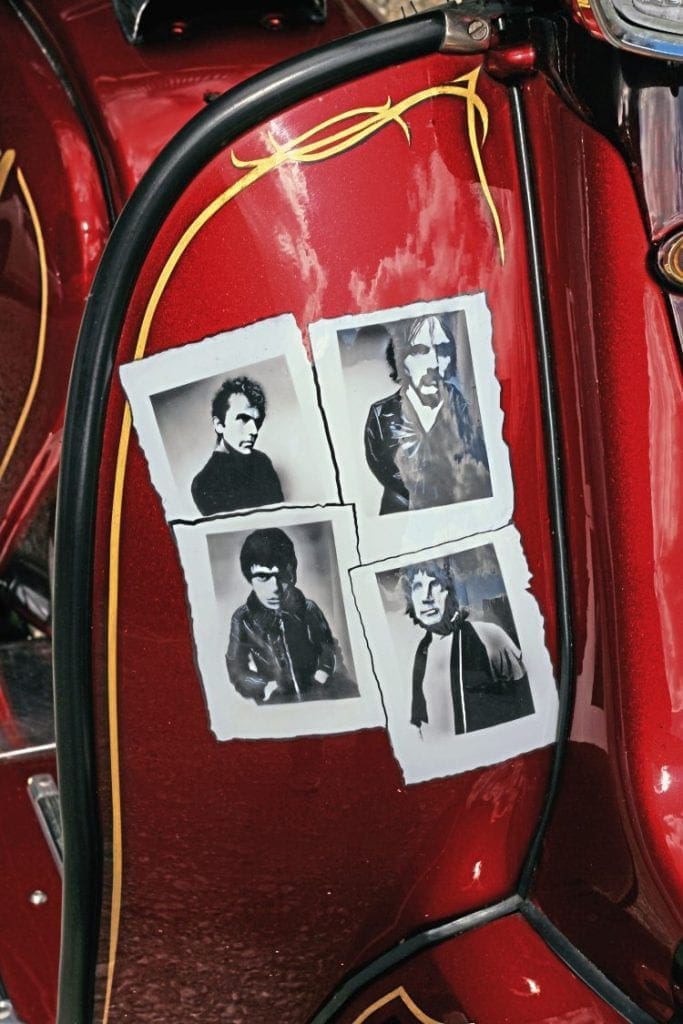 Proud scooter owner 'Wilky' has been into scooters since 1982 when he used to frequent the City Hotel in Bolton, the stronghold and meeting point to the Road Runners SC on a Wednesday night. It was during those formative years and exciting times that scootering became deeply entrenched into his blood and he's never looked back since. After owning and riding many different machines over the years, Wilky acquired this particular Lambretta just over 15 years ago, and it has sported the Stranglers paint job for the past nine of those. The scooter's theme title 'Nice 'n' Sleazy', a song released by the Stranglers a full year before this scooter was even born, could lend itself to so many interesting thoughts and images, but nothing grabs your attention and interest like the ones laid down lovingly by super-talented brothers Steve and Paul Eccleshore.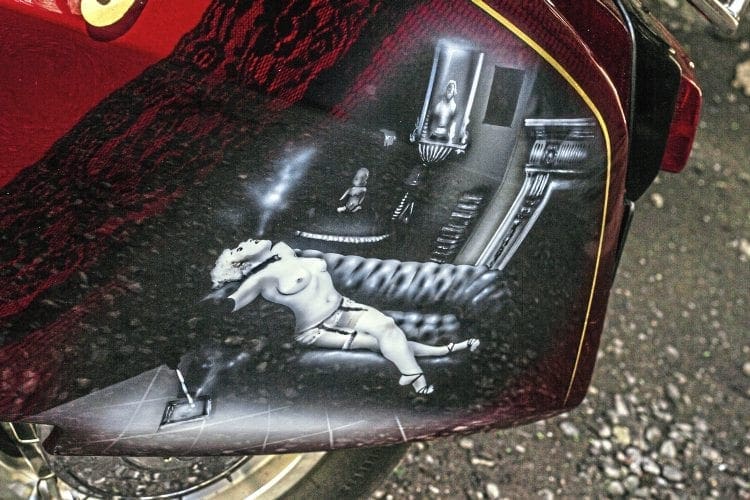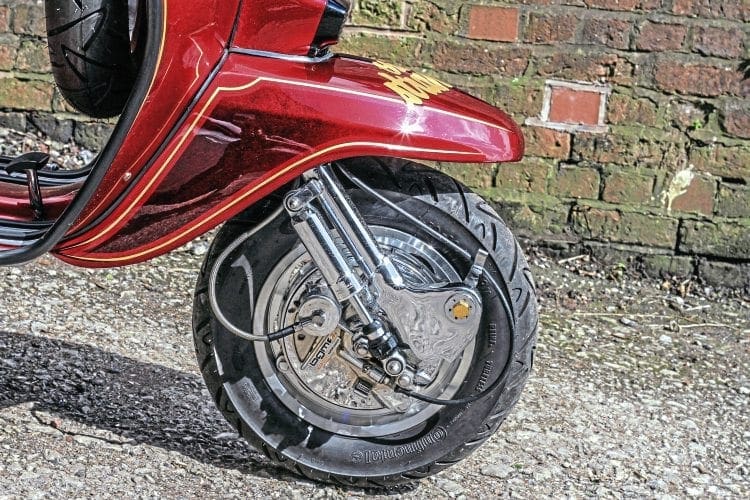 The shade of brothel-red paint chosen (actually Brandy Wine by House of Kolor) is laid over ice pearl, and set against the black lace hold-up stocking and the super sexy images which tantalise the mind. The colours and sexy artwork couldn't work together any better, combined with the gold lettering and the imagery of the band, it is simply sublime. A real attention grabber and a thing of beauty. The motor which propels this hard-used road scooter was put together by the bearded beast, Harry Barlow of H-Bomb scooters, and is running one of Harry's now famous touring-tune TS1-230cc engines with a five-speed gearbox.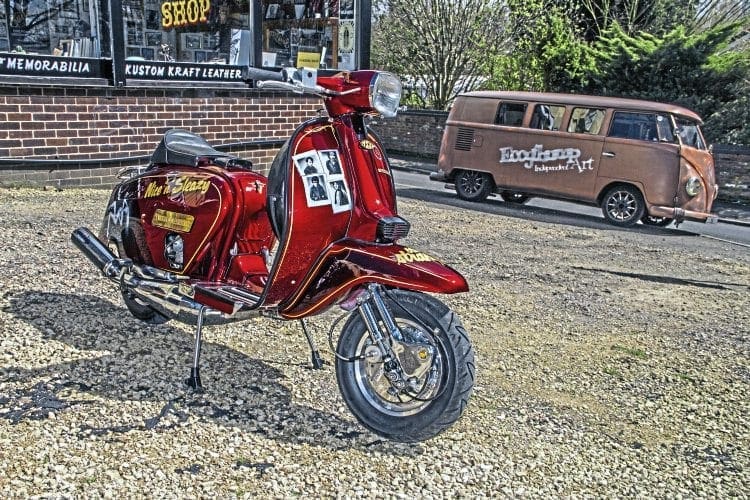 Despite its lovely paint job, this scooter is not wrapped in cotton wool as so many are, the engine was built for a purpose, which was to get Wilky around the country on as many rallies as possible, and that's exactly what it's done. Residing under the industrial toxic clouds, spewed out from the Black Pudding mines near Bolton, this beauty is no stranger to the elements while being thrashed and ridden as often as possible.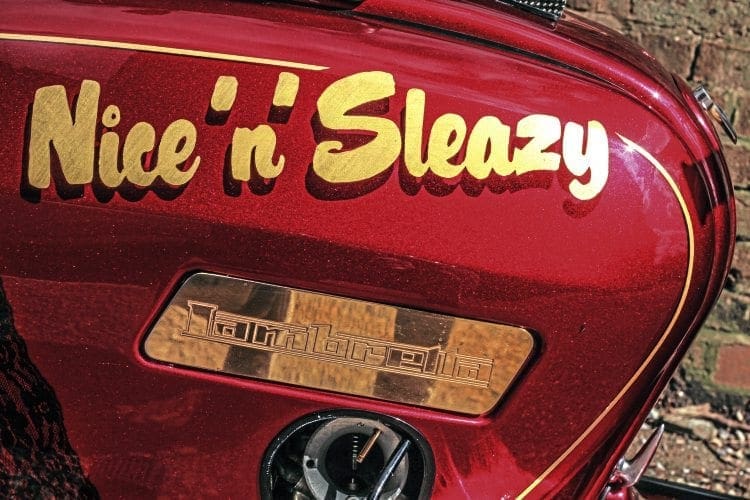 Wilky uses this scooter for rallies both here and in Europe, and it has barely missed a beat, which is testament not only to the hardy motor and mechanical works of H-Bomb, but also to the Eccleshore brothers who painted it… as it STILL looks in amazing condition to this day. It's nice to see such a fabulous paint job which not only looks the part, but gets ridden far and wide, and still stands the test of time. This scooter, due to its shade and style of paint, is notoriously difficult to photograph… especially in the sunshine.
To capture the shade/sparkle of colour as the eye sees it and to then translate that to print is a pig. But given the opportunity presented before us with the scooter set in the relics and rust backdrop and the uber-cool machinery which accompanied her on that day, we couldn't say no. With the 'Pup' chopper leaned next to the squat hot rod motor, and the VW Camper parked outside… it was a visual delight, and one which photographer George Ellis captured perfectly. A visual feast.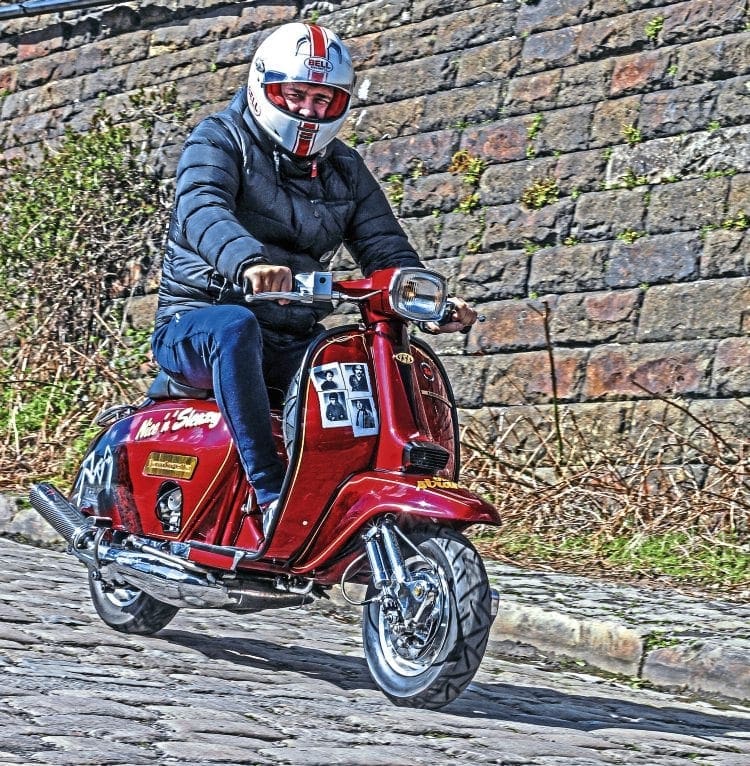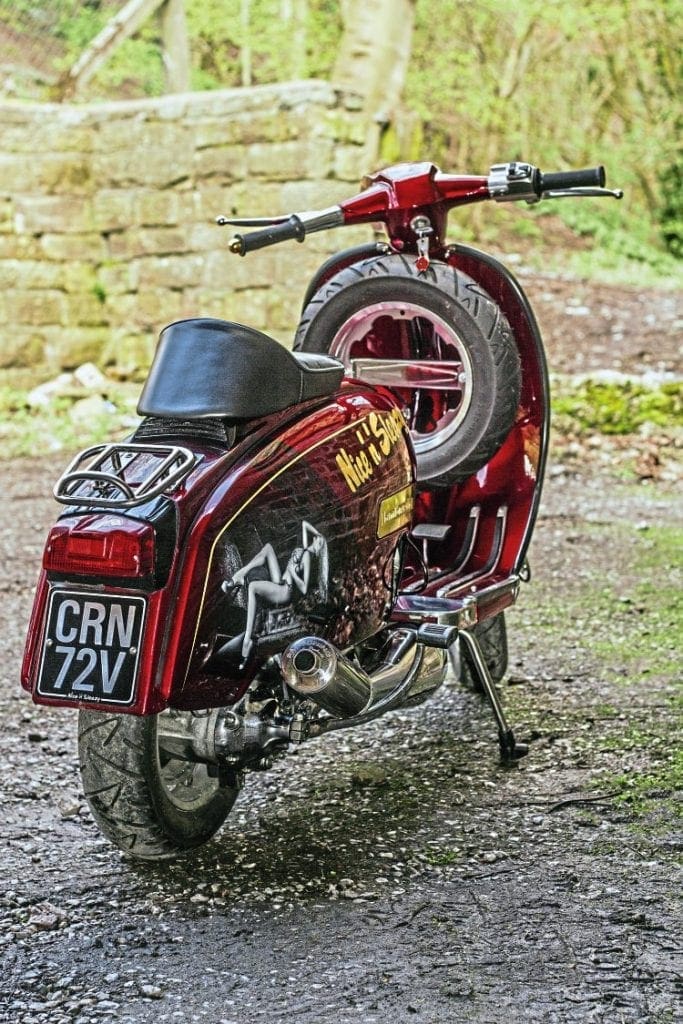 SCOOTER DETAILS
Name: 'Wilky'
Name of Scooter: Nice 'n' Sleazy
Model: GP200.
Inspiration: The Stranglers.
Time to build: 12 months.
Engine: Harry Barlow (H-Bomb) built TS1-230cc tour engine, 60mm stroke crank with 110mm Jap-rod, five-speed Cyclone Gearbox, 35mm Mikuni Engine, FatMama Pipe and kicking out 26.5bhp.
Paint: House of Kolor Brandy Wine over ice pearl, with marbeliser stockings used as stencils, and album artwork from The Stranglers. Gold leaf signwriting, all done by Steve and Paul Eccleshore.
Words: Kris Green
Photographs: George Ellis
This article was taken from the July 2016 edition of Scootering, back issues available here: www.classicmagazines.co.uk/issue/SCO/year/2016

Enjoy more Scootering reading in the monthly magazine. Click here to subscribe.