The ride dreams are made of…
Isle of Wight, Millport of tour the North Coast 500? There was only ever going to be one option. The beautiful Scottish roads and the spectacular vistas they offer are among the world's best, and right on our doorstep. Stevie Adair bucks the rally trend and goes on the trip of a lifetime.
The build-up
Setting off from work on the Thursday afternoon towards Glencoe I started my journey with huge excitement for what lay ahead. The route took me onto Fort William and straight to Inverness, the starting point for all those brave enough to take part. My journey through Glencoe was spectacular, with the sun so low and shining on the mountains, the rocks looked like gems in a jeweller's shop window. With so many small lochs in Glencoe, they were like pieces of a shattered mirror as they reflected the sunlight back up to the heavens above.
It's no wonder this place has a magical feel to it and attracts tourists all year round by their thousands, the only downside to Glencoe is you have to drive past the house once owned by Jimmy Savile which is now boarded up… just like him. Once through the glen I arrived at Fort William, home of the famous Glen Nevis distillery and the more famous mountain it's named after — Ben Nevis, Scotland's highest mountain. My original plan was to head for Applecross and camp there at the base of the mountain pass, then catch the rest of the group in the morning, but as time was on my side I headed for Inverness through Fort Augustus and past the Caledonian Canal which runs into Loch Ness itself. Upon arrival in Inverness I found the campsite and got the tent up before heading into town to meet the rest of the gang in the pub after a few beers.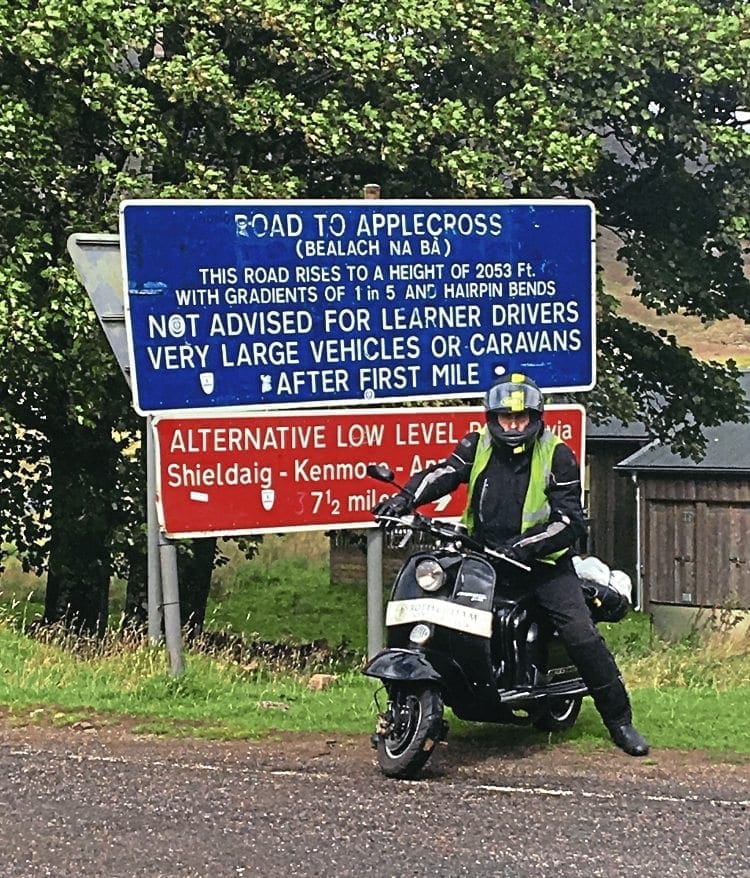 On your marks
Next day I headed to our agreed set off point at 9am for the first leg of our journey to Ullapool. More than 80 scooters turned up — 70-odd Lambrettas and the rest Vespas; Craig Ballantyne who organised it was a bit overwhelmed with the number who turned up as he'd only expected around 20-30 scooters! We set off to Beauly, a lovely little village ablaze with flower displays adorning its streets, then we went through Muir of Ord and on to Garve, taking in Achnasheen, Glen Carron, Lochcarron and Tornapress en route before finally taking the road to Applecross.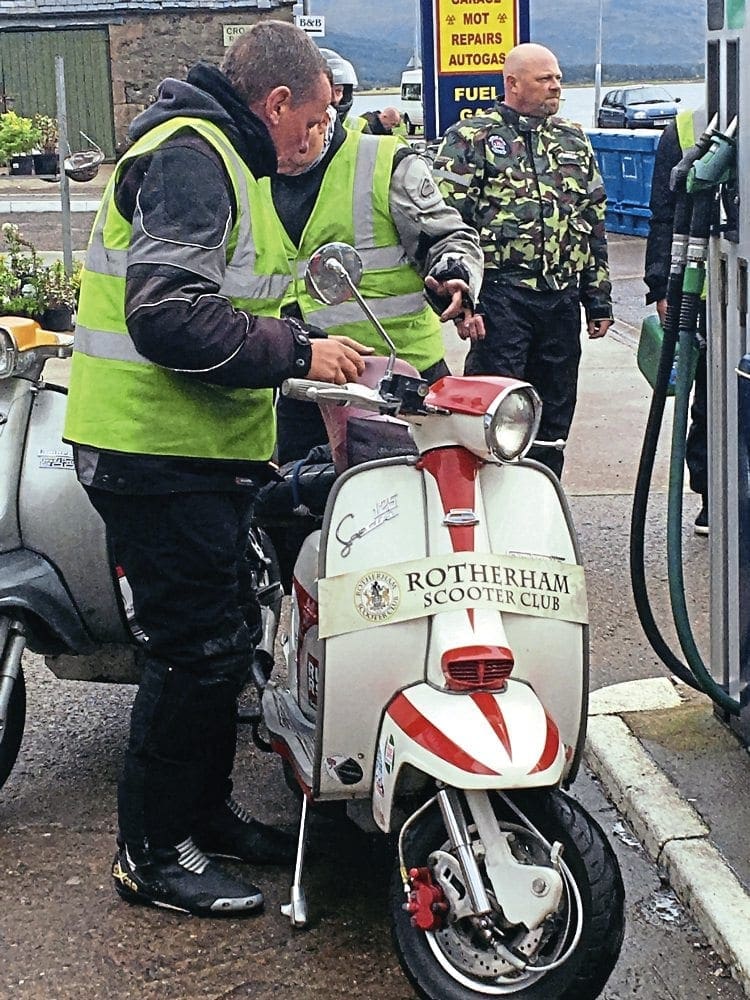 It was here that a lot of the English lads 'n lassies realised what was actually ahead of them, as they looked skywards towards the pass! It was not long before the pass claimed its first victim, as one of the boys came off the road and fell a good distance down onto the heather and peat below, no damage to the rider but his Lambretta GP looked worse for wear as the legshields and headset were smashed up. Fair play to the lad — he carried on! Next to fall foul of the road was Clarky, another English lad who took a corner too fast and came off the road into a peat bog which thankfully held the scooter upright and no damage was sustained. Lucky.
Once over the pass we carried on past Lonbain, Cuaig, Fearnmore, Fearnbeg, Kenmore, Ardheslaig, and on to Shieldaig where we stopped at a local café on the lochside for a bite to eat, before rejoining the A896 to Kinlochewe where we fuelled up and fixed a snapped clutch cable. Then we were on to the A832, taking in the villages along to the A835 to Ullapool. Once there we traded stories of near misses and crashes, my own account was the big boy from the Isle of Man who was in front of me going through the Torridon Forrest. I was possibly a bit to blame as I was pushing him a bit when he nearly lost it on a bend as the arse end of his Vespa decided it didn't like him and threw him from one side to the next, how he held it up goodness only knows! So our first day had been eventful but worth it for the scenery alone, with mountains covered in gold and purple heather following us on our journey. Day two would certainly be something to look forward to.
Onwards we pressed
There were a few sore heads in the morning, as many had taken in the 'local culture' during the previous evening and indulged in one too many at the local pubs. We arranged to meet at 9.30am at the pier, and there to meet us was the scourge of Scotland's west coast — the midge. They were out in their thousands, much to the annoyance of our English cousins… so much so that I  gave one lad my midge net as he was having a helluva time with them. So we agreed to set off quickly on the A835 to Ledmore then the A837 to Lochinver, then take the B869 Clachtoll, through Stoer, onto Clashnessie, via Drumbeg, and then Nedd towards Unapool. The road to Lochinver, like many roads we have been on and will be on, was superb and tested the riders' skill to the limit with sharp bends, blind summits and twists and turns just waiting to catch anyone who has a lapse of concentration. Beautiful to drift and ride along, the feeling was unreal.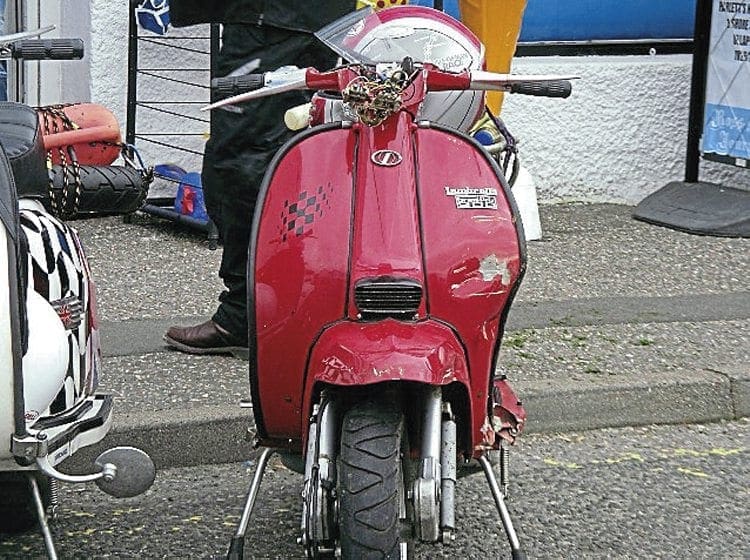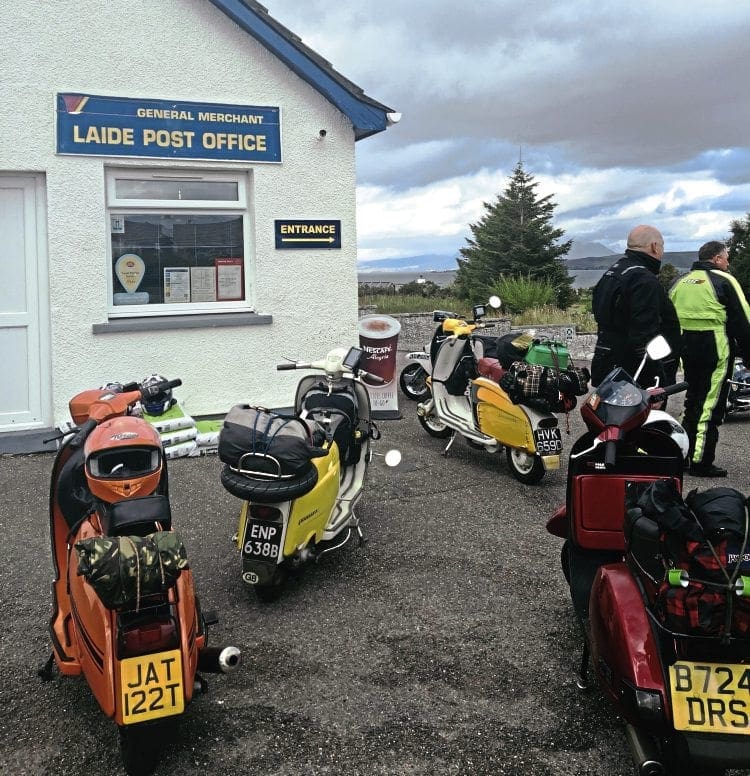 Our first stop for fuel was at Lochinver. Most petrol stations up here close early or are card operated so make sure you do your homework first and check before doing this route so as not to be caught out. Once fuelled up we were heading out of Lochinver when we were met by a herd of deer just standing on the forecourt of an old disused garage! This was a regular sight for some, but was much to the amazement of some of our group. Next I insisted on taking a little detour of our route for five minutes, to show some of the English lads Achmelvich beach which is an unusual and delightful sight of turquoise waters and pure white sands. The sight left them awestruck in its beauty. The scenery on this stretch is amazing, with smallholdings where half a dozen houses were built in the middle of nowhere, leaving you asking yourself, where do these people work and how do they survive in such wilderness?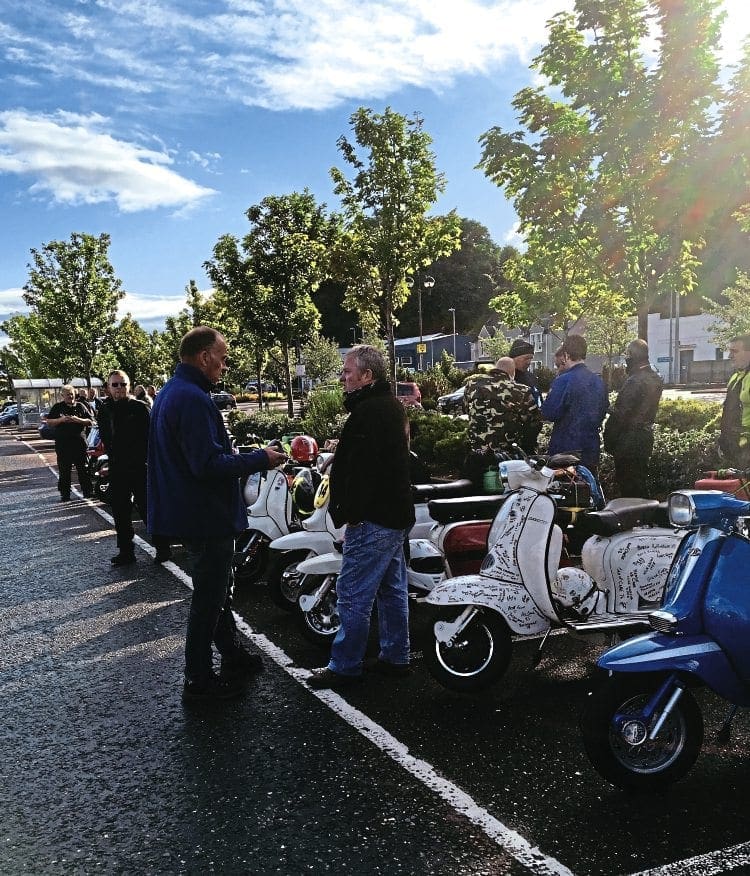 Eventually the road took us to Scourie where we would stop for fuel and a bite to eat. From here we would take the road to Durness, which is home to some of the most beautiful beaches in the area, as well as the SMOO caves (be sure to visit them if you're ever in the area). Next we headed for a fuel stop. We arrived at 4pm only to find that the station closed at 2pm. The next fuel was half an hour away so some of us were not going to make it! So those of us who had spare fuel divided it out among the rest and we set off for Bettyhill, fixing a few breakdowns en route. We arrived at Bettyhill at 5.15pm, just as the owner was shutting up shop. However, when he noticed 40 scooters pull up he saw pound signs and agreed to stay open and fill all our tanks!
Fuelled up we headed for our next stop at Thurso. It was here that I decided to leave the group as I was working on Monday so I said my goodbyes to the rest of them and made my way on the A9 to Inverness. The light was fading and I still had over 100 miles to do. I eventually made it at 10pm just as it was starting to rain. I tried to find a B&B but they were all full so it was back to the campsite I stayed in on the Thursday night. Thankfully there was no warden on so I saved myself £18!
Final leg
I woke up at 6am and packed up before the warden came on site, although I was a bit jealous of the lads who would be doing the last day's journey via John o'Groats and onto Inverness where they would stay the night and end the North Coast 500. The full team of 80+ having a celebration drink. However I still had another few hundred miles to do before reaching home, so I set off again and wasn't hanging about as I twisted the throttle and sped through the gears to negotiate the rising climbs and hairpin bends that Glencoe throws at you. It wasn't long before I was at my next and last fuel stop at the famous Green Welly at Tindrum. I made my way along the A82 to Loch Lomond and into Dumbartonshire eventually reaching home at 10.20am which was good going by any standards.
All in all over 80 scooters took part in one of the most scenic, breath-taking, beautiful, treacherous, trying and rewarding routes Scotland, nay, the United Kingdom, has got to offer. Yes there were minor crashes, breakdowns and the odd tantrum thrown in to the mixing pot, but nearly everyone who set out on this adventure made it, which is no mean feat in itself, let alone on old Vespa and Lambretta scooters! All credit to Craig and Kathleen Ballantyne for organising it. I'm sure more than half of those that completed it will be back again for more!
Get your thinking hats on for next year.
Words & photographs: Stevie Adair – Animals fae Naboombu SC

Enjoy more Scootering reading in the monthly magazine. Click here to subscribe.