Some owners control every detail of a custom build, others have a vision of what they want and give artists free rein to bring that vision to life. Michelangelo probably wasn't micro-managed when painting the Sistine Chapel and that worked out fine, just like Mr Voodoo did when Darren let creative juices flow.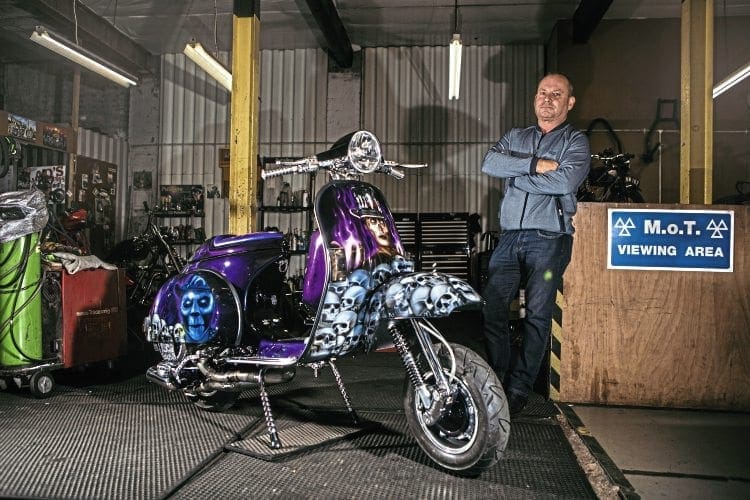 Origins
Voodoo is one form of the ancient African religions brought to the Caribbean and mainland United States by slaves during the colonial era. Voodooists believe in one supreme creator who no longer interferes with human affairs. Instead they worship his servants, or Loa, each responsible for one area of life. Worshippers form relationships with the Loa, building shrines, making offerings and performing elaborate rituals of music and dance.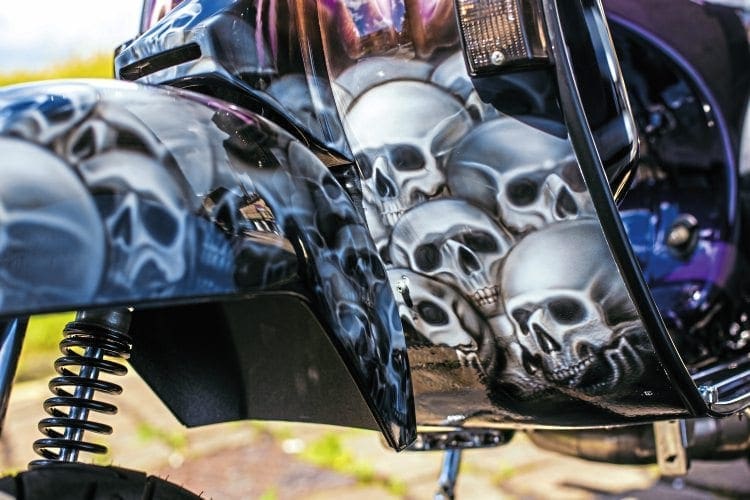 It's also the name of a tattoo parlour in Warrington, and it's there that the story of Mr Voodoo actually started. The owner of this stunning Vespa, Darren Jones, is a man of many interests and although it's not apparent from the photographs one of those interests is the art of tattooing. "I've got quite a few, full back, legs and arms" explains Darren. "My mate owns the Voodoo Studio in Warrington and while I was having one applied we got talking. People who know me will tell you that I can't stop messing with things: cars, vans, bikes, anything. I'm relatively new to scootering but knew I wanted to build a custom scooter and it occurred to me that Voodoo would be a good name but I wanted it to be personal. Combining my tattoos into the concept seemed like a logical way to do that".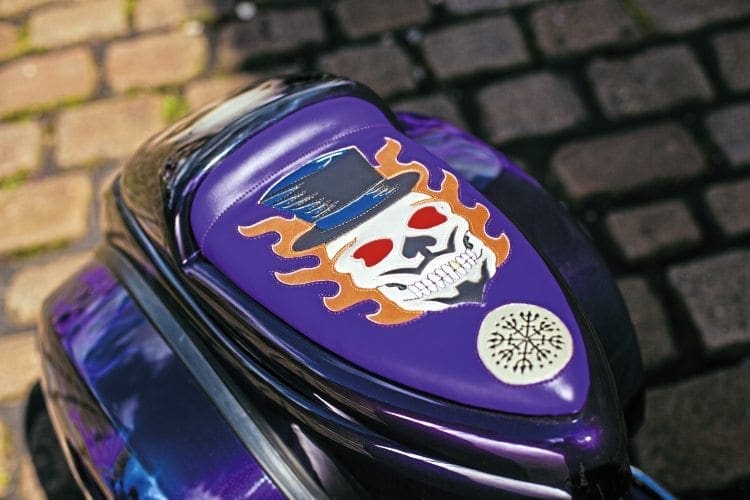 Use of the needle
Some scooters can go from idea to realisation in a very short period, others need some time to develop and mature. "I'm not saying how long the project took but I do need to thank those involved for sticking with it. They've been more patient with me than I probably deserve," admits Darren. Of those responsible for bringing the vision to life, probably the best known to Scootering readers is Adi Clark, maestro engraver and as Darren found out Adi's involvement had more than artistic benefits.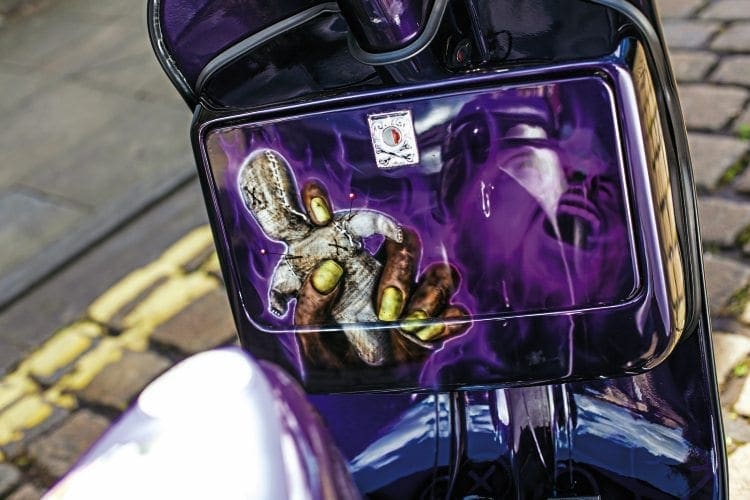 "Once I mentioned he was involved in the project other doors quickly opened as people know you aren't messing about once artists like him are involved. In my eyes Adi's quite simply the best around and the work he's done for me is outstanding. He's interpreted my brief by making engravings inspired by the work of traditional tattooists as well as my own body art. The floor centre plate was the first piece he completed. It's a copy of the tattoo that was being applied when I had the original idea but the fuel tap and choke are entirely his inspiration. I'm still finding new things among it all, the other day I noticed the number 13 on the selector box cover. I don't believe that 13 is unlucky, I lived at number 13 for years — it's another example of how the spiritual and personal themes have been linked. I'd never have thought of that."
Accentuating this detail is plating by Quality Chrome who, by good fortune, are also featured in this month's magazine. The workmanship on Mr Voodoo is up to their usual high standards.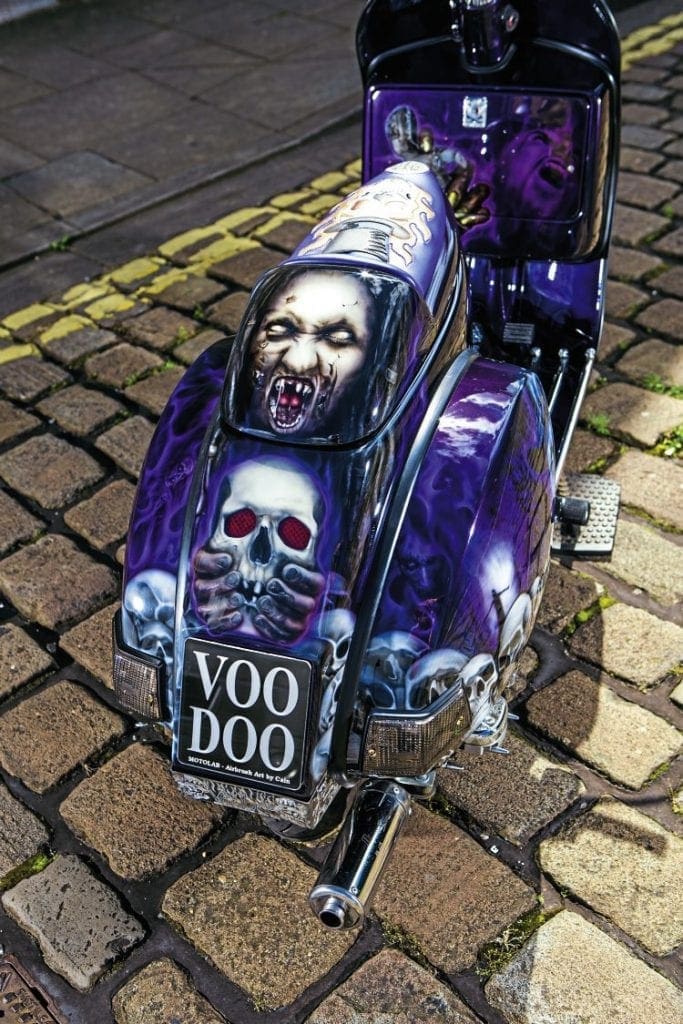 Bringing things to life
Matching the quality of engraving is some stunning airbrush work by Burnley-based Cain at Airbrush Art by Cain, the complexity and depth of which is stunning. The photoshoot was one of the first times the scooter had been outside in good light and it's fair to say that the level of detail cast its spell over everyone present. After taking the frame down to bare metal Cain applied a base coat of black which he then dusted in violet pearl by House of Colour followed by a shimmer of purple.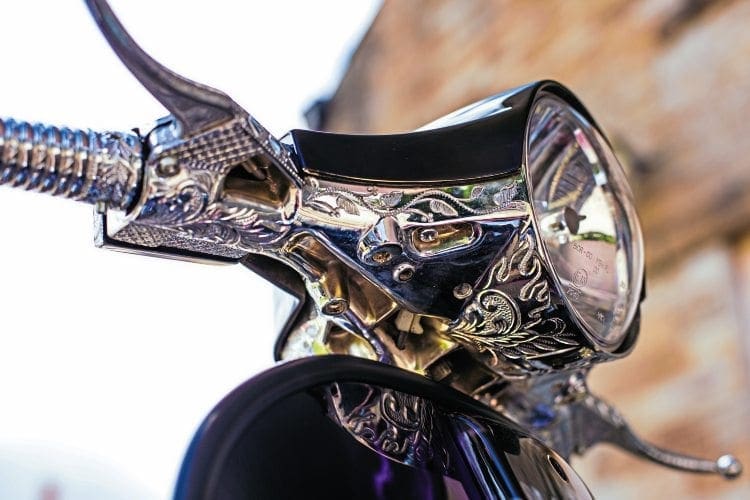 "I knew that Adi had paid homage to tattoo work in his engraving so I wanted to create a contrast with that in the murals. Fortunately Darren gave me considerable leeway in my interpretation of his brief," said Cain. The trick is to use the best materials at hand. For airbrush work I use a small company in Sheffield called Custom Paints, who aren't well known but their products are outstanding."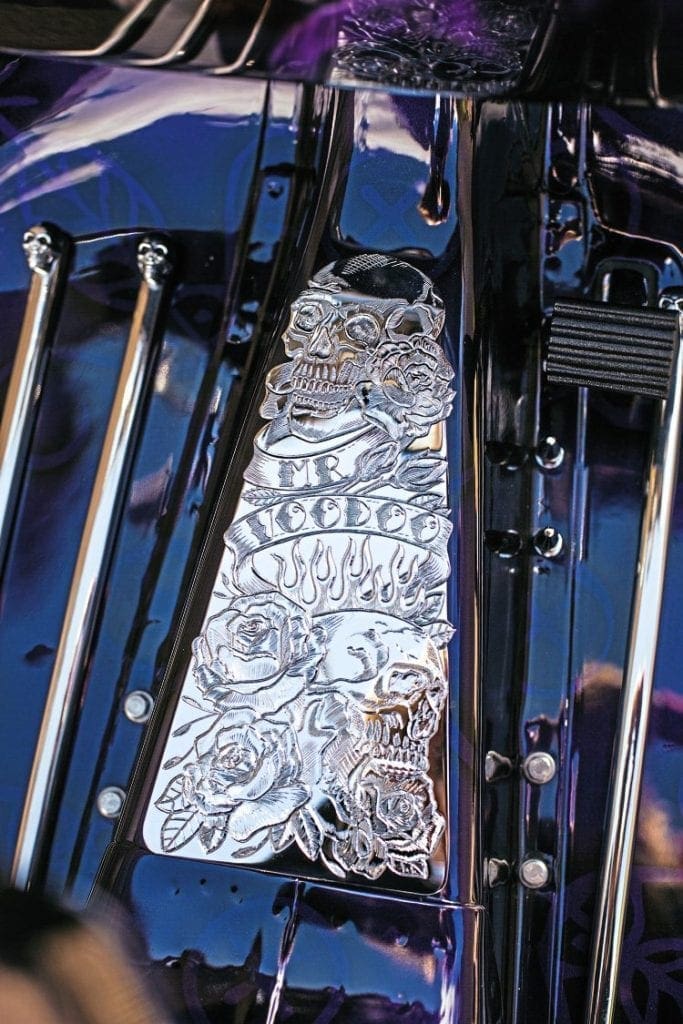 Forming a bridge between the engraved work and murals is a field of skulls. These are taken directly from Darren's tattoos and seamlessly link the two themes. The depth of field Cain has achieved is incredible, portraits appear to emerge from deep in the bodywork and wisps of smoke contain images so ethereal that they seem at risk of being carried away in the breeze.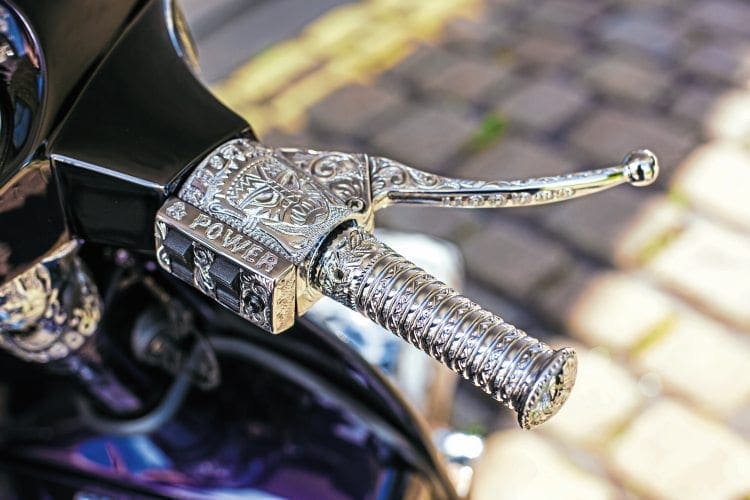 Fortunately most of the images are based on research rather than being the product of a disturbed imagination. "I'd describe my work as photo realism," explains Cain. "I take images from various sources — in this case horror films, halloween costumes and documentary photographs. I then interpret them in a way that suits the project. The floorboards feature Voodoo iconography but I'm particularly pleased with the leg-shield mural".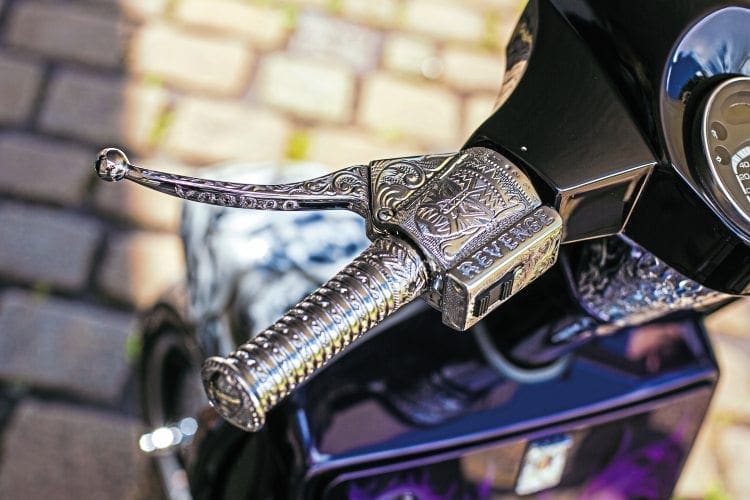 Scooters lend themselves to artwork due to their large panel areas, unfortunately the leg-shields of all marques are broken by a horn-casting which adds a three-dimensional problem that not all artists are able to overcome. Cain's portrait of Papa Legba, one of Voodoo's principle figures, avoids this trap. Instead of forcing the image around the obstruction, Cain has used the horn-casting to accentuate the image, increasing its visual impact.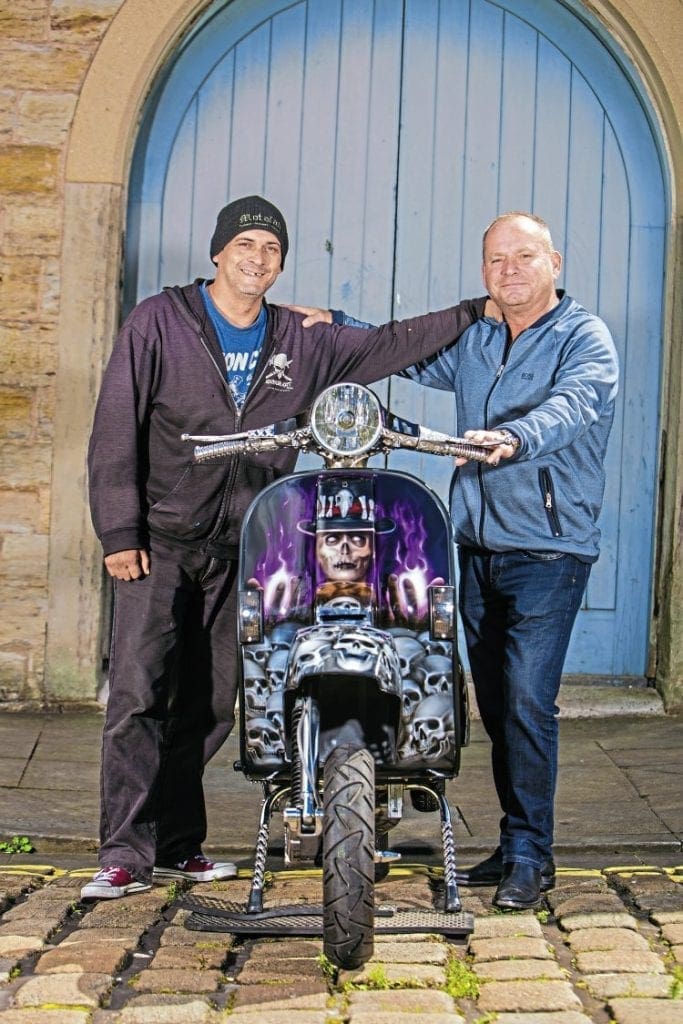 Brewing the potion
Of course it's quite possible to combine several great elements only to find that they don't work together on a finished project. Wielding the spanners and keeping everything in line was Keaney from Motolab in Burnley. More familiar with building custom motorcycles, Keaney has taken a very clean approach to the build for which Darren is very grateful: "It's down to him that the front brake wasn't replaced by a disc as I intended. He convinced me that it would look better and in any case a drum gives more than enough stopping power on a build like this. His attention to detail has been staggering, the floorboard runners are shorter than normal as the skull end caps didn't sit well in the standard position."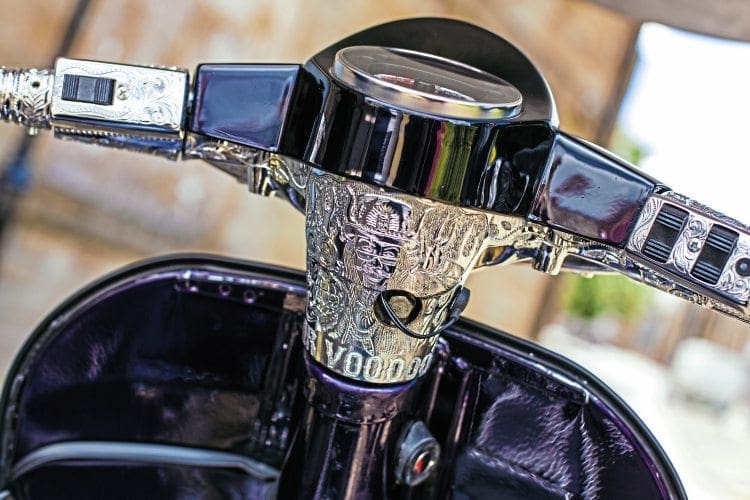 With a scooter as complex as Mr Voodoo it's possible to argue all day as to which part of the build is most impactive, but the rear lights glowing from behind skull eye sockets must rank near the top of the list. Inspired by similar work on American chopper bikes it shows the benefit of bringing in someone from outside scootering who has new ideas and techniques. Among the other bodywork modifications are a digital speedo, extended forks, de-seamed frame, twisted centrestand and the removal of swage lines on side panels. Engine wise the only modifications have been a Jim Lomas exhaust and four-plate clutch.
Spiritual experience
There's no correct way to go about building a custom scooter. Darren's decision to allow artists the freedom to interpret his vision has produced one of the most stunning Vespas to be seen in some time. You may or may not believe in the spirit world but there's a symmetry in this project that can't be dismissed. The artist involved, Cain, has all but turned his back on airbrush work and now only accepts a limited number of commissions. His new career? Tattoo artist. Perhaps Mr Voodoo is already casting its spell…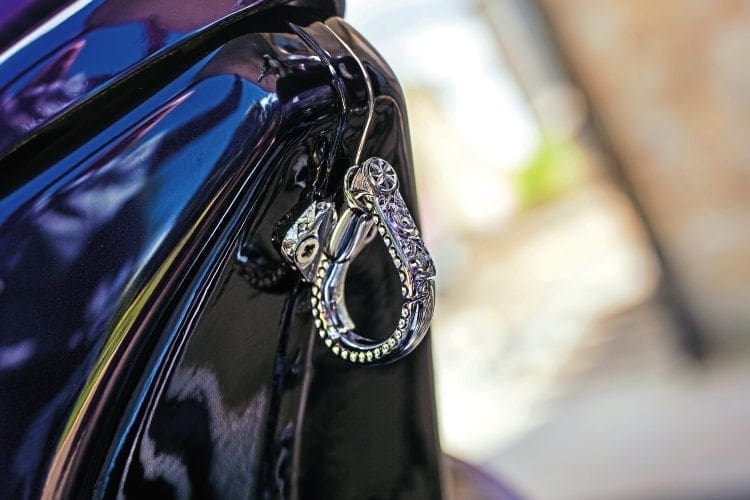 OWNER DETAILS
Name: Darren Jones
Town: Warrington.
Job: Managing director DWJ Fencing.
First interest in scooters: About seven years ago, I saw a load of scooters drive past the pub, it was the coolest thing I'd ever seen. My best mate had a custom GP, that was the start. First scooter: A cameo beige Vespa PX, still got it and it runs like a dream.
First rally: Ginger's Egg Run 2009. I'd never experienced anything like it before. We met at Zoot Scoot, tea and biscuits before we set off. Brilliant!
Favourite model: Always had a soft spot for Vespas, I love my PX.
Favourite style: I appreciate all types. I love the fact that all scooters are different. We all know that there are very few that look the same. I'm always impressed when people make an effort — even a basic job can look stunning.
Favourite Scootering feature scooter: This one!
Most useless part bought: A skull tax disc holder.
What do you like best about rallies & events: All the different styles of scooters.
Best memory/story: Riding back from Southport early days of riding. I was convinced my rear wheel was coming off and had people behind me checking how true it was running. Turns out it needed more air!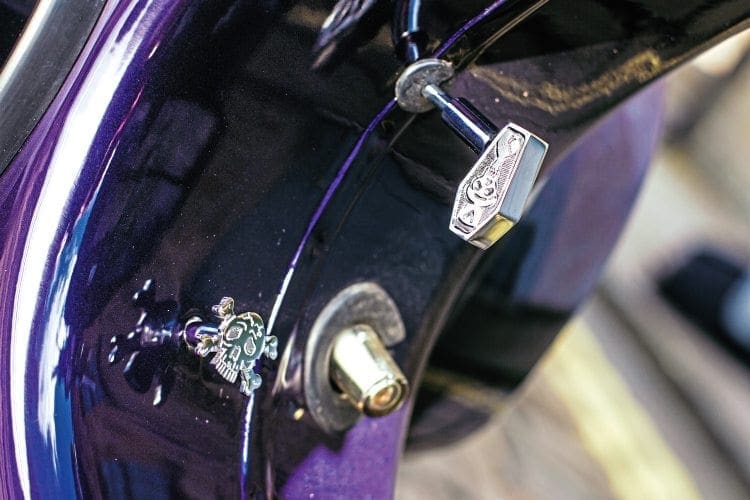 Scooter Name: Mr Voodoo
Model: Vespa PX.
How long owned: Since 2010.
Inspiration for project: My mate owns a tattoo shop called Voodoo, I was having some work done and decided to have a scooter designed around my arms.
Time to build & who by: By Keaney at Motolab, Burnley.
Engine: Standard other than a four-plate clutch and Jim Lomas exhaust.
Paint: By Cain at Airbrush by Cain.
Specialist parts/accessories: Extended forks, twisted centre stand digital speedo, fuel tap and choke levers. The seat was designed by another tattooist, sadly no longer with us. Plating: Quality Chrome.
Engraving: Adi Clark.
Reliability: So far so good.
Cost: Let's just say it's been a labour of love.
Advice to anyone starting a project: Think hard before starting and when things don't go right start again.
Thanks to: Keany and Cain for putting up with me. Without them this wouldn't have been built. Adi Clark for his fantastic work. Quality Chrome, nothing's too much trouble for them. My mate Huly for putting up with me going on about the project and finally my wife Louise who let me get on with it. The day I brought Mr Voodoo home she told me to put it in the dining room as it was too good for the garage!
Anything else to add: The exhaust needs chroming and Cain's also completing a matching helmet.
Words: Stan
Photographs: Gary Chapman
This article was taken from the September 2016 edition of Scootering, back issues available here: www.classicmagazines.co.uk/issue/SCO/year/2016

Enjoy more Scootering reading in the monthly magazine. Click here to subscribe.