There are many reasons why 1979 was a landmark year – for starters Buggles put out Video Killed The Radio Star, proclaiming a new era…
The Mod revival was already gaining momentum, boosted no end by the launch of Quadrophenia in November. Domestic television had gained channels while both cable and satellite television, albeit at a fledgling stage, were rising in popularity. The advent of the music video, with entire channels dedicated to that format, gave serious credence to the sentiments of the Buggies' seemingly prophetic track. It was so nearly right, as for a number of years music presented via a visual format all but eclipsed radio. Music video as a vehicle for selling music reached its pinnacle with Michael Jackson's Thriller, with a budget that even today would make bank managers wince. Times change and move on. The World Wide Web, over a short period, became available thus bringing the internet into every home. Countless tracks from every imaginable genre and sub-genre became accessible through dedicated internet based music sites, literally at the touch of a finger.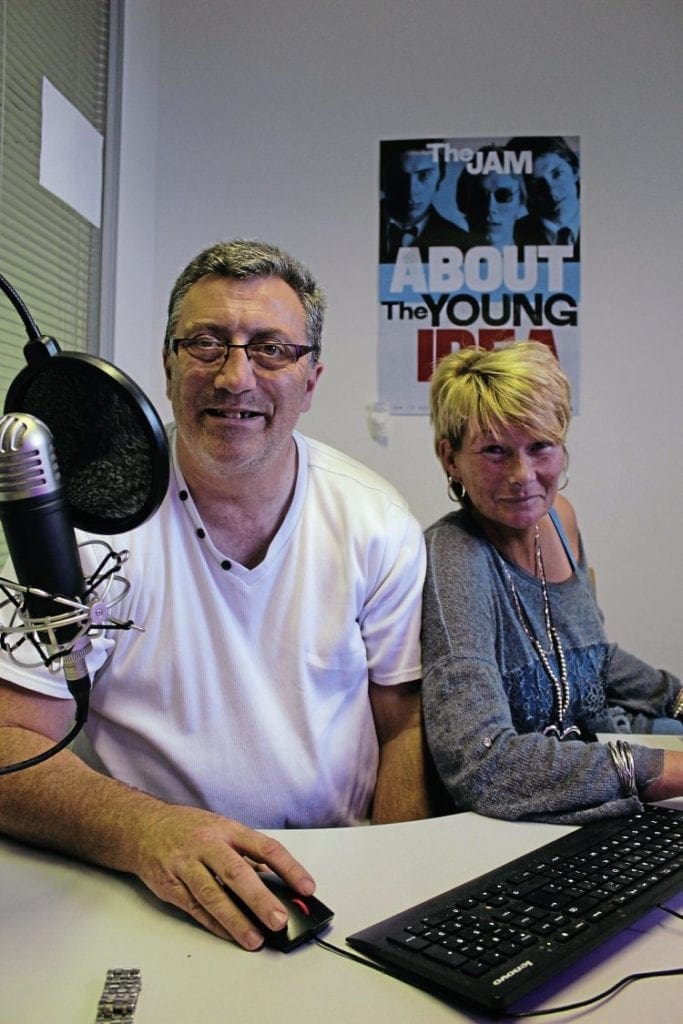 Of course, the internet bought with it opportunities for those with a desire to share the music of a whole host of specialised genres with like-minded people. Internet radio arrived. Many broadcast for a few hours weekly to a small but loyal listenership, others going out daily. Although few and far between, there are also internet radio set ups that are genuine successes. For instance modradio.co.uk, which broadcasts 24/7 to a current (and ever growing), listenership in excess of 200,000.
Mark Ambrose, who along with his other half Ruth, is the founder and anchorman of modradio.co.uk, took time out from broadcasting for a chat with Scootering.
When, why and how did modradio.co.uk start?
In the first place, I've been into Mod since the late 70s early 80s. I can remember thinking there's nowhere that I can hear the sort of music I like. Which is the various styles of 60s Mod, revival stuff from the 70s and 80s through Britpop and contemporary Mod music from new bands. Also there's northern soul, Motown and similar, plus original 60s ska, two-tone and beyond.
About two and a half years ago I was sat in my bedroom bored, I'd always fancied doing a radio show playing the music I like. A quick investigation into how to go about it and modradio.co.uk was ready to start broadcasting. The first show was for four hours, and via advertising on social media attracted 36 listeners. It's evolved and grown from there.
What does a typical modradio.co.uk weekly programme schedule consist of?
Weekdays follow what is a successful formula with a mix of live shows and dedicated music genre shows.
Monday to Friday Ruth and myself present live breakfast (7am-10am) and drivetime (3pm-6pm) shows. As well as the music we have loads of banter, occasionally bordering on mild domestics. We have a laugh. People love it.
All Mod Radio live shows are interactive. 10am to midday weekdays is the Mod revival show, except on Tuesdays, when it's Mod Radio top 10 at 10, live.
From midday to 2pm weekdays we have the 60s Mod show, followed by a one-hour Mod mix. After the drivetime live show from 6pm until 8pm, there's the nonstop Northern Soul show, except on Wednesday evenings when it's the unsigned and original bands show, which is broadcast live. Monday and Wednesday 8pm till 9pm is the live lounge, on Tuesday Tommy and Boab do their live All Or Nothing show, (which is broadcast again on Sunday night).
Then 8pm to 10pm on Thursdays and Fridays is Mod Mix. From 10pm through to 7am Through the Night is broadcast. At weekends it's Mod Mix from 7am to 10am, followed by our weekend request show which is broadcast until 1pm.
The Mod Revival show, Non-Stop Northern Soul show and the 60s Mod show follow on chronologically. And at 10pm it's Through The Night until 7am.
Russ Winstanley does a monthly exclusive Northern Soul show for us and Eddie Piller is about to start broadcasting his Modcasts on Mod Radio.
Tell us more about your unsigned and original bands show.
Wednesday night is our dedicated new band show. I personally make sure I don't listen to any of the new tracks until it's live and on air. Listeners interactively get involved. I find nine out of 10 times I agree with the overall verdict. When needed there is constructive criticism given on some of the new stuff played. It's not about slating anyone's work. The track that gets the most votes is the Mod Radio weekly winner and becomes our up and coming record of the week. We've just agreed a tie-up with a recording studio in Durham, where the winner of our monthly new band competition will get a full day in a studio with a producer.
We get the exclusive first play of the recordings, after which the winning band have their recordings to do with as they please. I'm literally over the moon about our new unsigned band competition, if all goes to plan the competition starts in June. One of the unsigned bands we've showcased on Mod radio is Vida, from Scotland.
They look to be on the verge of signing a deal which is exciting. On the flip side of that good news is that Pretty Cartel, from Northern Ireland, another band we showcased, and thought were destined for bigger things, are about to sadly split up. My advice to any aspiring new bands is to do it yourself if you can, the bigger the record company the more they want, which means much less ends up going to the band!
Tell us about some of the special events Mod Radio has been involved with so far.
We've broadcast a number of exclusive interviews live, often from outside broadcasts. Some of the more memorable being Rick Buckler, Steve Cradock and Bruce Foxton and Russell Hastings (From The Jam). We've had a lot of singles to debut on Mod Radio. For instance, Lambrettas EP, brand new tracks from Mark Morris (Bluetones) and The Aim.
We have been and still are involved with All Or Nothing the musical, having done a number of outside broadcasts from venues where the musical has been on. We've got one or two things at the planning stage, which I don't want to say anything about at the moment, in case things don't end up as hoped. There should be some exciting news involving Mod Radio soon. We look to be debuting a few tracks from the new Steve Cradock Band album, he's currently working with P P Arnold.
Finally, tell us how you went from broadcasting from your bedroom to where you are now, in Mod Radio's own studio, and what we can expect in the near future?
For the first year, Mod Radio was entirely self-funded. During that first year a rival internet station even put out on their two-hour weekly show not to listen to Mod Radio! I had an offer, quite a lucrative one, to work for another broadcaster. Tempting though it was, it told me that what I was doing was right.
Coming from a marketing background I aimed at getting sponsors on board, which isn't the easiest thing to get. Here we are two and a half years on, broadcasting from a dedicated studio. Our most recent, and very accurate listenership figures of 203,000 speak for themselves, it eclipses listeners on some local digital radio stations, and most internet only based stations. Even though we broadcast 24/7, we're in a Catch-22 situation when it comes to advertisers. Radar will only place adverts on digital radio, as we're 'only' the internet they won't deal with us. For the near future we'll have more outside broadcasts, exclusive tracks, our unsigned band competition and so much more.
Tune in to www.modradio.co.uk.
Sarge

Enjoy more Scootering reading in the monthly magazine. Click here to subscribe.